Review: Limited Edition Springfield Armory LifePod Safe
December 11th, 2021
4 minute read
As a firearms instructor and as a father, I stress firearms safety constantly. A good portable lockbox can be one of the most overlooked things in a firearms enthusiast's life in my opinion.
It shouldn't be.
You need a good lockbox to fly a gun in your luggage, lock your vehicle gun up, secure a pistol in your camper, and they can even be useful as bedside security.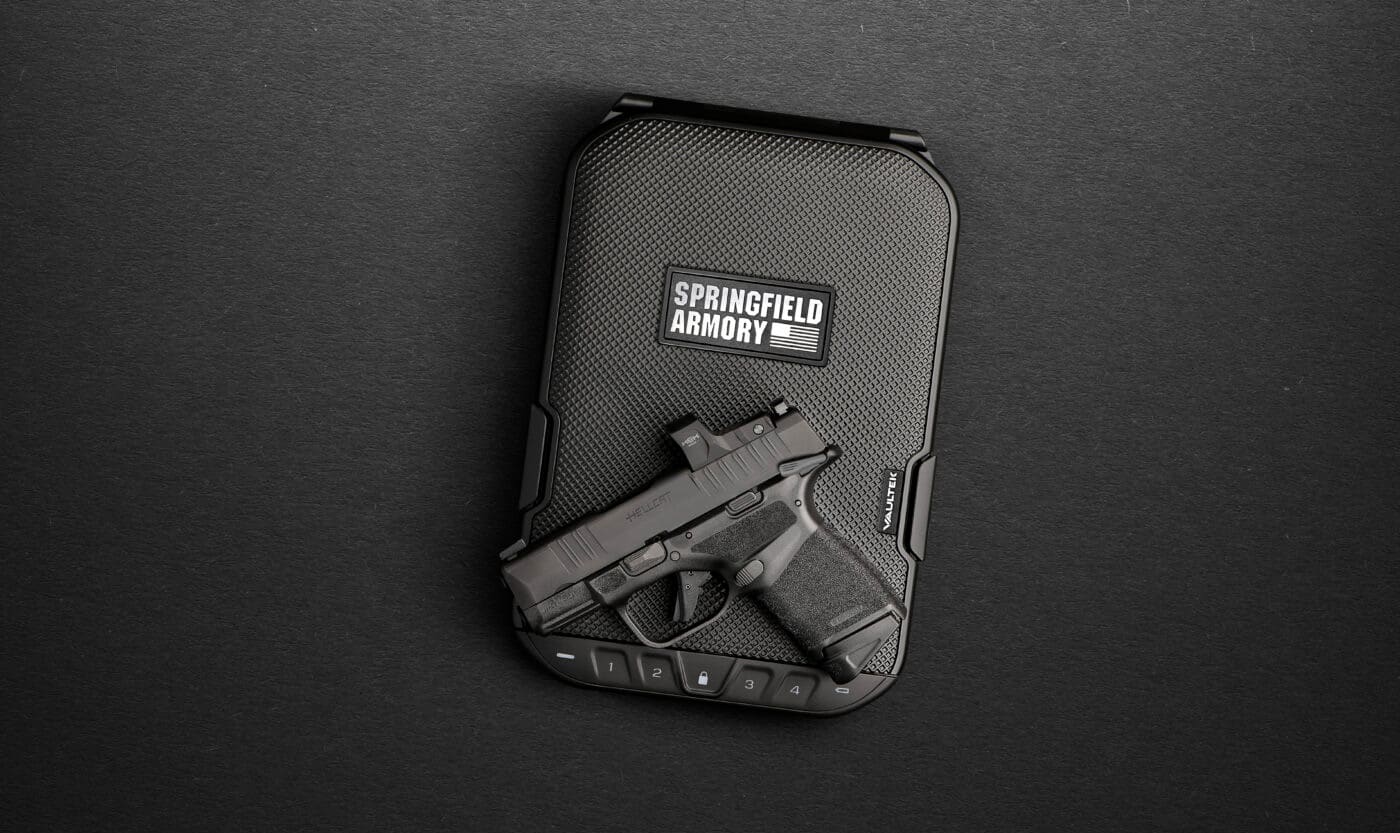 The Springfield Armory limited-edition Vaultek LifePod is a compact, thin and fantastic-looking lockbox. It's much sleeker than other handgun cases, and it is TSA-approved for air travel, which is a must for a good travel safe.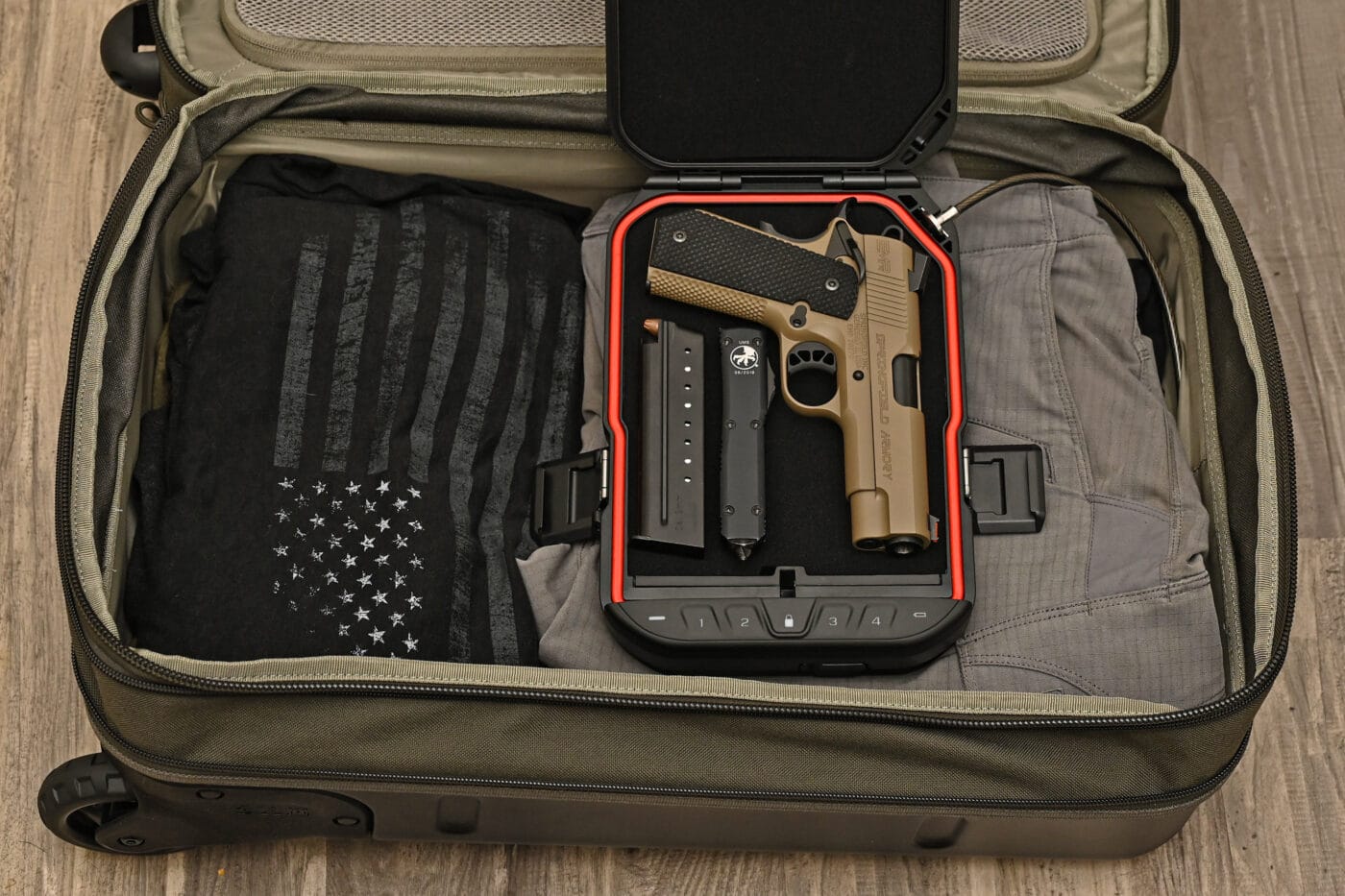 The LifePod is built out of an impact-resistant proprietary material blend that is strong and lightweight. The Springfield Vaultek LifePod is water-resistant, airtight, dustproof, and even submersible to 3-ft. of water for 30 minutes.
Secure Security?
One of the most important parts of a lockbox is the ability to secure it to an immovable object to prevent theft. The included security cable with this safe is made from a thick gauge steel wire with a clear plastic coating to prevent it from rusting or fraying over time. The anchor itself has a wide, thick steel plate to secure the cable to the box's steel slot that is built into it. When the cable's inserted and the unit is locked, the lids trap the cable so the anchor cannot be removed.
The compression latch hinges are very well made and quite strong. To open the box, the latches need to be opened, which does make for a bit of a slower process to access it if the latches are latched.
For me, that is acceptable since the sole purpose of any lockbox is security and not quick access. The latches' main purpose is to create that watertight and airtight seal to keep everything dry and safe inside. The locking latch and all the hardware is steel, and everything is internal so when the LifePod is closed there are virtually no pry points.
The keypad consists of a four-button design that can be set to accept a four-to-eight-digit code. The keypad is more like a touch screen than buttons, though. It stays true to the incredibly sleek, almost futuristic design, and I absolutely loved the way the keypad functioned. You also get a key backup and a micro-USB backup in case the battery dies. The micro-USB will power the LifePod's keypad if you do not have access to the keys. The thought put into all the methods to open this lockbox is incredible.
Gun Storage
All these incredible features and good looks are great but do not mean a damn thing if it does not store a gun well.
I always travel with my Springfield EMP 4", an extra magazine and a knife. The LifePod makes ample room for it all. You get square foam cubes that can be removed to outline your pistol's shape if you want. Everything I need fits nice and tightly into the case and I know once those latches close and the lock is locked, I do not have to worry about anything.
It is best suited for a more compact handgun due to the dimensions of the LifePod. A full-size 1911 will not fit. I suspect many of you want more of a carry gun anyway – especially when traveling.
Conclusion
So, is the Springfield edition of the Vaultek LifePod a good choice for a portable lock box? The simple answer is, yes. I wanted a lockbox that I could trust during travel. Something I can trust to keep unauthorized people out. I needed something that would not rust or break if it got wet or took some abuse.
At just $129.99 at the Springfield Armory online store, you really cannot beat the features — especially at that budget-friendly price point. If you need gun storage that not only looks great but functions just as well and can take pretty much any abuse you throw at it, the Springfield Vaultek LifePod may be the perfect lock box for you.
Editor's Note: Please be sure to check out The Armory Life Forum, where you can comment about our daily articles, as well as just talk guns and gear. Click the "Go To Forum Thread" link below to jump in and discuss this article and much more!
Join the Discussion
Featured in this article
Continue Reading
Did you enjoy this article?
62