Every responsible gun owner knows that the safe storage of their firearms when not in use is their responsibility. There are many conventional safe storage solutions on the market to choose from, but if you really want to keep your hardware secured in style, there has been no better time than now to upgrade the ol' vaults and lockboxes and bring them into the new age.
Not only are gun safes entering the 21st century when it comes to electronic technology integrations and advancements, but there are now many innovative and commercially available high-tech travel safes, retention, and security devices to secure your firearms both while on the go and at home.
Whether you're stashing your prized heirloom long guns or packing the bedside pistol away in preparation for potential bumps in the night, there are a few brands and products that are really standing out and making an impact in the market today when it comes to innovative storage and safekeeping solutions. I had a chance to review a few and these were some of the standouts.
Vaultek RS500i
Out of the gate, the Vaultek brand is what I consider to be like the Tesla or Apple of firearm safekeeping brands. Sleek design styles, cutting-edge electronic and app-based integrations, creative modular solutions, and tough but luxurious attributes throughout their full-size safes and portable safe storage solution product lines really make this brand a show-stopper. Hell, even their packaging is sexy.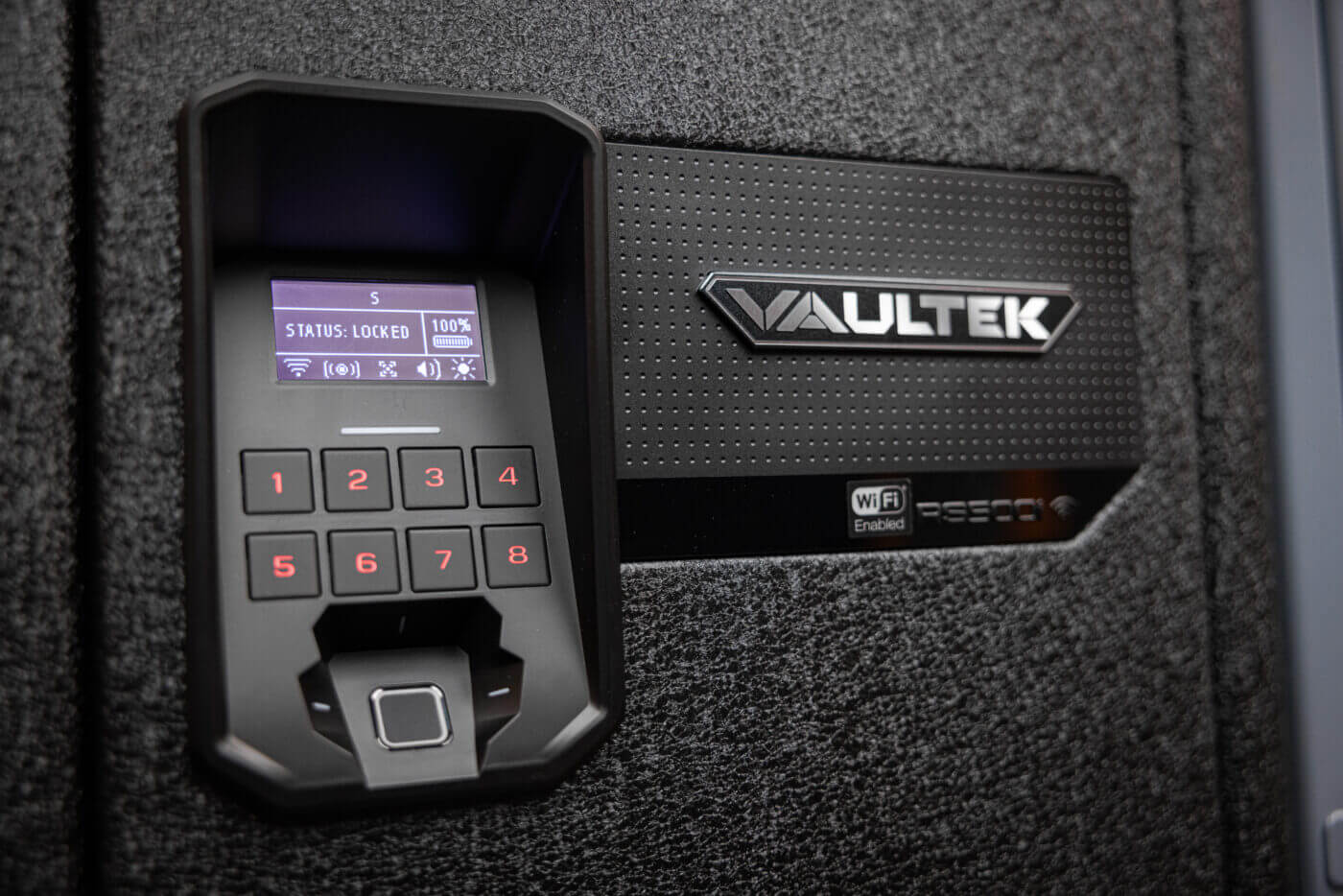 Vaultek's Rifle Safe (RS) line of full-sized safes are Wi-Fi enabled, offer instant alerts via cell phone when they detect changes in their condition such as entry, tampering or abrupt impacts, temperature/humidity fluctuations, or attempted/failed access, and wifi and power levels. They are also biometric and keypad access-enabled and offer a very unique modular interior that allows you to place accessories anywhere on the plush perforated mounting board, affording complete customization of the interior of the space to your liking.
Getting the RS500i set up for the storage of multiple rifle and pistol combinations, magazine storage, and additional storage for a few optics and accessories was a breeze when utilizing the included magnetically based storage system accessories like the Twin Pistol/AR Magazine Rack and Barrel Mounts with optional extensions — and the best part is, no tools were required.
The RS500i also comes with a manual override set of keys and smart nano key, which is essentially a small portable remote that you can mount discretely in your chosen environment and activate when in proximity to the safe to open it. A spring-powered door pops open and the interior space illuminates with three integrated LED clusters.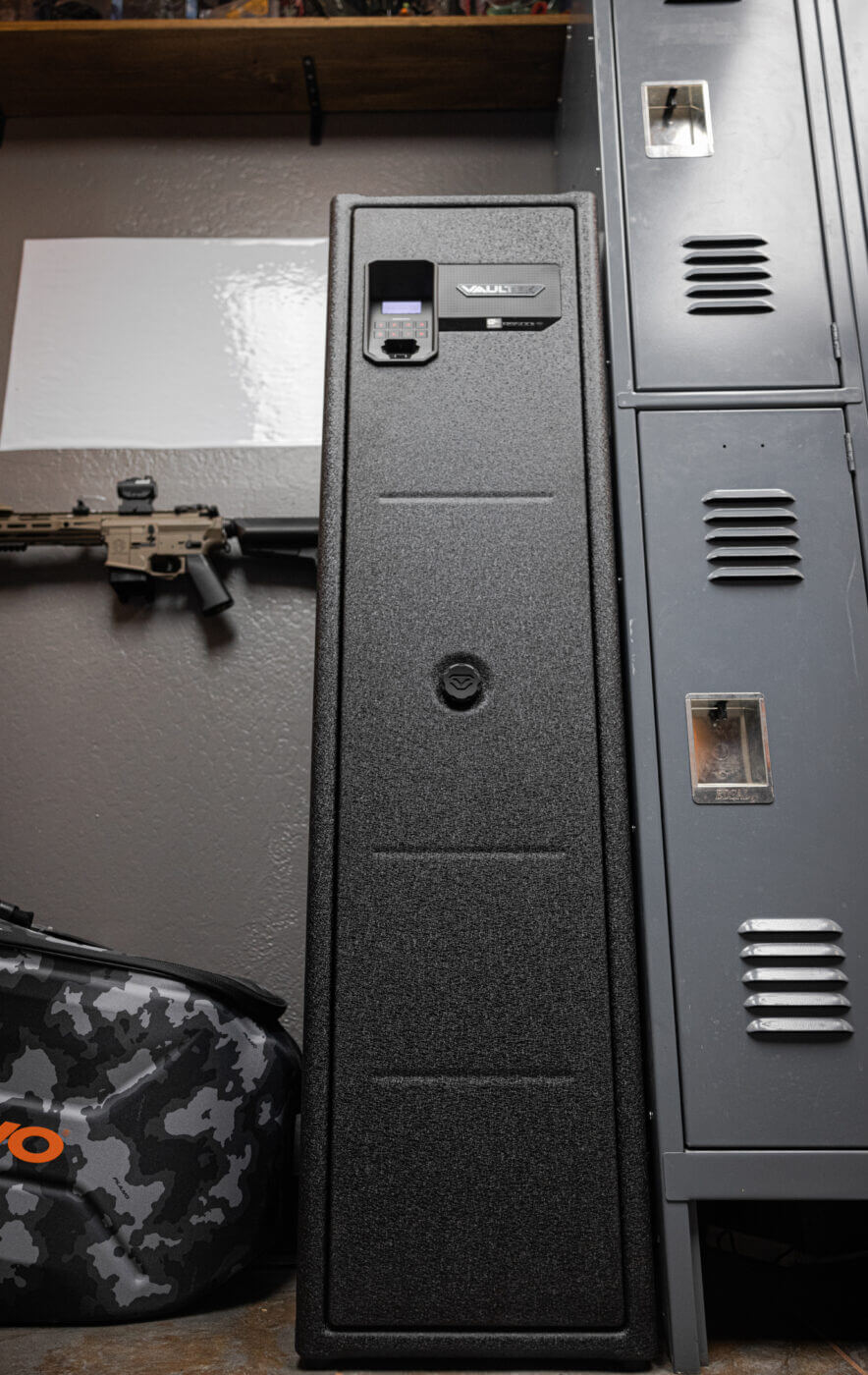 There are four heavy duty steel bolts that lock down for security. The reinforced steel door houses a crystal clear large LCD screen with a backlit keypad and an oversized biometric scanner, which is great when accessing your safe in a hurry.
One of the problems with some fingerprint readers is the speed at which they respond. The Vaultek read fingerprints and responded quickly. Another feature of the reader I appreciated was its ability to store 20 different fingerprints. This allows you to access the vault with either hand and program your spouse as an authorized user.
Simple backlit symbols indicate the settings such as WiFi and interior lighting. As your hand approaches, a sensor picks this up and lights up the keys. For a nighttime setting, this is great as it will help you to get quick access instead of fumbling about.
It's all very James Bond and I just love this thing. There are currently three different sized models in the RS series and they set the standard for high-tech, full-sized rifle safe solutions.
Vaultek Slider
When it comes to your defensive pistol storage, the combination of security, rapid access and discretion are key. The Vaultek Slider provides a trifecta-satisfying solution for all three of these requirements.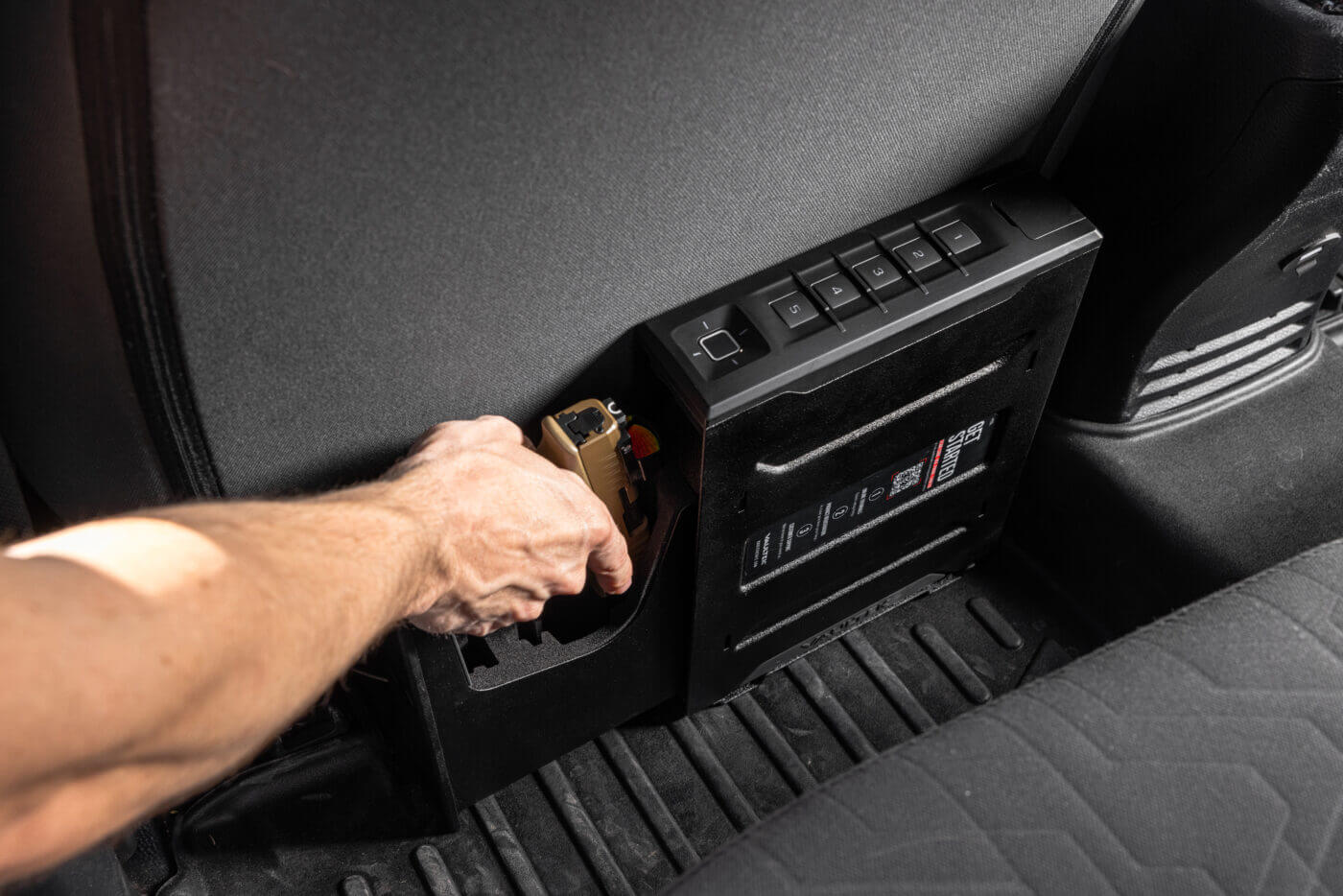 The sleek, compact, and rugged steel enclosure provides lightning-fast access and silent sliding cabinet action when you access the slider vault with either an optional biometric scanner, numeric keypad, smart key, or your backup manual keys. This solution is perfect for mounting beneath your desk, at your bedside, and/or within your vehicle when you utilize either of the two available (optional) mounting kits, which allow you to easily attach the Slider series into your vehicle.
Vaultek includes a mounting plate that allows you a great deal of flexibility with set up. You can mount the Slider to a wall or any vertical stud. Further, the mounting system is VESA compatible which opens up even more options. Another cool feature is that you can swap the Slide from one side to the other in very short order.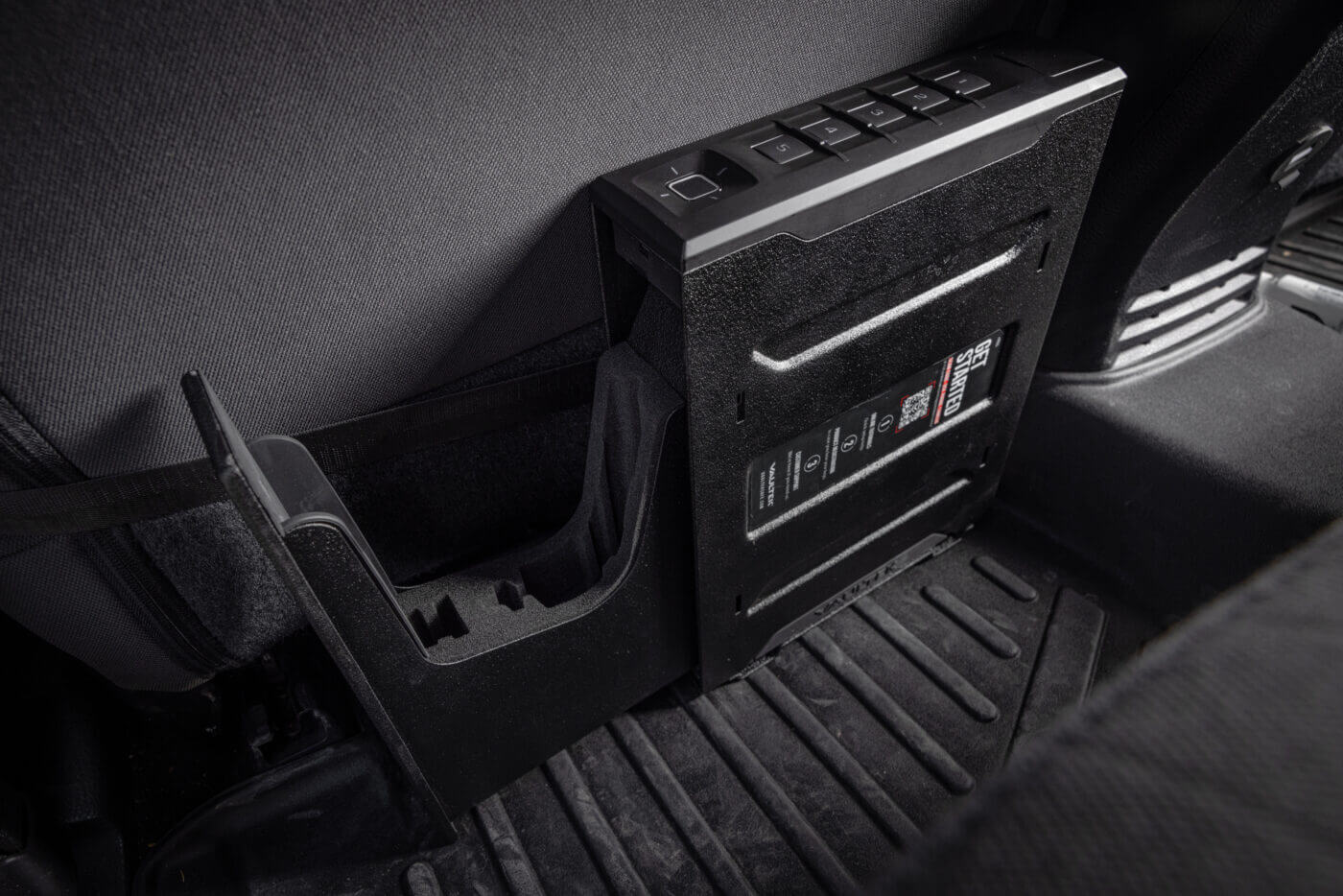 When it comes to accessing this safe, dual ball bearings combine with a precisely-machined lower rail to swiftly deliver your defensive pistol. The action is nearly silent, so you won't attract any undue attention. The latching mechanism is impact resistant. Drops and casual attempts to force the Slider open will likely fail.
As your hand approaches the lockbox, a sensor picks this up and backlights the keys. More than 40k combinations are possible to prevent the casual attempt to enter the safe. The gun storage area includes a universal holster that is padded with high-density foam. There is also a magazine pocket to store a reload.
Vaultek Lifepod 2.0
For the ultimate in compact, lockable, everyday travel safe storage, the Vaultek Lifepod 2.0 makes the art of EDC quite a classy affair. Featuring a rugged, textured protective shell, the drop-tested housing features a high-impact polymer designed to shield and protect the Lifepods contents.
The dual compression latches ensure the interior is sealed airtight. The main locking mechanism is a latch that is designed to resist impacts. It engages automatically when the safe's locking system is activated.
Access is granted via the capacitive, touch-activated keypad. The keypad has four buttons that allow you to develop a relatively simple combination. The buttons are backlit so finding them in the dark is not impossible. There are also indicators for the battery power and if the box is locked.
Once opened, an interior LED light illuminates the inside and you can remove the interior tray, which divides the storage space and features slots to organize small items, like a flashlight, multitool, spare mage, or whatever you desire.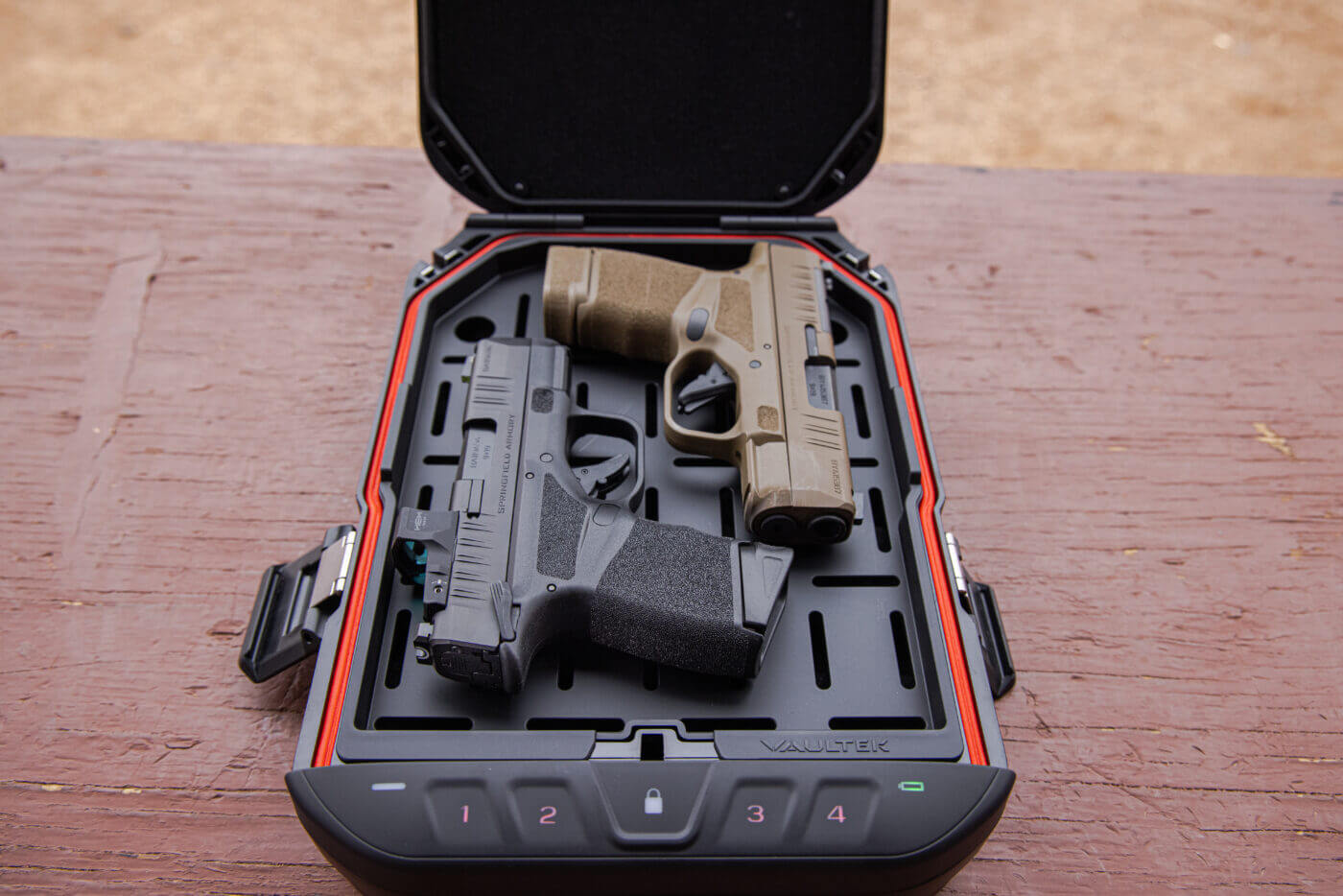 A rubber gasket is designed to weatherproof the lockbox. I urge caution as this will keep a rainshower from getting to your pistol. However, the Lifepod is not submersible. Some of the product photos show the box around boats, but the unit is not waterproof if you drop it overboard.
The Vaultek 2.0 is a great solution for organizing, containing and carrying your EDC firearm and gear, safekeeping the same while commuting, and for your off-road adventures where mud might be slung and submersion is a possibility.
Onnais Security Safe
When it comes to small, biometric, and keypad-activated storage safes, the Onnais Security Safe provides an excellent value in a compact, sturdy form factor. Great as a desktop or drawer safe, the body constructed of steel stores your firearms and valuables securely while providing rapid, reliable access.
The Onnais safe also features an anti-corrosion matte black coating and a pry-resistant lid. The opening mechanism is powered by four consumer AA alkaline batteries. Two full-size size pistols can fit into this safe. Alternatively, you can store several items with a single pistol. For example, you could keep an XD Service Model pistol along with a spare magazine and a Streamlight ProTac HL-X flashlight.
To protect the finish on your gun, ample foam pads the interior of the safe. No ugly scratches or abrasions on that pistol's slide. Entry is granted to the safe via the two included backup keys, biometric fingerprint scanner, or numeric keypad. The high-resolution scanner permits only a unique fingerprint identity can access the unit successfully and a heavy-duty steel tethering cable is included with the unit for extra security when on the go.
The StopBox
So far, all of the safe storage solutions covered have required one thing in common: power. On the contrary, the StopBox from StopBox USA, is a unique, completely mechanical safekeeping storage solution for your pistol, specifically designed to prevent tampering and quick access to others while your gun is at the ready.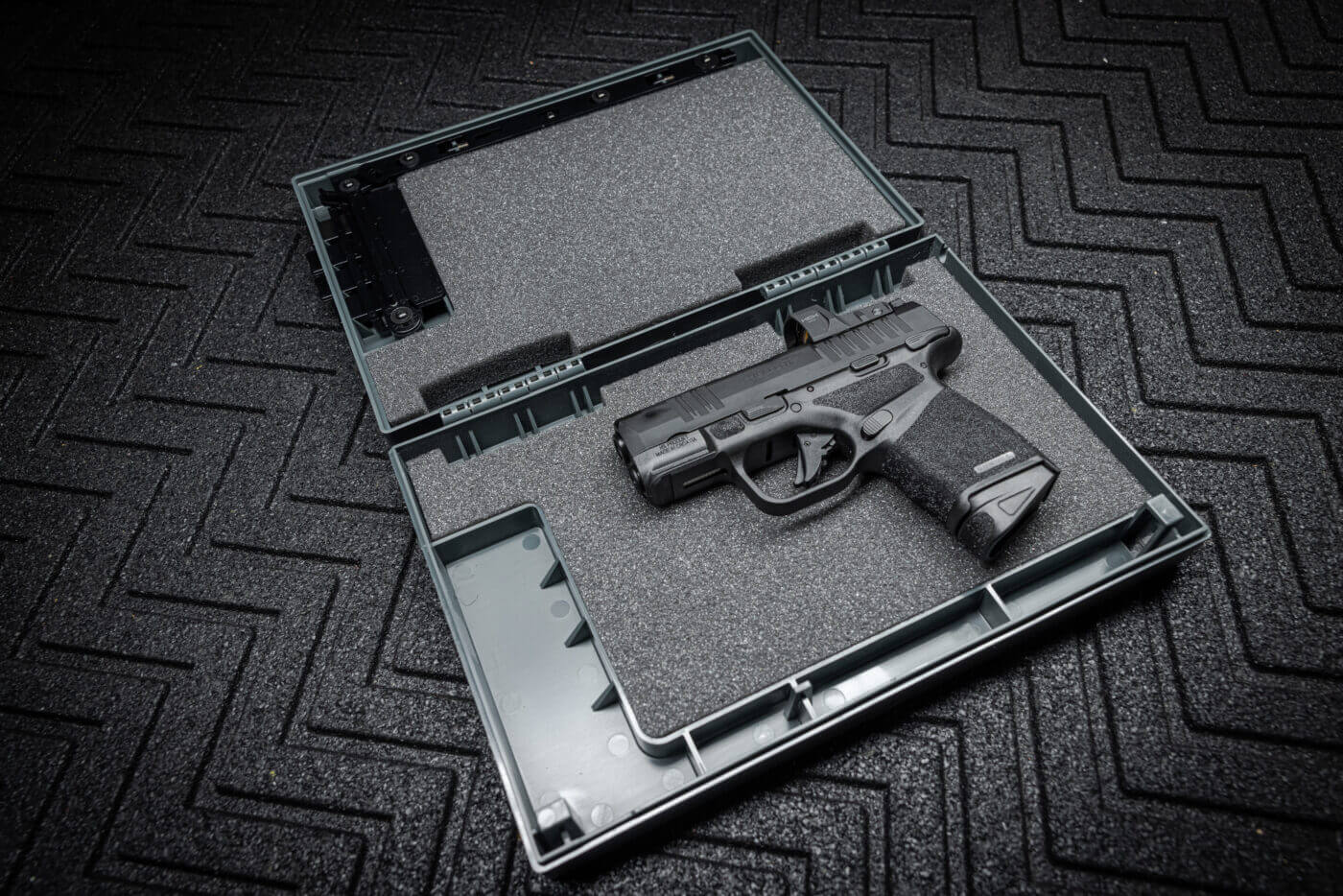 This ingenious design requires no batteries, electronics, or keys. The small, elegant box is discrete, portable, and Secure. You simply press down on the lid while pressing and holding your designated finger combination, then depress the thumb lock and lift the lid open.
It sounds more complex than it is, and it is far more secure than I ever suspected it possibly could be. I've spent a lot of time traveling with this portable safe, and it impressed me. It offers reasonable security without taking up a lot of space or weight.
AR-15

Chamber Lock

Also from StopBox USA, and also completely mechanical in nature, is the super-compact AR-15 Chamber Lock. It's design allows for fast access to your gun while still offering excellent resistance to anyone who might try to take or otherwise mess with your rifle.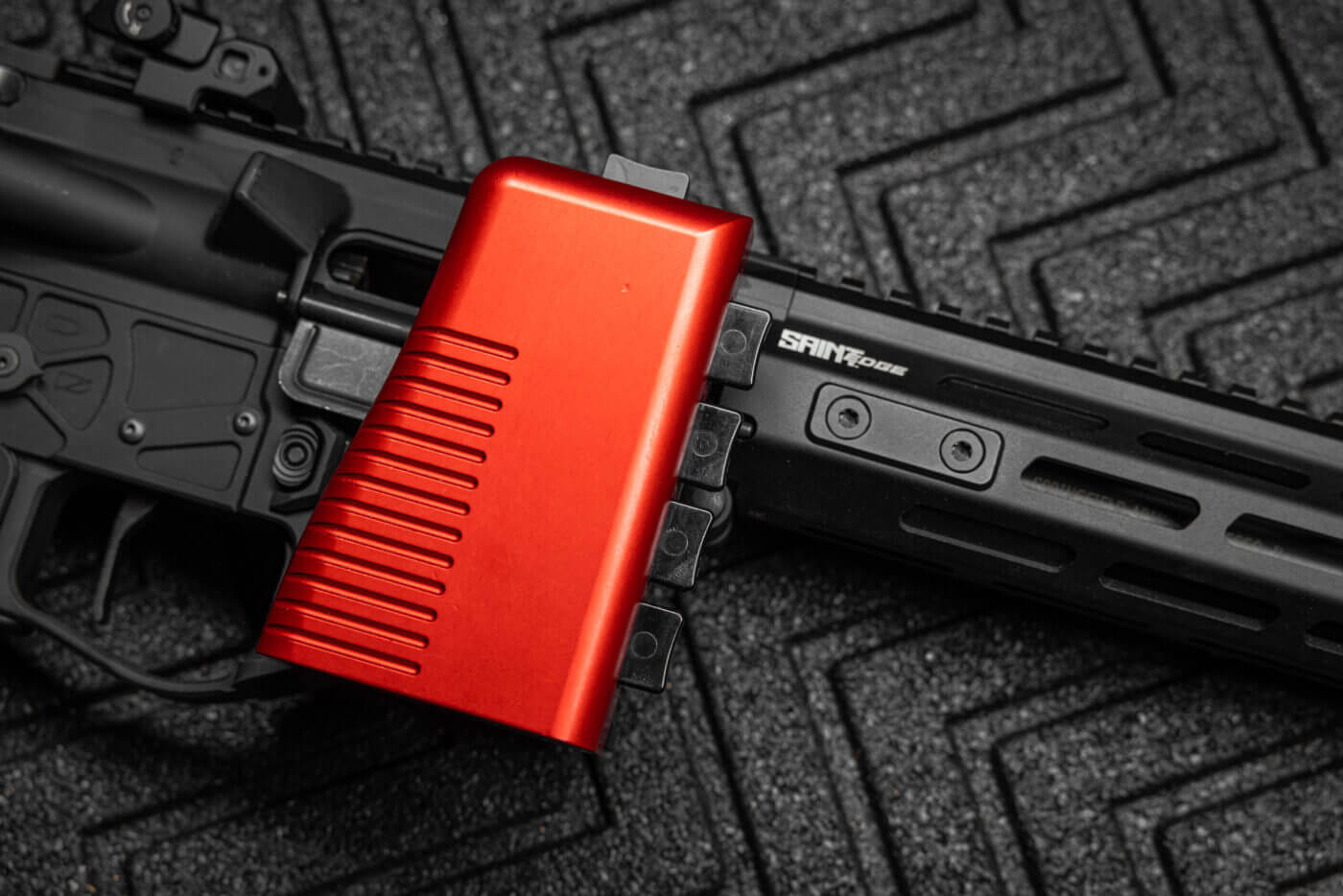 Constructed of 6061 T6 Aluminum, featuring Type II and Type III hard-anodized finishes, and a 100 percent lifetime warranty, the small unit is compatible with Mil-spec AR-15 uppers. Simply insert the Chamber Lock into the open chamber to activate the locking mechanism, and press your unique finger code combination to release it.
A rapid-access finger code lock unlocks the Chamber Lock with ease and this unique device also doubles as a chamber flag when at the range. The Chamber Lock is compatible with most AR-15 rifles such as the Springfield SAINT line. They are made in the USA. I appreciate the ability to keep a mag inserted in my AR, insert the Chamber Lock and know that it's safe and secure at a glance, and know that I can remove this safety device swiftly and throw the bolt forward in an instant and have the firearm in an operable state. The whole process, once you practice with the device a bit, can be undertaken in under a second or two.
Conclusion
Whatever safe storage solution you choose to secure your firearms, ensure that they are reliable and rugged, and take the time to understand and utilize all of the features that they may afford. Your life and the lives of those you care about most depend on it. Check out all of these brands and products in the links below.
Editor's Note: Be sure to check out The Armory Life Forum, where you can comment about our daily articles, as well as just talk guns and gear. Click the "Go To Forum Thread" link below to jump in!
Join the Discussion
Featured in this video
Continue Reading
Did you enjoy this video?
38