Crimson Trace RAD Micro Pro Green Dot Review
September 21st, 2022
6 minute read
Generally speaking, a red dot works well in low light conditions and green dots work better in daylight conditions. The reality is variances occur in our eyes; some of us are color blind, and that can affect how you see the aiming dot. Or, we can have astigmatism; that's why some of us wear glasses or contact lens.
According to the science, the human eye processes wavelengths of light and color, and our retina is designed with three types of color sensing cones: red, green and blue. We have predominantly red cones, followed by green, then blue. So, it makes sense that first generation dot optics used a red dot reticle. Red is easy to see and it definitely pops on a dark background.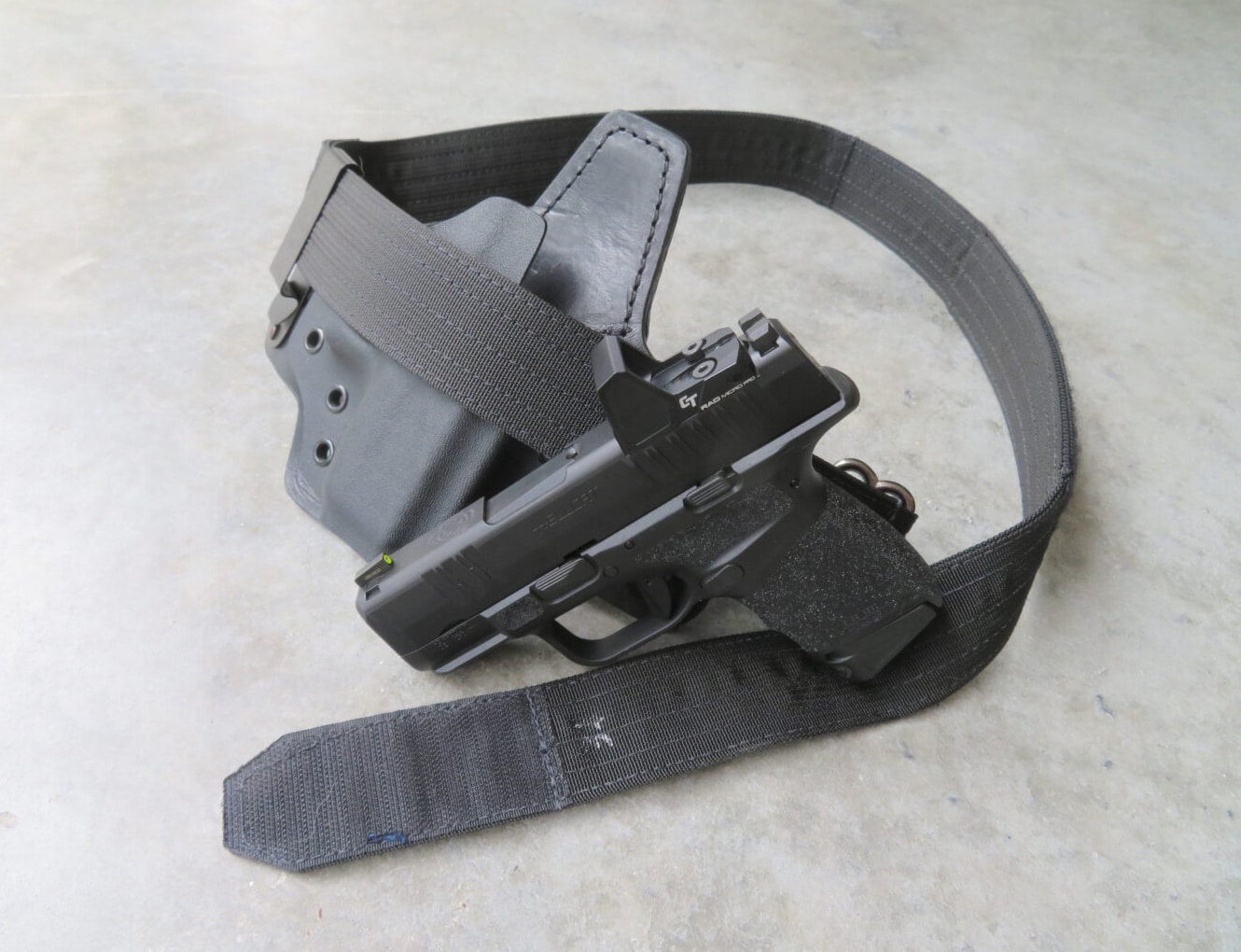 Since those first-gen optics, we have come to collectively call reflex sights "red dots", when in fact green can be a game changer depending on where and when you anticipate using your sight. Back then, you could also get any color dot you wanted as long as it was red.
On my smallbore target handgun in a dimly lit indoor shooting range, it was hard not to miss the red dot on the black bullseye. I have used red dots since the 1980s, and back then red dots were long and heavy, and chugged battery juice like we would ice water on a humid day. They weren't that durable, either, and they were expensive. Since then, we've seen red dots morph into smaller, compact units with battery life that lasts for over a year.
Obviously, a green dot on say, a green foliage background will get lost, but life does not flow in primary colors. There is a constant and nearly infinite variety of color all around us at any time. As I've incorporated optics into my daily conceal carry routine, I've found red dots can be difficult to see in bright sunlight depending on the unit and manufacturer. [Editor's note: Be sure to read "What's the Best Reflex Sight Dot Color" for more information on this topic.]
Must-Have Features
I've also become particular about the characteristics of pistol optics, and I've narrowed it down to three must-have features for me. Firstly, automatic motion sensor so it comes on when it senses motion, as on/off buttons are not an option when I'm drawing and need to make a shot fast.
Next up, automatic dot brightness adjustment to the environment I am in is important since it allows me to focus on the dot and target. There is no time to fuss with a manual brightness button. And lastly battery life. It needs to have a long shelf life since I use it for every day carry, and most of the current generation of pistol optics are constantly on and sip battery juice. Dead batteries are not an option.
Ok, maybe it's five characteristics. I need to be able to use the sight to rack the slide with one hand, and it needs to be able to survive a fall onto the cement deck. Finally, I like a sight that allows me to co-witness with my existing iron sights.
The Crimson Trace RAD Micro Pro offers all these things, and it comes in a green dot variant.
It's RAD
RAD stands for Rapid Aiming Dot. You knew it was only a matter of time before pistol optics would shrink to the size to fit a subcompact pistol. The most recent generation of dot optics have a smaller footprint, so they fit flush on the thinner slides of micro-9mm pistols like the Springfield Hellcat. The Crimson Trace RAD Micro Pro is a good example of the evolution of the dot sight.
The green 5 MOA dot in the Crimson Trace Micro Pro provides a large aiming point, so it is fast to pick up and get on target. When I am in the shade, the dot brightness rapidly adjusts. When I move into sunlight, it adjusts to the brightness so I never lose the dot and it never becomes a liability. The motion sensor means the sight is nearly always on when I conceal carry, but when I am at ease or take the holster off for the day the sight takes a nap and wakes up completely at attention when moved. I can't tell you how many red dot sights I have used that don't have automatic shut off and I have accidentally drained the battery for failing to turn off the sight.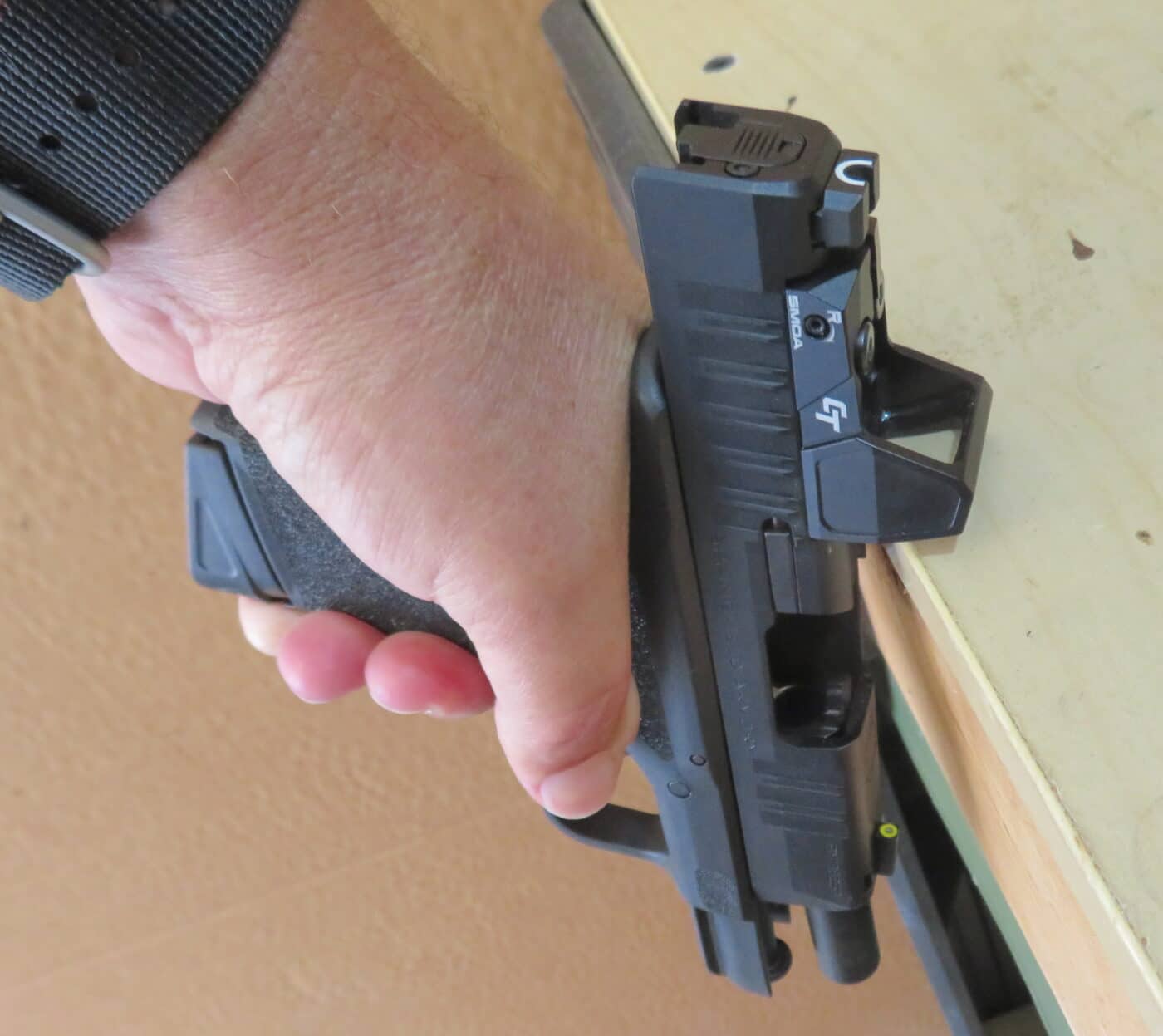 I have a battery replacement schedule and replace the button battery before it starts to deplete per factory spec at 7,000 hours. The CR1632 used is available at nearly any convenience store or gas station. Replacing the battery means removing the sight from the slide, and in my experience I have not seen a shift in point of impact after replacing the battery. I am also extra cautious about not getting cleaning fluids on the sight when scrubbing the slide, or oil on it when lubricating the rails and barrel slide contact points.
Crimson Trace RAD Micro Pro Specifications
| | |
| --- | --- |
| Aiming Dot Size | 5 MOA |
| Magnification | 1x (none) |
| Lens | Multi-coated glass |
| Footprint | Shield RMS and JPoint compatible |
| Battery | One CR1632 |
| Battery Life | 7,000 hours (>1 year) |
| Battery Access | Bottom mount |
| Brightness Adjustment | Automatic |
| Body Material | 7075 aluminum |
| MSRP | $299.99 |
TV Screen
The Crimson Trace also has a notch cut in the rear body of the unit so it co-witnesses with the pistol's front sight. Back-up systems like this are always welcome. The front lens is also recessed into the housing so, when racking the slide via the sight, it doesn't come in contact with the whatever you are using to manipulate the slide — like the mouth of your holster or edge of a table. The body is made of 7075 series aerospace aluminum, which is 30 percent stronger than other aluminum alloys in other sights.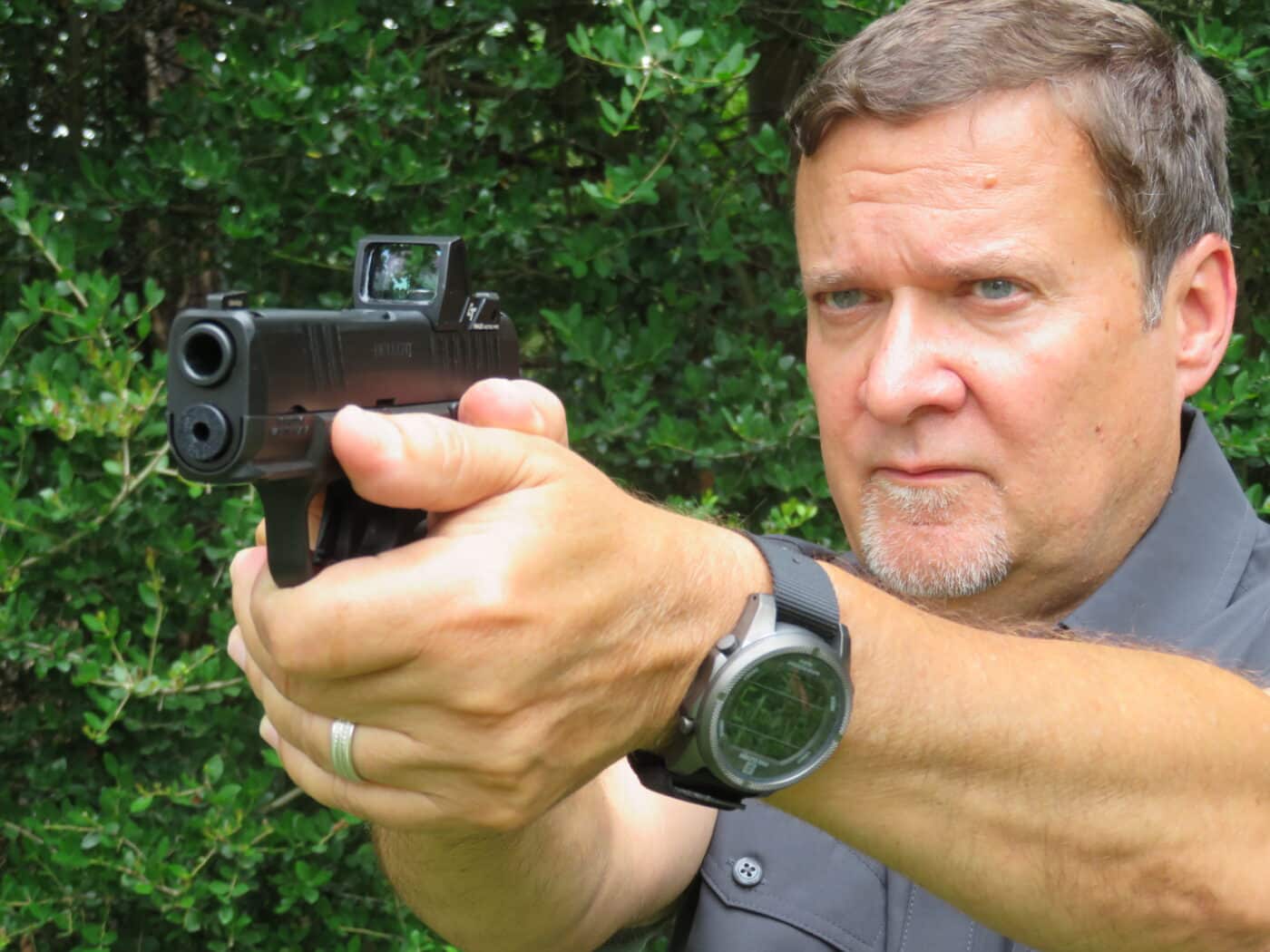 In use, the Micro Pro offers a large window — basically, a jumbo TV screen — for aiming at ranges that the FBI say are typically the distance in a deadly encounter — a matter of feet. The large 5 MOA green dot gets me on target for a fast first shot as well as follow-up shots.
I haven't babied the Micro Pro. Carrying a micro-9mm with an optic is no different than carrying a micro-9mm with standard iron sights. I use a Falco hybrid A116 holster, which has a Kydex holster shell attached to a leather back. Two low-profile steel belt clips keep it attached to my nylon EDC Belt Company Foundation Belt. I like how the leather sweat guard separates me from the gun and how the leather flexes for more comfort.
End Game
If you want to go green, the Crimson Trace RAD Micro Pro is a great option with all the features that make EDC with an optic-equipped micro-9mm easier to draw and fast on target. Seeing is believing. And at an MRSP of $299.99 (a red dot model is also offered, for $274.99), it won't break the bank.
Editor's Note: Be sure to check out The Armory Life Forum, where you can comment about our daily articles, as well as just talk guns and gear. Click the "Go To Forum Thread" link below to jump in!
Join the Discussion
Featured in this article
Continue Reading
Did you enjoy this article?
72