Customize that M1A
December 29th, 2019
6 minute read
What do you get when you start with a Springfield Armory M1A Scout Squad in basic factory trim and send it to ROBAR for the "Full Monty"? Read on, and you'll find out.
It will come as no surprise to regular readers that we consider the Springfield Armory M1A Scout Squad to be one of the finest .30-caliber defensive carbines money can buy. And that's why most of us here at On Target own one of them. The M1A Scout Squad is a relatively light (8 lbs. 4 oz.), eminently rugged, battle-proven design, and its 7.62 NATO cartridge packs a major punch, generating roughly two and a half times the muzzle energy of the 5.56 NATO round. If it really needs killing — from North American big game to threats of the two-legged, dirt-bag kind — then 7.62 NATO will produce the desired results.

The motivation for this project was to create the ultimate M1A defensive carbine: the ultimate in functionality, reliability, adaptability — all while not adding a ton of weight. Starting with a staff-owned M1A Scout Squad, we sat down and made a list of all the things we'd like to change to enhance the rifle's functionality. Since we think Springfield did an outstanding job on Scout Squad, it was a fairly short list: a collapsible buttstock, a pistol grip, and a full-length top rail to provide the option of mounting short-eye-relief magnifying optics. As it turned out, our first choices to satisfy all three of these needs were provided by VLTOR Weapons Systems in Tucson, Arizona (Tel.: 520-408-1944; E-mail: contact@vltor.com; Web: www.vltor.com).
The VLTOR M1-S stock system for the M1A/M14 ($529.95) is a direct replacement for factory M1A buttstocks, and includes a 5-position Enhanced Carbine Modstock, pistol grip, and replacement fore-stock in your choice of black, foliage green, or flat dark earth. The buttstock includes a 1/2″ thick rubber butt pad, one flat storage compartment, two tubular storage compartments, enhanced cheek welds, two quick-detach sling swivel receptacles, and a molded sling loop at the heel. The stock slides on a machined aluminum tube, and attaches to a solid aluminum stock adapter via a bolt and nut that permit a half inch of vertical adjustment in comb height. The ergonomically shaped pistol grip has two tubular interior compartment for battery storage, and attaches solidly to the stock adapter, which, in turn, attaches solidly to the receiver and fore-stock. The fore-stock includes a forward-mounted sling loop.
To create a full-length top rail we chose VLTOR's CASV-14 upper handguard assembly ($325.95). It features a one-piece, extended-length top rail that runs from the gas cylinder all the way back over the receiver. It is secured at the rear by the dovetail for the rifle's stripper clip guide; in the middle at the rear of the barrel; and forward at the operating rod guide — a super-rugged mounting system that permits the barrel to free float over the majority of its length. Machined from aerospace-grade aluminum, the CASV-14 is vented along both sides, and includes three side flats with threaded holes for mounting optional 5-inch Picatinny rail sections. Even though our vision for the finished rifle was a flat dark earth treatment, we ordered all the VLTOR components in black as we wanted to see how well the various ROBAR metal and plastic finishes we had in mind would match.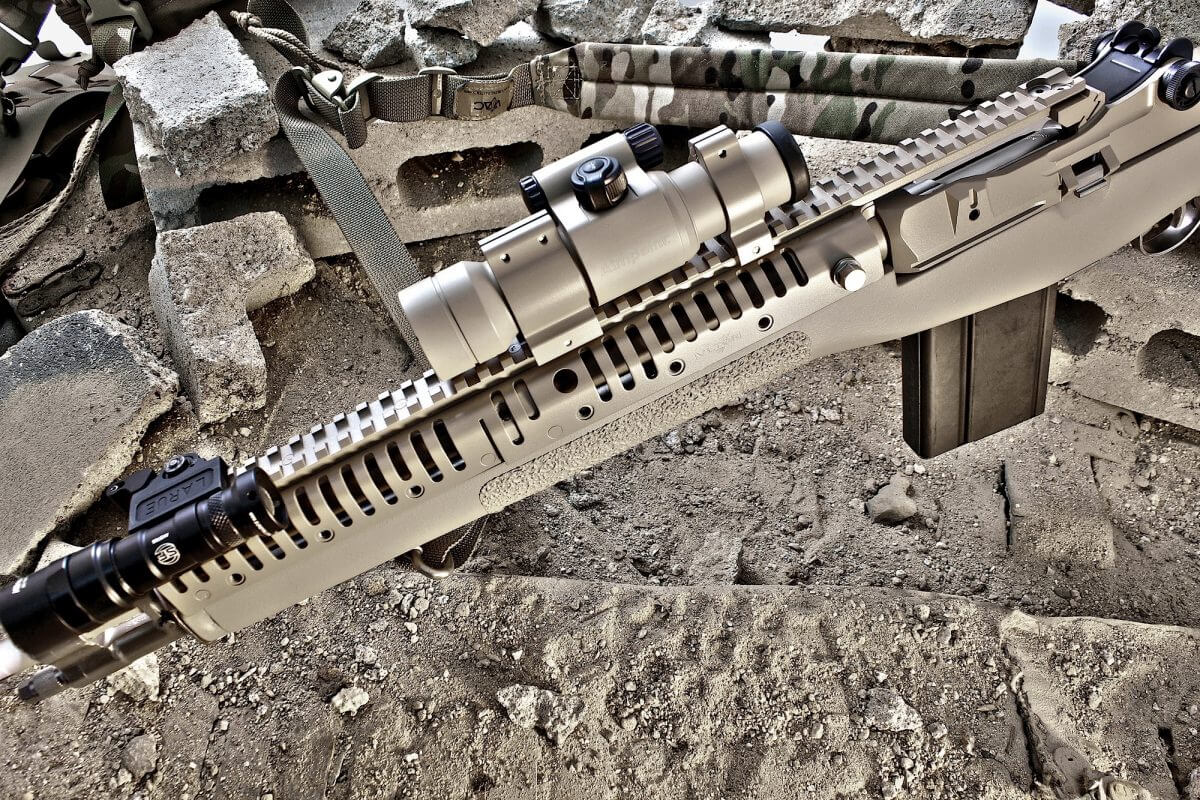 We packed up the M1A Scout Squad and all the VLTOR stuff and shipped it off to ROBAR to have them work their magic. We also included a staff-owned Aimpoint Comp M2 red-dot optic and a pair of rings to have them finished to match the rifle. ROBAR offers a wide variety of finish materials and processes for steel, aluminum, and polymer gun parts, all of which offer distinct benefits.
Poly-T2 is a Teflon-based, modified epoxy coating designed to provide lubricity and corrosion protection for metal components exposed to harsh conditions. It provides corrosion protection in excess 1,000 hours of salt-spray exposure that exceeds the ASTM-B-117 standard. This ultimate protective finish is available in four colors: black, tan, dark OD green and gunmetal gray. We chose tan — a perfect match for most flat-dark-earth components — and had this finish applied to our project gun's barrel and receiver, the VLTOR CASV-14 upper handguard assembly, stock adapter, and optic mounting rings.
NP3 is a satin-silver colored, electroless nickel-based finish for steel, stainless steel and aluminum alloys that co-deposits sub-micron particles of Teflon with electroless nickel. It permits firing a lot more rounds between cleanings, as powder residue has no wet or oily surface to cling to. NP3 is also very corrosion resistant, and its high lubricity and low co-efficient of friction greatly increase the life of high-wear components. It's the perfect finish for load-bearing and moving parts, and carries a lifetime warranty. ROBAR coated our project gun's bolt, bolt release, operating rod, gas cylinder, muzzle brake, hammer and internal components, trigger, trigger guard, safety lever, magazine latch and guide with NP3 (all of which previously showed finish wear and/or rust). They also NP3 coated all of the metal mounting and operating hardware on the VLTOR upper handguard assembly, buttstock, and fore-stock, including the receiver extension tube. The cost for all of the Poly-T2 and NP3 finishing described above was $580.
Polymax is a spray-on finish that does not need to be baked like Poly-T2 does. It comes in the same colors as Poly-T2, and is the finish of choice for both polymer parts and metal components that cannot be baked, like optics. ROBAR finished the VLTOR fore-stock, buttstock, pistol grip and Aimpoint Comp M2 in tan Polymax, all of which are an excellent match for the metal components finished in Poly-T2. Total cost for Polymax finishing: $230.
Before finishing the VLTOR fore-stock and pistol grip with Polymax, we had ROBAR apply their non-slip texturing to the entire pistol grip and the sides and underside of the fore-stock ($135). This spray-on application is textured before it hardens, and becomes a seamless and permanent addition to the polymer components. (We also had ROBAR apply the same non-slip texturing to the Springfield Armory factory stock).
As usual, we were very pleased with our overall experience with ROBAR. The quality of all the finishing work was flawless, turnaround time and cost were both very reasonable, especially considering the amount of disassembly and reassembly time involved to detail all of the small parts and components. Not counting the texturing and finishing of the Springfield Armory factory stock and upper handguard, the total cost for all of ROBAR's work on our project gun came to $945.
If you have a "project gun" of your own that you want to survive a lifetime of hard use, contact The ROBAR Companies, Inc., Dept. OT; Tel.: (623) 581-2648; E-mail: info@robarguns.com; Web: www.robarguns.com
Editor's Note: This article originally appeared in On Target and has been shared with their permission. In addition, Robar Guns no longer offers gunsmithing services since the original publication of this article. However, the VLTOR products used in the build are available and linked below.
Join the Discussion
Featured in this article
Continue Reading
Did you enjoy this article?
138