First Look: SAINT Victor Pistol .308
April 28th, 2020
5 minute read
I own guns for fun and some for utility, and others for utility and some fun. I own a SAINT Victor .308 for utility and some fun. I always saw the .308 rifle as one chambered for a good working cartridge, especially for hunting in areas that alternate from dense brush to cutovers and fields. But, there's a new Victor in .308 on the market, and it's one that I really want for fun!
The new SAINT Victor Pistol in .308 was first shown at SHOT Show earlier this year, but I'll admit that I barely noticed it as I fell in love with the Springfield PDW and the EVAC that also were being shown for the first time (to see our SHOT Show 2020 coverage, click here). Frankly, I feel silly for overlooking it now.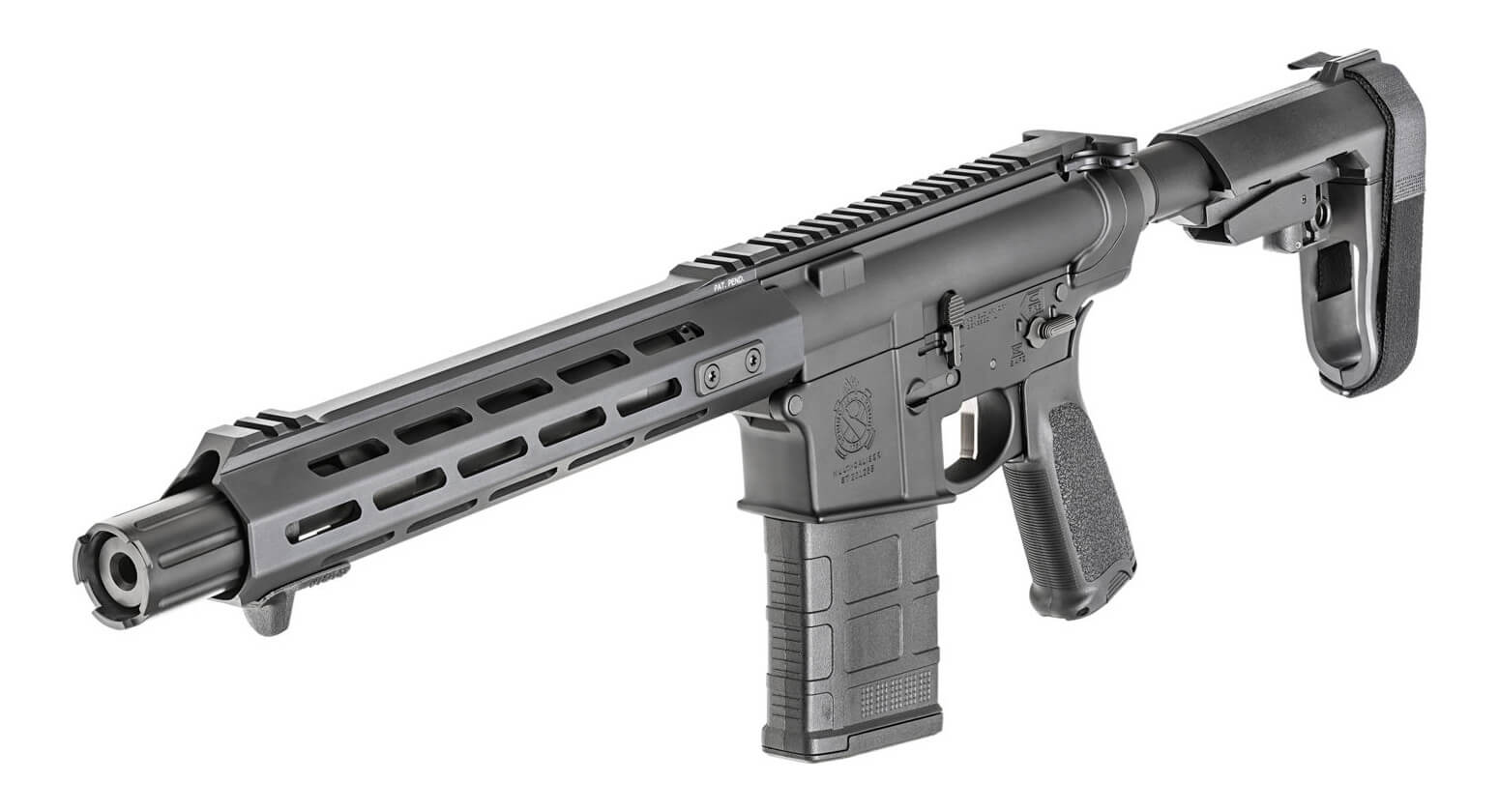 After spending some time with it on the range, I've discovered one of the most fun guns I've handled in some time. Admittedly a lot of the fun comes from an unusual area, and that is the challenge the gun creates. It's not hard to shoot, per se, but it is more challenging than a 5.56mm.
A .308 pistol is a big round coming out of a small gun, and as you'd imagine that creates some recoil and muzzle rise. But, there's something to be said for packing in more power into a still compact package. In fact, the Victor Pistol in .308 delivers more than twice the energy on target as a comparably sized 5.56mm pistol.
The Details
Let's talk about the size of the gun. The pistol features an SB Tactical SBA3 brace. The gun weighs in at 8 lbs. 6 oz., and the CMV Melonite-coated barrel is a short 10.3" with a 1:10" twist. Topping off the muzzle is a Springfield Armory 2-Piece Blast Diverter.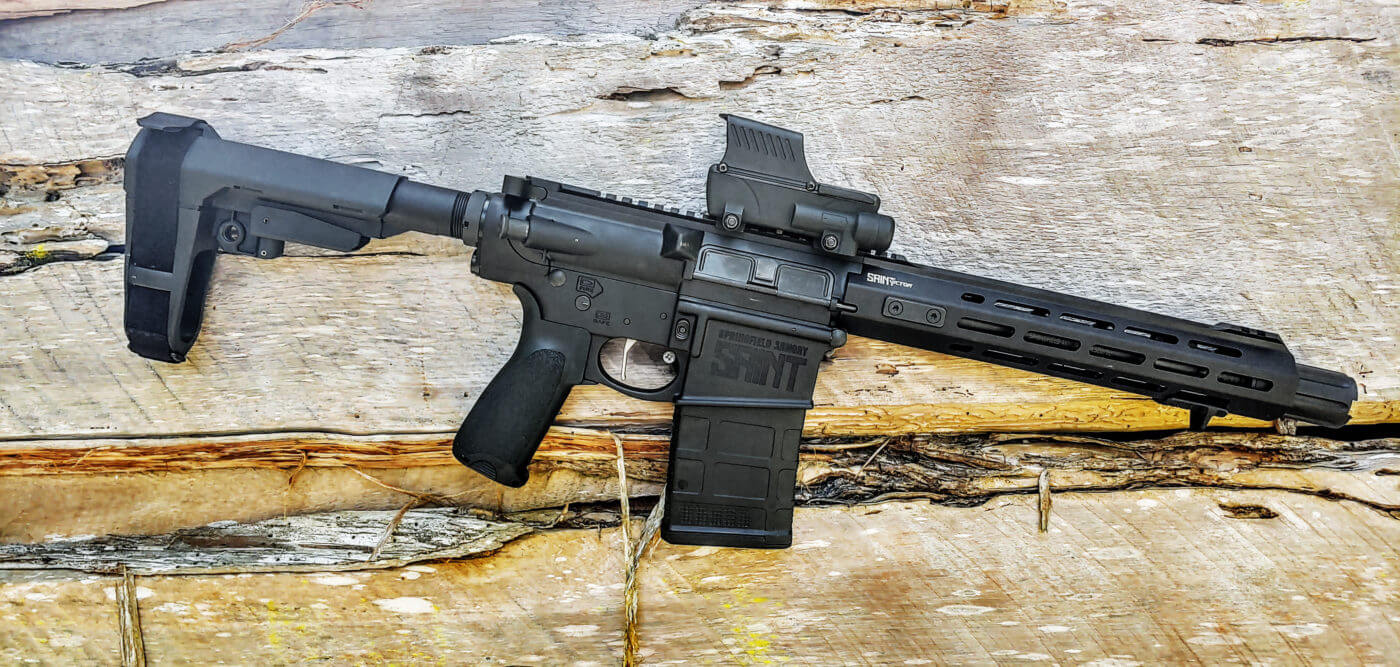 Inside the forged 7075 T6 upper receiver is an HPI (high pressure tested) and MPI (magnetic particle inspected) bolt, and the bolt carrier group is Melonite coated. Inside the forged 7075 T6 lower is the Springfield Accu-Tite system for removing play between the upper and lower receiver as well as a nickel-boron-coated flat trigger.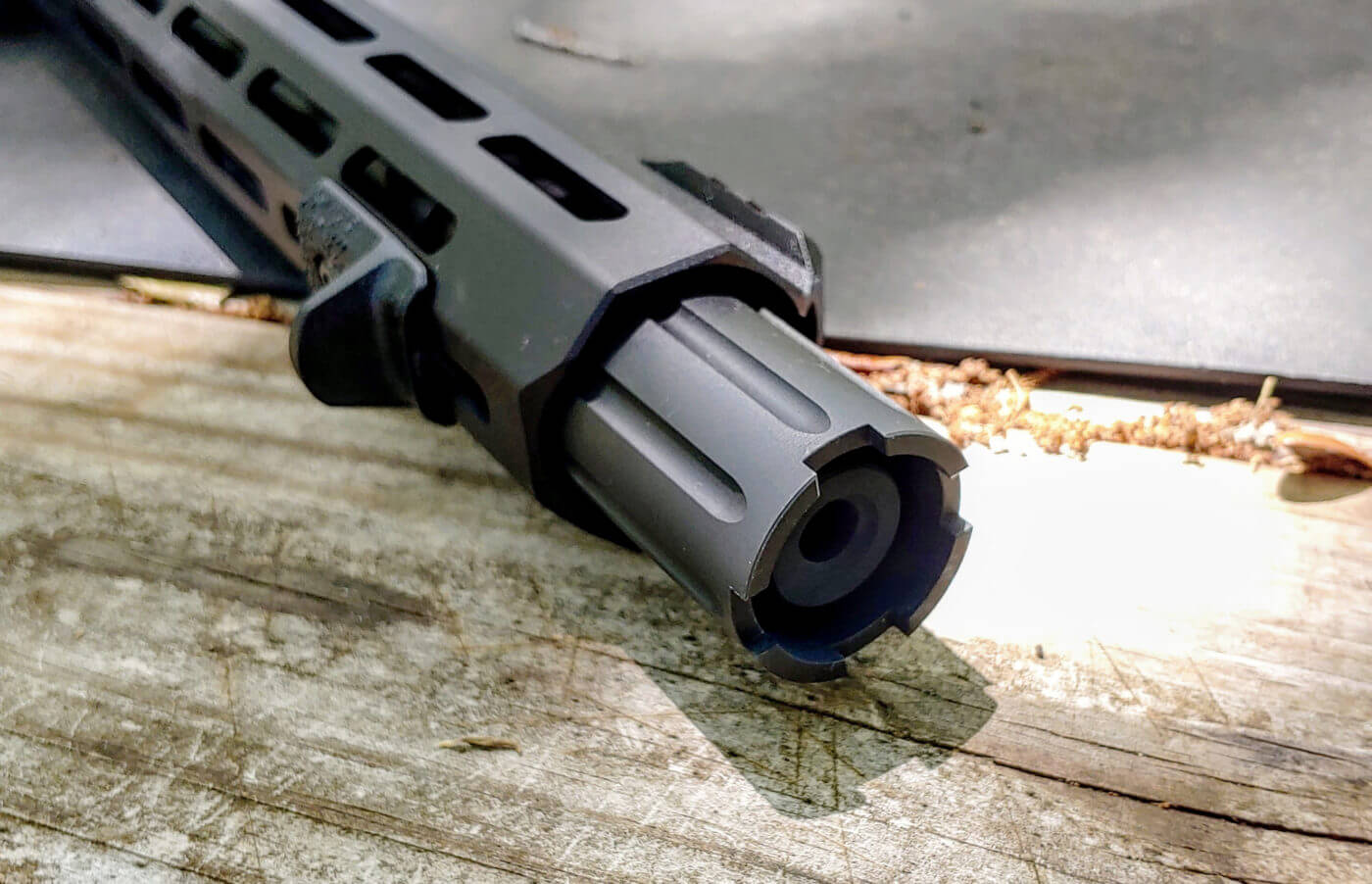 Surrounding the barrel is an aluminum M-Lok free-float forend equipped with a forward safety stop. An excellent Bravo Company USA BCMGUNFIGHTER Mod 3 pistol grip and 20-round Magpul PMAG Gen3 magazine round out the package.

Hands On
As I mentioned, shooting .308 out of a package this size is going to create some recoil — that's just basic physics. And while controlling said recoil and muzzle rise is the challenge, it is also part of the fun of this weapon. Shooting this gun is a literal and figurative blast.
I found that while the gun is quite powerful, the blast diverter and overall design of the gun made it more controllable than I expected. Yes, it's a .308 that is around 28″ long, but it is more than shootable.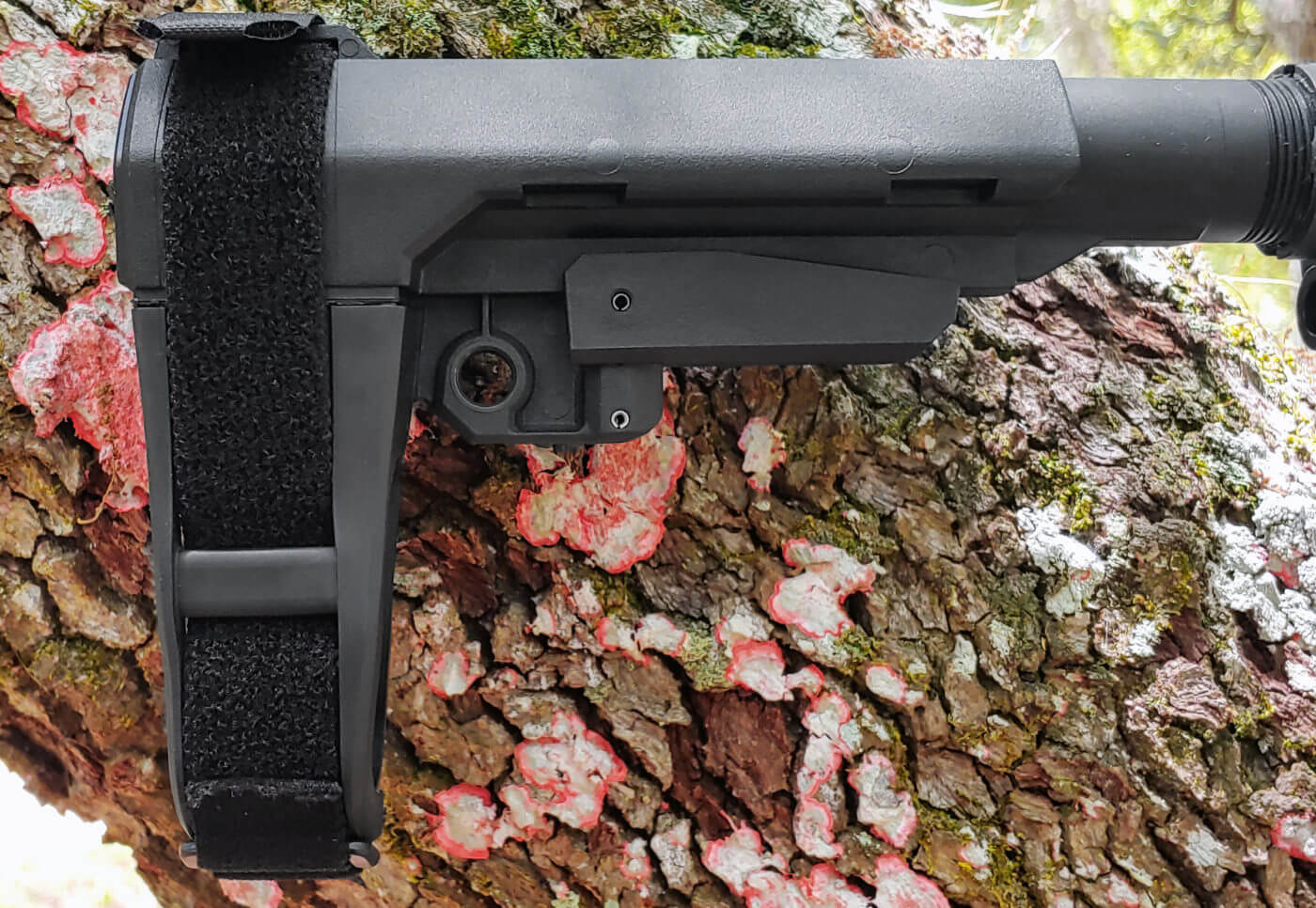 The SBA3 brace is quite comfortable and wraps around the arm easily enough. The SBA3 is my favorite pistol brace of all time and gives my above average-sized forearms plenty of room to be comfortable. It also makes it very easy for the shooter to get on and stay on target. Out to 50 yards, I shot appreciatively better with the brace than without it.
The M-Lok rail is free-floating, and add on that on top of the excellent flat-faced, nickel boron trigger and you get a weapon designed for accuracy in a package not traditionally associated with precision.
Downrange
The SAINT Victor also proved to be more accurate than I expected. It's a .308-caliber pistol, so I was expecting something closer to subgun accuracy, but I found myself on the right side of being wrong. It proved to be excellent in the accuracy department and I found myself striking small targets at 50 yards standing with nothing more than the excellent Meprolight Foresight red dot I put on the gun and the brace. The targets ranged from a 10″-wide gong all the way down to a clay pigeon.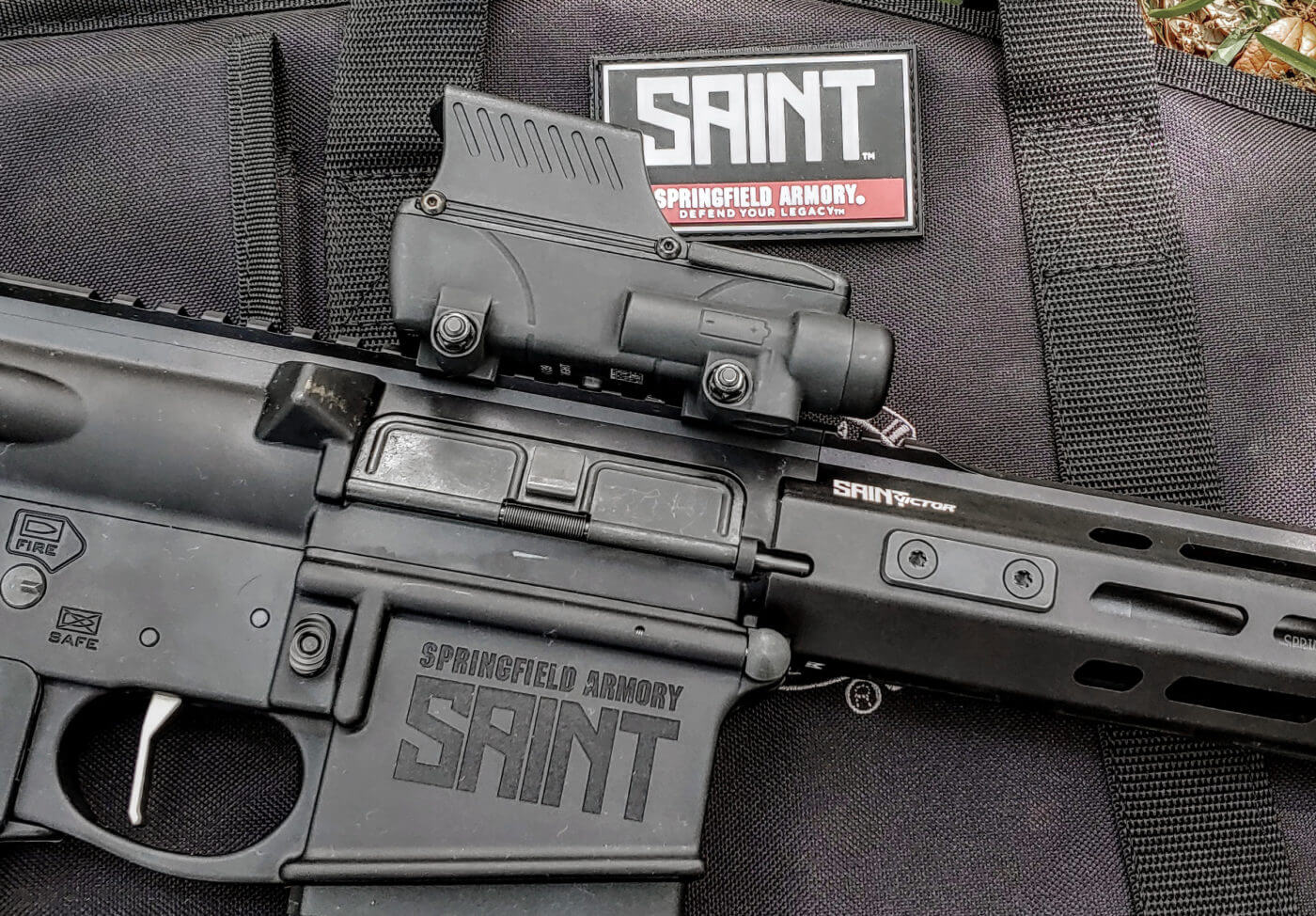 The SAINT Victor Pistol in .308 is accurate enough to be an excellent field companion. It would easily fit on an ATV, a side by side or any other all-terrain type vehicle and be powerful enough to deal with feral hogs, coyotes and more. If you're on foot, it's superbly light and easy to sling across your back.
Conclusion
The SAINT Victor Pistol in .308 proved reliable with a variety of both hunting ammunition and common FMJ loads. It ate, fired and ejected everything I tossed through it. While a .308 pistol is somewhat unusual, Springfield put this one together in a way that is comfortable and fun to shoot while being as compact and light as possible. They describe it as "Purpose Built Power," and I agree — but I'd also call it just plain fun! And at an MSRP of $1,363, it won't break the bank either.
Due to an ATF ruling regarding the configuration of pistols with stabilizing braces, these firearms can be subject to NFA (National Firearms Act) regulations as short-barreled firearms. It is the buyer's responsibility to comply with all rules, restrictions and/or laws determined by your city or state. Please ensure you are up-to-date on all current laws.
Editor's Note: Please be sure to check out The Armory Life Forum, where you can comment about our daily articles, as well as just talk guns and gear. Click the "Go To Forum Thread" link below to jump in!
Join the Discussion
Featured in this article
Continue Reading
Did you enjoy this article?
177