I am fortunate enough to work in the gun industry and have opportunities that not many are afforded, like getting to test out rifles like this SAINT Victor B5. In this article, I will be focusing on building what I would consider my main needs for a rifle in uncertain times.
Editor's note: Be sure to check out Paul Carlson's review of the SAINT Victor.
The Add-Ons
Alright, let's jump into what makes this my go-to rifle and what I changed to make it that way. First off, I am very happy with this rifle out of the box. It needs only one change for me, which would make this rifle perfect.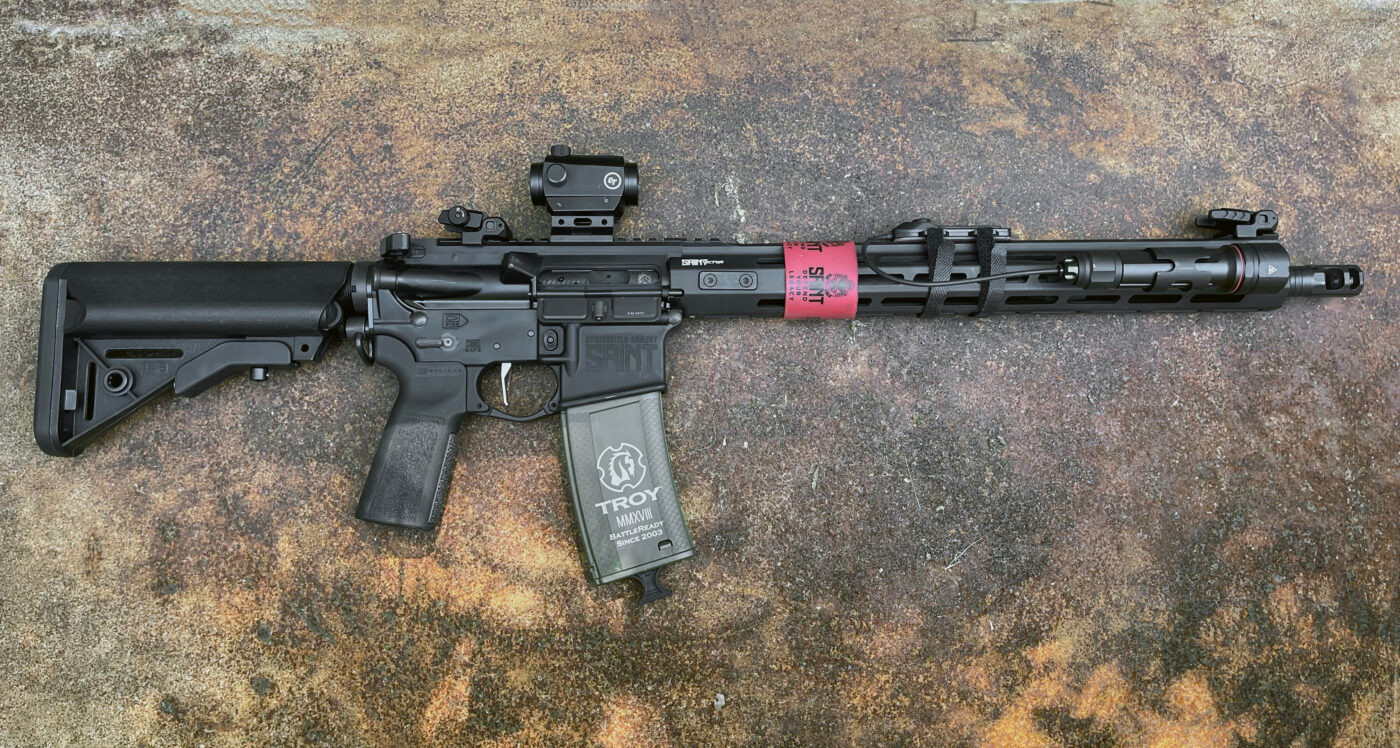 As anyone who follows us on Gears of Guns will know, I hate the standard small charging handle that companies send out. I want more real estate on my handle so it is more comfortable to shoot. Springfield Armory did an amazing job putting this rifle together, but I personally don't like the basic charging handle. I addressed this with a Radian Weapons Raptor ambidextrous charging handle.
Crimson Trace Goodies
After changing the charging handle, everything I added was things you would normally add yourself to a rifle like this — the optic, flashlight, sling. I went with Crimson Trace on this project because they have quality products at a price that isn't going to break the bank.
The Crimson Trace CTS-25 Red dot is a 3 MOA dot and, for me, is just about right as this SAINT is not my long-range rifle. If I want anything past 200 yards, I will switch to my M1A SOCOM 16 CQB.
Crimson Trace's CWL-202 is my current favorite rifle light as it is 900 lumens, has a momentary switch and on/off switch, and comes with key-mod, M-Lok, and Picatinny rail mounts in the box. Honestly, I have three more of these on order that I am hoping will be here next week.
Slings & Things
The Phase 5 Single point sling is similar to the first (unknown brand) sling I ever owned, and I have been hooked on single points ever since. The Saint Victor B5 comes with the QD endplate, which is where I mount all of my slings anyways. I tend to replace the end plates on my rifles so I can run QD single-point slings, so this saved me the time and money from having to switch it out.
Now, you might be wondering why I changed over to the Troy Battlemags instead of the Magpul PMAG that came with the rifle. In my opinion, we need to show support for other brands in the industry and show them as much love as Magpul gets. Magpul makes a great product, but I wanted to try something else out to see.
Specs
| | |
| --- | --- |
| Chambering | 5.56/.223 |
| Barrel | 16" |
| Weight | 6 lbs., 12 oz. |
| Overall Length | 33.25″-36.75″ |
| Sights | Flip-up |
| Stock | B5 Systems Enhanced SOPMOD |
| Action | Semi-auto |
| Finish | Black |
| Capacity | 30 (one magazine) |
| MSRP | $1,150 |
Overall Thoughts
Springfield did an amazing job building this rifle with B5 Systems gear. From the Type 23 pistol grip to the Enhanced SOPMOD stock, this is a great rifle. I love the weight, the trigger, the M16 BCG for added reliability and durability, and I love that they included back-up iron sights (BUIS). This makes it easy to go from FFL to range without needing to mount an optic; it's range-ready out of the box.
Editor's Note: Please be sure to check out The Armory Life Forum, where you can comment about our daily articles, as well as just talk guns and gear. Click the "Go To Forum Thread" link below to jump in!
Join the Discussion
Featured in this video
Continue Reading
Did you enjoy this video?
47