Hellcat Torture Test: 10K Rounds of 9mm +P
April 29th, 2021
5 minute read
The Springfield Armory 9mm Hellcat has proven to be a remarkably popular new EDC pistol, combining micro-sized dimensions with an impressive 11+1 (13+1 with finger-extension magazine) capacity. And it proved that it could handle tens of thousands of rounds of 9mm put through it, despite its small size.
But what about +P (increased pressure) ammo? The tiny little pistol is in fact rated to handle these more powerful ammo offerings that increase velocity and downrange power, but how many of these rounds can it digest?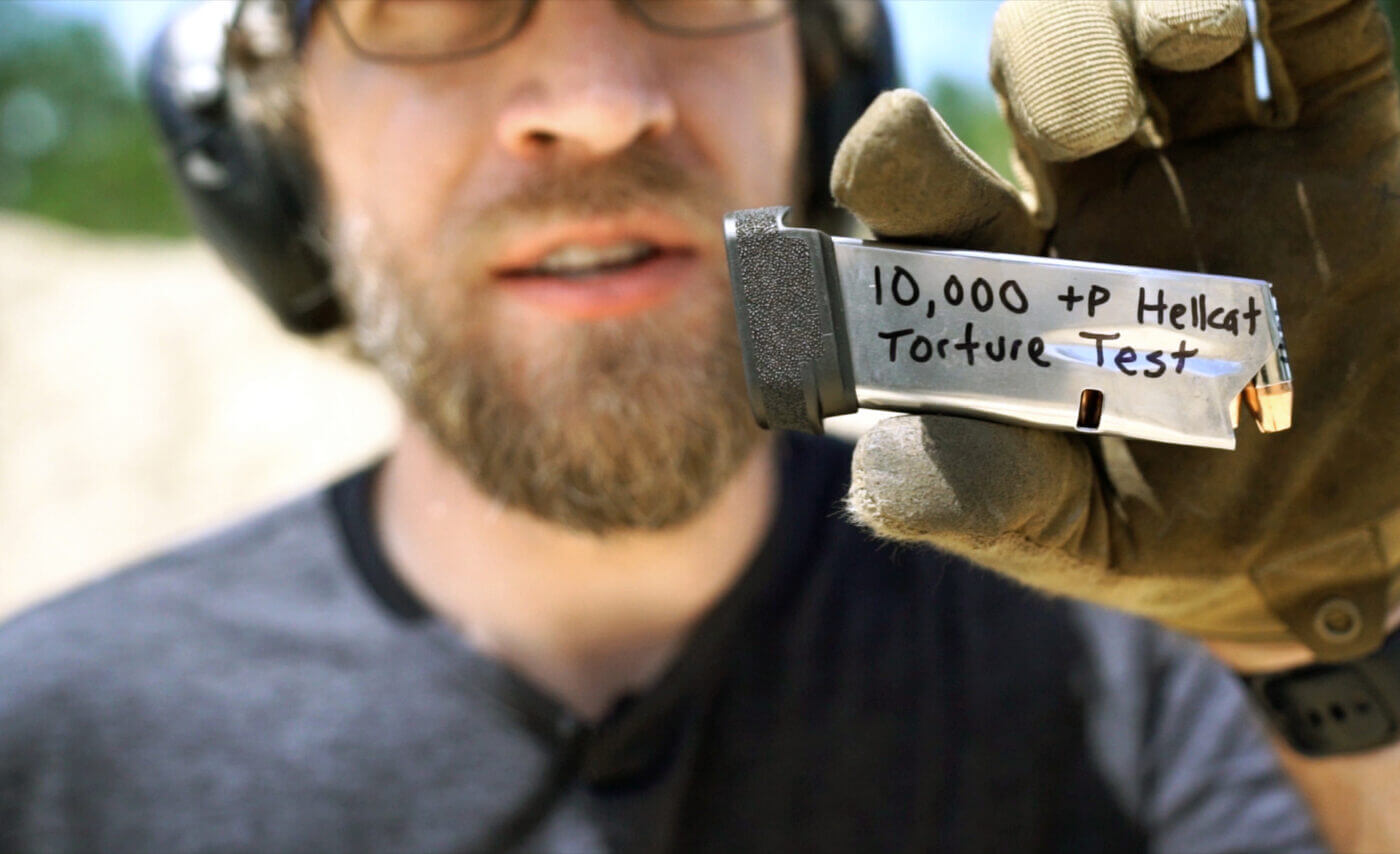 Recently, Concealed Nation and USA Carry decided to team up on a project to find out for themselves, with a plan to run 10,000 rounds of +P Underwood ammunition through a Hellcat pistol to see how it would do. The Armory Life had a chance to chat with Concealed Nation and get the low-down on the test. Also, be sure to check out the video of the test itself at the top of the page.
The Armory Life (TAL): Can you tell me a little about Concealed Nation and USA Carry, the two major partners in this project?
Concealed Nation (CN): Concealed Nation and USA Carry, two of the largest concealed carry communities in the world, teamed up to torture test the Springfield Armory Hellcat. Having catered to concealed carriers across the country for decades between the two groups, the partnership for this endeavor seemed like a natural fit. Over the years, each company has independently published firearm reviews, beginner's guides and in-depth information regarding concealed carry and responsible firearm ownership.
TAL: It sounds like you guys know your way around an EDC pistol. Why did you decide to try to do this test with the Hellcat?
CN: We saw the video on TheArmoryLife.com of the 10k round test with the Hellcat using Federal target ammo, and said to ourselves, "Let's do +P and go wild." Knowing that many people carry their EDC firearms with +P ammo, we wanted to see if the Hellcat could handle 10,000 rounds of these high-pressure rounds.
TAL: Why did you select the Hellcat for the test?
CN: Both Concealed Nation and USA Carry had received Hellcats for review, and both of us were really impressed by it. Each of us started carrying it regularly, and came to the decision that a +P torture test would be a really interesting test with it. We wanted to see if our carry guns could handle this.
TAL: Why did you select Underwood Ammo for the test?
CN: We had a relationship with Underwood Ammo prior to the test, and it's also common knowledge that their +P ammo is known for its power. Knowing that, we felt it was a great candidate to show if the Hellcat could handle a steady diet of +P ammo.
TAL: Can you tell us about the test planning?
CN: The test took a long, long time. We started in Sparta, Illinois, at the Underwood Ammo facility. While we had initially planned to finish the test there, we ran into bad weather and had to leave after completing 7,500 rounds of the test. Then, COVID-19 happened. We weren't able to get back together until six months later, when I drove over to a USA Carry location in Louisiana. We finished up the test at an outdoor range in the wild summer heat down there and wrapped it all up.
TAL: How did the pistol do?
CN: The Hellcat held up great, whether it was in the cold up in Illinois or the blazing summer heat and humidity in Louisiana. My biggest concern was something happening to the barrel in Illinois. We would shoot and then cool down the barrel when it was approaching 300 degrees, but would cool it down with cold compressed air. It would be ice cold in less than 20 seconds. That rapid heating and cooling initially had me concerned, but it didn't affedt the gun at all. Every part on the Hellcat held up, and we couldn't have asked for better results.
TAL: How did the ammo perform?
CN: The Underwood Ammo was flawless. Apart from the sore hands and blisters it gave us firing so many of these powerful rounds, that is!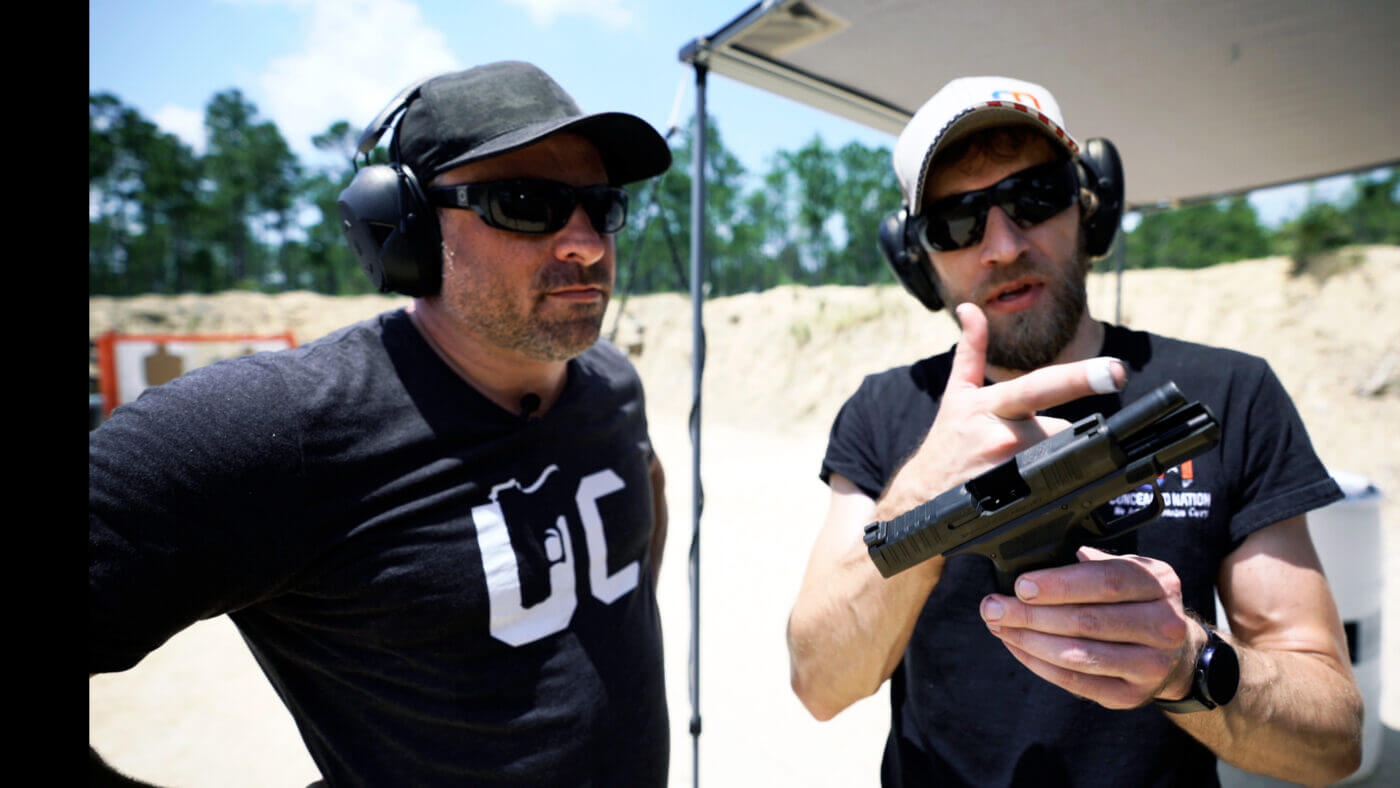 TAL: That's an interesting point you made. How did you guys hold up during the test? Was it as punishing a process as one would think it would be?
CN: We really had no idea what we were getting into, and it turned into quite the task for us. It was brutal, but mostly due to the weather at both locations. Oh, and the blisters. So many blisters. But the gun was manageable to handle, even with the powerful +P ammo from Underwood.
TAL: What did you learn from the test? Did it differ from any expectations you had going into the project?
CN: We learned that we should have more than two people shooting! But really, we learned just what a top-line concealed carry handgun like the Hellcat could do under not-so-normal circumstances, and were very happy with the outcome. Surviving that many rounds of +P ammo is a feat, but we and the Hellcat pistol did it!
TAL: Did this test have any effect on your opinion of the Hellcat pistol?
CN: It gave us both even more confidence in the Hellcat as an EDC pistol, even after both of us carrying it for over a year and still counting.
TAL: Thank you for taking the time to share your thoughts with us on this impressive test.
CN: Happy to be a part of it. We also want to thank the sponsors for this project, that provided ammo, gear, range facilities and more. We truly appreciate the help of Underwood Ammo, Vedder Holsters, Mantis X and Action Target for their support.
So, there you have it. The Hellcat has proven not only that it can take tens of thousands of rounds of 9mm ammo, but can also handle a solid 10K of powerful +P ammo like that from Underwood Ammo. Be sure to check out the video at the top of the page of the test, and check out the links below to the products and sponsors featured in the video.
Editor's Note: Please be sure to check out The Armory Life Forum, where you can comment about our daily articles, as well as just talk guns and gear. Click the "Go To Forum Thread" link below to jump in and discuss this article and much more!
Join the Discussion
Featured in this article
Continue Reading
Did you enjoy this article?
155