Springfield Armory offered bullpup fans a great new option when they dropped the Hellion in January of 2022. A descendant in design from the VHS-2 rifle that has served in the hands of Croatian Armed Forces around the world, the original 16"-barreled model of the Hellion makes for a 5.56mm that is a mere 28.25" in overall length at its shortest with the five-position buttstock collapsed.
This sleek form factor made it highly maneuverable as a formidable CQB-style firearm while also retaining all of the desirable characteristics of a full-size carbine. This is the primary advantage of a bullpup-pattern firearm with the action located in the buttstock area and behind the trigger.
The Foundation
Now, some may say, "leave good enough alone" when it comes to the development of new designs on tried-and-true platforms that have satisfied the original goals. But if there's one thing I've learned working in this industry for a few decades now, it's that the firearms community loves options when it comes to their boomsticks.
And on that subject, Springfield Armory has done just that for Hellion fans by offering two new variants of the rifle — one with an 18" barrel and another with a 20" tube. And while both options are cool, the latter doubles down on the badassery by literally bringing a knife to the gunfight with a detachable bayonet option. Yes, you read that right.
Diving right in, let's start by covering all of the tried-and-true features of the Hellion that have pleased bullpup fans and have remained the same in these two new models from the original 16" version release of the Hellion.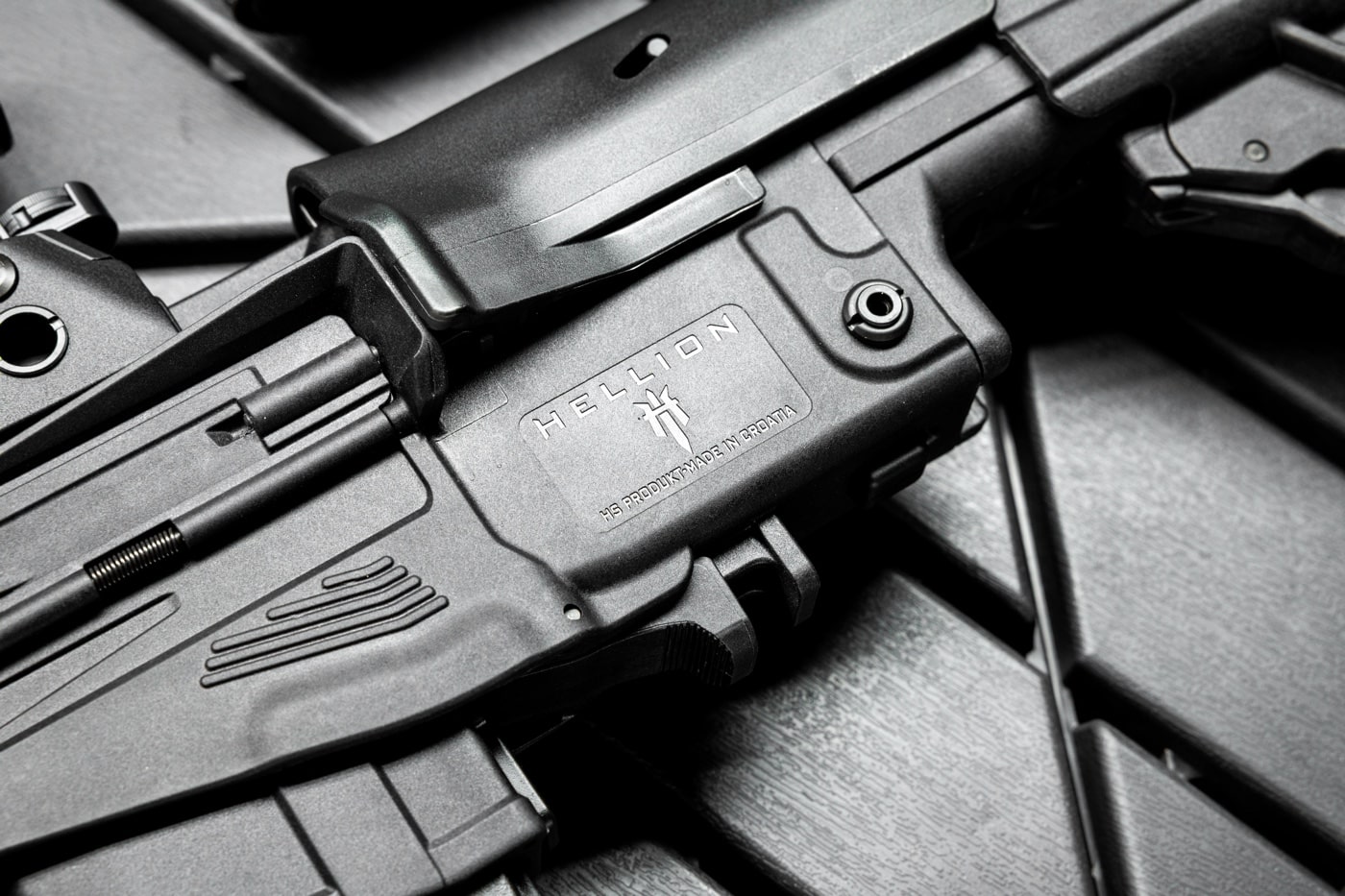 First off, all of the Hellion models are running on a smooth and reliable short-stroke gas piston system. The piston system always runs exceptionally clean in my experience and also helps to ensure low maintenance requirements and longevity when it comes to wear and tear on internal components and barrels.
You also receive a full suite of completely ambidextrous controls, including the safety selector and non-reciprocating charging handle, as well as a reversible ambidextrous option when it comes to the ejection port. The ambi ejection port feature is one that I really thought was neat from the first iteration of the gun, and is adjustable for either right or left-handed ejection without requiring any special tools or extra parts.
[For more information, read How to Reverse the 5.56mm Hellion Bullpup Ejection System here.]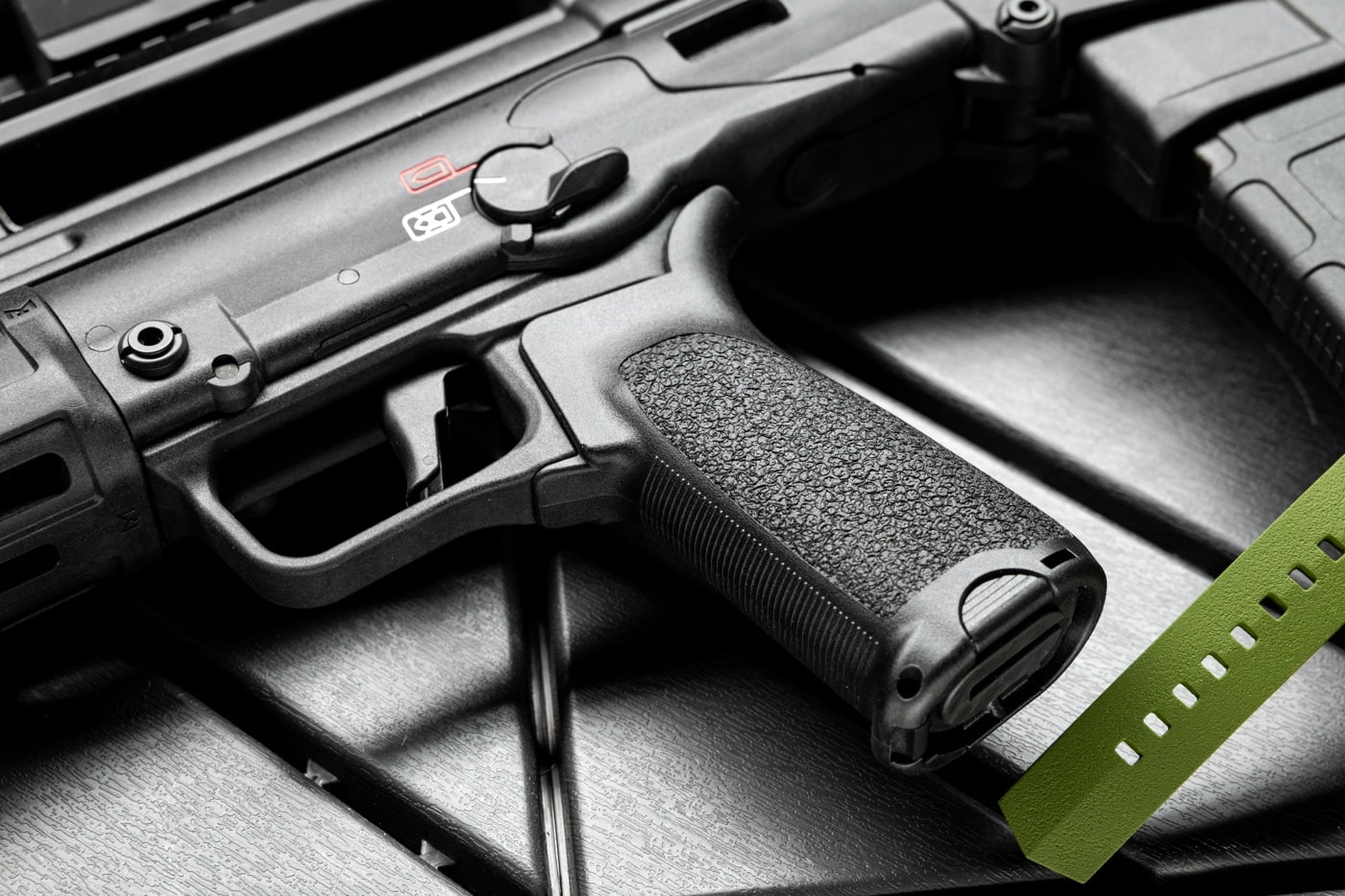 The Hellion line-up includes a unique five-point adjustable buttstock, which is a nice standout feature when it comes to bullpup designs that usually don't afford that option. A two-position adjustable gas regulator that features a "normal" and "suppressed" mode selector for those considering suppression is also offered throughout the line.
In addition, all of the models include some truly robust built-in, flip-up iron sights that are integrated right into the top of the Picatinny rail. They do not obscure your view when they are down, and to deploy them you simply engage the spring-loaded buttons to rapidly flip them up and automatically lock them in place. The rear sight peep features multiple distance apertures that you can select depending on what engagement distances you may be shooting.
[Catch the article How Do You Use the Hellion's Iron Sights here.]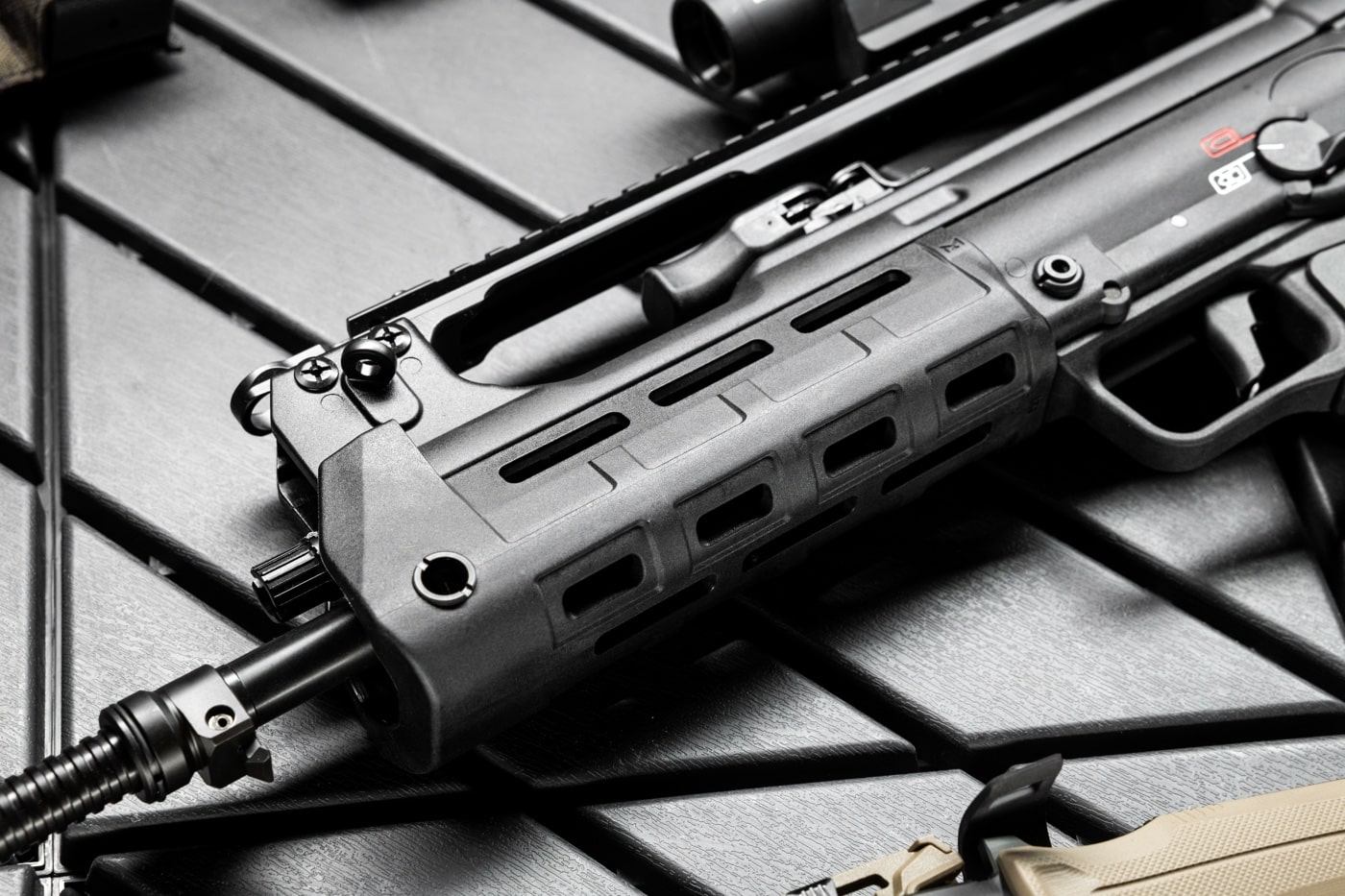 The bolt lever release is located to the rear of the magazine well and the mag release. Having spent most of my training time on traditional carbines, I am not ashamed to share that this is the one feature difference from my more traditional carbine collection that took me the longest to retrain myself to engage when shooting the Hellion. But once you get a handle on it, smooth operation and engagement just becomes a matter of repetition and training.
Speaking of shooting the Hellion and one of the most enjoyable factors that has not changed between all of the models that are now available? The recoil impulse, or rather the lack thereof, is ridiculously soft when shooting all three models of the gun.
Going Long
Now, to spotlight the differences between the new 18" and 20" models. Beyond the obvious extended lengths of the barrels and negligible weight differences, to be honest, I was happy to see that not much else was altered, simply because it all works.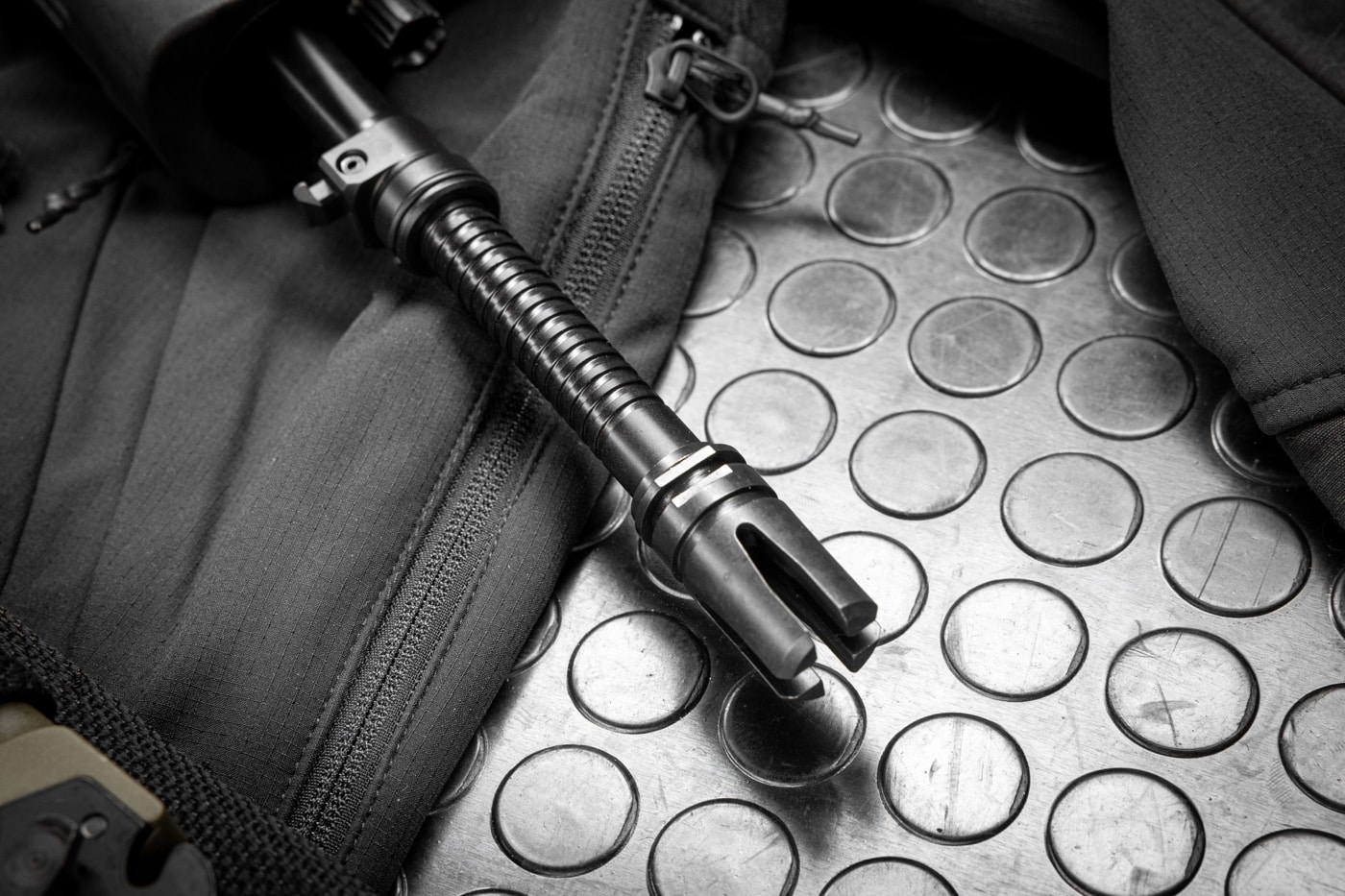 The increase in muzzle velocity from the increased length of the barrels is inherently a bonus, without making the firearms significantly less maneuverable. I found the weight difference between the 18" and 20" barely noticeable.
Here are the specs: The 18" barrel model measures in at an overall length of 30.25″ at the shortest and 31.75″ with the buttstock fully extended. It features a CMV, Melonite-coated barrel with a 1:7" twist, and the carbine weighs 8 lbs., 3 oz.
The 20" variant features a 20″ CMV barrel with a Melonite coating, and a 1:7" twist. Weight of the carbine is 8 lbs., 6 oz., and it has an overall measurement ranging from 32.25″ to 33.75″. The barrel of the 20" model is unique, however, in that it is ribbed to aid in dissipating heat. Another really cool feature of the 20" gun is that it has an integrated bayonet lug that is true to the original design.
Speaking of the original design, the 20" Hellion is actually configured very closely to the original Croatian VHS-D2, a designated marksman variant of the VHS design. This barrel length and configuration along with the bayonet lug brings the Hellion 20" very close to this really cool VHS variant — apart from its semi-auto-only operation, of course.
Specifications
Here are the specs on the new Hellion rifles:
| | Hellion 18″ | Hellion 20″ |
| --- | --- | --- |
| Chambering | 5.56 NATO/.223 | 5.56 NATO/.223 |
| Barrel Length | 18″ | 20″ |
| Overall Length | 30.25″ — 31.75″ | 32.25″ — 33.75″ |
| Weight | 8 lbs 3 oz | 8 lbs 6 oz |
| Sights | Flip-up irons & Picatinny rail | Flip-up irons & Picatinny rail |
| Stock | 5-position collapsible | 5-position collapsible |
| Action | Semi-auto | Semi-auto |
| Finish | Black | Black |
| Capacity | 30 (one magazine included) | 30 (one magazine included) |
| MSRP | $2,016 | $2,031 |
Range Time
Shooting at the range was a lot of fun. The bullpup design really makes for a pleasant and soft impulse, which is refreshing. You get a great sense of enhanced control and diminished muzzle rise when shooting this rifle versus most traditional carbines, and if you are an avid AR-15 shooter like myself it's neat to mix it up with a different flavor.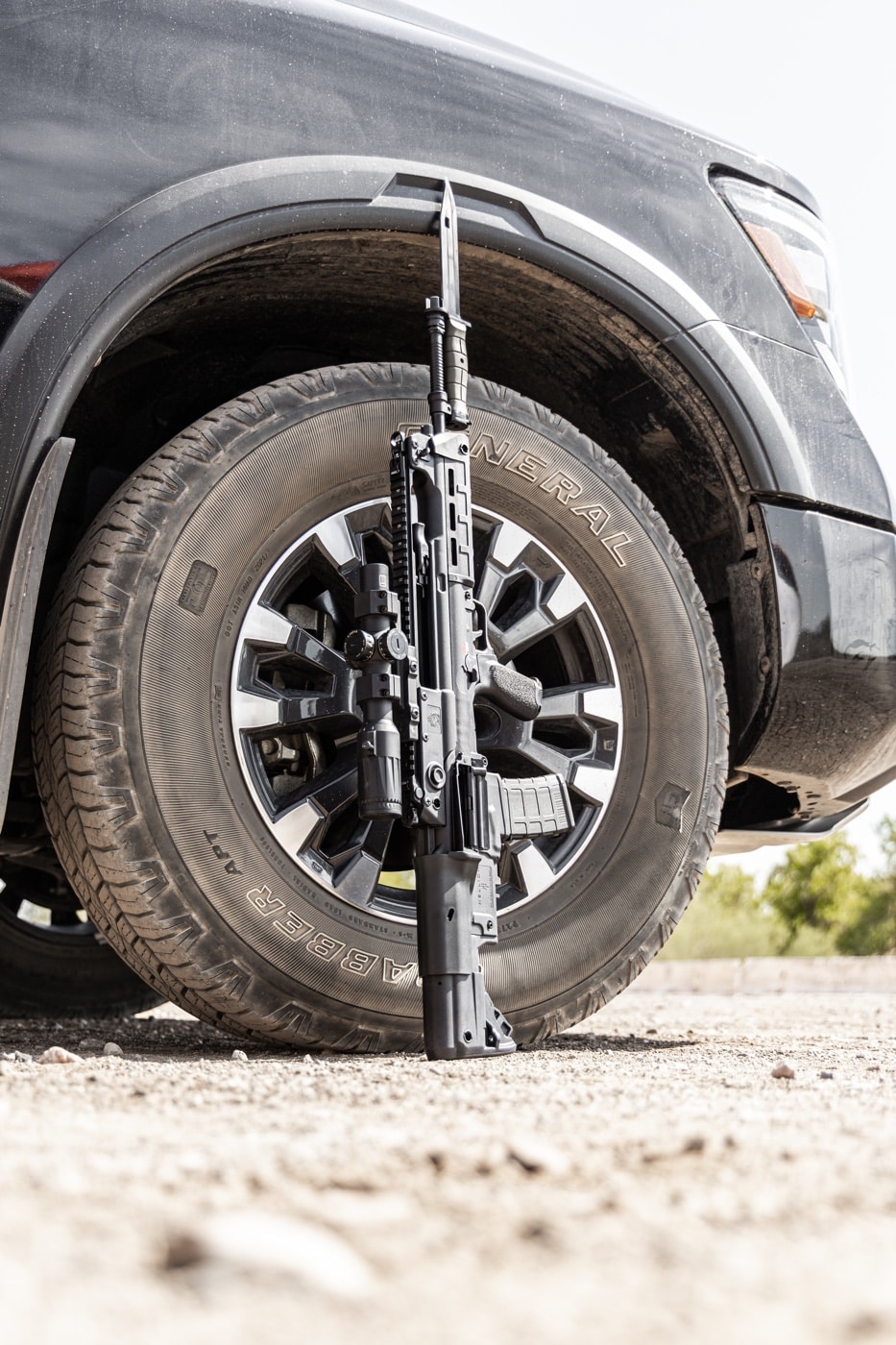 I loaded up a mag full of Remington UMC Centerfire Rifle .223 55-grain ammo and shot steel from 50 yards away using both an Eotech LPVO and EXPS2 Holosight on the Hellions.
[Be sure to read Best LPVO Scopes for the Hellion if you need a good optic for your rifle.]
Straight away, switching between the 18" and 20" back-to-back, I really enjoyed both and they felt very comparable. However, if I had to choose a personal favorite for a fun range session, shooting the 20" variant with a bayonet affixed to the end was a hoot if only for style points.
The bayonet, which will be available soon on the Springfield Armory Store, easily fit onto the very secure lug, and while firing a few mags though the 20" rifle with it attached, it did not interfere with firing whatsoever. I definitely had to clean some carbon off the bayonet when I took it off, but if you're not getting your tools dirty it means you aren't using them.
Conclusion
My key takeaway from these two newly dropped Hellions is that there is truly something for everybody now in this line. If you want an ultra-streamlined and compact bullpup for CQB work, both the 16" and 18" variants are exceptional options, with the 18" offering a bit of increase in muzzle velocity with a minimal increase in size and weight. The 20" also affords the increase in the velocity category, along with the ribbed barrel for more rapid cooldown and the bayonet lug for some sharp accessorizing potential.
If you are looking to pick up a bullpup, the Hellion line gives you a great platform at the heart of each variation, and the choice of barrel length is yours depending on what your use case and style may be.
Regardless of which one you choose to test out or take to the range next, I think you'll be pleased with the performance no matter the model because one thing is consistent between them all: they're a hell of a lot of fun to run.
Editor's Note: Please be sure to check out The Armory Life Forum, where you can comment about our daily articles, as well as just talk guns and gear. Click the "Go To Forum Thread" link below to jump in!
Join the Discussion
Featured in this video
Continue Reading
Did you enjoy this video?
140