Shooting with Holosun night vision gear is about as cool as it gets. Buying night vision gear — no matter the manufacturer — is also probably one of the most expensive "hobbies" within the firearms market. Being that it is quite cost-prohibitive for many shooters, information on NVGs, passive NVG optics and laser aiming devices is also relatively limited to specialty sources.
Frankly, I think it's extremely important to consider all elements of firearms ownership and shooting-related gear as part of our Second Amendment rights, so I like to try out body armor, thermal and night vision devices. And let's be honest, who doesn't like to play "dress up" and shoot in the pitch black of night if they can?
Driving Interests
As you can probably tell, I'm a huge gear nerd. I have an insatiable appetite for learning new things or expanding my knowledge on subjects about which I am passionate. So, I was very excited when I recently had the opportunity to test out some Holosun weapon-mounted night shooting products at a night shoot I had on my schedule.
Holosun Optics has been making some fantastic-quality optics at reasonable prices for quite some time now. They have also made a good name for themselves on the quality and customer care side. While their optics are imported, they are all designed, "QC"ed and tested right here in the United States.
For the night shoot, I was able to get a hold of the company's HE512T-RD optic. This optic is an enclosed reflex optical sight featuring a lightweight but strong titanium housing. It has a 50k hour battery life, a multi-reticle system, shake awake operation and a solar failsafe feature. MSRP for it with a red reticle is $588.22, and $623.52 with a green reticle.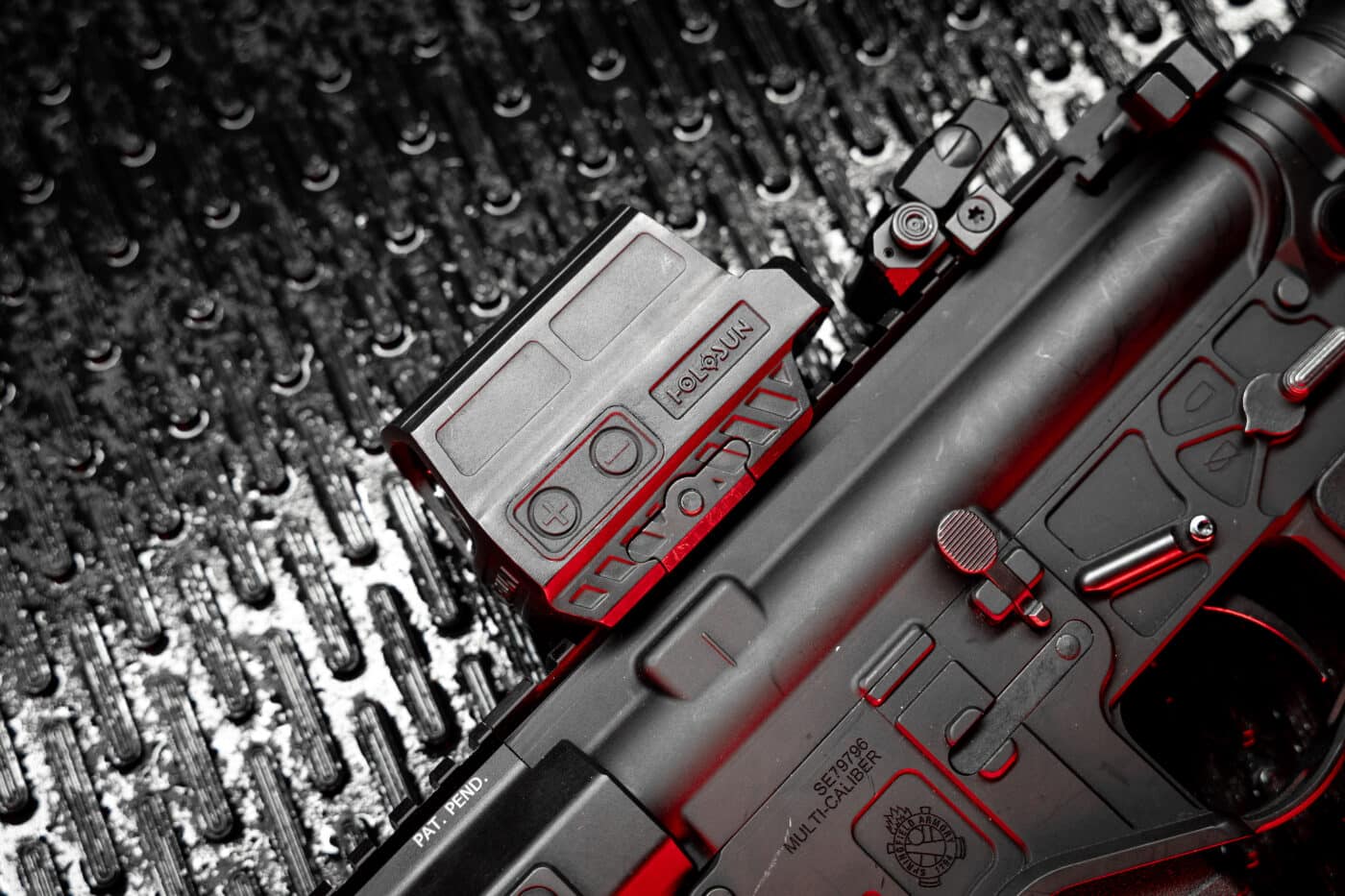 I also got one of their "holy grail" LE420 multi-laser aiming device units that can be difficult to come by. The LE420 is a multi-laser aiming device with a 600 lumen white light, a Class IIIA visible green laser, class 2M IR laser and a focusable IR illuminator — all housed in a titanium body. MSRP of it is $1,411.75.
Both of these would be going on my Springfield Armory SAINT Edge 5.56mm rifle for the night shoot. This is a rifle I have used and shot a lot, so I knew it would be a great partner for this exceptional Holosun gear for the shoot.
The Right Night Vision Tools
When shooting with night vision, it's essential to have a passive aiming device such as an optic that has night vision-compatible brightness settings. This is basically just an extremely low brightness setting that is dim enough for night vision's sensitive image tubes, but too low for the naked eye to pick up. The other item that is very helpful is a laser aiming device with infrared (IR) settings.
Night vision intensifies ambient light and picks up infrared light that the human eye cannot discern. With IR lasers and illuminators, you can light up your target and see it through night vision, while it is effectively invisible to everyone else. Pretty cool stuff, right?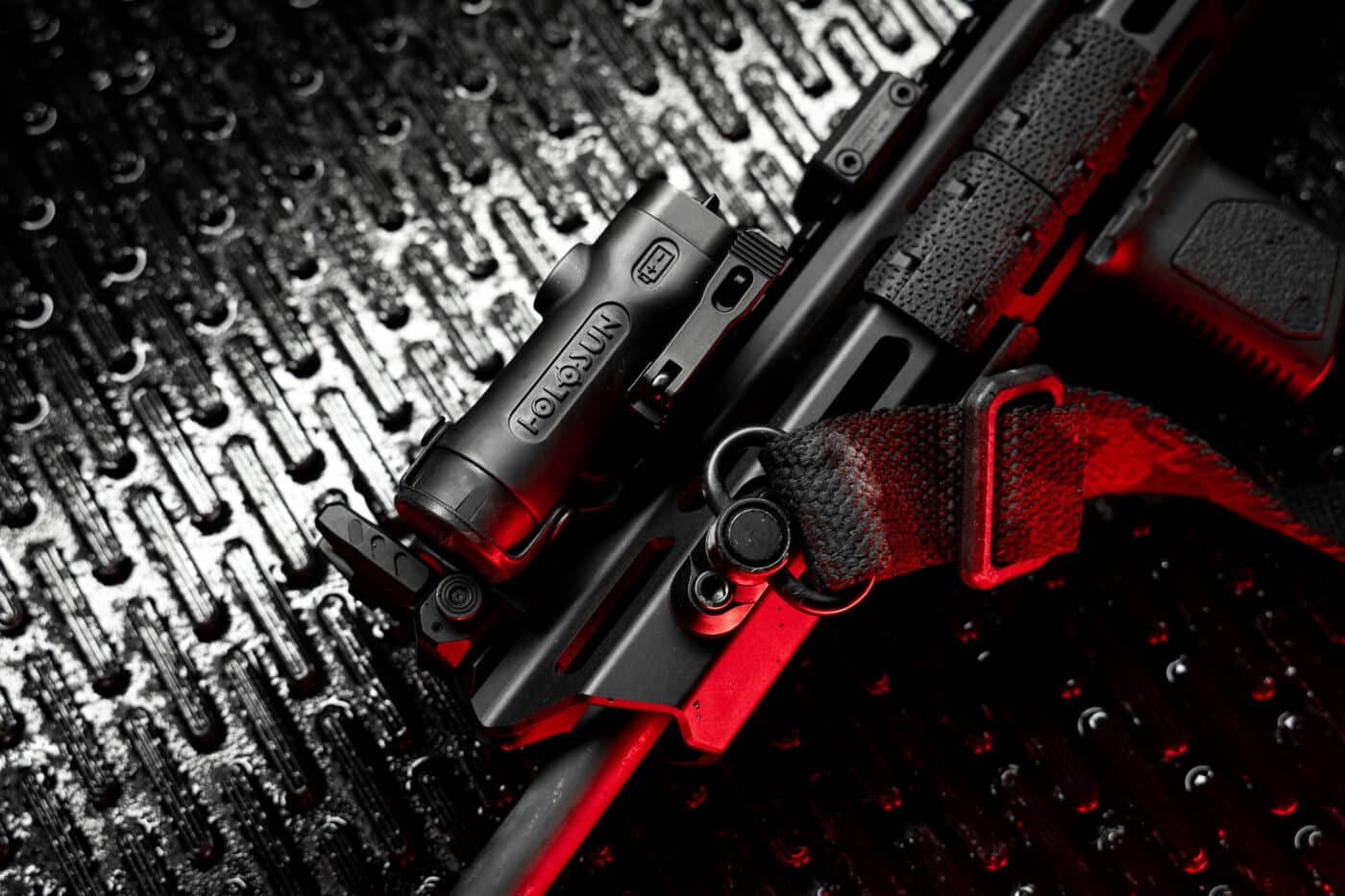 One thing that separates the LE420 from other laser aiming devices is the inclusion of a white light. This is a nice benefit for firearms with limited rail space, and it offers both weight savings and possible cost savings. The only potential downside is that you cannot easily switch between IR and white light on the fly with a multi button switch, and you could put a more powerful dedicated light on (if you have the rail space).
Another awesome tool for night vision shooting is the Sionyx Aurora Pro. The Aurora is a digital night vision capture device that makes filming a shoot much easier. While digital is still catching up to traditional Gen 3 night vision devices, it's still very impressive and does the job quite well in my experience. Another added benefit of the Sionyx is that it is full color. MSRP on the Pro is $999.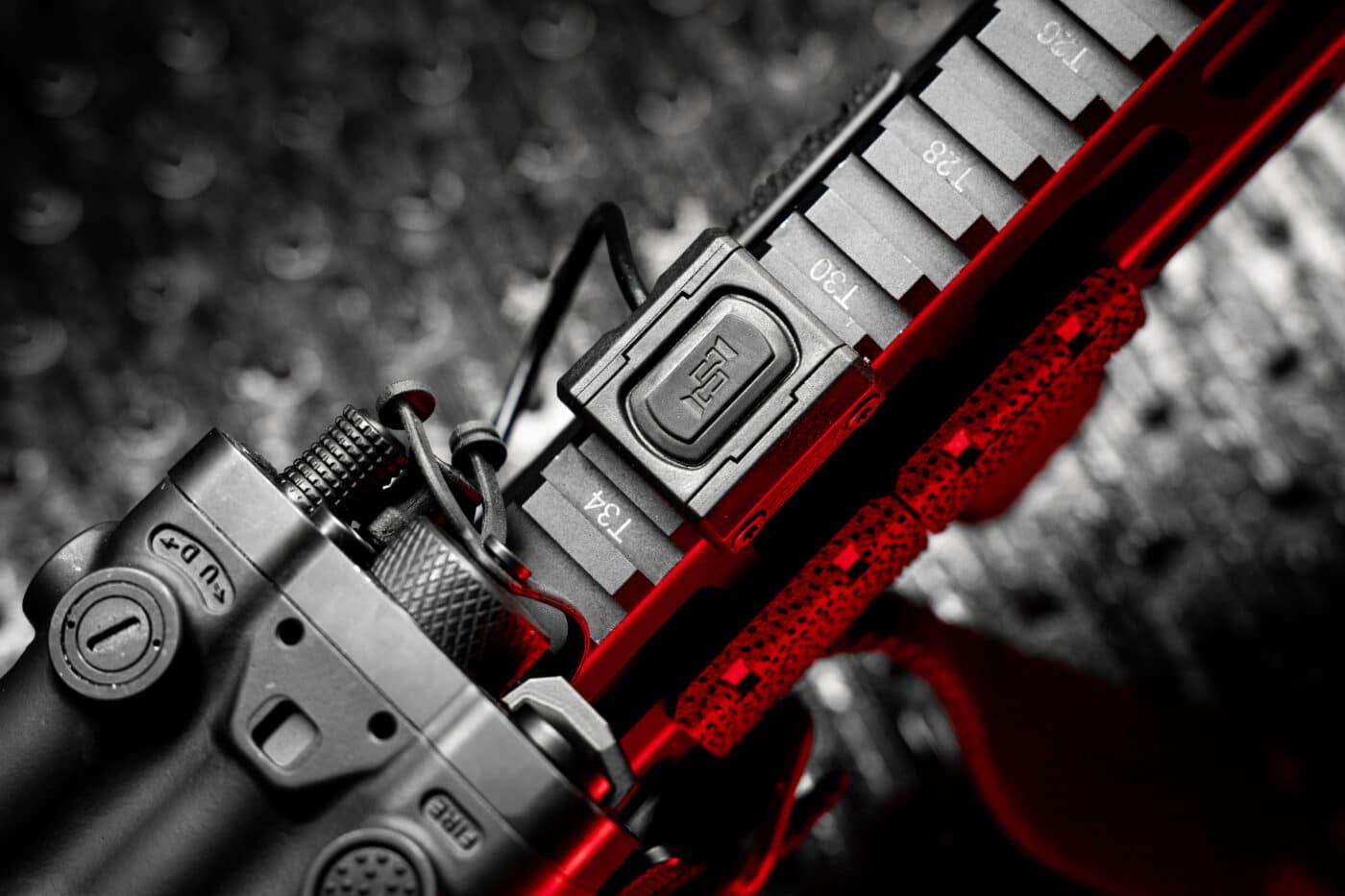 When using a laser aiming device, I've found it's easiest to use some sort of switch to actuate the light or laser. You can certainly press the button on the top of the device, but it requires an awkward stretch of your hand to do so. To address this, I utilized the Modlight Modbutton. It's low profile, connects right to the Picatinny rail and has a modest MSRP of just $78.
Holosun HE512T-RD Specifications
| | |
| --- | --- |
| Optic Type | Enclosed reflex |
| Dot Size | 2 MOA, with 65 MOA ring |
| Weight | 9.17 oz. |
| Construction | Titanium housing |
| Operation | 10 daylight and two NV settings |
| Battery/Life: | One CR2032, 50,000 hours |
| MSRP | $588.22 (red reticle), $623.52 (green reticle) |
Holosun LE420 Specifications
| | |
| --- | --- |
| Type | Multi-laser aiming device |
| Light/Laser | Class IIIA visible green laser, class 2M IR laser, IR Illuminator, 600 Lumen white light |
| Weight | 10.94 oz. |
| Construction | Titanium housing |
| Operation | High/low brightness settings |
| Battery | Two CR123A |
| MSRP | $1,411.75 |
NVG In Practice
Zeroing both the optic and laser was easy with the included tools, and after zeroing we were ready for some nighttime fun. The dual-tube NVG-50 NL2 night vision goggles I used were from AGM Global Vision. Having dual tubes makes a huge difference in being able to see a wider field of view and have more awareness of your surroundings.
The night we were on the range there was no moon in the sky, so we were relying fully on the IR for the majority of our illumination of targets. We were shooting from about 45 yards on steel most of the night at the event. The LE420's IR flood was bright enough to easily identify the steel target, and the IR laser was very intense. This made it easy to make hits even out past 100 yards. The unit's white light was a nice big floodlight that would be perfect for illuminating interiors. The visible laser of it is green, so that proved to be very discernable as well.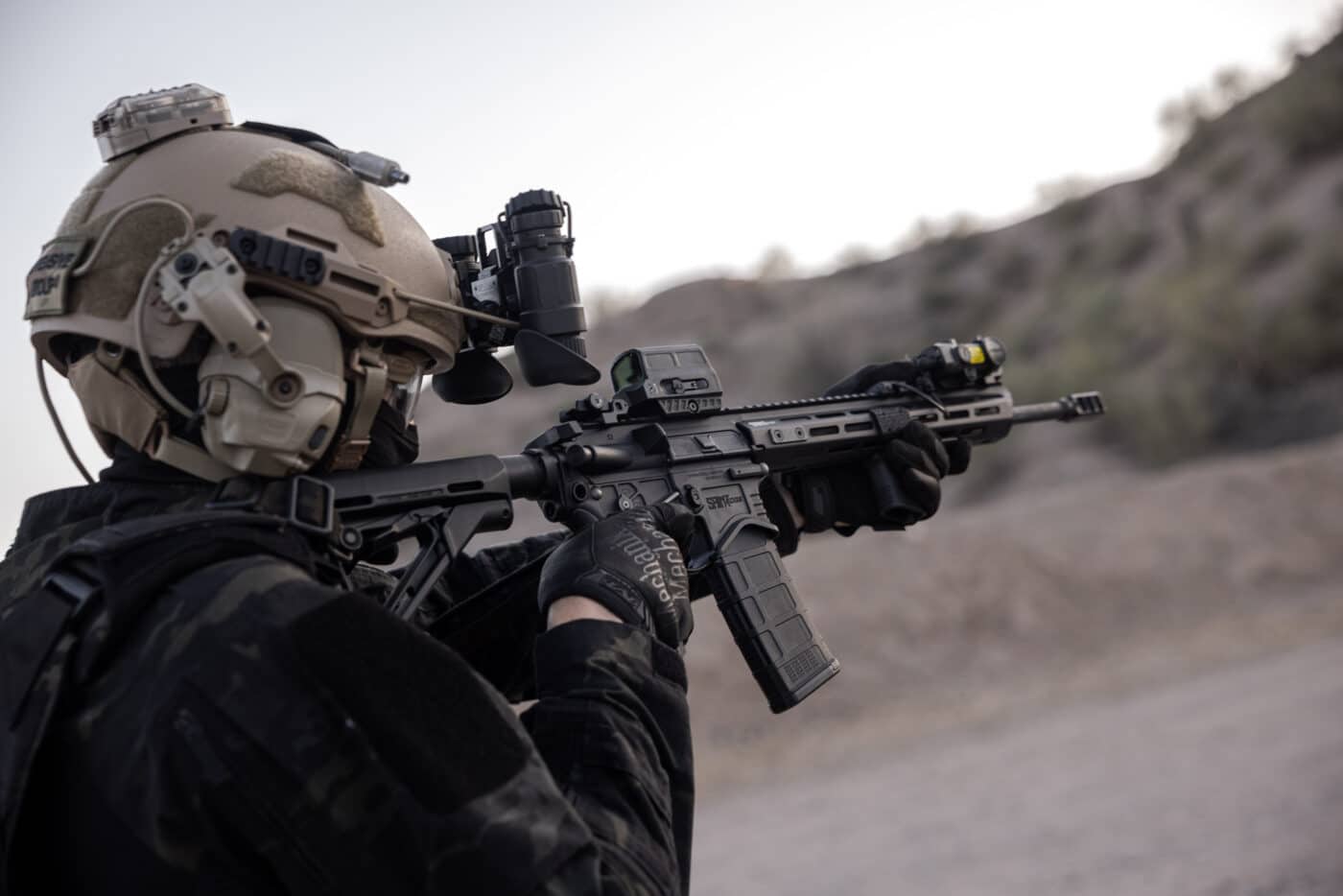 I also came away very impressed with the HE512T-RD reflex optic. It was easy to adjust, simple to use and easy to pick up. I found the NV settings to be extremely compatible with the LE420 unit, making the range session a true pleasure with them both on the SAINT Edge. I love the shake awake feature of the optic and as well as the "auto off" feature.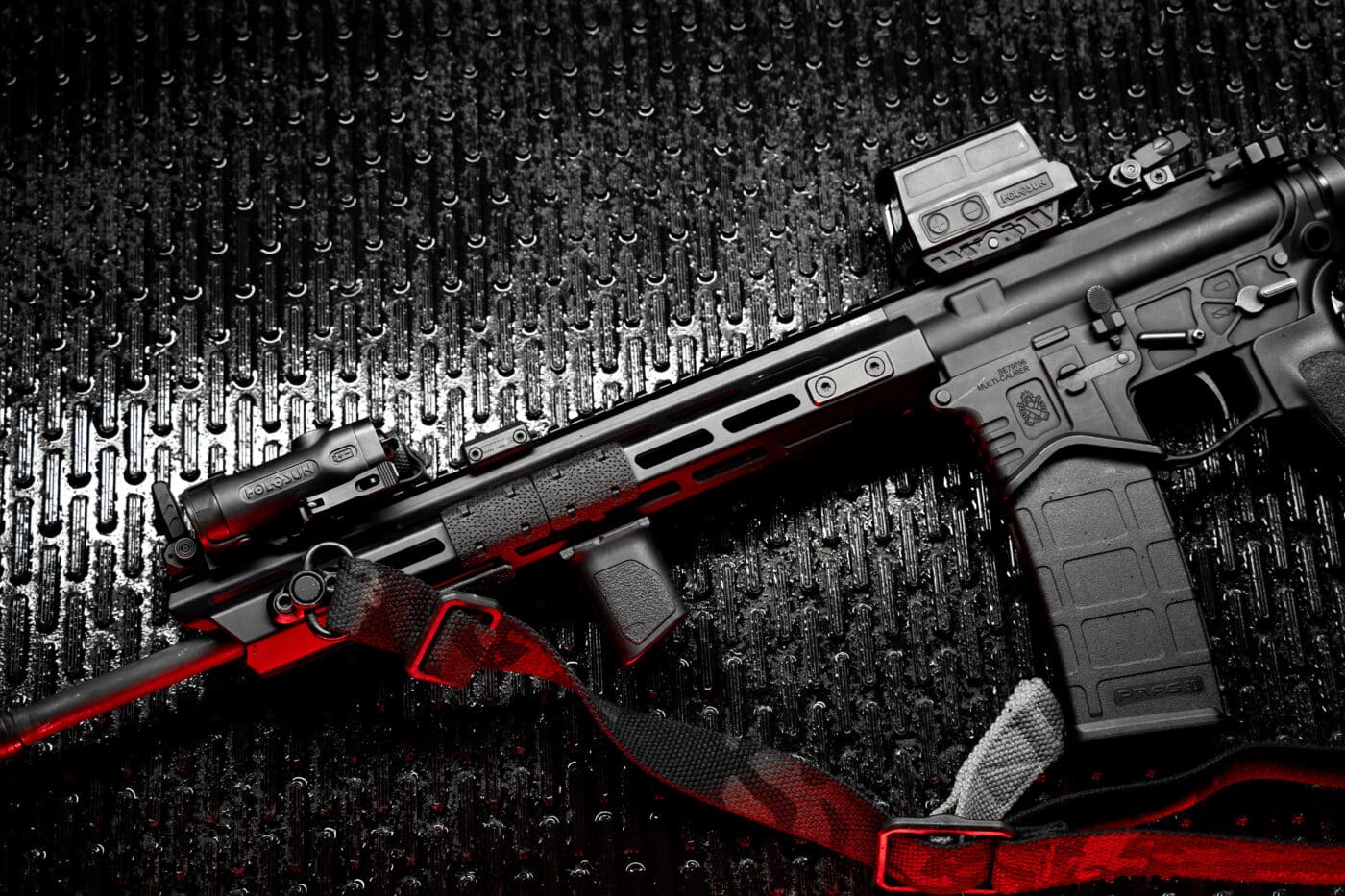 The build quality of both the optic and laser are top-notch, and feel extremely rugged and robust despite their light weight from their titanium housings.
Holosun Night Vision Gear Conclusion
If you haven't had the chance to shoot with night vision yet, I would highly suggest doing some research into some of these products. With a quality rifle and good gear like the Holosun HE512T-RD reflex optic and the LE420 multi-laser aiming device — as well as the Sionyx Aurora Pro — you can really stretch your legs in the dark and have a good time at the range.
Editor's Note: Please be sure to check out The Armory Life Forum, where you can comment about our daily articles, as well as just talk guns and gear. Click the "Go To Forum Thread" link below to jump in and discuss this article and much more!
Join the Discussion
Featured in this video
Continue Reading
Did you enjoy this video?
51