Hornady's Handgun Hunter Ammo
July 24th, 2021
5 minute read
It's not every day new products hit the market for handgun hunters. I was pleasantly surprised to see Hornady introducing a new line of ammo for handgunners. Their Handgun Hunter ammo line is now available in several popular hunting calibers including 10mm.
This is surely another testament to the rising popularity in 10mm hunting. After all, many 1911 aficionados enjoy hog hunting with their favorite semi-auto and going after whitetail deer and other game. With the proper bullet inside of sane ranges, I believe the 10mm can handle deer and pigs easily.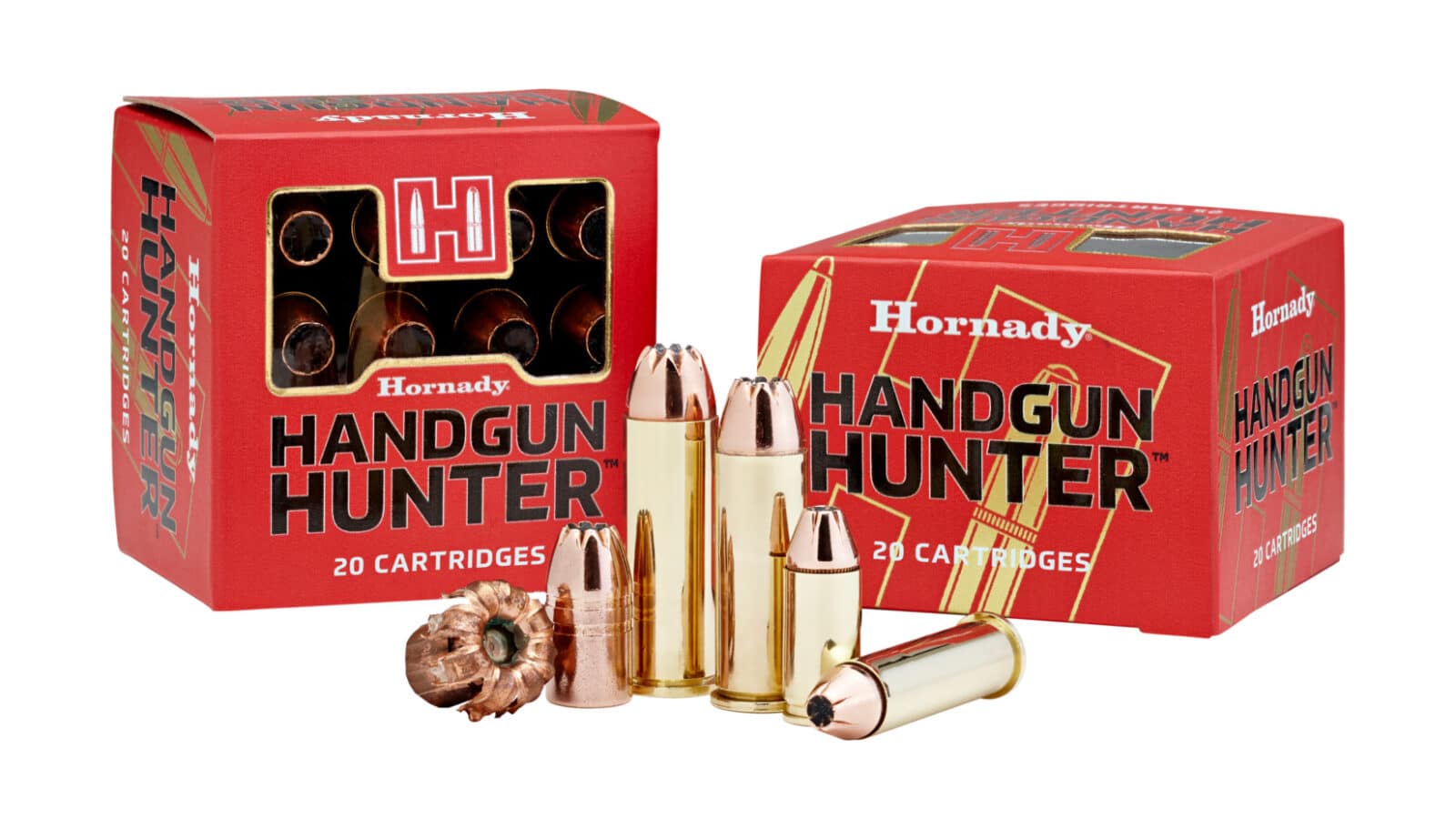 In the past, I've always experienced superb performance from Hornady's 180-gr. XTP offering in 10mm. I sure couldn't wait to see how this new line-up would perform at the range and in the field.
The Detail
What is so different about this handgun hunting ammo? Well, compared to Hornady's 180-grain XTP bullet, their new 135-grain 10mm ammunition features a copper alloy MonoFlex bullet with elastomer material.
Don't ask me what elastomer material is — I'm not a chemical engineer by any stretch. I do know Hornady's ballistic engineers experimented with a lot of different materials before they landed on this current substance. I also know they wouldn't let ammo leave the factory before getting it right.
The elastomer material lies inside the bullet's hollowpoint cavity and creates rapid expansion upon impact causing the copper bullet to mushroom thanks to the precut petals (or "skives"). The result is deep penetration and a massive amount of energy transfer, ideally suited for hunting purposes.
Range Time
At the range, I ran this ammo over the Oehler 35P and found it produced an average of 1,352 fps out of a 6″ Springfield Armory TRP Operator. Previously I had been shooting 180-gr. bullets so obviously, the point of impact from the 135-gr. MonoFlex changed. They were grouping a bit lower, and with a few slight adjustments, I was ready for some range work.
After shooting a couple of boxes of factory ammo through the TRP, both gun and ammo were running smoothly. That longslide handles factory ammo with ease and you can enjoy long-range sessions without issue. Recoil is not an issue. I was really hoping to fill one more deer tag with this new Hornady ammo through my TRP Operator.
On our farm here in southern Missouri, we simply have too many does running around. You can get an idea of the population by observing food plots planted back in August. The deer have eaten all the wheat, oats and clover down to the bare ground. Trail camera photos confirm the sheer amount of deer present.
As a steward of the wildlife, it is essential we control the overall numbers so that they do not exceed the carrying capacity of the land. The management of does is one component of essential wildlife conservation. Of course, everyone wants to tag a big, impressive buck for bragging rights but doe management is paramount to a healthy herd.
In my remote area, there are families that need and appreciate the venison. In addition, we also have a "Share the Harvest" program where hunters can donate the meat which goes to local food pantries and is distributed to families in need. It's a win/win situation where the surplus animals go to help feed the hungry.
Our Alternative Method season runs 11 days where hunters are allowed to use handguns, crossbows or black powder. I planned on carrying the TRP Operator with Hornady Handgun Hunter ammo hoping to fill one last tag. My wife wanted to tag along so we decided to hunt a ground blind in the woods where the longest shot might reach 60 yards. After shooting steel targets on our farm at 50 yards, I felt this would be the most logical place to sit.
If a quality reflex sight like Trijicon's RMR or Leupold's Deltapoint Pro was mounted on the TRP, I might be able to squeeze a tad bit more range but being honest with myself — this self-imposed 50-yard limit was necessary. It's sometimes easy to get overly optimistic and think we can exceed our realistic, honest ability. I would much rather pass up a shot from an extended range than take a chance on wounding a deer.
On the Hunt
Our first morning in the blind was pretty much uneventful. One lone fawn came meandering along through the woods all by her lonesome. The next morning was altogether different. Just after daylight, my wife poked me in the ribs and pointed her finger at the doe moving toward us. Following this doe were four more, all does.
Slowing I took a rest on the window ledge without spooking any of them. As they worked their way closer, I cocked the hammer. Those tritium sights on the TRP Operator are most welcome especially in the early morning, low-light conditions. At 36 yards I tugged the trigger when the largest, most mature doe stood broadside. I never noticed any recoil. Thankfully she didn't run far, and my season was complete.
Conclusion
Combine a quality, well-built 1911 with some premium ammunition like Hornady's Handgun Hunter line and you've got a winning combination. It doesn't get any better.
Editor's Note: Be sure to check out The Armory Life Forum, where you can comment about our daily articles, as well as just talk guns and gear. Click the "Go To Forum Thread" link below to jump in!
Join the Discussion
Featured in this article
Continue Reading
Did you enjoy this article?
52