Is IDPA Like NASCAR? (Part I)
November 14th, 2020
5 minute read
Editor's Note: This is Part I of a two-part series on IDPA versus USPSA. You can find Part II here.
In the United States, the big dogs — when it comes to practical pistol competitions — are USPSA (United States Practical Shooting Association) and IDPA (International Defensive Pistol Association). On the surface they look fairly similar.
USPSA was formed in 1984 and was originally defense-oriented. However, it has definitely grown into more of a technical/speed-based sport. IDPA was developed years later, in 1996, and was — and still is — mostly defensive/tactically oriented.
While they are comparable in many ways, I'd call them cousins before I'd call them brothers. Some folks prefer one over the other, but they are both an excellent way to have some fun in the shooting sports and improve your shooting skills.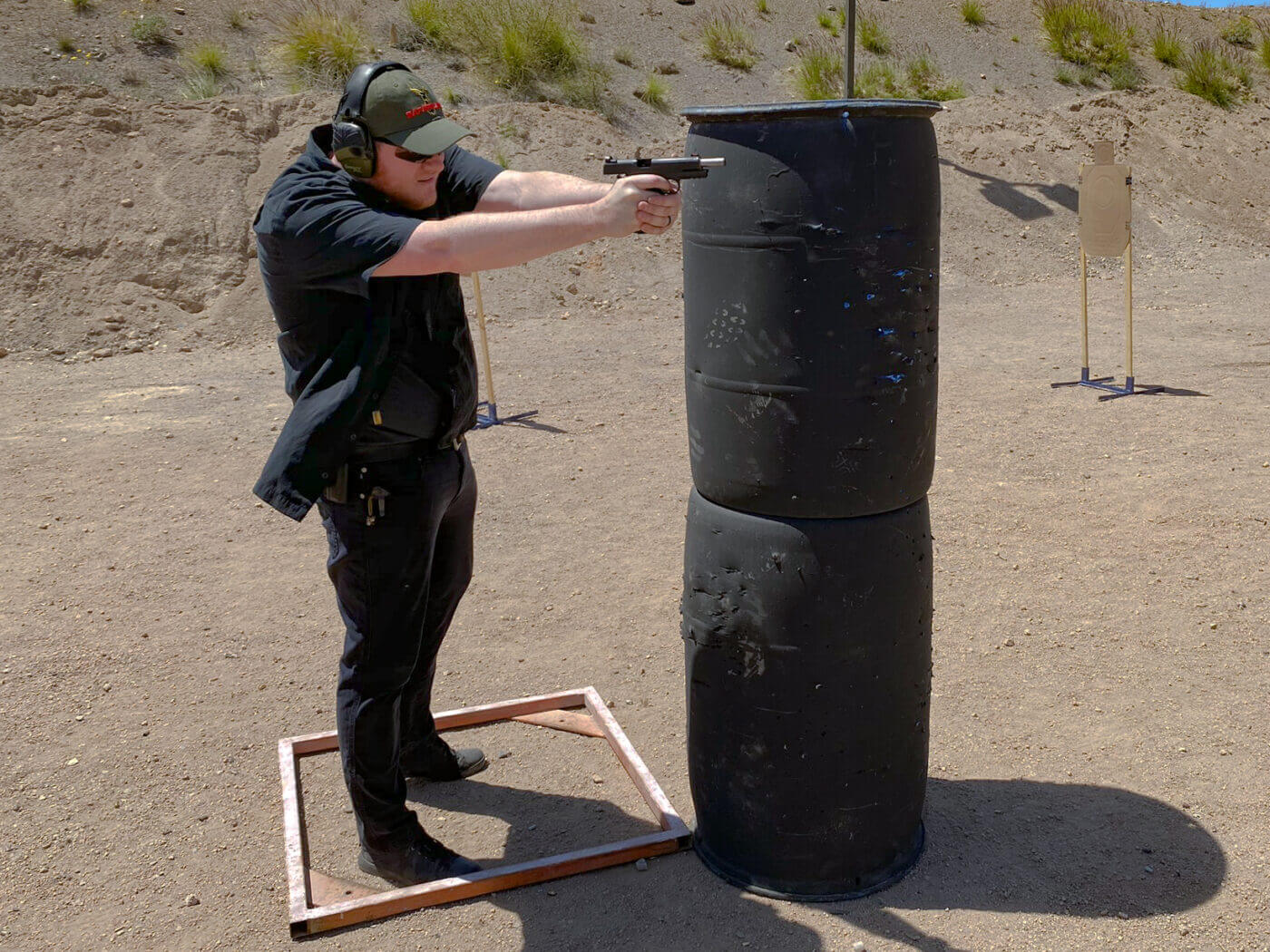 This piece, part one of a two-part series, is not going to be a history lesson or an analysis of all of the common vs. unique rules (there will be some rule-talk, though), but more of an overview of what you need to know about the two disciplines. If you want the detailed rules, go check out the super-engaging online rulebooks for USPSA here and IDPA here!
FYI, I'm going to focus on the handgun-only competitions, ignoring pistol caliber carbine, shotgun and multi-gun divisions/matches. So, let's start with the general similarities and differences, gear requirements, and how the two sports vary at the stage level.
On the Surface
Like I said, at a quick glance, the two organizations offer a very similar competition. Both USPSA and IDPA … :
Offer membership and membership privileges
Run national, regional and local events
Follow very similar, stringent safety rules and procedures
Use a combination of torso-sized cardboard targets and reactionary steel targets
Use time and accuracy as factors in the scoring method
Allow freestyle stage designs, within the course design rules/parameters
Host events that present multiple stages and challenges so you are never shooting the same stages over and over
Have fixed "classification" stages in which members shoot to become classified on a national level
Have specific rules for equipment; pistols, holsters, magazine pouches and positioning of equipment
Differences, Defined
Some of the major differences between USPSA and IDPA are as follows:
IDPA Target: Zones are 0, 1 and 3 and these zones directly relate to "points down" on the target. Each point down equates to one second of time.
USPSA Target: Zones are A, C and D and relate to points accumulated. Points are awarded based on major or minor power factor.
IDPA scoring is calculated by adding the shooter's stage time and the points downtime, plus any penalty time. Essentially, when you finish the stage and the ROs have scored your targets, you know your final score/time.
USPSA scoring is more complicated and factor-based. To simplify, for each individual stage, you earn a "hit factor," which is the total number of points on target divided by your stage time. When you finish a USPSA stage and the ROs have completed scoring, you do NOT know your hit factor or your overall score. You can figure your hit factor on your own, but you will not know your overall score until all competitors complete the stages and the stage factors have been calculated.
In IDPA, targets must be engaged in tactical priority, which varies based on props and target/shooter positions. This is probably the biggest difference between the two sports.
In USPSA, targets are typically engaged "freestyle," which means the shooters may engage them in whatever order they wish.
In IDPA, shooters must shoot the gun dry (empty) before reloading or do a tactical/retention reload. Shooters are penalized when dropping magazines with rounds (loaded/partially loaded) on the ground. Remember, IDPA is defensive/tactical based.
In USPSA, shooters may usually reload whenever and wherever they choose.
Gear Up
By and large, most of your everyday, full-sized handguns have a division you can jump into in both USPSA and IDPA events. USPSA allows for more firearm modifications in some forms. USPSA also offers divisions that are not found in IDPA at all (such as Open Division). By and large, IDPA defines their divisions based on guns and gear that you conceal and carry every day, with limits on extra magazines and gun modifications. IDPA also requires some form of cover garment, like a vest or large overshirt.
USPSA Single Stack Division allows you to shoot a 1911 single-stack pistol with a magwell and a larger, extended magazine release, carried by a competition-style belt and holster with as many magazines as you want to put on your belt. In contrast, IDPA's comparable ESP (Enhanced Service Pistol) Division allows similar modifications to the same 1911 pistol, but restricts you to a standard carry-style paddle holster or IWB holster on a standard belt, and a maximum of just two spare magazines.
Stages: Rules of Engagement
As I said above, the biggest differences between IDPA and USPSA are the options and strategies of how you "solve" a course of fire. If you took the same stage and applied both sports' sets of rules to it, you would probably have two completely different courses of fire.
Generally speaking, USPSA will give you a course of fire, a starting point/position, maybe a few engagement rules, and then say, "complete this course as fast as you can, however, you want to (while staying safe and following the general rules)". IDPA, by contrast, will be much more structured with a more specific way to engage the targets. Both offer the same actual shots, but the "USPSA way" will be more of a challenge trying to figure out the fastest way to complete the course. IDPA will challenge you to complete the course in a more defined "tactical" manner, in the fastest time.
Imagine that IDPA is a car race around a racetrack, and USPSA is a race through city streets from point A to point B. Both are going to have strategies as to how to complete the race the fastest. The IDPA race will focus more on the racing lines to complete the fastest laps, while the USPSA racers will determine the fastest path through a variety of streets, possibly demonstrating more than one way to get from point A to point B. This analogy might be an over-simplification, but it captures the spirit of each organization.
Tune in to Part II next weekend, where I will compare and contrast a USPSA and IDPA stage, and outline some examples on how you would approach each one. Until then, stay safe, stay on target, and get out and shoot!
Editor's Note: Please be sure to check out The Armory Life Forum, where you can comment about our daily articles, as well as just talk guns and gear. Click the "Go To Forum Thread" link below to jump in and discuss this article and much more!
Join the Discussion
Continue Reading
Did you enjoy this article?
53