In 1907, Frederick Leupold and Adam Volpel, brothers in-law and close friends of many years, decided to go into business together. Their company didn't make products that many of us would associate with the name Leupold today. Rather, in the very beginning they made land surveying equipment by hand.
Many years later, Frederick's son Marcus Leupold, an avid outdoorsman, would help shape the company into what it is today. According to the legend, Marcus was hunting one day and, as he was getting ready to take a shot at a buck, he raised his rifle and discovered his scope was fogged. He missed the shot, and decided he could make a better scope.
What might have simply been one day's ruined hunt made the way for a legacy of world-renowned optical craftsmanship. The result was the investment of innumerable man-hours and research, and countless lessons learned through trial and error. Then finally, after World War II, Leupold & Stevens developed likely the first truly fogproof American-made scope called the Plainsman.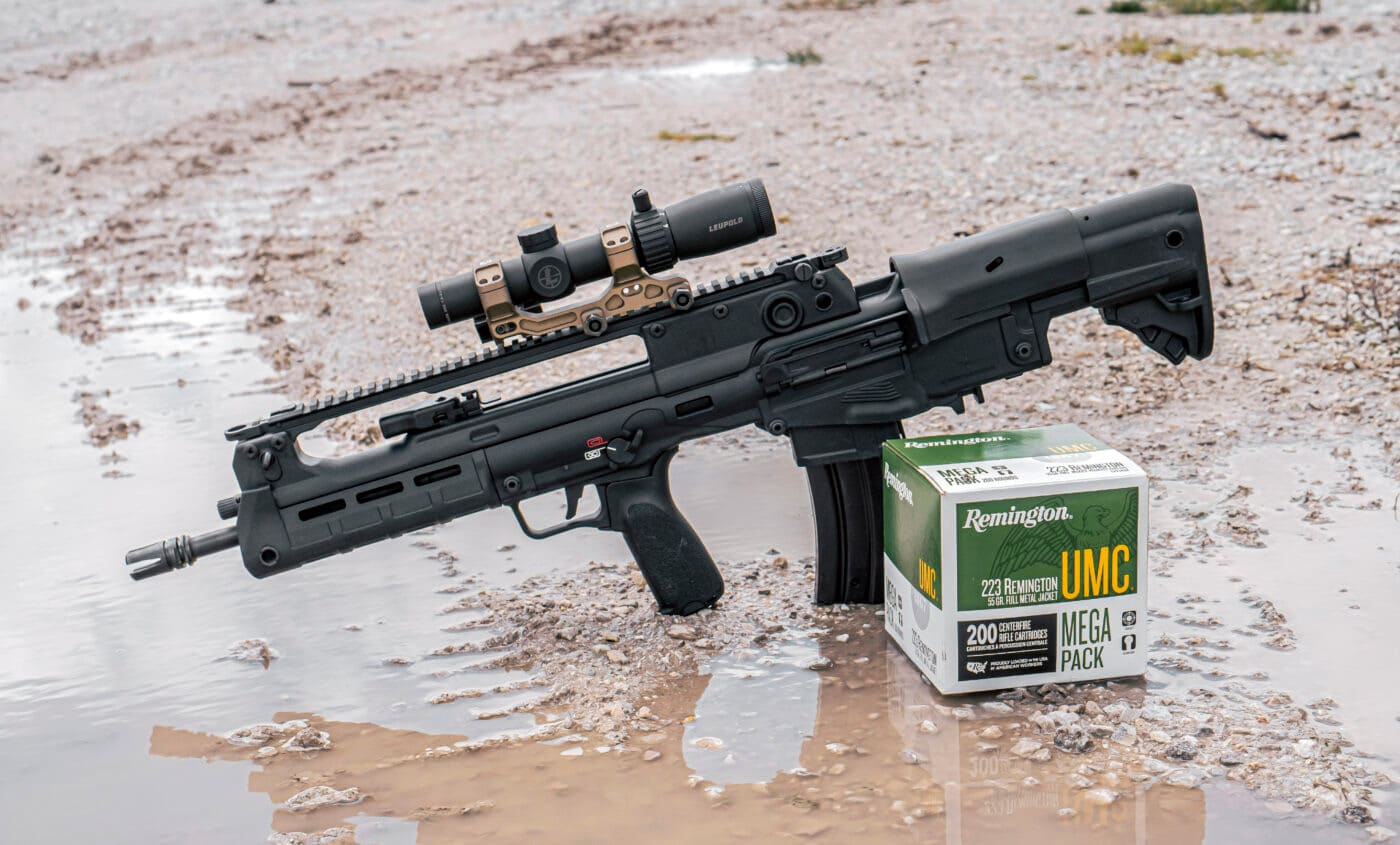 One man's passion and determination drove Leupold & Stevens to become the optics manufacturer that it's known to be today. Leupold & Stevens as a company continued to innovate, creating things iconic in the industry, such as the duplex reticle, and more. And because of that one bad hunt for Marcus all those years ago, I'm sure that the Leupold Ten Commandments of today probably reads: "Thou shalt not make a scope that will fog up."
Leupold Setting a Mark
Today, Leupold has numerous riflescopes, red dots, rangefinders, binoculars and more. If there is a product with glass lenses that is used for outdoor sports, chances are good Leupold either makes one or has made it at one point or another.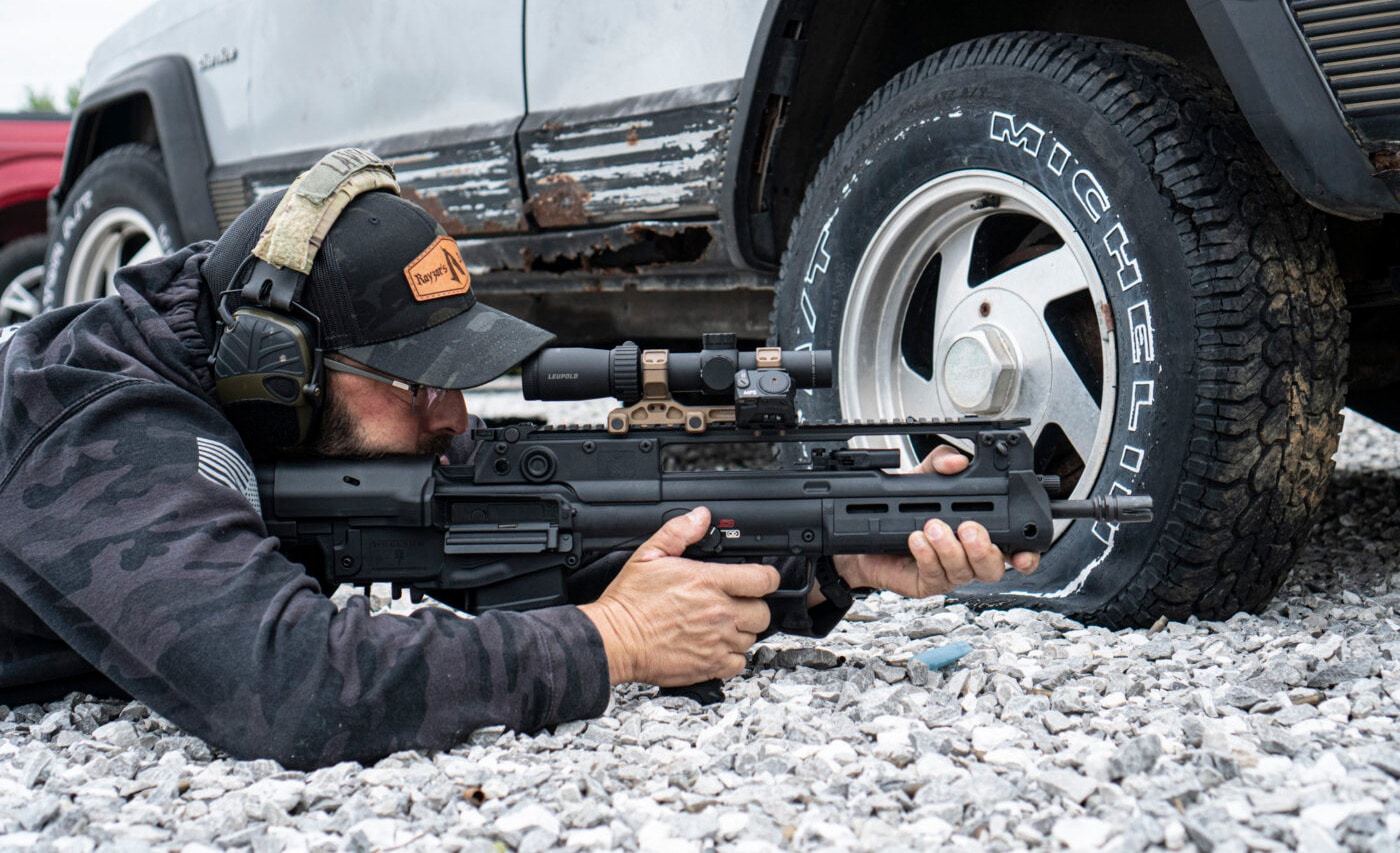 Recently, the GunSpot team was sent one of the scopes from the Leupold Mark 3HD line of scopes, the Mark 3HD 1.5-4x20mm AR-Ballistic scope specifically designed for .223 rifles. Leupold makes a wide range of optics for customers of every background and salary level. They offer optics built for hard-duty use, hunting and recreational shooting.
As you'd expect, there are scopes that can cost thousands of dollars, but there are also some down around the few hundred dollars mark. It's clear that Leupold wants to offer quality crafted optics to all outdoor enthusiasts, no matter how big (or small) their bank account may be.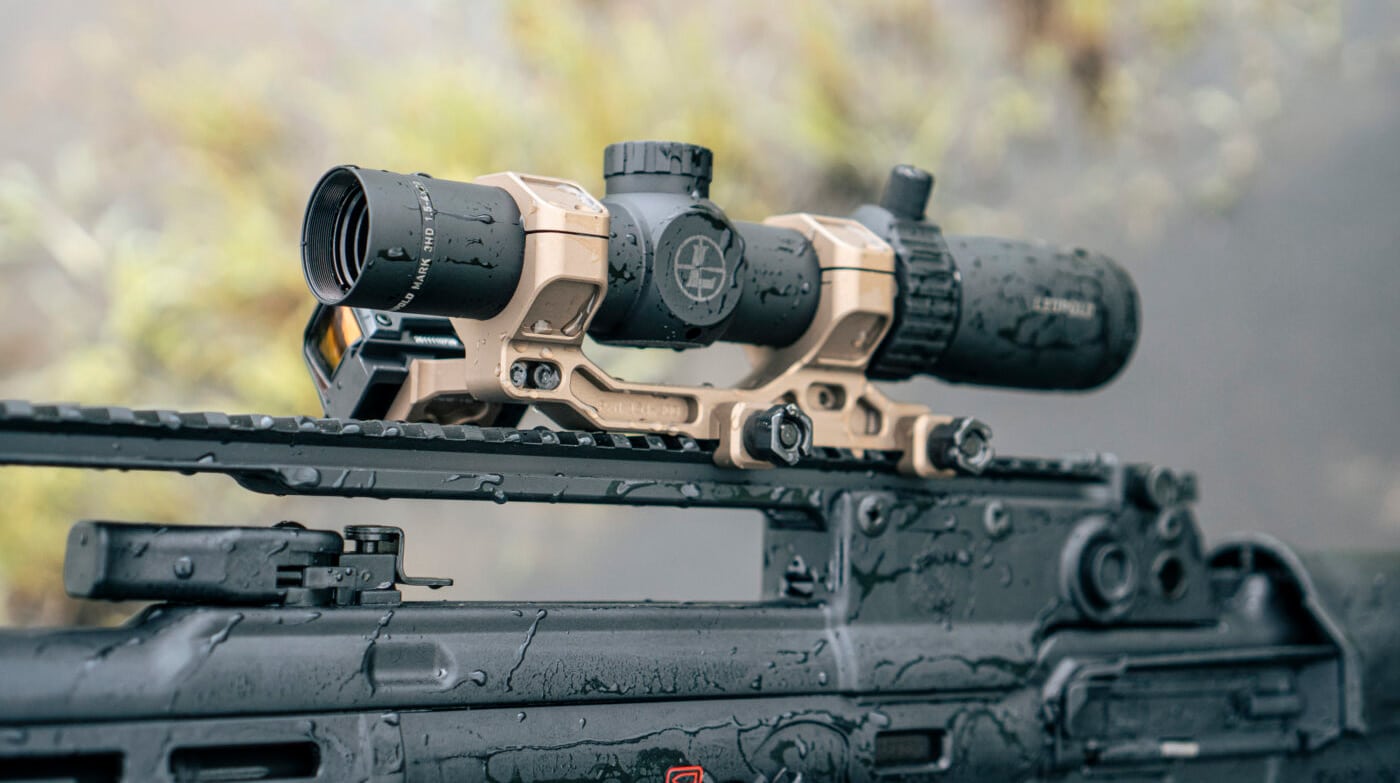 The Mark 3HD line of optics is priced around $500-$700 dollars and comes in various configurations of reticles and power levels. They have high-definition lenses and are shockproof, waterproof and, you guessed it, fog-proof.
Mark 3HD Features
The Mark 3HD 1.5-4x20mm AR-Ballistic scope has a 30mm tube and is a second focal plane scope. This means that the reticle will not change in size as the scope is zoomed. According to our measurements, the scope is nearly 9.5″ long, making it a pretty short scope that will not take up a lot of space on your rifle.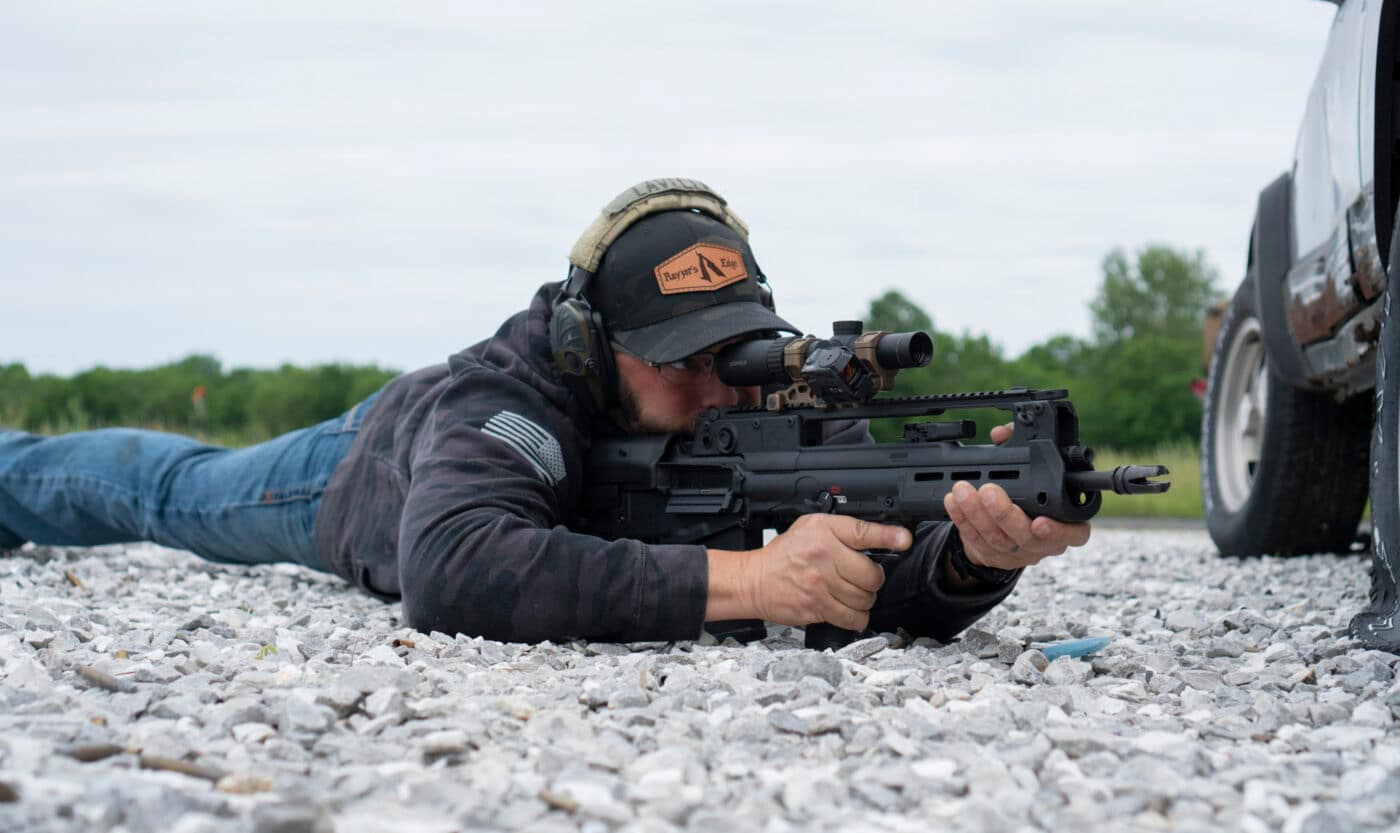 The low power variable optic (LPVO) scope is extremely lightweight, weighing only 13.1 oz. The windage and elevation knobs are both capped so that, after you have zeroed it to your rifle, you can cap them for safekeeping. Each knob, both windage and elevation, has 36 MILS of adjustment, with each click on the knobs adjusting for 0.1 MIL. The eye relief on the low end of magnification (1.5X) is listed at 4.2″, while on the high end of the magnification (4X) is at 3.7″.
I love the design of this model. The 3HD's aesthetic is very easy on the eyes. Its beautiful black matte finish is accompanied by Leupold branding and logo marks in a dark charcoal gray color, making for a fantastic-looking scope. Meanwhile, the numbers you need to see along the power ring are still bright, remaining white.
The fact that Leupold resisted the temptation to put colorful and bold "in your face" logo marks is something that deserves praise in my opinion. One of my personal pet peeves is when companies brand their products over the top with bright and often gaudy logos stuck everywhere. I love to see more and more manufacturers taking the option Leupold did here on this scope — very low-key. Truly, the fit, finish and design of this optic make for one slick-looking scope.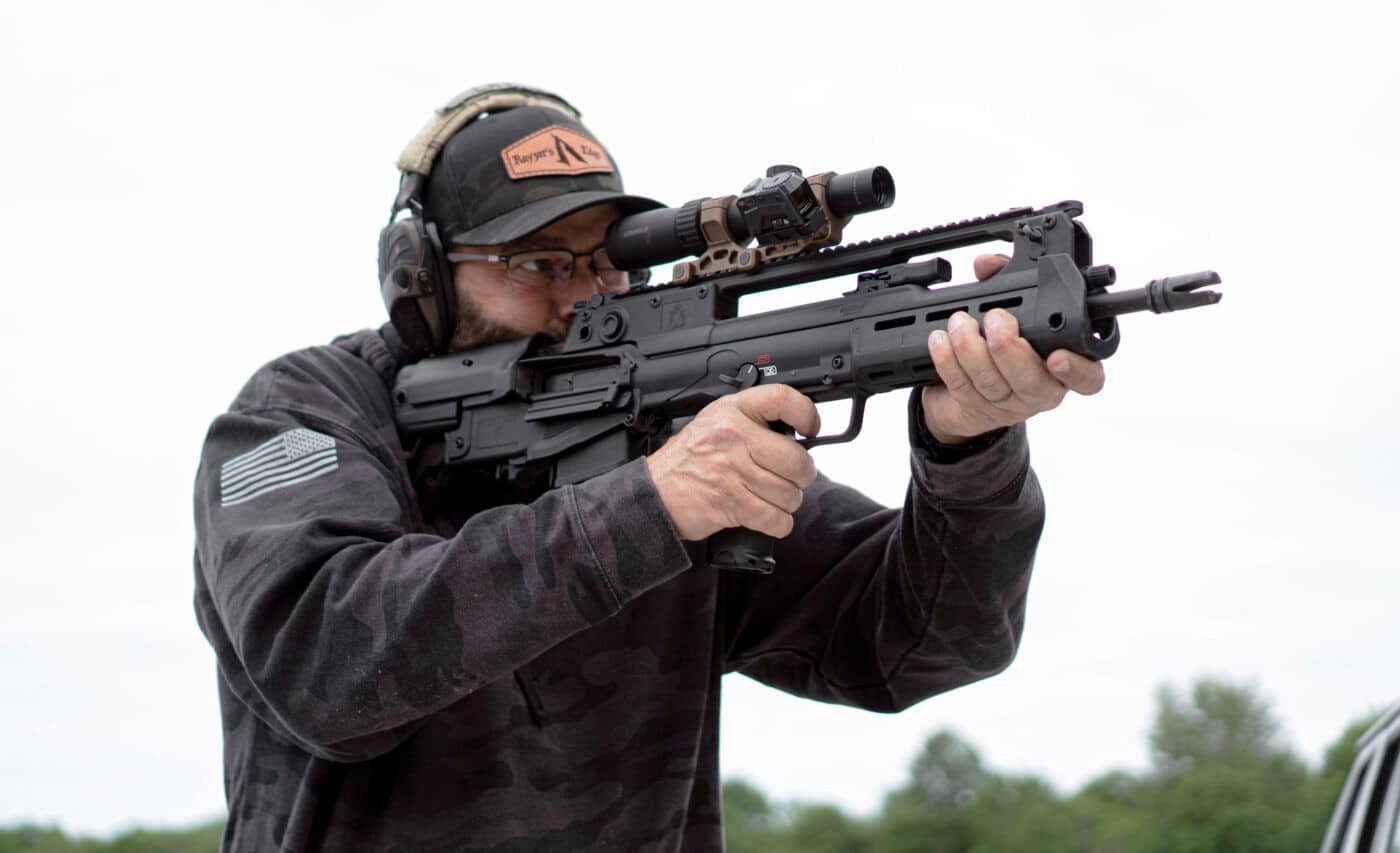 The reticle in ours is an option called AR-Ballistic, a modified version of a duplex reticle. You might have already figured it out with a name like AR-Ballistic, but this reticle is designed for AR-style rifles chambered for the .223 Rem cartridge.
The base design is a duplex reticle, but with some subtension marks only on the vertical stadia. Something quite unique about this reticle is that it uses a 200-yard zero, which we have not often seen on optics in this power range. It has aiming points reaching out to 600 yards.
Into Action
In our opinion, the scope is a good all-around scope to use, and its MSRP of $499.99 is hard to beat. The glass is very clear, the reticle works and the scope is quite lightweight. In our hands-on testing, a few noteworthy things really stood out to us.
When getting it out of the box, I noticed the scope looked great. Second of all, this optic is so lightweight it feels fake. That's not meant to give you the impression it's not a good scope or that it might be something more like a toy — I just simply mean it's light. When comparing it to other scopes in the 1-4X magnification range we had on hand, this one is notably lighter at 13.1 oz.
In addition, it's quite a bit shorter than others on the market. The overall length is just under 9.5″, with other LPVO scopes in our experience trending around the 10″ mark and longer. The shorter body of this scope allows you to have more rail space on your rifle for things like lights, lasers and their accompanying pressure switches.
The field of view of the scope also proved to be quite good, measuring in at 29.4′ at 4X magnification. Also, when powering up this scope and zooming through its magnification, it's immediately noticeable how smooth the power ring is. It takes little effort to power through the settings while maintaining a very welcome, consistent and smooth movement.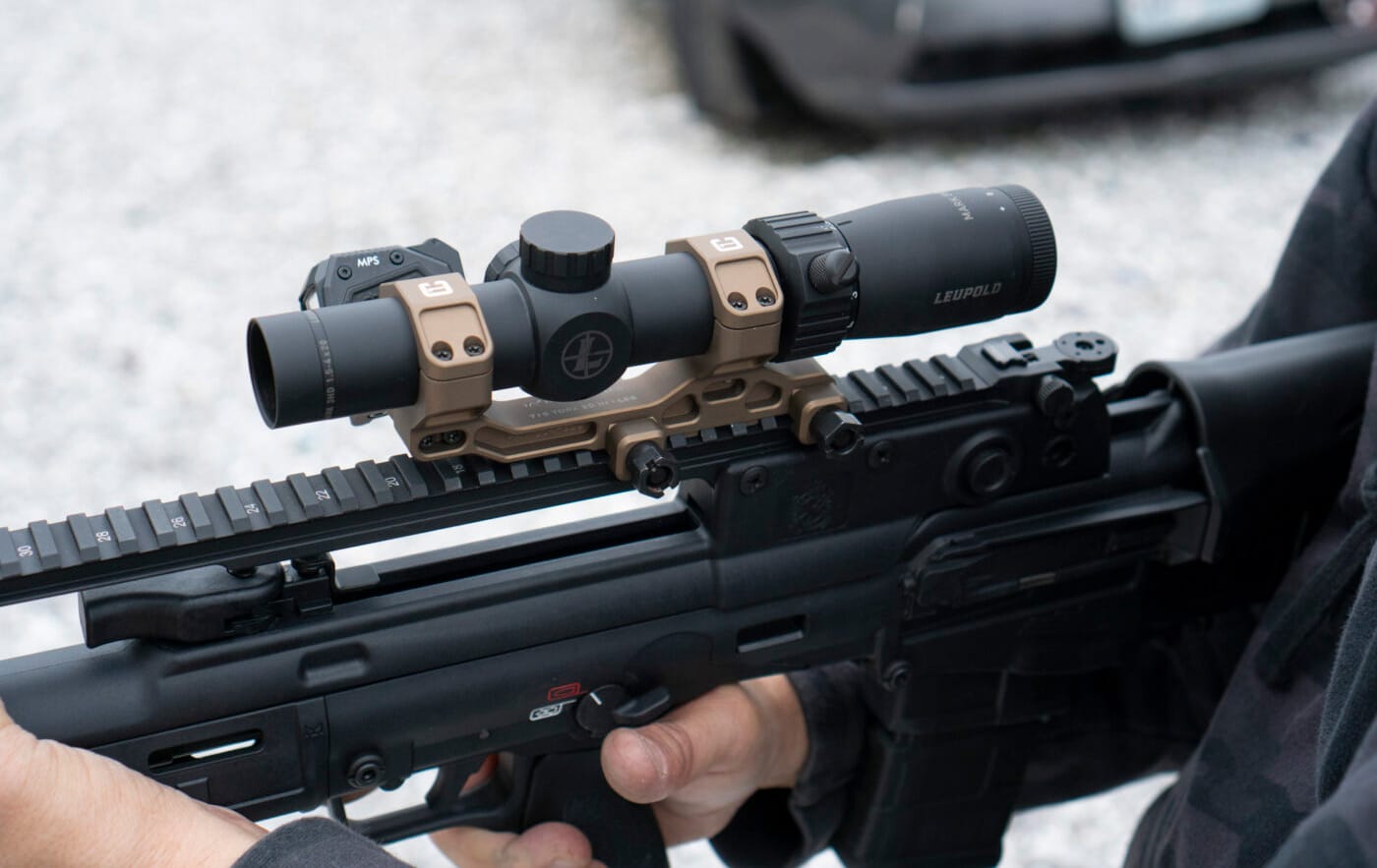 For our testing, we fitted the Leupold out on the Springfield Armory Hellion 5.56mm bullpup. Yes, it's not an AR, but we thought it captured the spirit of the intended use of this optic. Also, what would benefit more from a short and light optic than a very short and light bullpup?
We mounted the scope with a Badger Ordnance Condition One Modular Mount, and also mounted a compact Steiner MPS (Micro Pistol Sight) in a 45-degree offset mount. We ran the Hellion during our testing with .223 Remington/UMC 55-gr. FMJ. The rifle ran the ammo without a hitch during our testing, and the optic performed admirably.
Leupold Mark 3HD Specifications
| | |
| --- | --- |
| Power/Lens Diameter | 1.5-4x20mm |
| Reticle | AR-Ballistic |
| Tube Diameter | 30mm |
| Weight | 13.1 oz. |
| Length | 9.4″ |
| MSRP | $499.99 |
On Target
We were really impressed with the Leupold — particularly at its price. This is a high-quality scope for not a lot of money. Due to that price point, it does lack some features — such as an illuminated reticle. However, at this price, you can do what we did and mount a red dot on it as a back-up for close-range needs. And at this price, you have more money left over to spend on top-end accessories such as the Badger Ordnance mount and the Steiner red dot we used.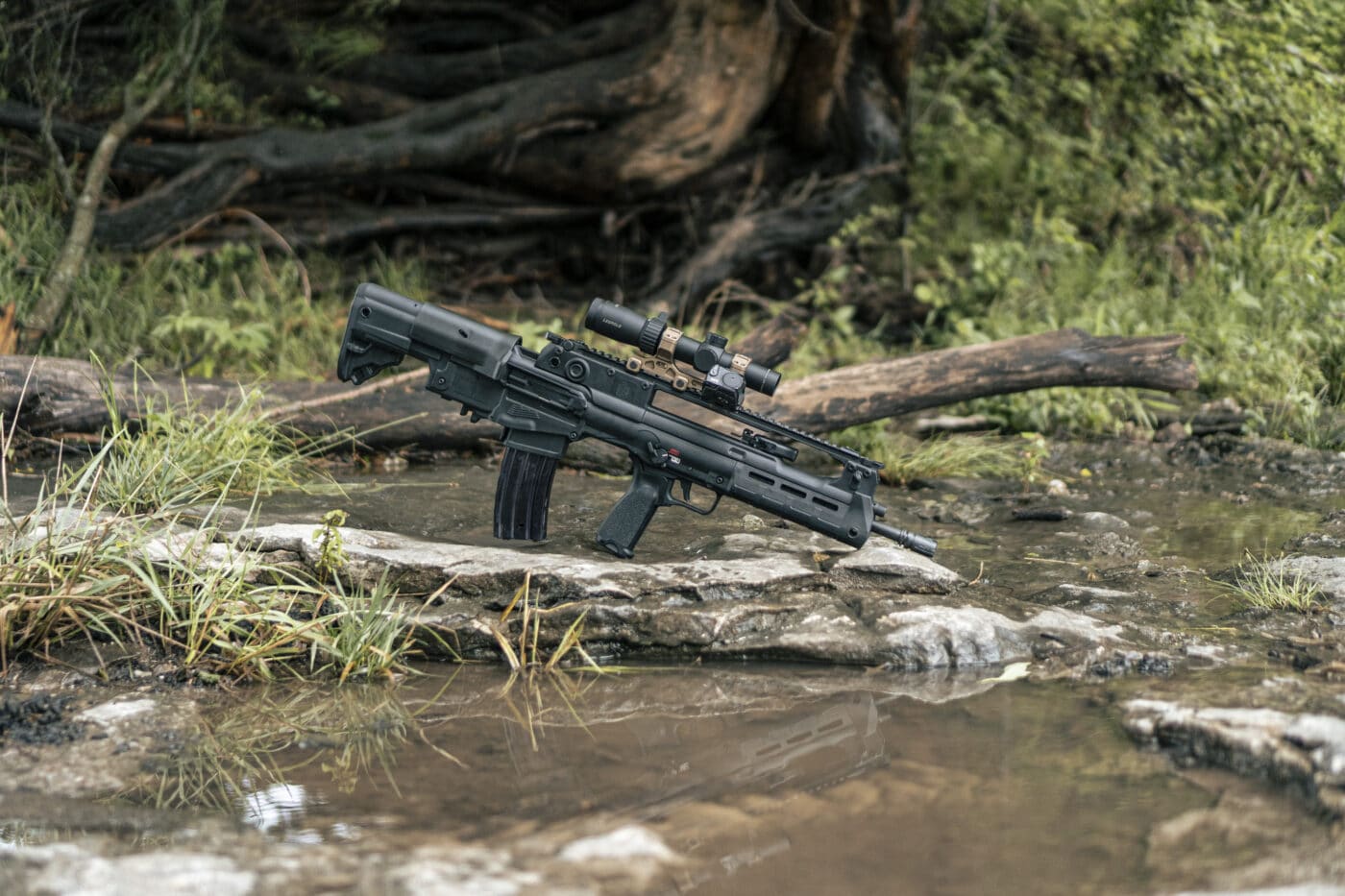 All in all, these optics seem like a very good option for shooters who might not be able to spend big dollars on Leupold's top-end optics, but still want an American-made and high-quality product with a lifetime warranty. And remember, they're fog-proof — something that no doubt would make Marcus beam with pride today.
Editor's Note: Please be sure to check out The Armory Life Forum, where you can comment about our daily articles, as well as just talk guns and gear. Click the "Go To Forum Thread" link below to jump in!
Join the Discussion
Featured in this video
Continue Reading
Did you enjoy this video?
41