There is for sure one thing that every shooter out there struggles with, and right now that's finding ammo. Thanks Covid. But a second thing they struggle with is having a consistently accurate pistol presentation onto target.
Now hear me out, there are people who are consistently good at presenting the gun onto target and it being right where they wanted it to be aimed most of the time. But, we all struggle with it and could all use improvement with it. Our presentation could either be more accurate or faster. There is always room for improvement.
For us novice shooters, it can be very hard to take a gun from the holster, draw it and push it out onto target and have your sights lined up right where you wanted it. This can be extremely frustrating for a shooter. This is especially true if you're scrolling through Instagram and comparing yourself to some of the fantastic shooters out there who seem to never make mistakes.
If you have a red dot sight with no co-witness irons and you don't have a good presentation, you might as well forget finding the dot quickly at all. So much hinges upon having a good presentation out to target. We wanted to give you a training tip on how to improve your presentation so that you're aiming where you want from the start.
Check out the video above where Grant is using the XD-M Elite Tactical OSP equipped with a Surefire X300U-A.
The Steps
Our advice is to take your draw stroke and presentation and work in reverse order. We here at GunSpot believe in a high sight press. That means when you draw the gun you bring the gun up high and then punch out with it onto target.
We teach this for a few reasons. First of all, if you go right from the holster out away from your body and up onto target, you leave the gun out where it's an easier target to be swatted out of your hand. But if you bring it up close to your body, it's harder for it to be something to fight over. Secondly when it's up like that and you push out, it's easier to track the sights out onto target. This is where we build a fast and accurate presentation.
Going Backwards
To practice the presentation, like I said we think it's best to practice in reverse order. Here is what we advise you to do, and the best part is that you can do it at home. Grip your gun and have it up in a high-ready position and then pick a spot on the wall (maybe use a picture frame as a point of aim).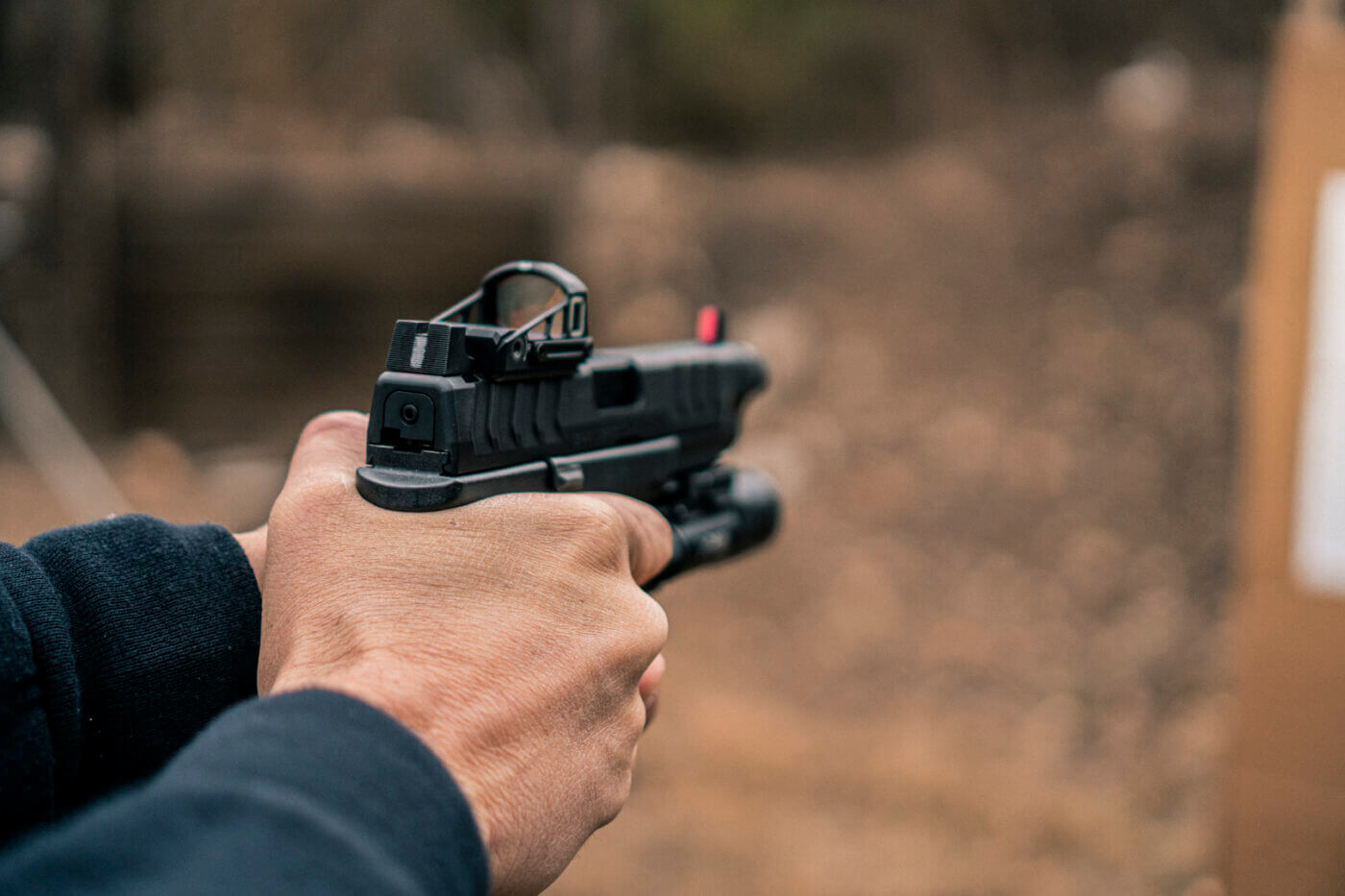 Take your gun and practice pressing out onto the target from the high ready on different aiming points. If you're practicing at home, make sure your gun is unloaded. If it is, you can end your presentation with a dry-fire squeeze of the trigger. Keep practicing in this last step until you are doing it quickly and confidently.
Then, the next step is to leave your pistol gripped in your hand and lower it to your side. From there, raise the gun and present onto the target. This will simulate holster draw without you having to worry about getting a good, proper grip from the draw. By incorporating this extra step, you are getting closer to a full draw and presentation. Once you are proficient in this step, it's time to move on.
The third and final step is to put the gun in your holster with your hands by your side and then grip the gun, draw, raise it and present onto target. If you are able to do all that consistently, you can probably just keep your practice session with this full range of motion. But until then, cut this down into sections and focus on getting onto target immediately with your presentation.
The biggest challenge you will face is mastering the grip angle of your gun. Very rarely will you be off on target by being too far to the left or two far to the right. The main problem will be being too far high or low, which comes from the grip angle. Put this into practice and you will master your presentation in no time.
Conclusion
We want to challenge you to spend as little as one to three minutes a day with the same gun practicing your presentation. If you can dedicate that, you will see a dramatic improvement in no time.
Editor's Note: Please be sure to check out The Armory Life Forum, where you can comment about our daily articles, as well as just talk guns and gear. Click the "Go To Forum Thread" link below to jump in!
Join the Discussion
Featured in this video
Continue Reading
Did you enjoy this video?
59