I consider each one of my firearms as functional art, and art deserves to be seen. In an effort to find the perfect solution of safety and storage, I have settled on Lockdown's Secure Wall system for my gun room.
Lockdown has a rich history of accessories to secure your firearms, whether in a safe or concealed in plain sight. Their new Secure Wall panels and attachments are a breath of fresh air in the emerging market of gun rooms. If you've looked into many of the wall mounted systems on the market, you may have been immediately turned off by the price tag. Lockdown took the approach of bringing a product to the market that is affordable for most while still providing rugged feature rich products.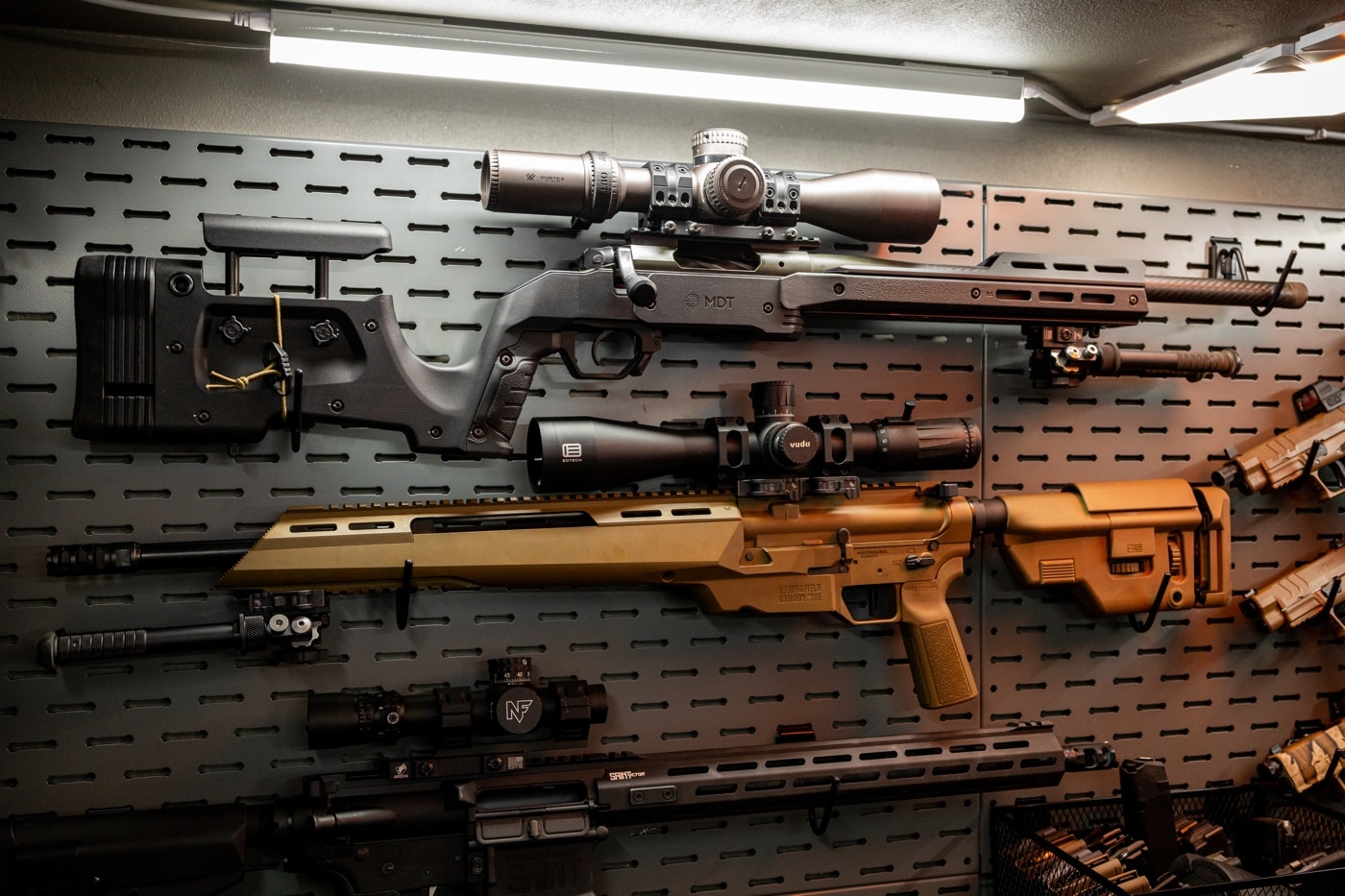 When creating a gun room, safety is paramount for those who live with you. Ideally the entrance to your vault is concealed and locked with the walls being reinforced as well. I would also go as far as leaving the firearms unloaded with magazines detached. If you keep loaded mags in the same room, I suggest keeping them out of reach or in a locked case. Remember, a vault room is not necessarily a quick access area for home defense; ideally you would have decentralized locked safes throughout your home with loaded firearms that only you or your trusted loved ones have access to.
Making It Happen
When looking for wall-mounted storage solutions, you want to ensure you have access to multiple sized panels and adequate wall accessories to mount your specific firearms and gear. Your room may be large, small or oddly shaped, and finding the right-sized panel options to fit your needs is more important than just a one-size-fits-all solution.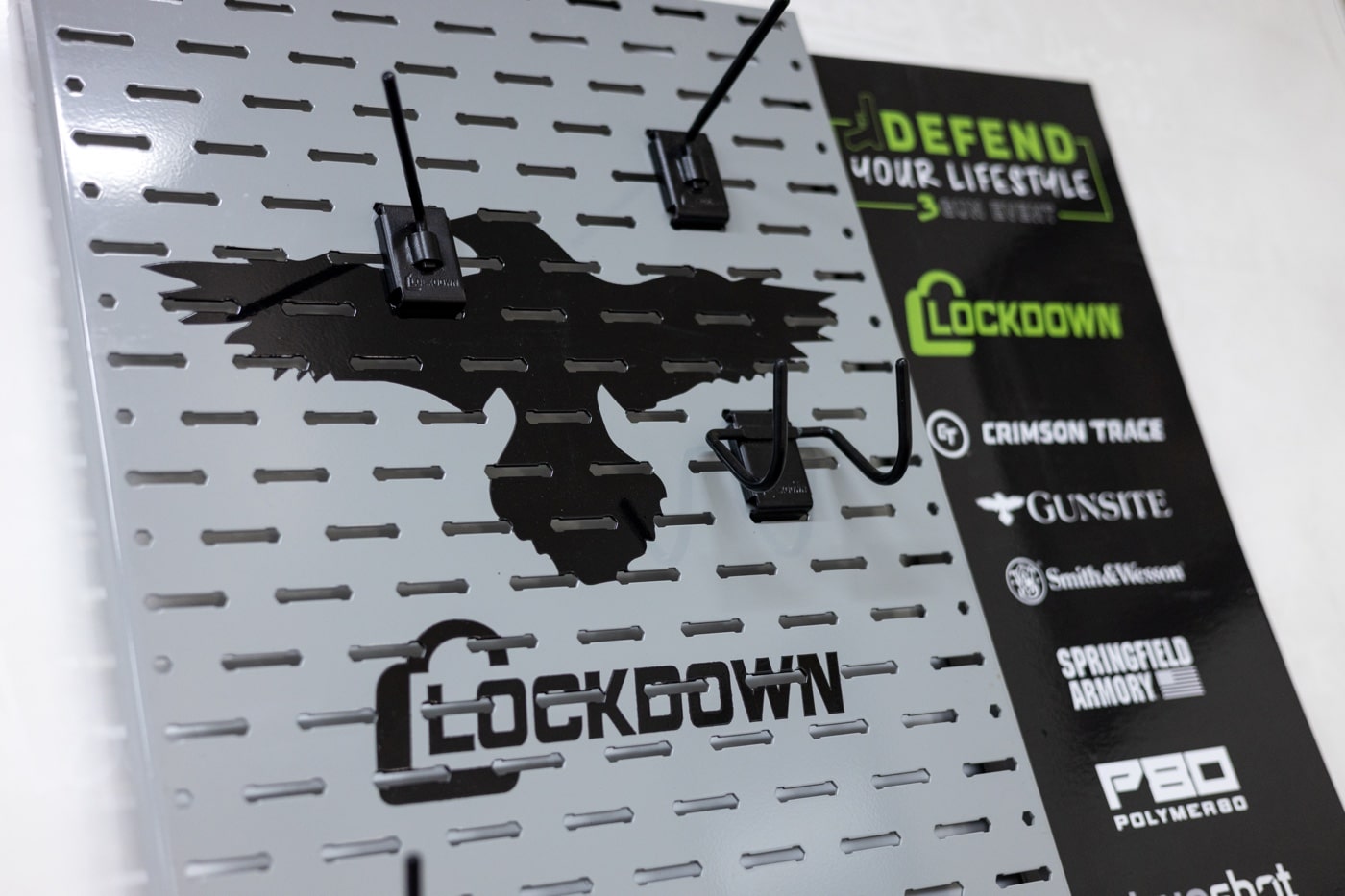 Lockdown utilizes three panel sizes, 32×24", 14×24" and 4×24", all made from 16 gauge steel. Each panel holds up to 100 lbs. If you require a more robust panel, you can purchase a 14 gauge version that holds up to 200 lbs. However, I believe the 100 lbs. per panel should be sufficient for most. Conversely, if you are interested in storing ammo on the panel, you would be better suited for the 14 gauge panels to better hold the weight.
In addition to the panels, Lockdown offers multiple ways to mount your firearms. For long guns, they offer a three-gun vertical rack or individual long gun hangers for horizontal storage. For pistols, there are three options: angled barrel pegs, straight barrel pegs and horizontal hangers. For non-firearms related products, you can employ a Universal Hook, a Shelf, and a Basket.
In Practice
For storing as many rifles as possible, the vertical gun racks are fantastic. If you want to show off your collection, you may be more interested in the horizontal long gun hangers; or, if you are like me, a combination of both. The same goes for the pistol hangers. The straight barrel peg is perfect for maximum pistol storage while the angled peg and handgun hanger or more suited to showing off your collection.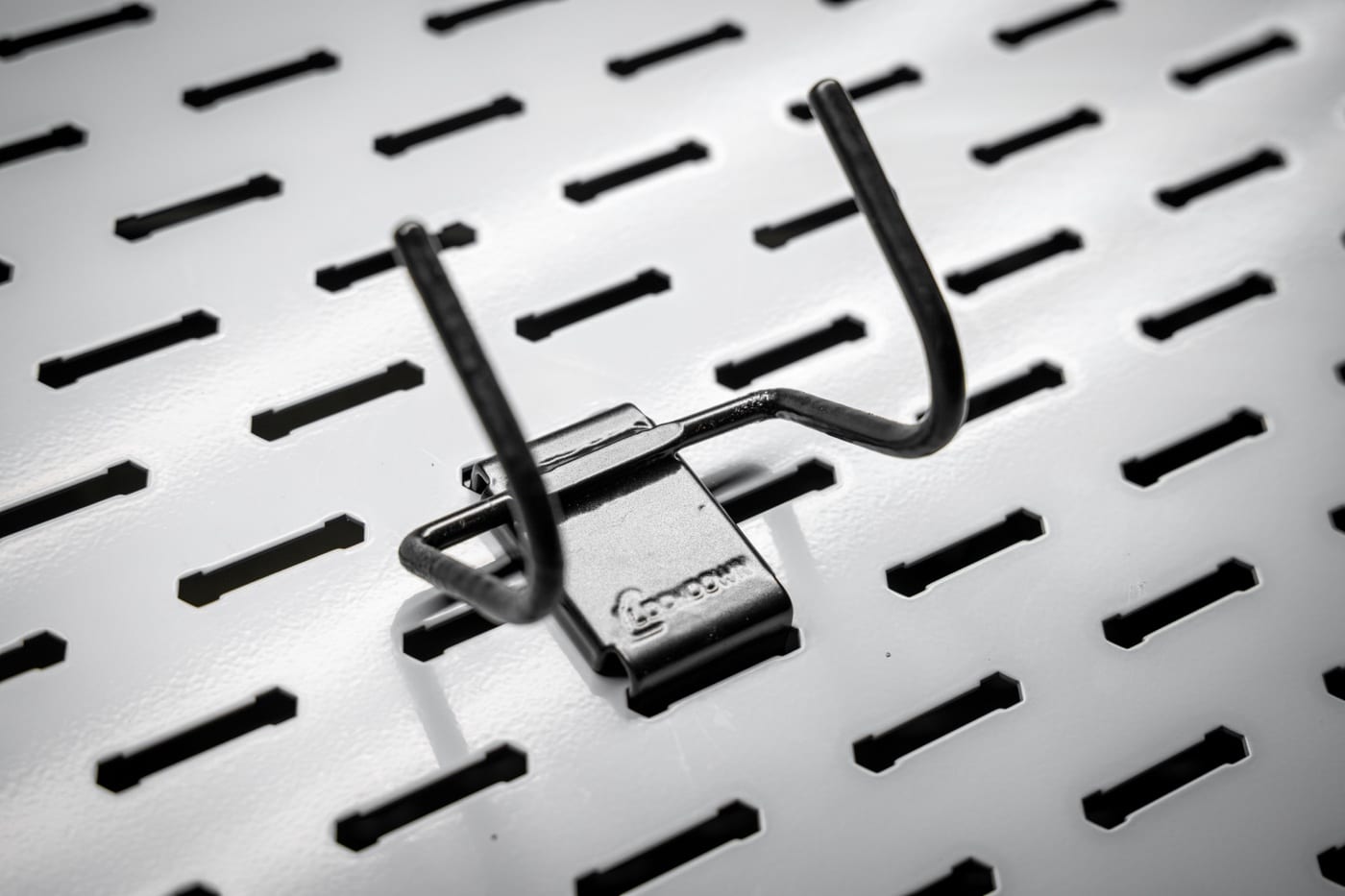 The universal hook is good for, well just that, versatility. You can hang backpacks, helmets, plate carriers, bags, clothing, and just about anything you could think of to hang from these hooks. I like to add them to the bottom of the panel to utilize the empty space under the panel. The shelf and the basket are perfect for organizing all your mags, optics, ammo, and random items that generally don't find a home by hanging.
The panels themselves are powder coated a nice neutral grey color that is non-marring, meaning they will not scratch your firearms. The hooks are made from heavy-duty, powder-coated steel and then vinyl coated to be non-marring as well. This ensures a rugged hold without any fear of damaging your firearms.
The panels each come with a hex bit and four screws. You begin with the top of the panel, finding a stud and securing the first screw into the wall, then level the panel and drill the second screw in. There is a lip on the bottom of the panel that the second panel overlaps. Once snugged up to the top panel, you drill the remaining two screws into the top of the bottom panel. You can continue this process until your desired height has been achieved, then simply finish drilling screws into the bottom of the panel to secure the panel to the wall. The whole process is simple, intuitive and fairly easy to do on your own.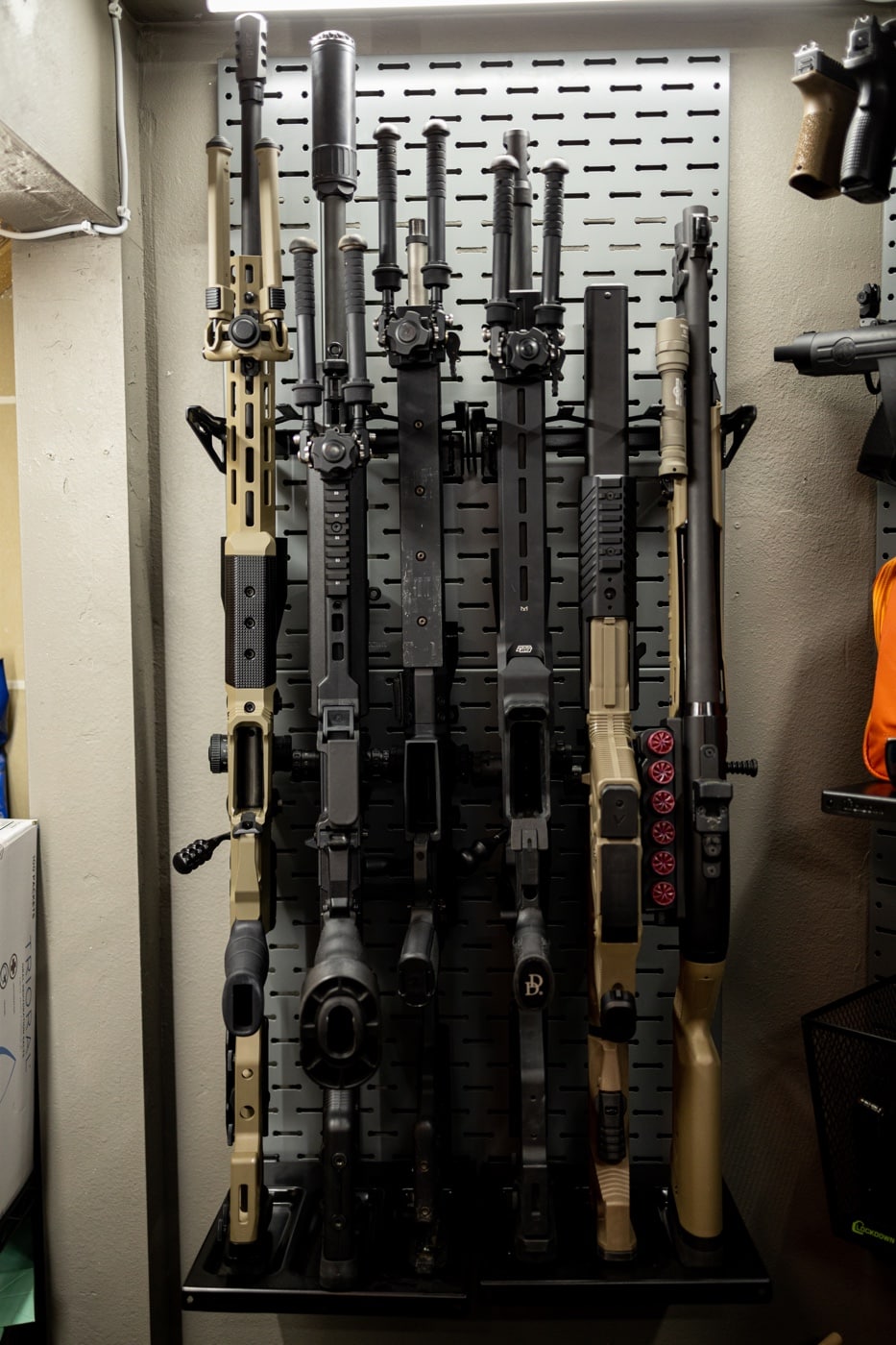 For my needs, I had an oddly sized room that benefitted from multiple-sized panels. My plan was to fit as many firearms on the wall as possible, while showcasing the ones I am most fond of. I utilized six 32×24" panels, five 14×24" panels and six 4×24" panels to outfit my space for maximum wall utilization. I then utilized 14 long gun hangers, two vertical gun racks, 24 handgun hangers, eight straight barrel pegs, two universal hooks, one shelf and three baskets. In total, I was able to fit 52 firearms on my walls as well as bags, mags, plate carrier and random small items.
The Details
A unique aspect of the Secure Walls is that they are dual purpose of sorts. The walls were designed to utilize the proprietary Secure Wall accessories as well as general peg board hooks. If you are familiar with peg boards, you know the biggest downfall is the pegs not holding securely when removing tools. For this reason, the Secure Wall hangers are designed to snap into place. The top bracket slips into a slot at an angle, and then you simply press the bottom bracket into the wall until it snaps securely into place. If you want to move the hanger you lift the bottom of the bracket until it pops out. It's an ingenious solution that is as easy to use as it is sturdy. The use of peg board attachments also makes these panels valuable as you can store tools on them with ease.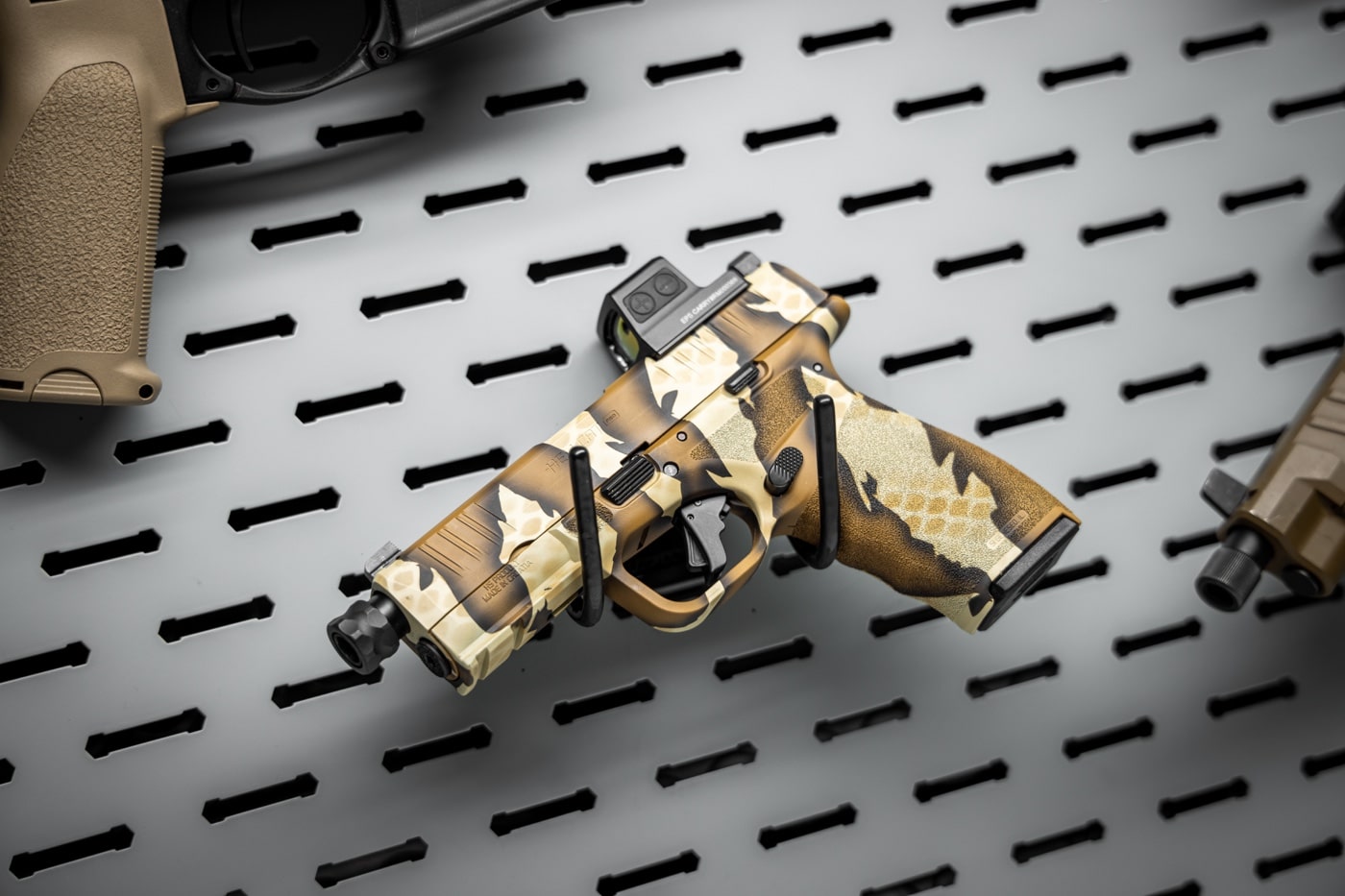 I've used other wall storage solutions and one of my biggest complaints was regarding how close you could store firearms to each other. Either there weren't enough mounting holes for precise mounting or the mount itself required you to lift the firearms directly up to remove them from the wall. The Secure Wall panels have a ton of access points to mount the hangers offering you a lot of options for fitting your hangers together to get the most out of the real estate. Furthermore, the hangers are designed with an angle so that you can lift your firearms up and out, easily clearing the hooks. This allowed me to stack rifles horizontally close together while still retaining ease of access.
Between the barrel peg and the handgun hangers, I was able to prominently display some of my favorite pistols while storing many more side by side. I think out of all the items my space allowed for least were the shelving units. Since there isn't a large square footage, I didn't want to push things out too far from the wall. If I could be the slightest nitpicky, I would also say that it would be nice if the shelving had a lip or barriers to keep whatever is on that shelf from accidentally tumbling off. The baskets on the other hand were a perfect addition to store my mags and various items like slings, gloves, etc. Much like the universal hooks, the basket is a perfect option for the bottom of your panels to utilize as much space as possible.
Conclusion
All-in-all, I'm very pleased with my new gun room setup utilizing the Lockdown Secure Wall system. It looks professionally polished, and it's rock solid. Every time I walk into the room, I get a huge smile on my face as I take a lot of pride in my collection of firearms and each of their stories. I am a collector as much as I am a shooter, so showing off my collection while keeping them safe is very important to me.
If you want to check out more information on Lockdown's Secure Wall storage system you can head to their website at www.lockdown.com. They have a custom panel configurator they've been working on that allows you to build out your panels in real-time so that you can see exactly what you need. Your collection is art that deserves to be displayed, so find a wall and lock it down.
Editor's Note: Please be sure to check out The Armory Life Forum, where you can comment about our daily articles, as well as just talk guns and gear. Click the "Go To Forum Thread" link below to jump in!
Join the Discussion
Featured in this video
Continue Reading
Did you enjoy this video?
53