Mystery Ranch 2 Day Assault Pack: Multipurpose Pack for the Ages
July 31st, 2021
6 minute read
Sometimes it can be a never-ending journey to find just the right pack for your adventures that has all the features and attributes that you want. I've used plenty of packs that had good organization on the inside but lacked comfort when the pack was loaded up. I wanted a pack with good internal organization, adjustability, comfort and durability that I could use for shooting competitions, range use and travel.
The Mystery Ranch packs fit the bill, but they were a little cost-prohibitive for me, that is until they released the 2 Day Assault Pack (DAP). This pack is actually one of their everyday carry packs, but with a healthy dose of DNA from their military 3 Day Assault Pack.
The Basics
For about $200 shipped from Amazon, I had one at my door in just a couple of days. Now, up front, this pack is not made in the USA, it's manufactured in Vietnam. However, their overseas manufacturing facilities have to adhere to Mystery Ranch's strict quality control procedures. I have no reason to doubt this because my 2 DAP's build quality was impeccable.
The pack cloth is 500D Cordura nylon to give it strength and abrasion resistance while also helping to keep the overall weight of the pack down. The internal seams were secured with nylon binding tape that protects the stitching from coming undone and gives a clean appearance on the inside.
Heavy-duty bartack stitching secures the nylon PALS webbing on the outside of the pack while Duraflex buckles and YKK zippers help finish out the exterior of the pack. Just like with the larger 3 DAP pack, there are two compression straps that go across the pack, but only the upper one extends around the sides. A simple nylon web belt is included to secure the pack about the waist to help with load distribution, but if you don't want it on there, it's easily removed.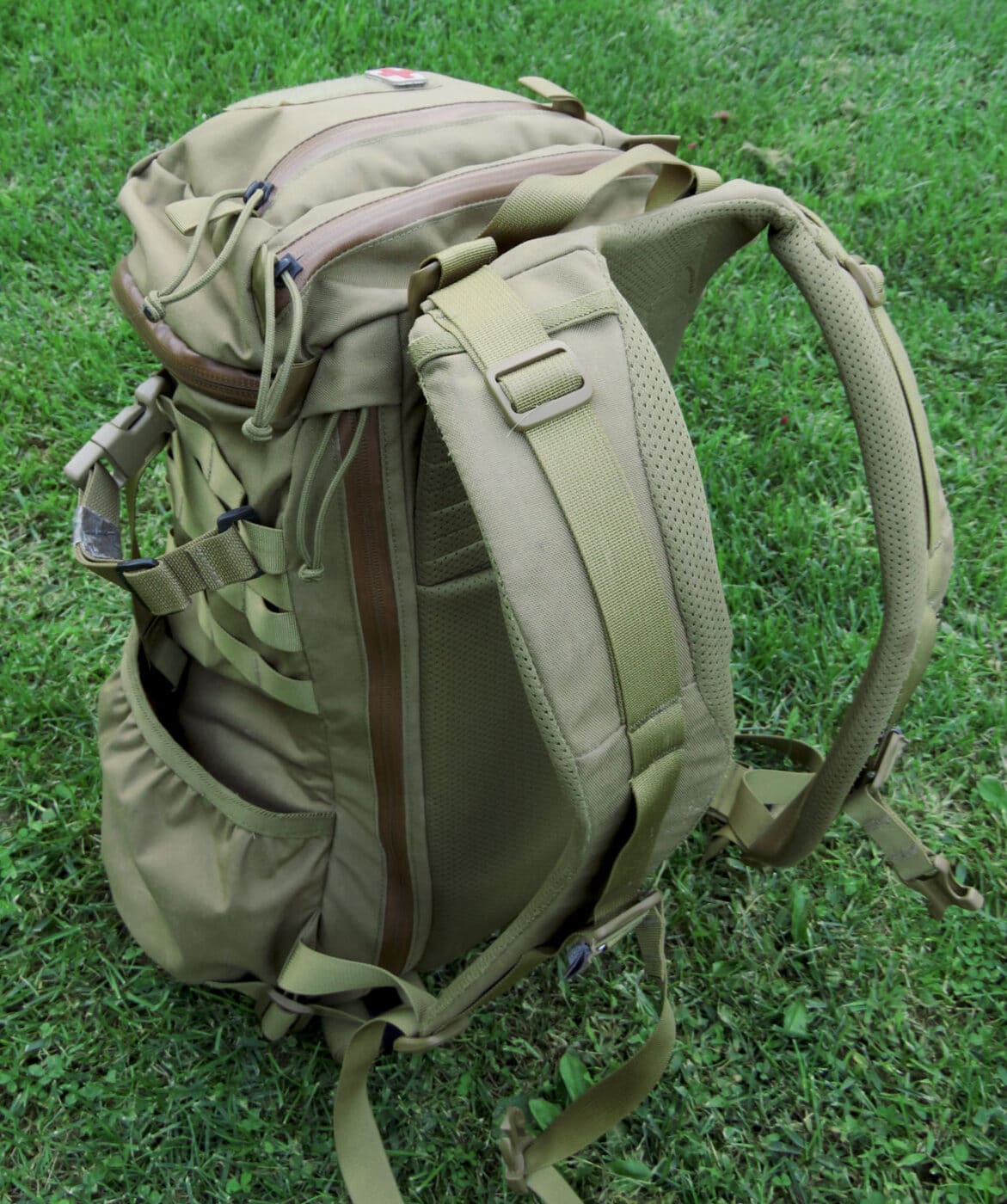 To me though, one of the primary reasons for getting the 2 DAP was to try out the adjustable yoke system that Mystery Ranch uses in most of their packs. Their yoke system is a simple and ingenious method to adjust the pack to the wearer's torso to maximize comfort and weight distribution. Quite a few packs that have an adjustable frame only allow you to make adjustments along predetermined points, and if you somehow fall in between adjustments, well you'll just have to make do. Everything you need to make adjustments to the yoke system is organic to the pack and it only took me about 10 minutes of fitting to get the pack set up perfectly.
Capacity is right at about 1,650 cu/in, which was something I was concerned about at first because it's a little smaller than the packs that I usually opt for. Pulling open the iconic Tri-Zip configuration of the pack to get to the inside exposed multiple internal pockets to help organize my gear.
Along the back of the pack is a laptop pouch that's accessible from the outside via a vertical zipper, a smaller slit pouch, two zippered mesh pouches, and two long open pouches. The lid has two zippered compartments with a Velcro panel on top for your favorite morale patches. The first compartment is small but just right for first aid kits, keys, phones anything to which you want easy access. The larger compartment has a mesh bottom, and it's where I keep the tools and things I need to shoot with such as a laser rangefinder, Kestrel 5700 Elite, lens cloth, etc.
There are two bottle pockets on the outside of the pack that are probably a little big for a Nalgene bottle, but perfect for odd-shaped gear or things you just want to keep handy.
Packing Up
Almost as soon as I got the pack I was loading it up for its first range trip and it was then and there that I was able to dispel any concerns about the pack being too small. I was able to fit my shooting bags, knee pads, tool kit, chronograph, sling, gloves, targets, staple gun, and ear pro in the main compartment very easily. I used the laptop pocket to store magazines since its external access would allow me to top off mags quickly and efficiently without digging into the main compartment.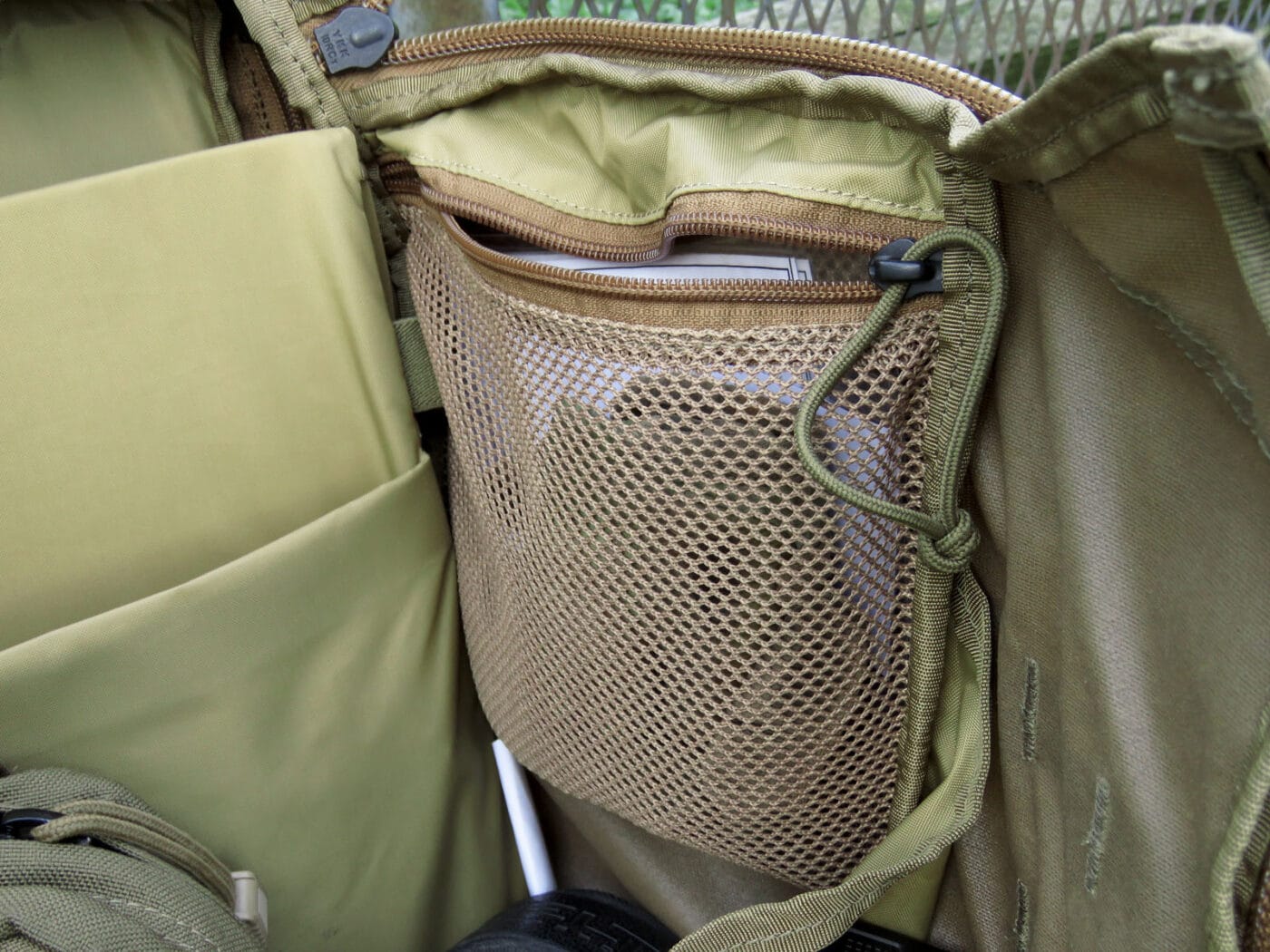 I generally use one of the external bottle pockets to help hold the tripod legs but I don't like to use the compression straps to further hold the tripod down. My main reason for this is that if I need to release the compression strap holding the tripod to get inside the pack, the tripod is just going to fall away. To solve this issue, I fashioned a quick-release strap that hooks onto the PALS webbing and clips around the tripod legs to hold it independently from the compression straps. I suppose the same principle could be used to secure a rifle to the side of the pack but I would have to experiment further to be comfortable with that.
At a recent 2-gun team match I had the pack loaded down with about 17 lbs. worth of magazines and ammo, plus all the other equipment I needed for the day. Total weight was right around 30 lbs., but the 2 DAP took it in stride and even then I don't think I was reaching the pack's full capacity. Once on my back, I found it pretty comfy to haul around from stage to stage, and at the end of the day my shoulders didn't feel sore or worn out.
My Gripe
If I've got one gripe with this pack it's that it doesn't come with anything in the way of strap management. It's an easy enough problem to solve as there are commercial solutions available, but I went the fast and easy route by picking up a roll of Velcro One-Wrap to secure the rolled-up compression and waist straps. Easy peasy.
Wrapping Up
I can't say enough good things about this pack. It's everything I was looking for in a multi-use pack and it didn't break the bank thankfully. So far, through multiple range trips and several matches, this pack has been nothing short of extraordinary.
Not only does it meet all of the needs I stated at the beginning of this article, but it also can serve as an excellent get home bag. Everything I need is easy to get to, easy to pack back up, and most of all comfortable to carry around. Currently, it's available in four solid colors, Black, Coyote, Foliage, and Forest Green, it looks sharp in all of them.
Editor's Note: Please be sure to check out The Armory Life Forum, where you can comment about our daily articles, as well as just talk guns and gear. Click the "Go To Forum Thread" link below to jump in and discuss this article and much more!
Join the Discussion
Featured in this article
Continue Reading
Did you enjoy this article?
46