When the Hellion was first released back in 2022, it immediately swept into popular feeds as being one of the best modern bullpup rifles available to consumers. Based on a proven Croatian design, the fully ambidextrous 5.56mm Hellion quickly established itself as a highly capable bullpup for American shooters.
For those not familiar with the basic design, the Hellion runs on a smooth and reliable short-stroke gas piston system. You also receive a full set of completely ambidextrous controls, including the safety selector and non-reciprocating charging handle, as well as a reversible ejection system that doesn't require any special tools or extra parts.
Unique in the world of bullpups, the Hellion features a five-point adjustable buttstock that allows you to adjust the 5.56mm to your specific fitment needs. In addition, a two-position adjustable gas regulator in the gas system features a "normal" and "suppressed" mode selector.
In adapting the Croatian design for the American market, Springfield had numerous modifications and enhancements made to the bullpup. Firstly, it was adapted to feature a swappable AR-pattern pistol grip. It comes with a BCM Gunfighter Mod 3 pistol grip standard. Also, the rifle is set up to run with AR-pattern magazines. Additionally, the forend features M-Lok slots for easily fitting accessories.
A New Take
If you loved the original 16" Hellion in black but you want to spice up your collection even further, Springfield Armory has now released the Hellion in three new color variants. Say hello to models in Desert FDE, Gray or OD Green.
In my opinion, Springfield really knocked it out of the park with these. I think the Hellion is one of the coolest-looking rifles on the market, not to mention it's impressive performance and benefits. Body of the Hellions feature the new color, while things like the controls, optics rail, pistol grip, barrel, etc. are all in black. It makes for a really bold look.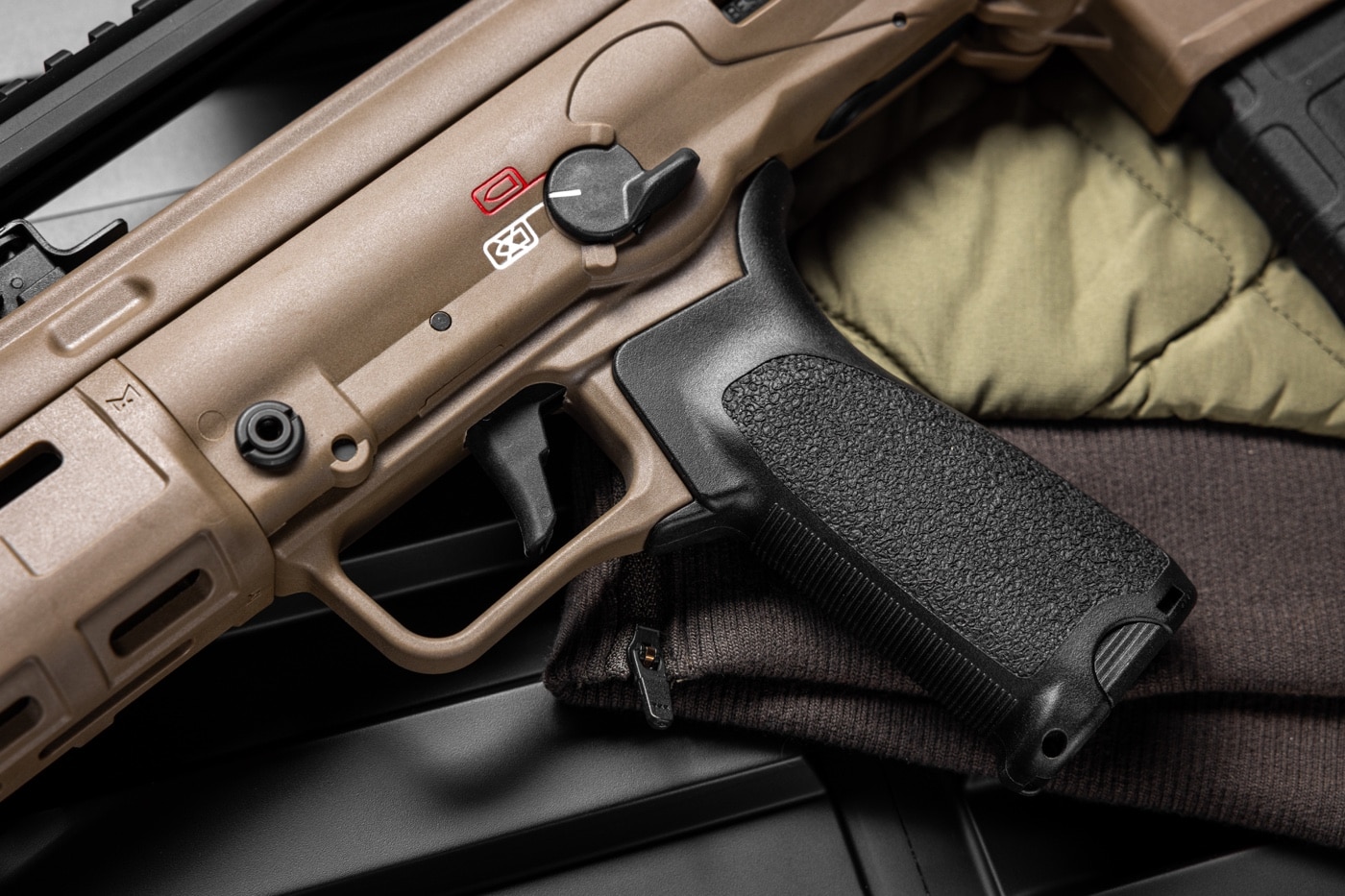 The colors on all three of these models are rich and saturated. As an avid fan of all variations of the color tan, I am overjoyed that Springfield went the path of the Desert FDE for one of colors. Out of the three colors, I had a really hard time choosing my favorite as they all offer a really unique look that will stand out on the range. But, I unsurprisingly cozied up to the Desert FDE color.
The Long and Short of It
For those who may not be as familiar with the bullpup concept, let me break it down for you. A bullpup design is where the action and magazine are located behind the trigger. By moving the action behind the trigger group, you are now able to reduce the overall length of the rifle while still retaining capable barrel lengths.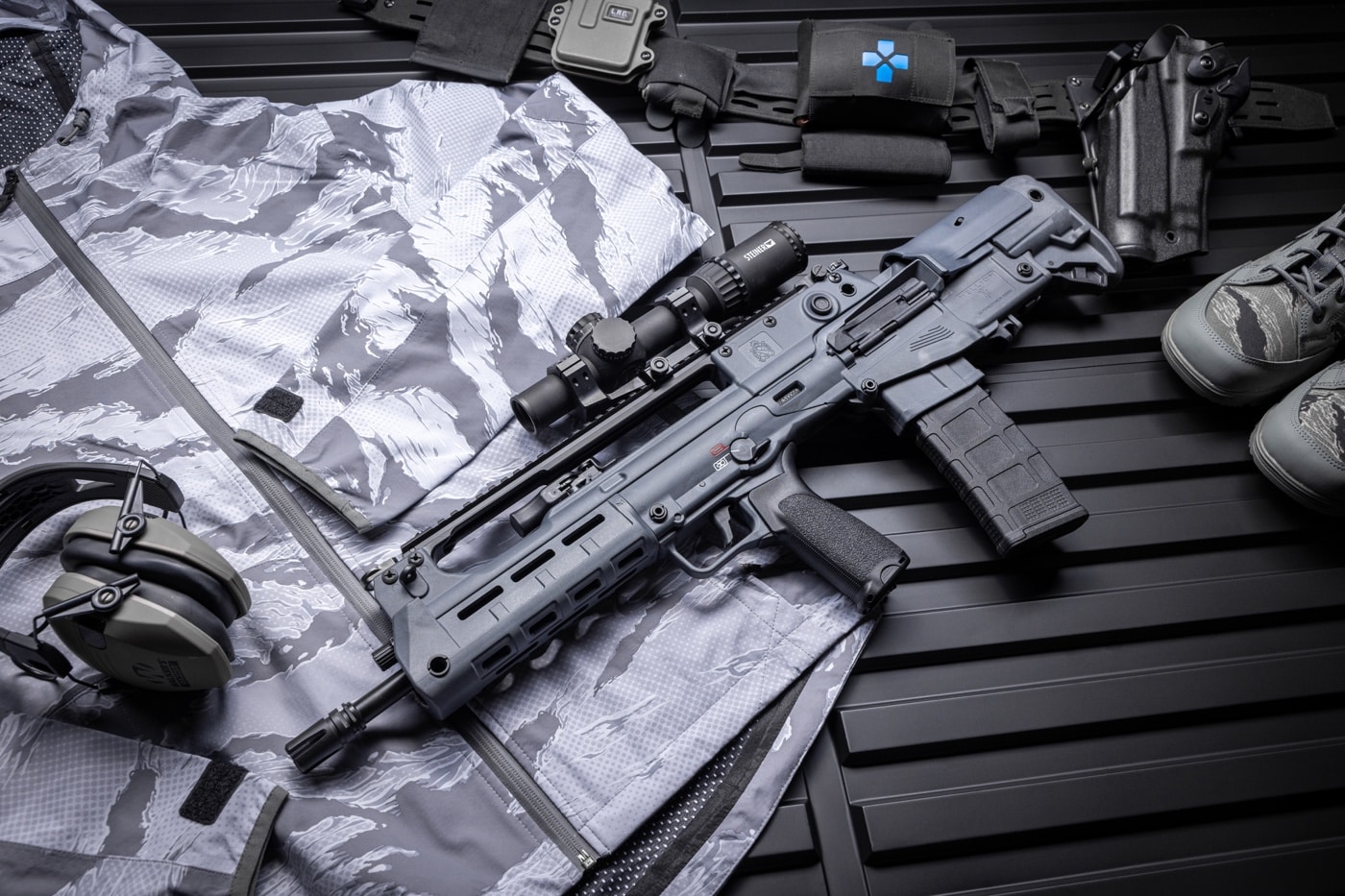 For example, a bullpup with a 16" barrel will be nearly as short as a 11" short-barreled rifle (SBR) AR-15. The Hellion's overall length measures in at a mere 28.25" at its shortest with the stock fully collapsed, giving you a compact rifle with potent performance at both close and long ranges.
[Looking for a longer barrel? Check out these 18″ and 20″ Hellion models.]
The Hellion sports a slew of modern features, making this rifle well worth the price tag. One of my favorite features is the built-in, flip-up sights on the top rail. These are solid and very usable back-up iron sights. They are spring-loaded, and when they are in the down position they blend right into the rail, not taking up any additional space. The rear sight has a rotating aperture that gives you five selectable settings out to 500 meters, and the front sight has a crisp adjustable front blade that is great at close and long distances for quick target acquisition.
The barrel on the Hellion is a premium, hammer-forged 16" tube with a 1:7 twist and a Melonite finish. It is chambered in 5.56×45 NATO (.223). As noted earlier, the Hellion is a short-stroke, piston-operated rifle with a two-position adjustable gas block for suppressed and unsuppressed shooting. Speaking of suppressors, that is another benefit of the Hellion; you can add a can, and your overall length is still quite compact compared to a traditional 16" rifle.
Another major feature that separates the Hellion from other bullpups on the market is the addition of the adjustable stock. This allows you, the shooter, to dial in the perfect length of pull to fit your body. The spring-loaded buttstock allows for five positions of adjustment.
Speaking of customizing the rifle to fit the shooter, the Hellion is also 100% ambidextrous, from the controls to the ejection port. There is a slight disassembly of the rifle required to change the ejection side, but it's quite simple and allows left- or right-handed shooters to enjoy the Hellion.
Hands-On
In my testing of the Hellion, I've run LPVOs, red dots, magnifiers, lights, lasers, suppressors and just about anything that could realistically attach to the bullpup. I've enjoyed every set-up I've created for different reasons, be that CQB, distance shooting or a combination of both. For these reasons the Hellion is one of my top 5 rifles that I love to shoot.
For my range time on the FDE variant, I went with a simple EOTech EXPS3 Holographic sight. You really can't go wrong with an EOTech in my book; I've had them on all my rifles in all conditions, and they've never failed me. The simplicity of the reticle and the quick range estimation reticle is just, plain, effective. The Hellion paired with a red dot or holographic weapon sight (HWS) is easily maneuverable for quickly getting on target and then moving quickly into another position with ease.
Shooting a bullpup is a new experience that will take a few magazines to dial in the manual of arms, but once you have it down it's really quite natural. It's easy to hold the rifle in place during reloads, and most of your controls are very close in to your body. This keeps everything tight and easily maneuverable, even in low- or no-light environments.
The bolt release, mag release and safety are all large controls with a very tactile feel, allowing ease of use even with gloved hands. The recoil impulse of the Hellion is straight back rather than feeling as though the muzzle wants to rise.
Conclusion
I'm excited to further build out my Desert FDE Hellion with a suppressor and possibly an FDE optic to give it a truly stand-out look. If you haven't had the chance to check out the Hellion family yet, make sure to head down to your local gun store or range and get your hands on them.
There are now 16", 18" and 20" versions, along with these three new 16" color variants. So, you have all the options you could want. Big thanks to Springfield Armory for continuing to provide consumers with options like these.
Editor's Note: Please be sure to check out The Armory Life Forum, where you can comment about our daily articles, as well as just talk guns and gear. Click the "Go To Forum Thread" link below to jump in and discuss this article and much more!
Join the Discussion
Featured in this video
Continue Reading
Did you enjoy this video?
89