Review: Night Fision Stealth Sights
January 27th, 2023
5 minute read
The truth is, the firearm that you choose to carry every day is a very personal choice. Decision-making points can range from looks, size, capacity, optics cut, reliability, holster options, aftermarket support, etc. You may love the pistol but can't find a comfortable holster, or the other way around.
A lot of companies have been catching on to all these nuances and creating products that fit the needs of a wide range of concealed carry customers. Personally, I carry the Hellcat Pro. The optics cut, 15+1 capacity, reliability and wide range of aftermarket support for the pistol make it a winner for me.
My carry rig for it is the Tulster Oath IWB (inside the waistband) holster, an excellent design that makes the experience of wearing this pistol all day, every day, an enjoyable one. The comfort and concealability of it are second to none.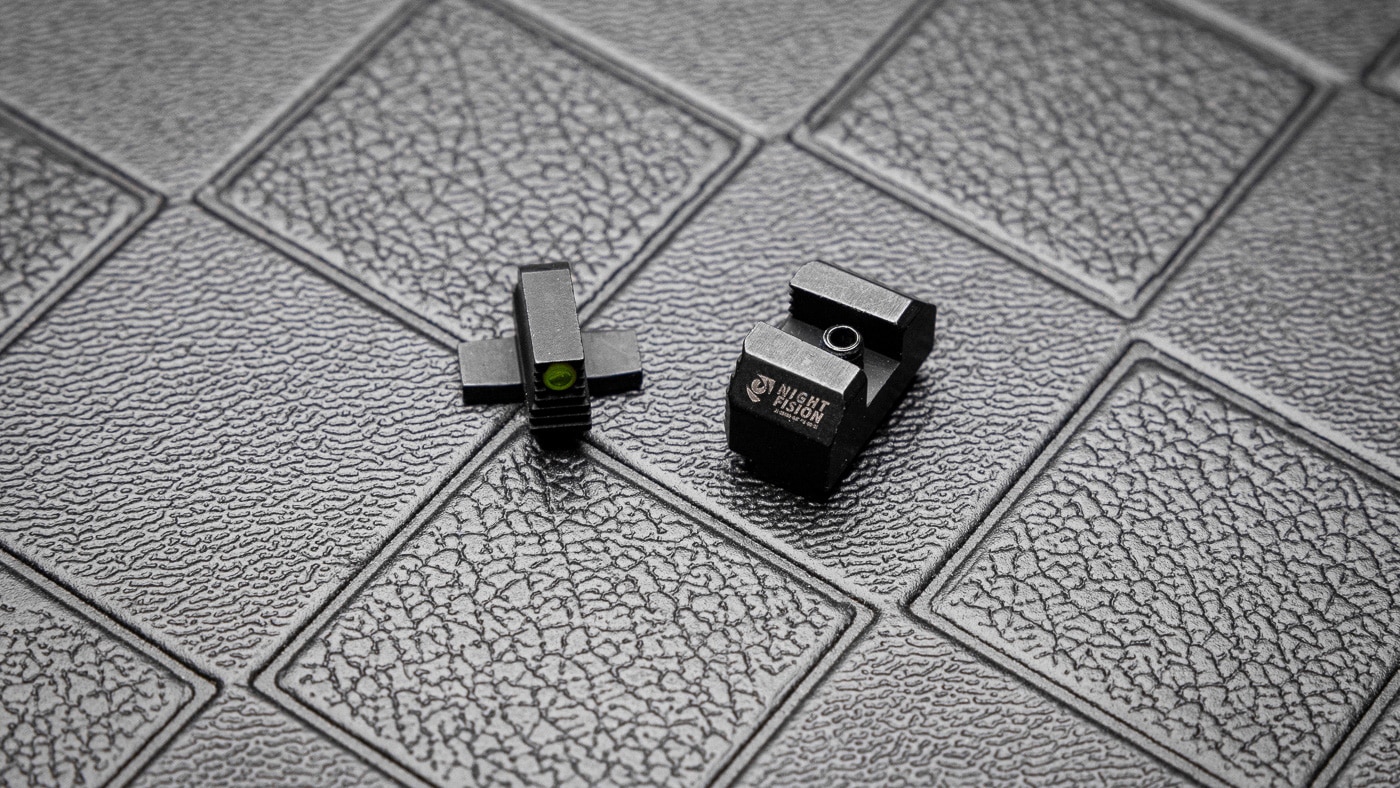 For aftermarket support, it is imperative that you trust the company making the product for the end user. For me, I don't want it to be showy or flashy, I simply want it to work — every time. This is why I chose Apex Tactical for the trigger, extended mag release and takedown lever of my Hellcat Pro.
Topping It Off
The Hellcat comes with a Shield RMSc-pattern optic cut, so that opens quite a bit of options if you want to run a red dot on the pistol. I have been very intrigued by the Holosun EPS Carry for quite some time as a red dot for my carry gun. My only setback for running a Holosun micro red dot was that it needed an adaptor that raises the optic just enough as to not be able to co-witness the original factory iron sights.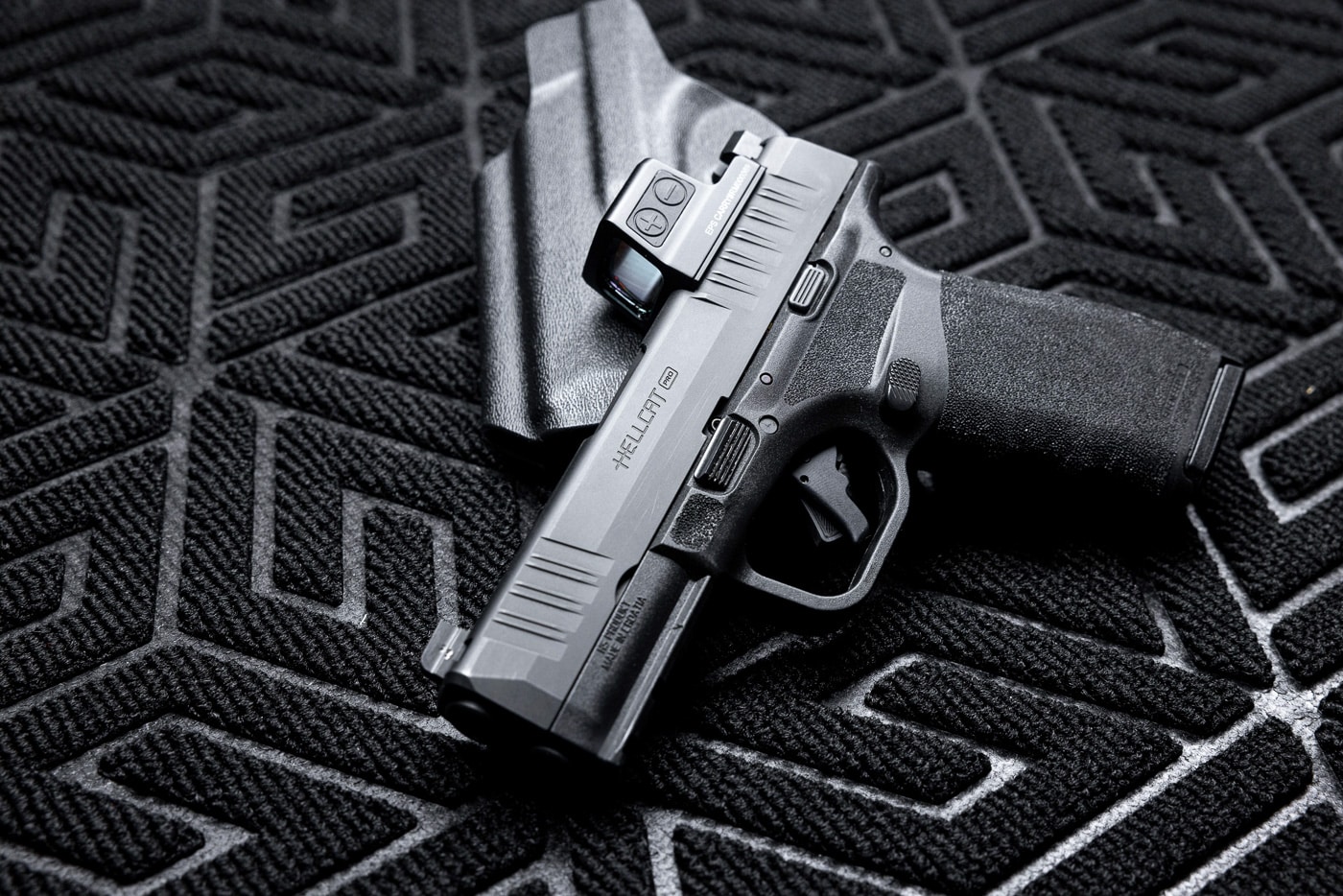 I figured there had to be some "optic ready" iron night sights out there for the Hellcat that could enable me to run the Holosun and still be able to co-witness with the irons. After some searching, I landed on the Night Fision Optic Ready Stealth Hellcat Iron Sights. I am a fairly new adopter of running a red dot on my carry gun, and I still firmly believe in physical back-up sights as anything with glass or electronics can fail.
When ordering the Night Fision sights, I really appreciated that they let you choose how you want your sights set up. For the front sight ring you can choose orange, yellow or black, all with a green tritium center dot. For the rear sights, you can choose blacked-out or "Black Rear Perfect Dots" with green Tritium.
I chose the yellow "Front Perfect Dot" and "Black Rear Perfect Dots" with green tritium. For me, especially when using a red dot, I want to keep my sights a bit lower profile visually as to not interfere with my eyes staying target-focused with the red dot. I also like the yellow front sight because it's farther from the red spectrum than the orange color.
Also, the Night Fision Stealth series look really nice. They have sharp ridges machined into the front of the sights to eliminate reflections. The sights are made from high-quality steel and then Black Nitride coated to enhance wear and corrosion resistance. Another plus for the Night Fision sights is that they are built in the U.S.
Hands-On
Usually, I would suggest getting your sights professionally installed unless you have the tools and knowledge to do so yourself. I have a full armorer's bench, so removing the factory sights and installing the Night Fision sights was a breeze for me. If you are not up for that process, definitely reach out to your local gunsmith.
Night Fision claims having the brightest tritium night sights on the market. This is accomplished through their "domed" lens that collimates tritium rays for a sharper sight picture. Night Fision also uses 30% more tritium in their sights in an effort to create a longer-lasting and intense glow. When using these sights in the dark, I have found them to be definitely bright enough to gain a quick, clear sight picture.
Once installed, I had a perfect co-witness with the Holosun EPS Carry. The sights create a quick, crisp sight picture through the glass and have ample luminance in dark environments. While having back-up iron sights to co-witness is very valuable for many reasons, one in particular stands out for me.
Having iron sights with a red dot gives you a quick way to visually acquire the dot when aiming. If you're new to using a red dot optic, you may have trouble aligning the pistol's red dot to your eye quickly. By using the iron sights, you can much more easily and quickly align the sights to gain a sight picture with the red dot.
Conclusion
It feels good to have my Hellcat Pro set up for my liking. I feel very confident with the pistol and the aftermarket parts I have chosen to install. I've trained with them on the range and continue to do so extensively so that I have the utmost confidence in trusting this pistol with my life. Training also allows me to be competent and safe with the pistol, knowing that I have gained the skills necessary to respond should an emergency situation ever arise.
Check out Night Fision for your Hellcat, especially if you are running an optic that occludes your factory iron sights. And don't forget to get out there and find some professional instruction as well as personal range time to practice your draw, and quick accurate hits on paper at multiple distances.
Editor's Note: Please be sure to check out The Armory Life Forum, where you can comment about our daily articles, as well as just talk guns and gear. Click the "Go To Forum Thread" link below to jump in and discuss this article and much more!
Join the Discussion
Featured in this article
Continue Reading
Did you enjoy this article?
56