It seems like firearms manufacturers are pumping out new micro-compact pistols at exceptional rates. And why not? The concealed carry market is huge, with a lot of shooters wanting the most packable, yet potent pistol possible for their CCW needs.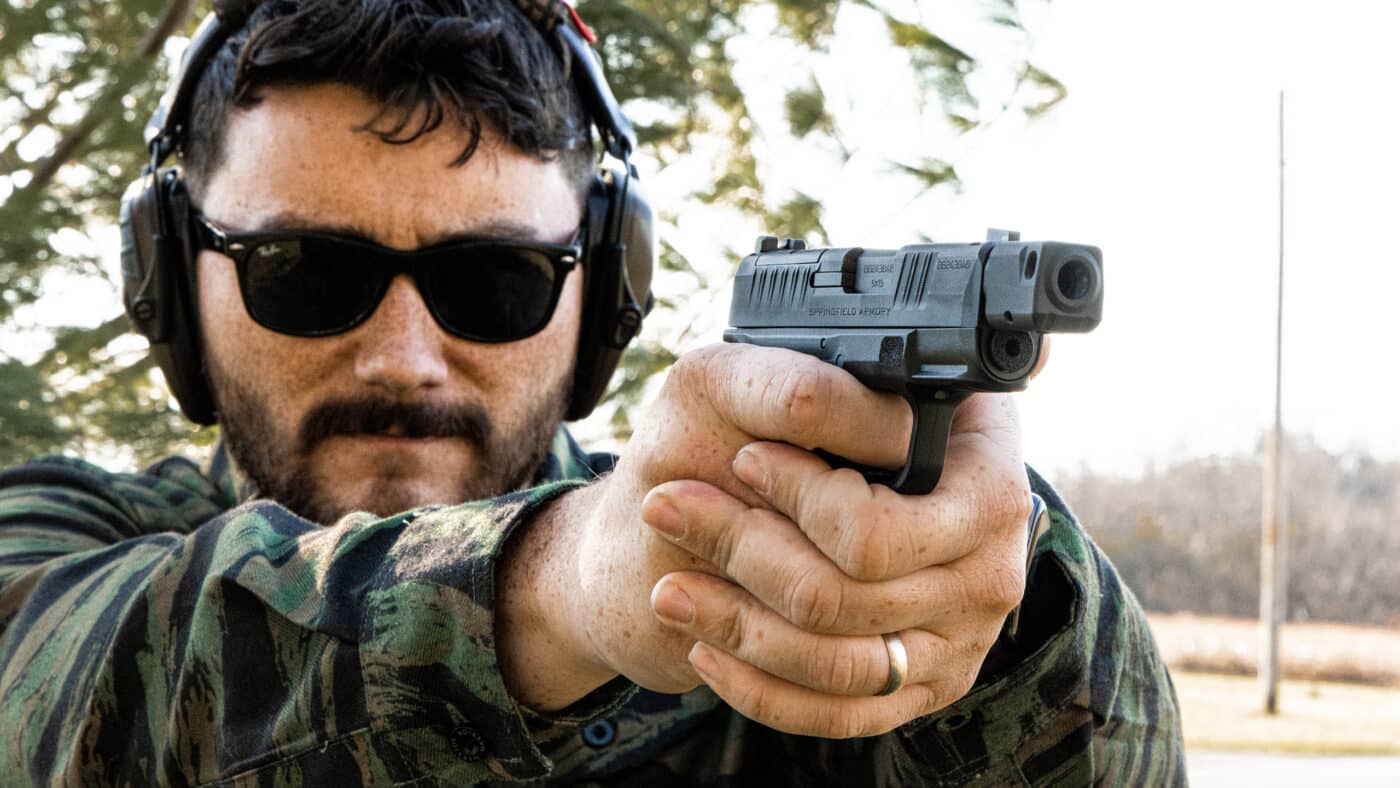 But, the strength of the micro-sized pistol is also its Achilles' heel — that small size can make recoil a handful. Unfortunately, physics makes this an unbreakable rule. The lighter and smaller the pistol, the harsher the recoil will be. But if you can't break that rule, can you bend it just a little?
Forging the Facts
Rather than trying to reduce perceived recoil by increasing the size and weight of the pistol — which would undermine the whole point of a CCW pistol — what if you were to address muzzle rise? Would this allow you to "bend" that rule and keep the pistol small and light while also making it very controllable?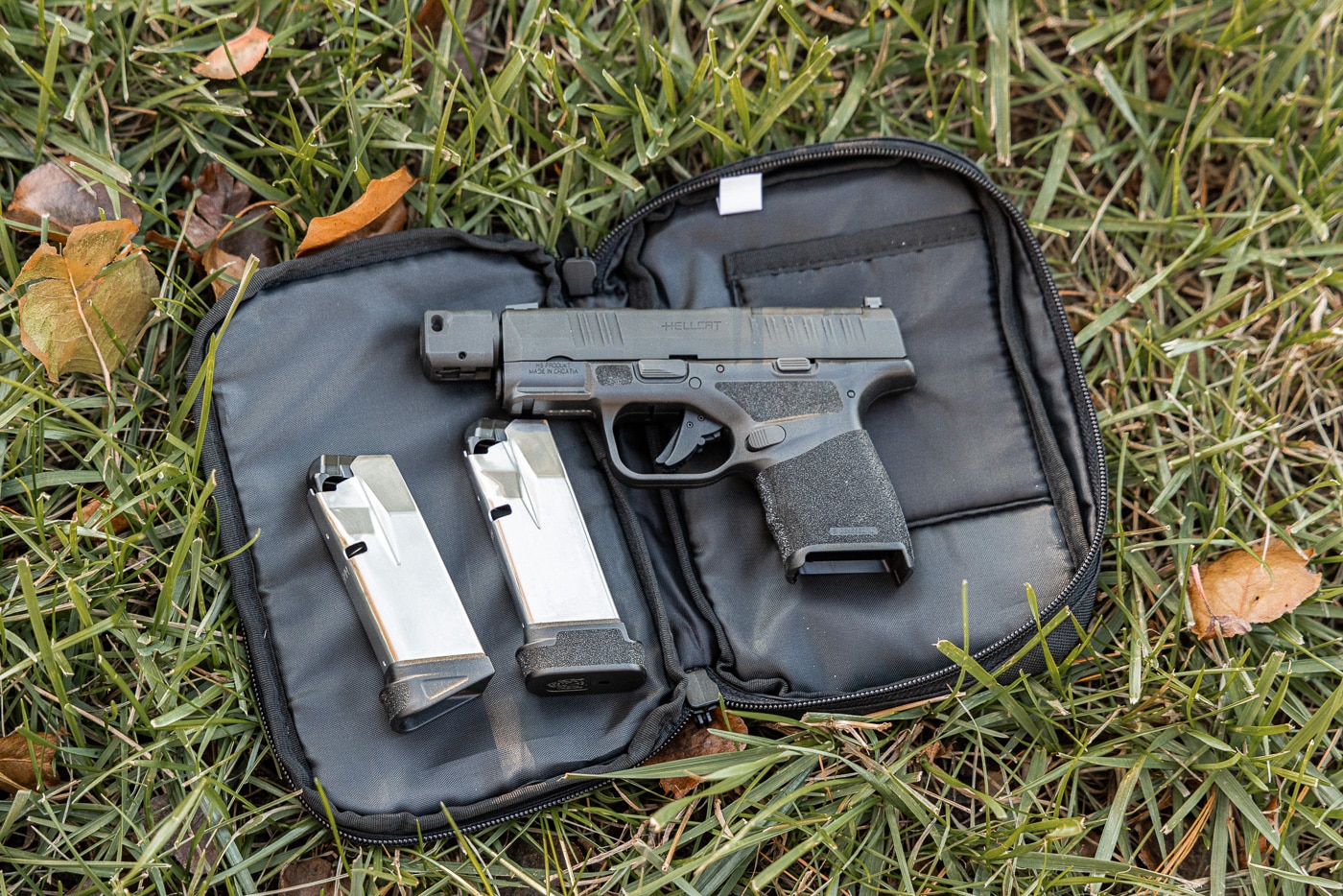 Yes. And it is accomplished through what is known as a "compensator." Designed specifically to address muzzle rise, a compensator redirects and vents gasses from the fired round in such a way as to help push down the muzzle and help keep the shooter on target. In our experience, a compensator makes for a much more pleasant shooting experience for everyone involved.
The Perfect Platform
When it comes to a discussion of micro-sized CCW pistols, we'd be remiss not to mention the Hellcat — packing in 11+1 rounds of 9mm in a pistol that is both compact and lightweight. With a short 3" barrel and a weight of under 20 oz., this pistol combines impressive power with very packable dimensions.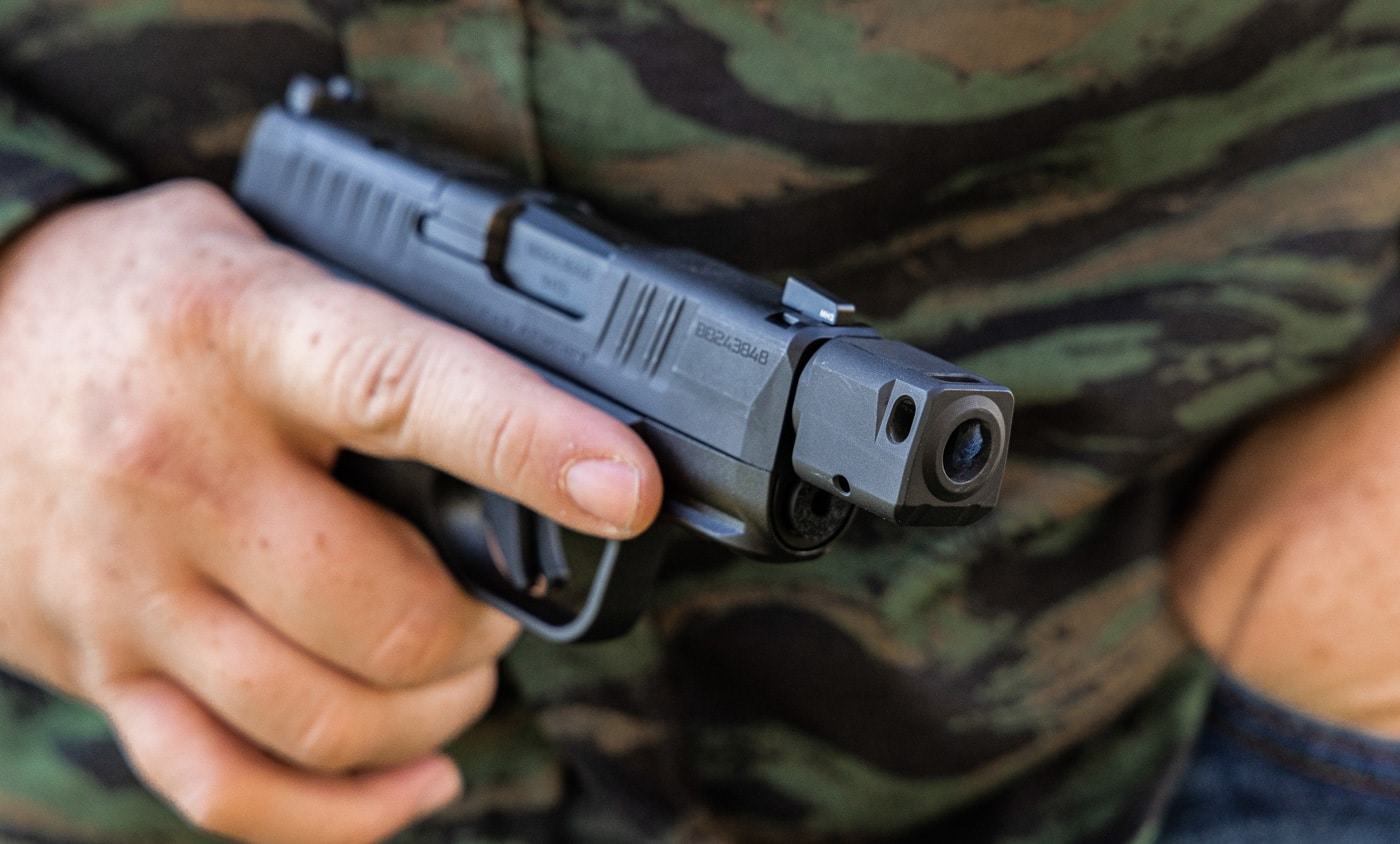 And, while highly shootable, physics intrudes. For shooters that like the compact size of the Hellcat but want a variant that has reduced muzzle rise, there is the Hellcat RDP. The RDP, which stands for "Rapid Defense Package," features a proprietary Self Indexing Compensator. This compensator fits onto the pistol's 3.8" hammer-forged barrel, topped off with .5×28 threading.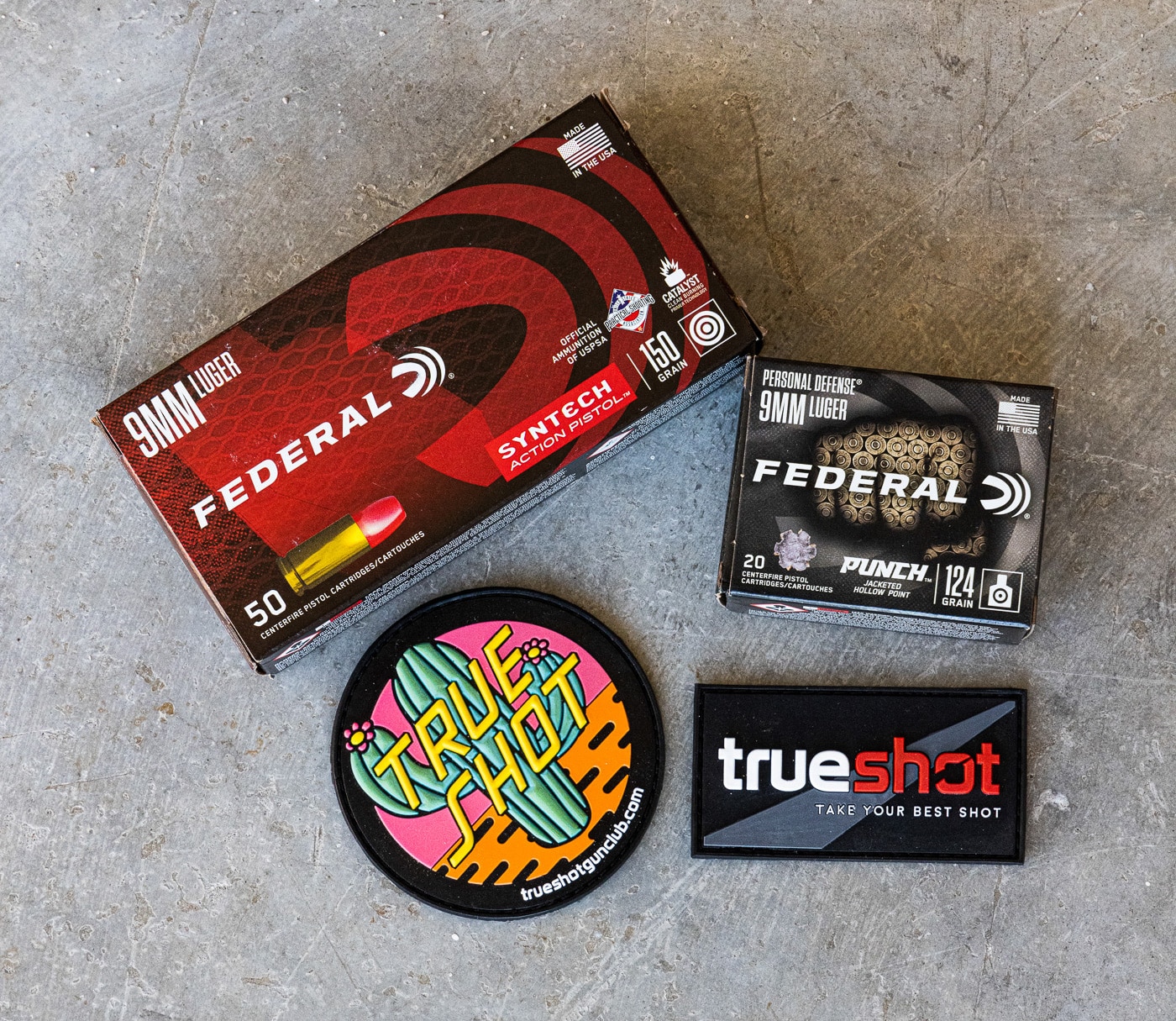 As the name implies, the Self Indexing Compensator is designed to index/align properly without the need for fitting or shims. This makes installation or removal extremely easy. The compensator, made of aircraft-grade hardcoat anodized aluminum, vents gasses upward to put downward pressure on the muzzle. This greatly reduces muzzle rise for better control and faster follow-up shots.​
The RDP is an OSP (Optical Sight Pistol) pattern Hellcat, which means you can easily equip it with the micro red dot sight (RDS) of your choice. In fact, the RDP was launched packed from the factory with a red dot optic (and is currently offered topped off with a Shield SMSc red dot as an option).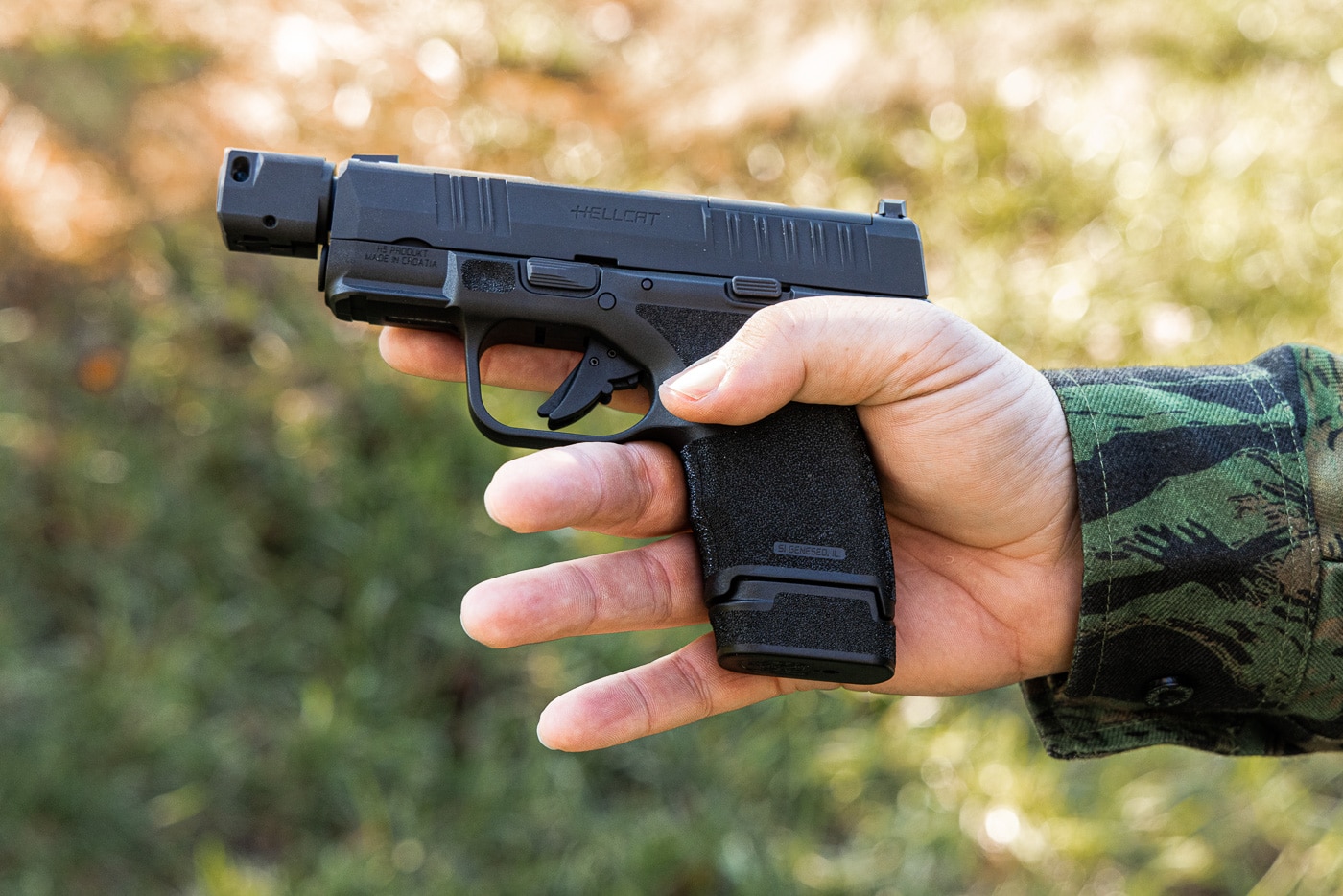 But the newest addition to the RDP line is the one we are testing here. It comes without an optic, giving you the option of fitting it out with the red dot of your choice or running it simply with the top-quality U-Dot sights — made up of a tritium/luminescent front dot and a tactical rack U-notch rear. And these sights are designed to co-witness through a properly sized micro red dot.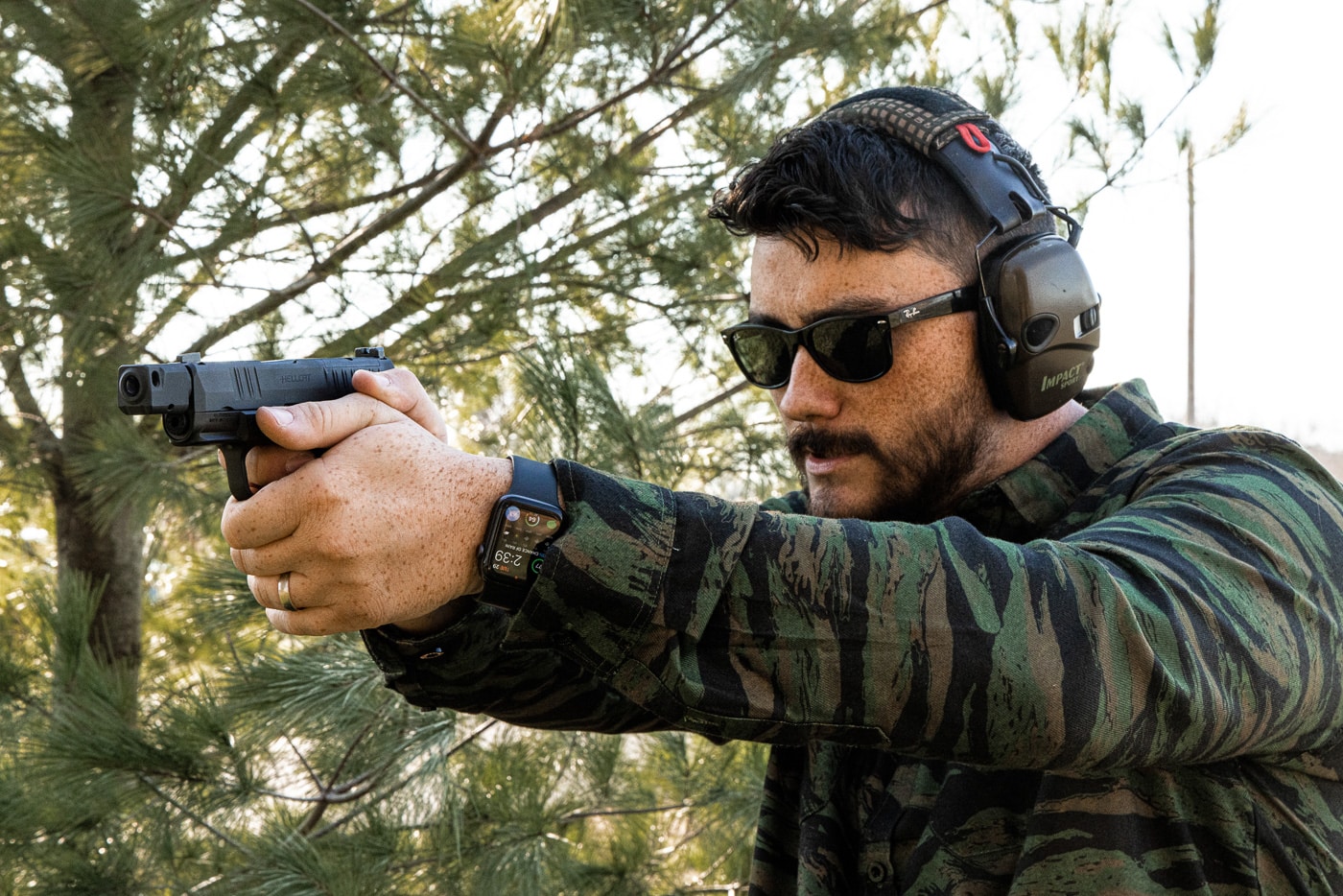 The pistol ships with two magazines, a flush-fitting 11-rounder and an extended 13-round magazine, with the 11-round magazine accepting either a flat or finger extension baseplate — both included. There is also a variation of the pistol with a manual thumb safety if you'd prefer that.
In Practice
This is all well and good, but does the RDP system actually help, or is its engineering more interesting than its real-world results? Well, I can tell you that the comp flattened out muzzle rise. During our testing, we found that the RDP is a pistol that is very pleasant to shoot.
One thing in particular that I loved about shooting the Hellcat RDP is just how fast you can run the gun and stay on target. The compensator helps keep the muzzle so flat that it's easy to control the pistol and track your sights during recoil. This is not some gimmick, but rather a truly effective addition to the already capable Hellcat design.
While we did know that the compensator kept down muzzle rise, we were curious if it affected accuracy and velocity. Our accuracy and velocity test of the pistol consisted of the following: We had three different loads of ammo, shot from seven yards away. Each group consisted of five shots in total. We measured the velocities with a Competition Electronics ProChrono. All three loadings were generously provided to us by True Shot.
Shooting Results
| Ammunition | Group Size | Velocity |
| --- | --- | --- |
| Federal Punch 124-grain JHP | 0.80″ | 1,147 fps |
| Federal Syntech 150-grain JFN | 0.90″ | 919 fps |
| STV Golden Bee 115-grain FMJ | 0.85″ | 1,073 fps |
Group size is measured in inches and is best of three-shot groups and fired at 7 yards. Velocity in feet per second and is the average of five rounds fired across a Competition Electronics Prochrono chronograph. Abbreviations: FMJ (full metal jacket), JFN (jacketed flat nose), JHP (jacketed hollow point).
The first ammo that we tested was 150-gr. Federal Syntech. This ammo is listed as having an 890 feet per second (fps) muzzle velocity on the box. Our results were actually a little bit better. Our five shots had an average velocity of 919 fps. Our group with the load was just under 1".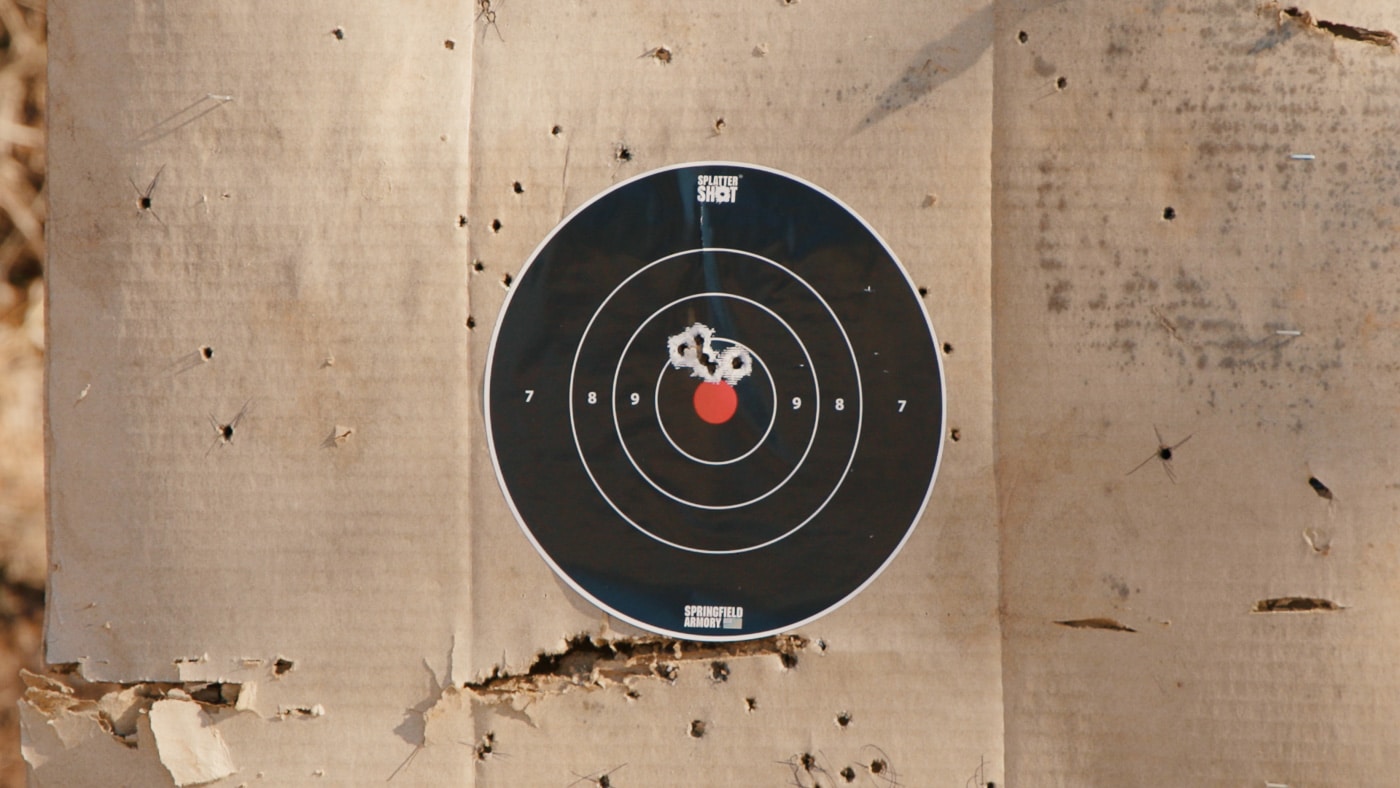 The next round we moved to was Federal Punch 124-gr. jacketed hollow point defensive ammo. The stated velocity for this round at the muzzle was 1,150, and we had little doubt this would be a fast-running loading. The average velocity for the five shots was 1,147, and accuracy was made up of two ragged holes. The total group size was again just under 1".
The third load we tested was STV Golden Bee premium 115-gr. full metal jacket ammo. This ammo ran really hot, averaging 1,073 fps for the five loads. Accuracy was good, with it running again just under 1".
Conclusion
The Hellcat RDP doesn't just talk a good game, it backs it up with results. The velocity and the accuracy we got out of the three loads were impressive and proved this gun could perform the role of a CCW pistol with aplomb.
But who is the Hellcat RDP for, particularly this new variant without an optic? In our mind, the RDP is equally ideal for new shooters that might appreciate more control over muzzle rise as it is for experienced shooters looking for an advanced carry gun. But why not just get it with the Shield SMSc equipped? We personally like the gun with a red dot like this as it makes us even faster with it.
Well, I think there are two ways to look at this. The first is from a cost standpoint. Whereas the RDP with Shield is a great deal at an MSRP of $983, the RDP with no optic comes in at $778. This gives you two options. First, you can get an RDP at a more affordable price and fit it out with an optic later. For the second, say you already own an optic or want a different model than the SMSc. In this case, the RDP with no optic is the perfect choice for you.
Either way, the compensator-equipped RDP — either with or without an optic and with or without a manual safety — is an awesome package. The advantage of getting a factory pistol that is compensated is that the manufacturer has done all the legwork to make sure the firearm remains reliable. No need for you to locate a gunsmith to add a threaded barrel and fit out a compensator, etc. This one is ready to go right out of the box. It's a great deal if you ask us.
Editor's Note: Please be sure to check out The Armory Life Forum, where you can comment about our daily articles, as well as just talk guns and gear. Click the "Go To Forum Thread" link below to jump in and discuss this article and much more!
Join the Discussion
Featured in this video
Continue Reading
Did you enjoy this video?
65