Review:
Blade-Tech

Nano IWB Holster for the Hellcat
May 6th, 2022
4 minute read
Shopping for a holster for your carry gun can be hard work. You'd think it would be simple, right? I have the gun I want, now all I have to do is a quick Internet search for holsters and pick out a nice affordable one – done.
If you believed that last sentence to be fairly accurate then it's likely that you have never purchased a holster for your carry gun. Today, there are so many holster makers vying for your dollar that it can be a dizzying process that, in the end, leaves you with a drawer full of holsters you don't like, and a cookie jar with no money in it. There's a better way.
The Solution
I learned some time ago, that having a go-to holster company with multiple point-of-sale options, excellent customer service, and extensive support for the industry is a valuable asset to me – as a gun reviewer, and as a consumer. For years, Blade-Tech has been satisfying those needs perfectly. Blade-Tech makes injection molded holsters that perfectly fit – not just your gun and your clothes, but your lifestyle and perhaps most importantly – your budget!
When it comes to carrying the Springfield Armory Hellcat, concealed inside the waistband (IWB), Blade-Tech's new Nano holster is an ideal way to slip the 9mm into a secure, adjustable, custom-fit solution that minimizes bulk and discomfort. One of my common complaints about a single-clip IWB holster is that it can feel flimsy, uncomfortable, or both. Blade-Tech has done a nice job addressing both of those concerns with the Nano.
The Nano is a full-featured micro-holster that is a perfect companion for the Hellcat. Features of the Nano include:
1.75" belt clip that is adjustable for cant up to 15 degrees.
Positive locking trigger guard
Full length sweat guard that keeps the pistol from touching your skin
Adjustable retention – allows you to fine-tune the amount of draw resistance
Optic compatible
Priced at under $80
I'm pretty fussy about holsters. I've been carrying a handgun for several decades now, in nearly every conceivable fashion – and I've grown some hard-nosed opinions and a few calluses. I've tossed holsters in the bin because an otherwise great design was ruined by a rough or poorly turned edge that – quite literally – rubbed me the wrong way.
Hands-On
Blade-Tech says that the Nano holster is molded from a material called Boltaron. I'm pretty sure you have to use a Marvin the Martian voice when you say that – and I'm equally convinced that it was invented in the marketing department. But what matters is that it is a very tough, and yet smooth and comfortable material. If it feels this good when I slip it inside the waist, you can call it whatever you like.
The Nano carries well whether you prefer 3 o'clock, 4 o'clock, appendix – or even farther around the back. The 1.75" belt clip is large enough to accommodate wide and thick belts, but does not feel at all loose on a 1.5" belt. Once clipped on the belt, the Nano stays put and instills confidence. I adjusted the clip to have a bit of forward cant, which rides a bit more comfortably and also helps conceal the butt of the handgun.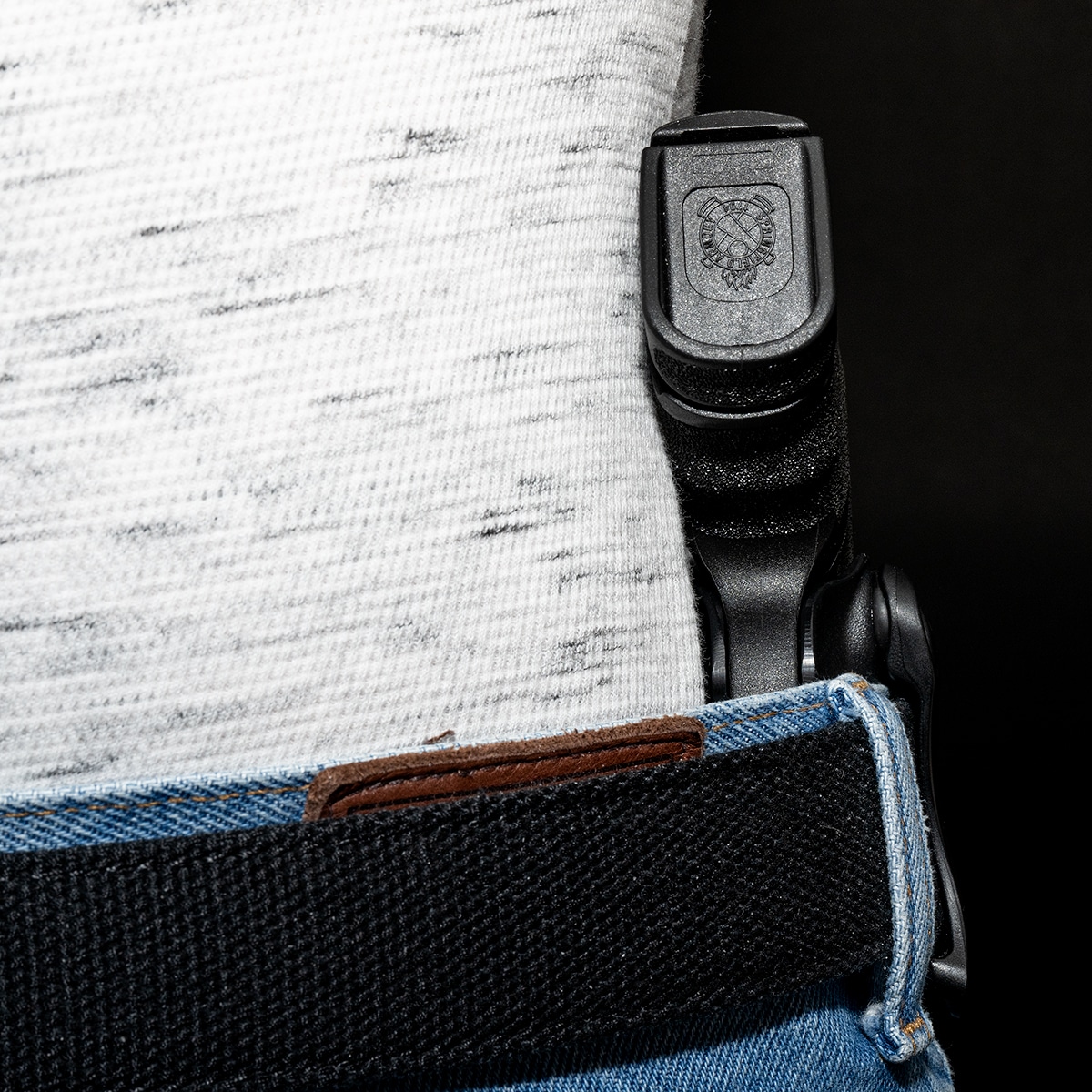 Another consideration for single-clip IWB holsters is that, if they are not well designed and made of strong materials, the lack of depth into the pants for small pistols – such as the Hellcat – can cause the gun to become "top heavy" and fall away from the body. This was not a problem with the Nano, as it pulls the Hellcat snuggly into the upper waist and holds it comfortably there. This helps conceal the handgun with minimal outer cover garment, and also add to the security and confidence of carry.
Conclusion
On the move, in and out of chairs and in and out of vehicles, the Nano held the little Hellcat perfectly. It allowed for clean, smooth draws and easy re-holstering. Made by a company I trust, from strong materials – this well-designed Nano holster is my new EDC solution for carrying the Hellcat IWB.
It is currently only available for right-hand carry. It would be good so see a lefty option for you south paws out there. And like all Blade-Tech holsters, it carries not just your personal protection – but a lifetime guarantee.
Editor's Note: Please be sure to check out The Armory Life Forum, where you can comment about our daily articles, as well as just talk guns and gear. Click the "Go To Forum Thread" link below to jump in and discuss this article and much more!
Join the Discussion
Featured in this article
Continue Reading
Did you enjoy this article?
46