Review: Burris Signature
HD 5-25×50
August 26th, 2022
6 minute read
The Burris Signature HD series of scopes finds itself aligned with the shooter who is looking for more out of their hunting rifle scope. The Signature HD series, backed up by the "Burris Forever Warranty," combined premium multi-coated glass with water/shock/fogproof construction. They also are, in our opinion, ideal for the hunter who is into long-range hunting.
The model we own for this review is the Signature HD 5-25x50mm with the Ballistic E3 reticle. With clear glass, excellent light transmission, exposed resettable turrets, illumination and lightweight for its class, the Signature HD 5-25X50 scope is a well-rounded offering. Even better, you won't have to decide whether to buy one or afford next month's car payment.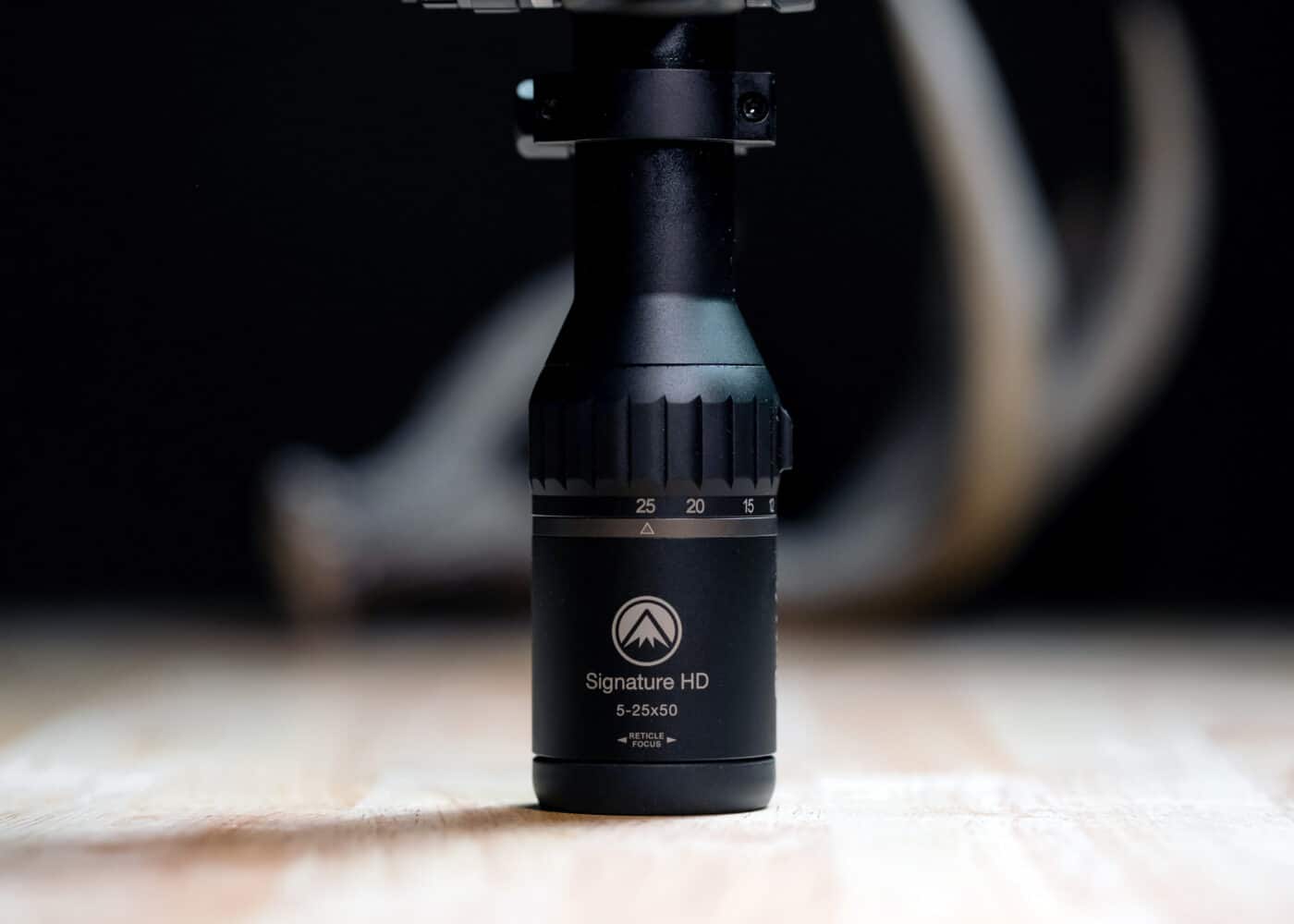 Overall Build of the Signature HD Scopes
The Signature HD series of scopes are very nice looking, with clean lines and a matte black finish, accented by a silver inlay on the ocular ring. It feels like a very high-quality scope. At this price point, we have used our fair share of scopes which feel cheap, and this ain't it. Nearly everyone we know who has used, looked at or through this scope thinks it costs well above $1,000.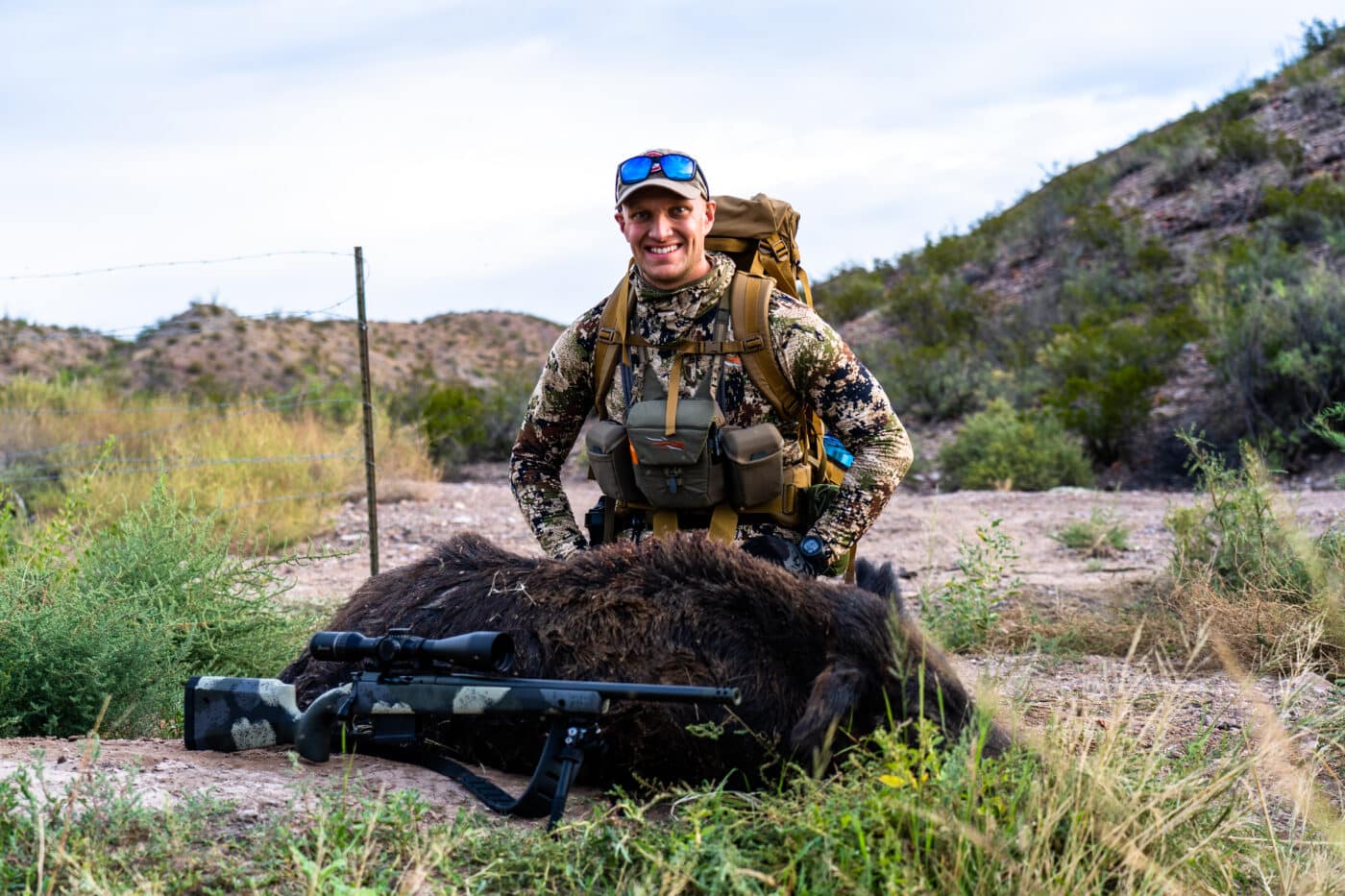 The scope has a 30mm tube with a 50mm objective lens. On the ocular ring, you can find a rubberized adjustment ring for reticle focus. It features adjustable turrets for elevation and windage, with side adjustable parallax up to infinity. This model has an illuminated reticle with six brightness settings and an "OFF" setting between each.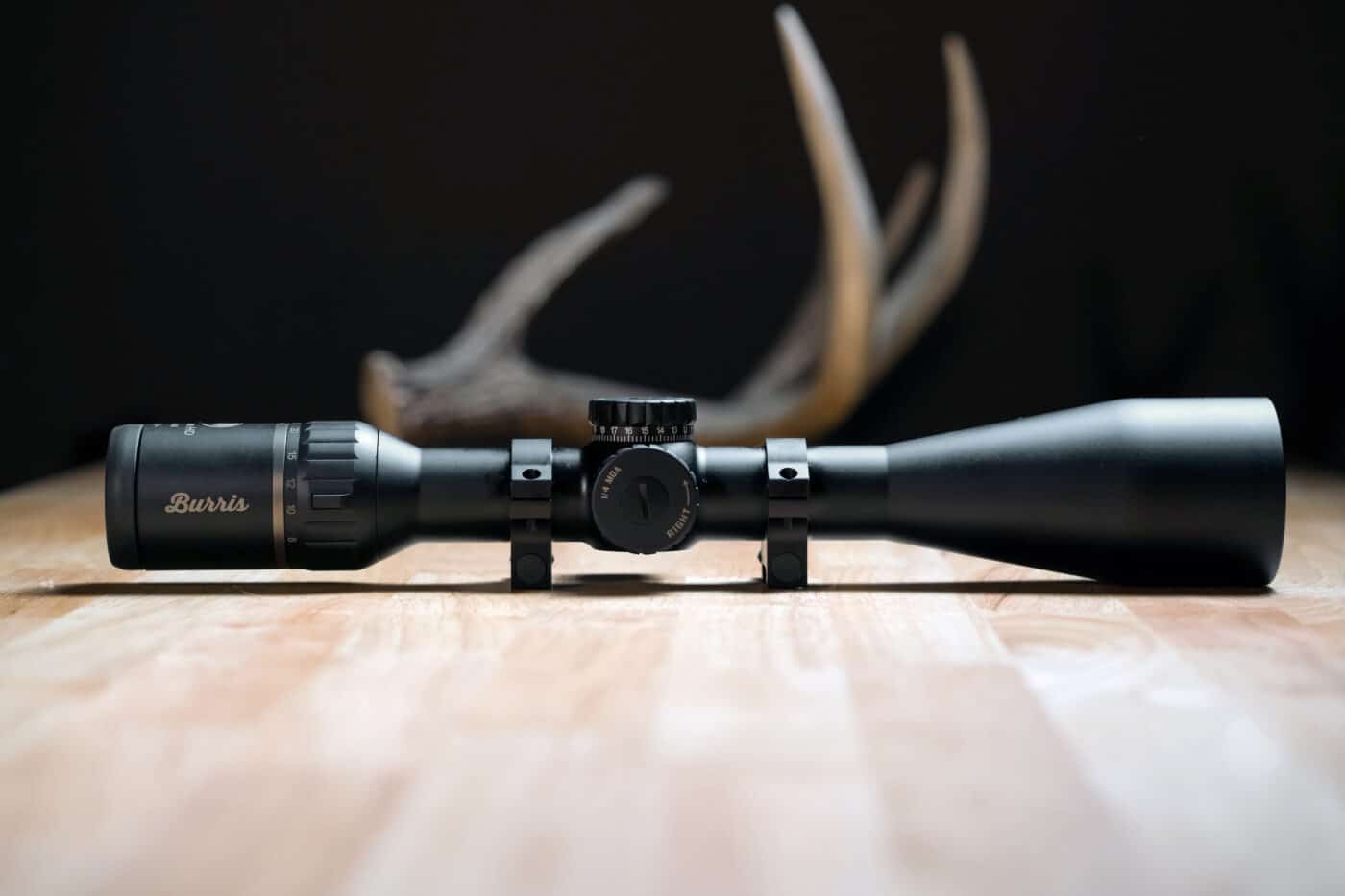 The last point that should not be overlooked is weight. In a world where folks are using tactical scopes on their hunting guns, and they are consequently generally very heavy, this scope weighs in at around just 24 ounces. As a result, you can count on the Burris Signature HD 5-25×50 to keep your rifle lightweight, while giving you many features found on a long-range tactical scope.
Glass Used
Glass is one of the most important pieces of a good scope, and the glass on this Burris scope is at the top of its class for this price range. Is it close to what is found on the Burris XTR III line? No, but you should keep in mind the Burris XTR III line of scopes includes the company's top-of-the-line models and are often found on the rifles of professional shooters around the world. This scope retails for almost one-quarter of what those cost. My particular model retails for $839.
As a hunting scope set in a second focal plane, it excels. Most importantly, light transmission is excellent due to the premium multi-coated glass. When hunting with it on the Springfield Armory Waypoint Model 2020,I find myself gathering more than enough light for shots during legal times.
In addition to this, at twilight time, after the sun has set and the naked eye struggles, I can still make out the environment with great detail. Edge-to-edge clarity is next to perfect, with only the slightest bit of distortion seen at the highest magnification. Even then, you have to be looking for this distortion even to notice it.
Turrets and Their Operation
Arguably the weakest point of this particular scope for us is the turrets. Okay, now slow down and reread that. It is the weakest point on this particular scope, but the scope is extremely good overall. This particular model has push/pull locking turrets which can be reset to zero but does not have a zero stop. However, Burris offers models in the 3-15X and 5-25X or 5X zoom range which have resettable zero-stop turrets. Again, not a huge deal, but we do prefer zero stops.
The turrets themselves are in ¼ MOA (Minute of Angle) increments. These particular turrets track extremely well. On several occasions shooting the .308 Caliber Springfield Armory Waypoint, I dialed for distance and came right back to my zero. They are ever so slightly "mushy" and not tactile. I can't hold it against this scope because it is geared towards hunting and I don't personally expect them to be large, audible clicks like that of a Burris XTR III.
Another fine point, the numbers and "clicks" line up perfectly on every revolution. Do not forget the parallax adjustment knob; it's marked for 100 yards and then infinity. I had zero issues adjusting for proper parallax regardless of what distance I used the scope.
Often Overlooked Features
Through many adverse weather conditions, the Signature HD 5-25 never let me down. It didn't fog, regardless of poor weather, and always did what I asked. The eye relief and eye box are quite possibly some of its finest qualities.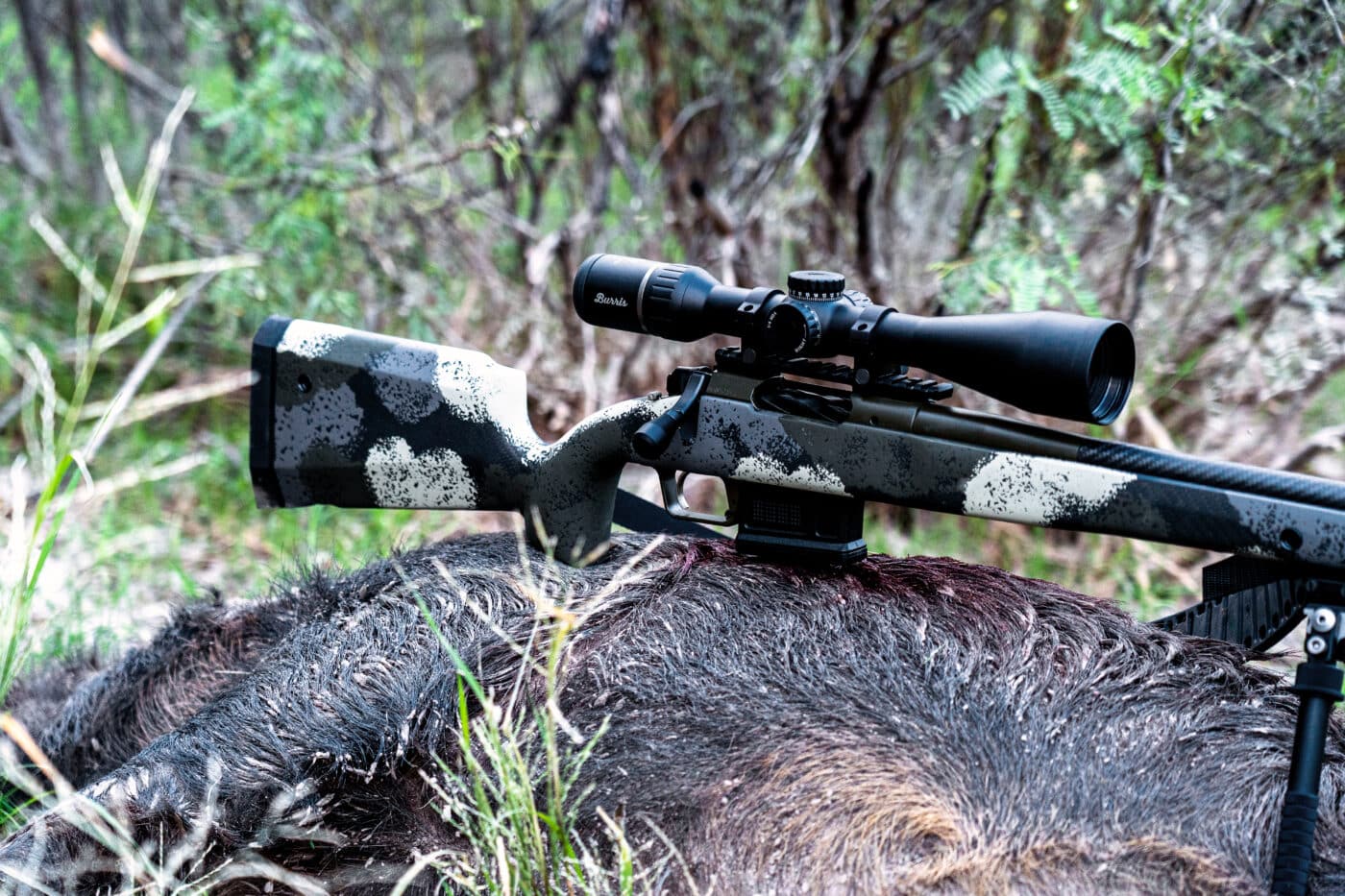 In layman's terms, the eye box refers to how forgiving the scope is when you are behind the ocular lens and are trying to get a sight picture. In a hunting scope, you need good eye relief and a forgiving eye box. I think the eye relief and eye box are better than most scopes which cost hundreds of dollars more. I can't stress enough how important this is for hunting and how it can affect your ability to make a quick shot on an animal.
Burris Signature HD Review Conclusion
In my humble opinion, you cannot go wrong with this scope. It's an ideal hunting scope and was right at home on the Waypoint rifle. In this role, it served me well in taking a large wild boar in Texas this past fall. I have even encouraged family members to use the Burris Signature HD 3-15×44 on their rifles if they don't need or want as much magnification.
These scopes are truly an extraordinary value, with excellent quality. Hunters can rejoice for a scope that is suited for long-range hunting, yet doesn't weigh like an anvil and also has great glass. This scope will always have a home on at least one of my hunting rifles.
Editor's Note: Be sure to check out The Armory Life Forum, where you can comment about our daily articles, as well as just talk guns and gear. Click the "Go To Forum Thread" link below to jump in!
Join the Discussion
Featured in this article
Continue Reading
Did you enjoy this article?
46