For being the most popular rifle in the world and having select-fire siblings used in military service for more than half a century, the AR-15 hasn't seen that much innovation since its inception. Admittedly, the design was radically advanced at its time of introduction, with the use of modern plastics and alloys and a very modular design, but the platform itself has not changed much in the following decades.
Sure, we've shortened and lengthened barrels, added ambi controls, played with the gas system, and made them look too cool to take to the range and get dirty. Don't get me wrong, I am all for the "if it ain't broke don't fix it" mindset, but I've always thought there must be more levels of innovation we haven't seen just yet.
Solid Foundation
Back at Shot Show 2020, I recall walking by a booth with a very unique-looking, AR-pattern 5.56mm rifle on display. That rifle was the Athena from Drake Associates. Drake has been in the industry for more than 30 years, developing cutting-edge precision rifle products for the civilian and U.S. Military markets. Suffice it to say, they have the credentials and experience to back up their designs. I was extremely impressed with the Athena precision rifle they were showing off, and I hoped that I would see more of it in the months to come.
It turns out that at some point Drake and Springfield got in what I imagine was a cigar smoke-filled room to conspire on how to make one of the more exciting AR-15 designs to come out in years. The result is the new Springfield Armory SAINT Edge ATC (Accurized Tactical Chassis) in .223 Wylde, building on the strengths of the Drake Associates Athena.
To first understand why the ATC is so exciting, we need to understand the basic design of an AR-15, I know, you all likely know this already, but hang with me for a moment. With the AR, you have a lower receiver that holds the fire control parts, buffer tube assembly and spring. It also houses the magazine well. The upper receiver contains the bolt carrier group, charging handle and full barrel assembly — including the barrel, barrel nut and gas system. Covering that barrel assembly is a handguard — more often than not a "free-floated" one — that attaches to the barrel nut. This is a simple, solid and proven rifle design.
Now, let's take a look at accuracy. Standard AR-pattern rifles have a reputation for good accuracy. Step up to a top-shelf model, and it can be capable of shooting 1 MOA with match-grade ammunition. But how can that be taken to the next level?
First, let's look at the barrel system in the AR. As I noted earlier, the handguards in most modern AR's are a "free-floating" design, as compared to the standard AR handguard system that attaches at two points, between the upper receiver and the front sight assembly.

But exactly how "free" are these free-floated handguards? While these can be effective, they do not entirely prevent flex or bend on the barrel from the handguard. As the handguard is attached to the barrel nut, which is attached to the barrel, putting pressure on it can affect barrel harmonics. That will in turn potentially affect accuracy.
The Next Level
The SAINT Edge ATC addresses the issue of barrel harmonics the same as a precision bolt-action rifle with a bedded chassis. Unlike a traditional AR, the SAINT Edge ATC features a monolithic lower receiver machined from 6061 T6 aluminum, and employing an Accu-Tite Plus Tensioning System. This system features adjustable tensioning screws that place upward pressure against both the forward and rear locking lugs of the upper receiver, ensuring the tightest fit possible between the upper and lower receivers.
The advantage of this monolithic lower is that it ensures the handguard — integrated into the lower — is completely and totally detached from the barrel assembly. This removes any point of contact between the lower and the barrel, barrel nut and gas system, ensuring it is fully and totally free-floated. Now, if you are like me you may be wary of newfangled ideas and how effective they really are. But after my testing, all I can say is "wow." More on that in a bit.
I spoke with Springfield Armory about the new rifle and learned that they worked with Drake Associates to develop the design into the SAINT Edge ATC. Enhancements such as the lower fully covering the barrel nut assembly, adding tensioning screws to the top rail to eliminate any potential movement, the Enhanced Accu-Tite System, and more were part of this development program. The resulting rifle is guaranteed to shoot sub-MOA three-shot groups with match-grade ammunition and a capable shooter.
The ATC is offered in two versions — the SAINT Edge ATC and the SAINT Edge ATC Elite. Both versions feature the chassis system and overall design I have described above. The SAINT Edge ATC features a B5 Systems Enhanced SOPMOD collapsible stock, a flat modular match trigger and an all-black finish combining Melonite and anodizing.
The SAINT Edge ATC Elite is Cerakoted in Coyote Brown and features a highly adjustable B5 Systems Precision Stock and a LaRue MBT flat two-stage trigger. The B5 Precision stock is collapsible and has an adjustable cheek comb and additional length of pull adjustments. Both versions come with a 20-round Magpul PMAG Gen M3 magazine.
Beyond the importance of the monolithic lower/chassis system, Springfield Armory knows that a quality barrel is an equally important part of achieving maximum accuracy. They selected an 18″ Ballistic Advantage barrel with a 1:7″ rate of twist, Melonite coated and topped off with a ported SA Muzzle Brake.
The barrel is chambered in .223 Wylde, which is a great choice for a rifle like this. The .223 Wylde chamber is capable of firing both .223 and 5.56 NATO rounds and has a chamber throat that is tight enough to wring the most performance out of .223 Match ammo.
Specifications
Here are the specs on the SAINT Edge ATC:
| | |
| --- | --- |
| Chambering | .223 Wylde |
| Barrel | 18″ |
| Weight | 9 lbs., 8 oz. |
| Overall Length | 35.5″-38.25″ |
| Sights | N/A |
| Stock | B5 Systems Enhanced SOPMOD |
| Action | Semi-auto |
| Finish | Black |
| Capacity | 20 (one) |
| MSRP | $1,549 |
If you like the premium model, here are the specs on the SAINT Edge ATC Elite:
| | |
| --- | --- |
| Chambering | .223 Wylde |
| Barrel | 18″ |
| Weight | 10 lbs., 1 oz. |
| Overall Length | 36.5″-39.75″ |
| Sights | N/A |
| Stock | B5 Systems Precision Stock |
| Action | Semi-auto |
| Finish | Coyote Brown |
| Capacity | 20 (one) |
| MSRP | $1,899 |
Real-World Testing
I was fortunate to have had the opportunity to try out the SAINT Edge ATC for myself. I received both a standard and an Elite model for review and was immediately impressed with them upon opening up the cases.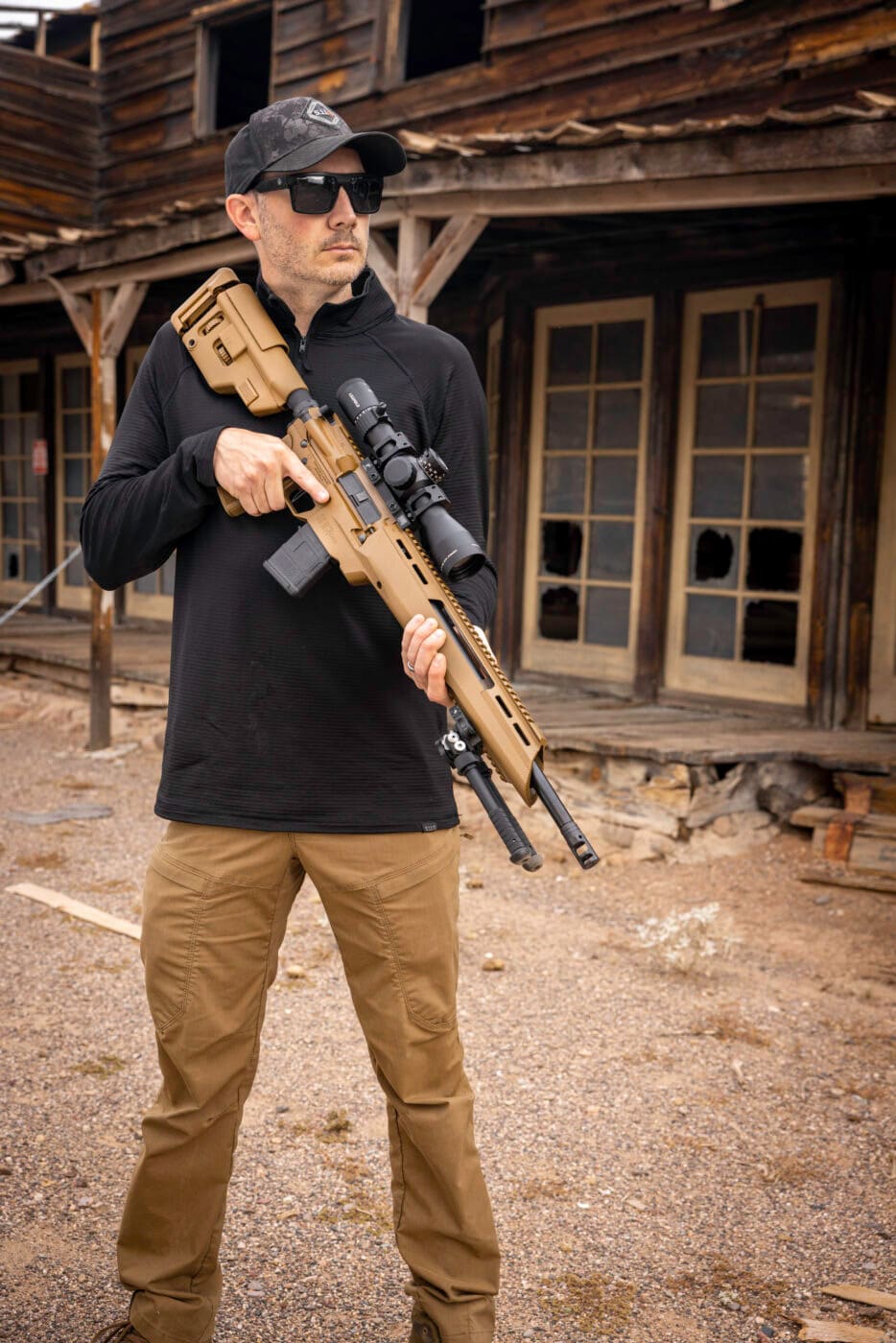 The LaRue flat trigger on the Elite was quite impressive. It's a super crisp trigger that performs as good as it looks. For precision shooting, I really love two-stage triggers; you can grab the first stage as you are preparing to shoot, and then you have a nice easy break for your shot in that second stage. The first stage of the trigger is 2.5 lbs., and the second stage is 2 lbs.
I topped off the Elite rifle with a Leupold Mk5 3.6-18×44 FFP optic mounted with an American Defense Manufacturing Recon SL low mount. For the bipod, I used a B&T Industries Atlas Bipod. When shooting for precision where you are generally in a supported position, I prefer to mount my optics as low as possible to the bore. This ensures a comfortable and repeatable cheekweld and body position.
I started out with the Elite at 100 yards on paper, deploying my spotting scope and lying down the shooting mat. I put the rifle on a bipod and shooting bag, loaded a mag with Federal Premium Gold Medal 77-gr. Sierra MatchKing match ammo and fired a first three-shot group to get the feel of the rifle and my position behind it. That first group was about .9 MOA and well within the sub-MOA guarantee. I was impressed but felt I could get even better results out of it. I got comfortable, dialed it in and fired two more groups. Those measured at .4 MOA. At this point I was convinced Springfield had something awesome on their hands.
| | |
| --- | --- |
| Load | Accuracy |
| Federal Gold Medal 77-gr. Sierra MatchKing | 0.45″ |
The group size is the best three-shot group measured center to center at 100 yards.
Reaching Out
After seeing these groups I was able to accomplish on paper at 100 yards, I decided to go for some distance shots on steel. The range I was at has platforms that overlook a wide swath of desert with hills and valleys. To find the steel targets spread throughout, you really need to search with high magnification. I started with some 6" round steels at 100 yards — much too easy for a rifle like this. I moved on to some other targets at 250 yards and again I felt like I wasn't letting the rifle stretch its legs.
I used the spotting scope and range finder to find an 8" diamond at 550 yards. After calling my own windage, I walked the shots in on target with relative ease. Now I was finding the groove. I began searching for a more difficult target. I spotted a full-size IPSC plate (17.5" x 29.5") way out in the distance. I knew the target had to be at least 1,000 yards away.
I could have done some cool guy math and measured the target in Mils, but it had been a while since I'd done that and I couldn't remember the equation. I was also too excited to spend the time Googling it. I dialed the Leopold to 1,000 yards, and I figured I'd just hold over and start lobbing to see where I was hitting.
Thankfully the wind wasn't crazy that day, but at that range, even a small amount can push you off target. With the first few shots, I could see the splash in the dirt, so I knew I was in the ballpark. I then began walking the shots in by holding up and to the left. I saw the mirage in my scope die down just a bit, so I sent a single round and waited. I saw a puff of dirt just off the right of the target.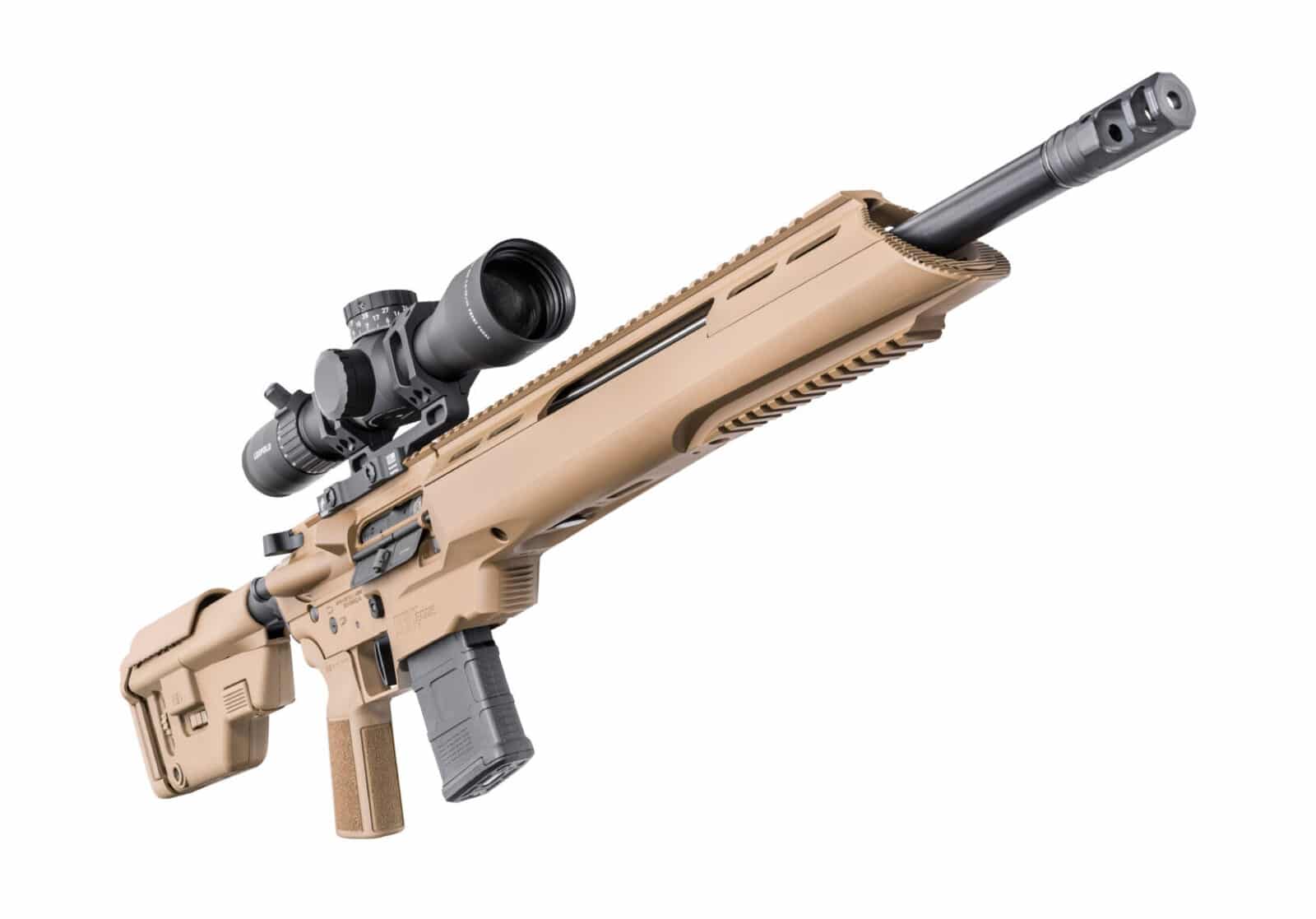 Being that this is such a soft shooting rifle with minimal recoil, I was able to adjust slightly and send a second shot out within seconds. One, one thousand. Two, one thousand. Three, one thousand. Four, one thousand. Ding. I called the rangemaster to ask him the distance of that target — turns out it was set out to 1,300 yards. That was 1,300 yards with a 77-gr .223 out of an 18″ barrel. Call me impressed.
Conclusion
After that range day, I immediately told the guys at Springfield that they were not getting this Elite rifle back because I was in love with it. Not only is it a uniquely beautiful design, but it performs extremely well. If you've ever wanted the next coolest AR on the market or just want to outshoot your buddies at the range, I would strongly suggest checking out a Saint Edge ATC when you get the first opportunity. I am certainly glad I did!
Editor's Note: Please be sure to check out The Armory Life Forum, where you can comment about our daily articles, as well as just talk guns and gear. Click the "Go To Forum Thread" link below to jump in and discuss this article and much more!
Join the Discussion
Featured in this video
Continue Reading
Did you enjoy this video?
188