Springfield Armory built out an impressive selection of exceptional SAINT AR firearms. From the base SAINT line to the next level SAINT Victor to the top-end SAINT Edge, there is a SAINT that should fit your exact needs.
It is very clear that Springfield Armory spent time testing and researching the best practices in building quality ARs. And, the line proves that you do not have to spend a ridiculous amount of hard-earned money to get exactly the AR-15 you want.
A great example of this is the SAINT M-Lok AR rifle, with its very reasonable MSRP of just $995.
I think capable is a great word to describe the SAINT M-Lok rifle. This isn't a refined race gun with a ton of bells and whistles. Instead, it is a solid foundation for what you want it to be, featuring all the reliable, rugged parts you need for a great rifle. We will dive into who the rifle is built for in a bit, but let's start the SAINT review by taking a look at what the M-Lok has to offer.
Out of the Box Ready
When I opened up the included gun case to take my first look at the SAINT M-Lok rifle, I could see that it was pretty much ready to go. The rifle is literally ready to head to the range right out of the box. It's an optics ready flat top AR-15, but it comes with a mil-spec A2 triangle front sight base and a rear Springfield Armory-marked flip-up sight mounted installed. The rear has a small and large aperture, making it easy to deal with threats near and far.
The key to the name of the rifle is the polymer handguard the rifle sports. The gun has BCM furniture front to back, and the PMCR handguard has M-Lok mounting slots at the eleven, one and six o'clock positions. This allows secure mounting of any accessories needed to complete a simple foundational build.
The controls are standard AR-15, with a single-side safety and everything else where you'd expect it to be. The trigger is a mil-spec set-up with a nickel-boron coating. The barrel is a 16" medium profile barrel with a 1:8" twist. It is chambered to be able to fire both 5.56mm NATO ammo as well as .223. The barrel has a Melonite coating inside and out for durability and long life. The muzzle is capped with an A2-type birdcage flash hider.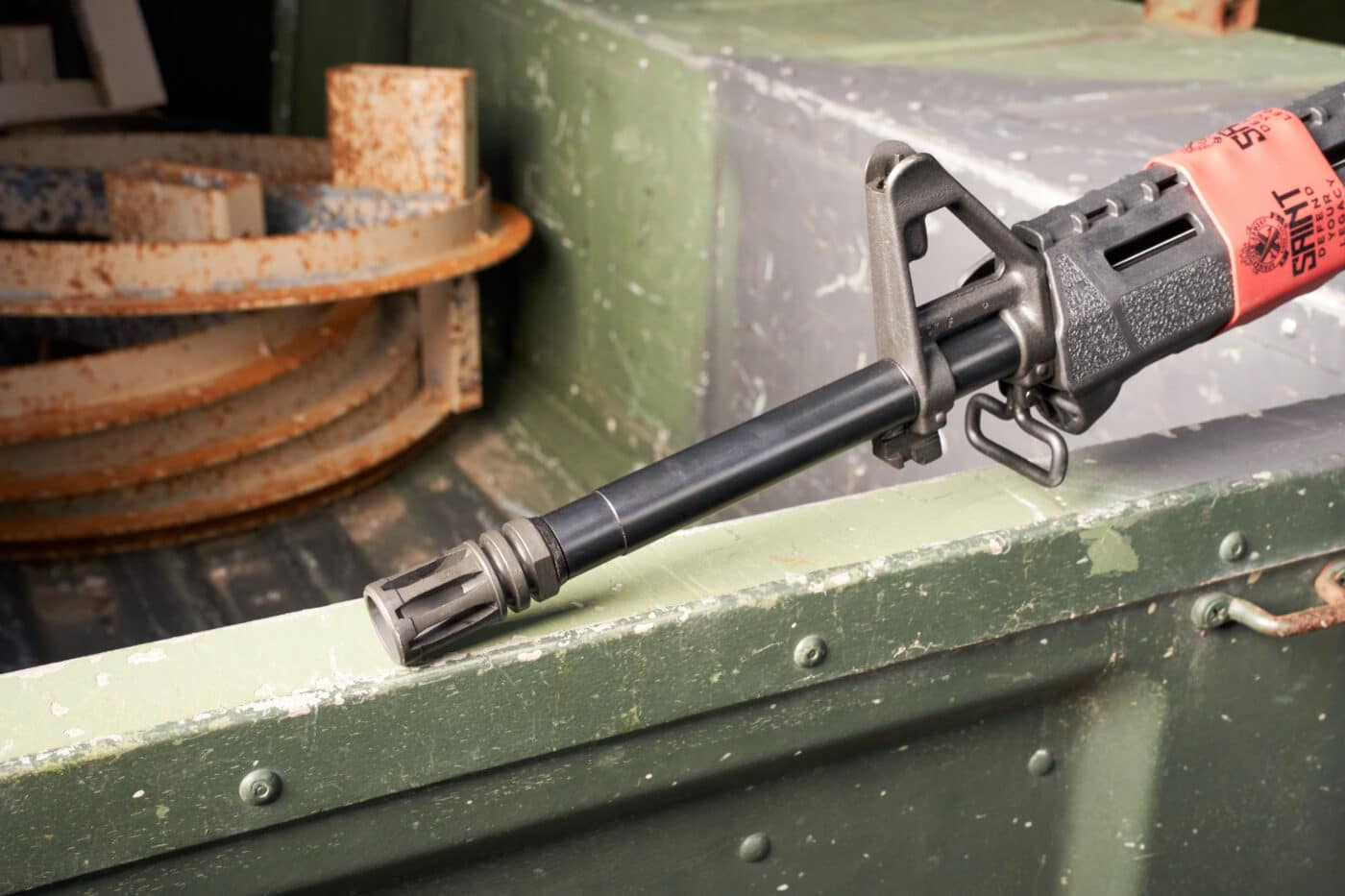 Shifting from the visually obvious features to the heart of the rifle, it becomes quickly apparent why this rifle is a SAINT. Both the upper and lower receivers are forged 7075 T6 aluminum with a type III hard anodizing. The magazine well on the lower features the SAINT marking and the SA crossed cannons on opposite sides.
The bolt carrier group is an M16 unit, and the bolt is made from 158 carpenter steel, which is one of the most durable and trusted steels for quality bolts. The bolt is magnetic particle inspected and high pressure tested and (MPI/HPT) to ensure quality. The gas system that operates the bolt is a mid-length system that ensures reliability regardless of whether you run your gun loud or suppressed.
End Users?
It would be silly to think that a single AR rifle could fit the needs of everyone. Springfield seems to know this. That is probably why they have done such a nice job filling in the SAINT line. From the entry-level SAINT up to the top-end Edge, Springfield Armory has your bases covered. Each of these offerings is designed to meet the needs of a specific customer base.
It only makes sense to take a look at for whom the SAINT M-Lok rifle is intended.
At its core, I think this is a great rifle for the first-time AR-15 owner. Simply add a sling and you are ready to head to the range. The sights are ready to rock and both the A2 sight base and the stock are ready to accept a sling.
The optics-ready flat-top makes it easy to add an optic when you are ready and the MLOK handguard is ready to mount your light when you are ready for the SAINT M-Lok to become your home defense rifle or regular training partner.
But what about those who will want to customize their rifle? This is the second crew that will be happy with the SAINT M-Lok. At its core, the SAINT M-Lok is a solid rifle with forged receivers and a high-quality bolt, gas system and barrel. This gun has the bones to support whatever you want to turn it into.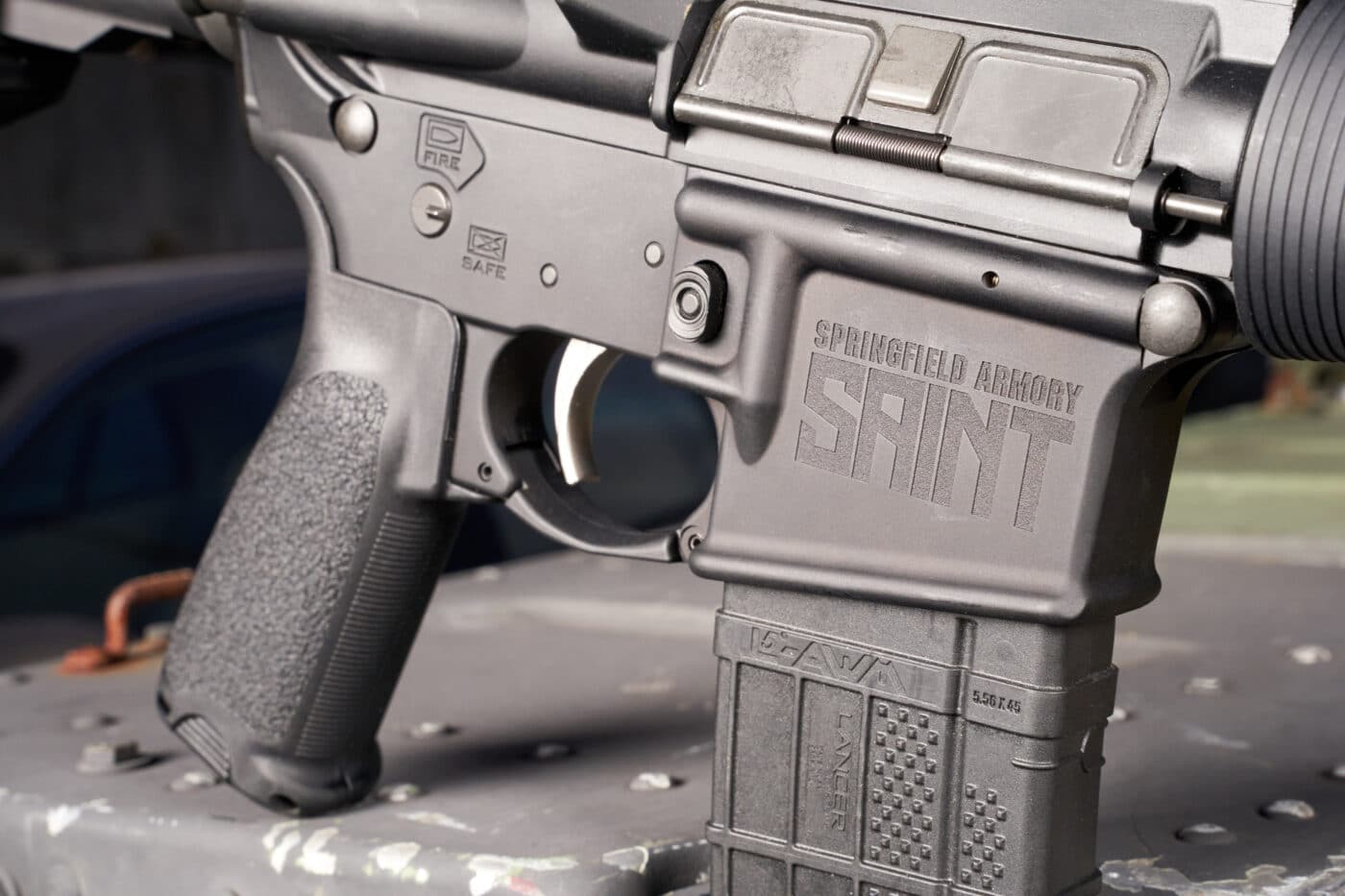 When you find a different stock you prefer, swap it out. Want a free-float handguard to capitalize on the barrel's capabilities? Make it happen. I really only see two limitations — keep in mind that although the A2 sight base can be swapped out, you might be better off shopping for a handguard that can accommodate it. Other than that, only your imagination will limit where you can take the rifle.
Two Is One, One Is None
This is the second option for the first-time AR owner as they discover where their shooting will take them, and it is why I want a SAINT M-Lok. This gun makes for a great do-anything back-up rifle, and the rifle you can set up and then hand to anyone to get work done. And with three simple additions, this rifle will be ready to go for just about anything.
My first addition would be a sling. Although the stock and sight base are ready to add a sling, I prefer adding a M-Lok QD point at the end of the handguard at the eleven o'clock position. The sling ensures that I've got something to do with my rifle when my hands are busy.
Second, I would add a weapon-mounted light to the one o'clock position on the handguard. My favorite is the Cloud Defensive REIN, and for this rifle I would choose the Micro and skip the remote switch.
Finally, I would top the upper off with a Trijicon MRO on a Larue LT849 Cantilevered QD Mount providing a lower 1/3 cowitness.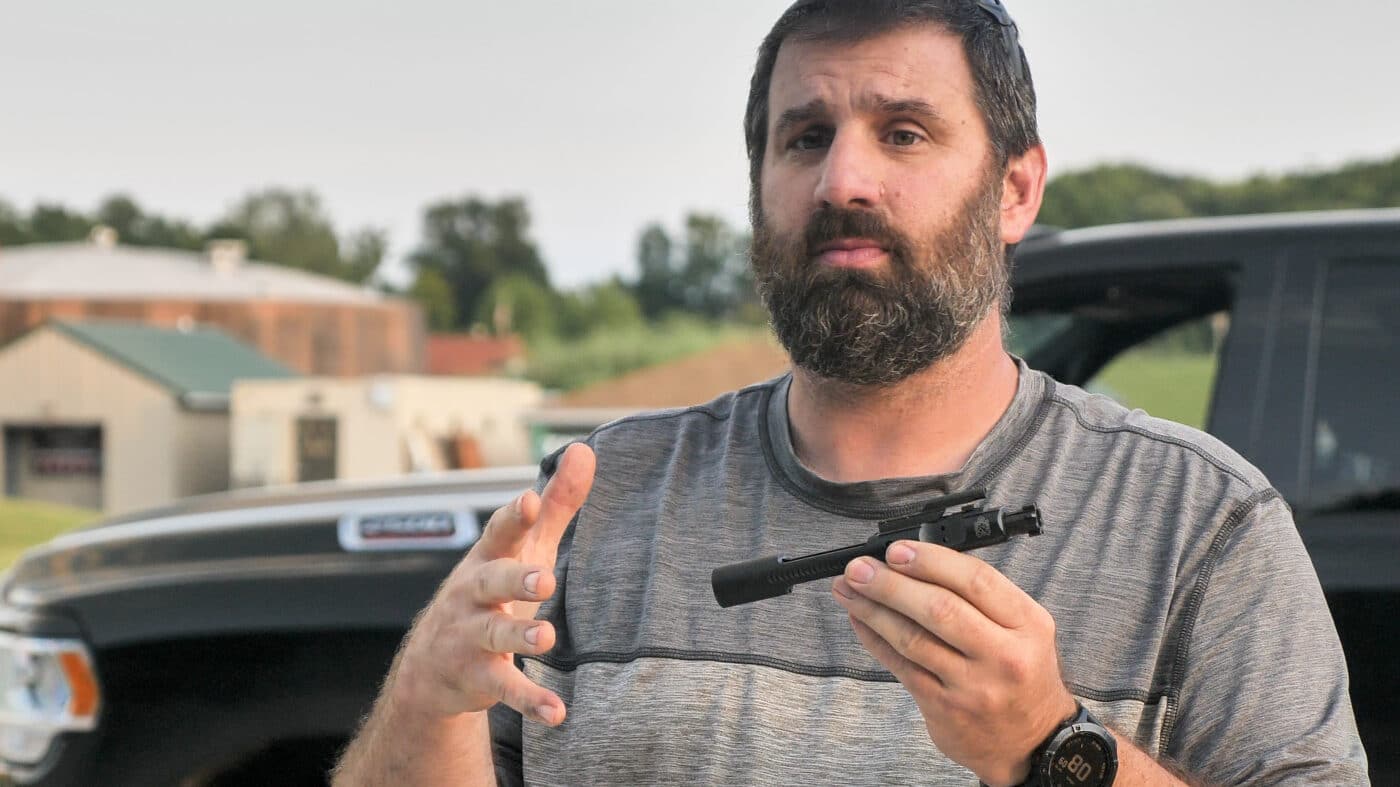 This set-up would be a simple and effective back-up training rifle or a capable tool to hand to anyone that was short a rifle.
Your end purpose might be different than mine, but the SAINT M-Lok provides a foundation to support your mission regardless.
Specifications
Here are the Springfield SAINT M-Lok specs:
| | |
| --- | --- |
| Chambering | 5.56mm |
| Barrel | 16″ |
| Weight | 6 lbs, 11 oz |
| OA Length | 32.25″ – 35.5″ |
| Sights | Flip up |
| Stock | BCM Gunfighter Mod 0 |
| Action | Semi-auto |
| Finish | Black |
| Capacity | 30 rounds (one magazine included) |
| MSRP | $995 |
Final Thoughts
It's a pretty common choice to spend big bucks on a fancy, specialized AR-15. I get it. I have those guns. At the same time, there is a seriously attractive aspect to having a solidly priced, widely capable rifle. That describes the Springfield Armory SAINT M-Lok rifle. It is ready to go just the way it is. It serves as a foundation for customization, and it makes a great and capable backup. I'm not sure we need to be looking for much more in a rifle.
Editor's Note: Please be sure to check out The Armory Life Forum, where you can comment about our daily articles, as well as just talk guns and gear. Click the "Go To Forum Thread" link below to jump in and discuss this article and much more!
Join the Discussion
Featured in this video
Continue Reading
Did you enjoy this video?
107