Review: B5 Systems Precision Stock
April 18th, 2022
4 minute read
An often-misunderstood phrase on body position is "cheek weld". A cheek weld is literally where your cheek comes to rest on a rifle in a position that allows you to view your optic with perfect clarity and eye relief.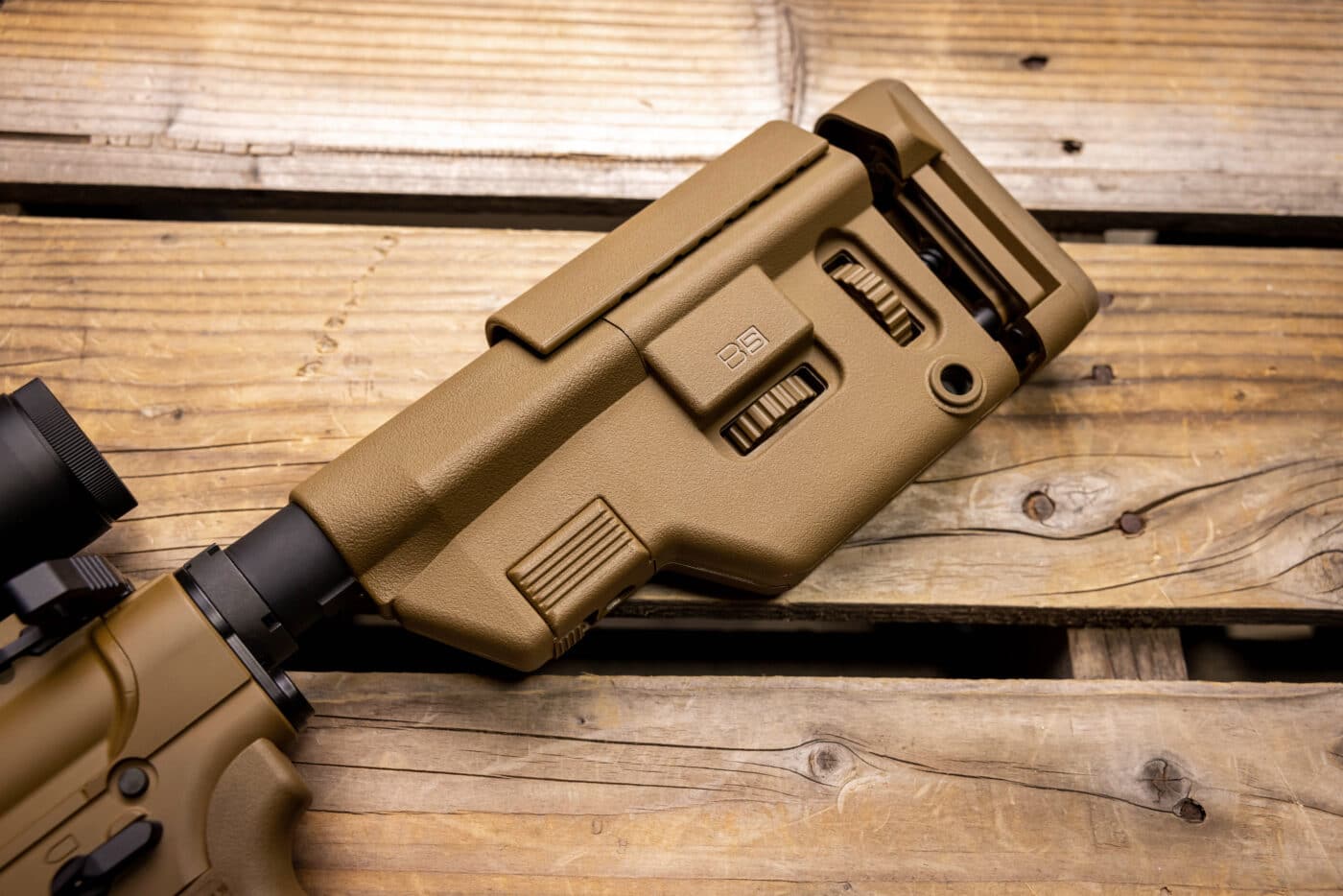 Sure, you can get away with a sloppy cheek weld, a chin weld, or any number of positions to achieve a proper eyeline through your optic. But after a full day on the range in a multitude of shooting positions, if you don't have your cheek positioned properly on your stock, your neck is going to let you know pretty quickly. Also, if you don't have a proper cheek weld, it can take much longer to acquire your target in a variety of positions.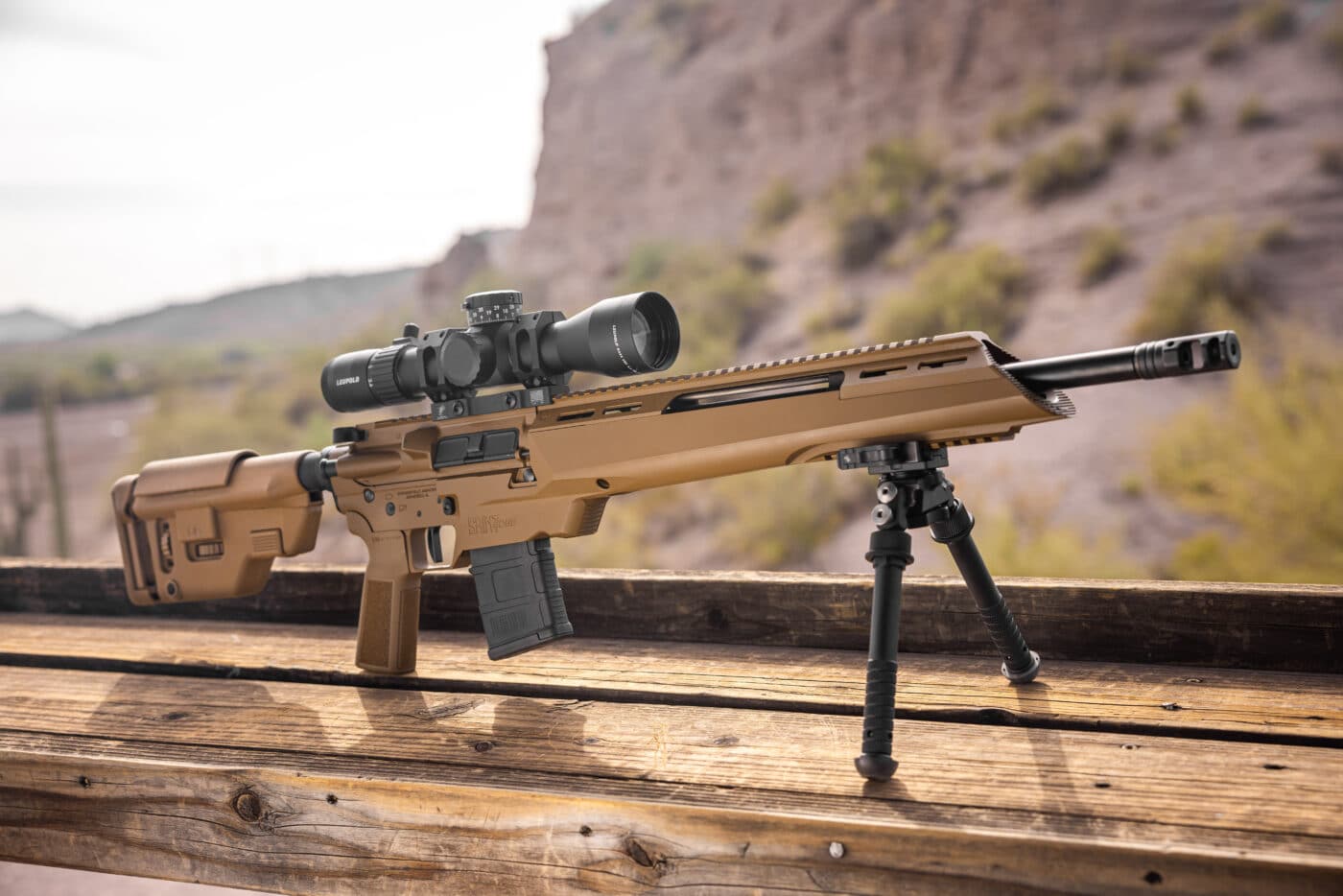 All too often, I see optics that are too high and non-adjustable stocks that are too low. Again, you can make anything work, but why not get gear that works for you? A recent stock that I have had the pleasure of reviewing is the B5 Systems Collapsible Precision Stock, which came equipped on the Springfield Armory SAINT Edge ATC Elite in .223 Wylde (to see the full review of the rifle, click here).
Addressing the Issues
Here are some of my main issues with a lot of stocks on gas guns such as AR-15s. Firstly, they can be too wobbly. Some stocks eliminate this by making the stock non-adjustable and creating a fixed stock from castle nut to buttpad. This is acceptable, but it doesn't allow as much fine adjustment in the length of pull. Another issue I see is the lack of an adjustable cheek comb. As we discussed, everyone has a different facial structure and will need to dial in their perfect position behind their optic.
B5 Systems has tackled all these issues with their Collapsible Precision Stock. To keep the adjustment on the buffer tube while also eliminating wobble, B5 has built the stock with high-end features such as internal tensioners. These little tensioners help keep the stock steady on your buffer tube.
B5 has also included an adjustable cheek comb to get you to that perfect height on your AR. It easily adjusts with a dial located just under the comb. Giving you even more precise adjustment, B5 added a length of pull adjustment that uses another dial just forward of the buttpad. Both of these allow the shooter a very comfortable way to interface with their rifle.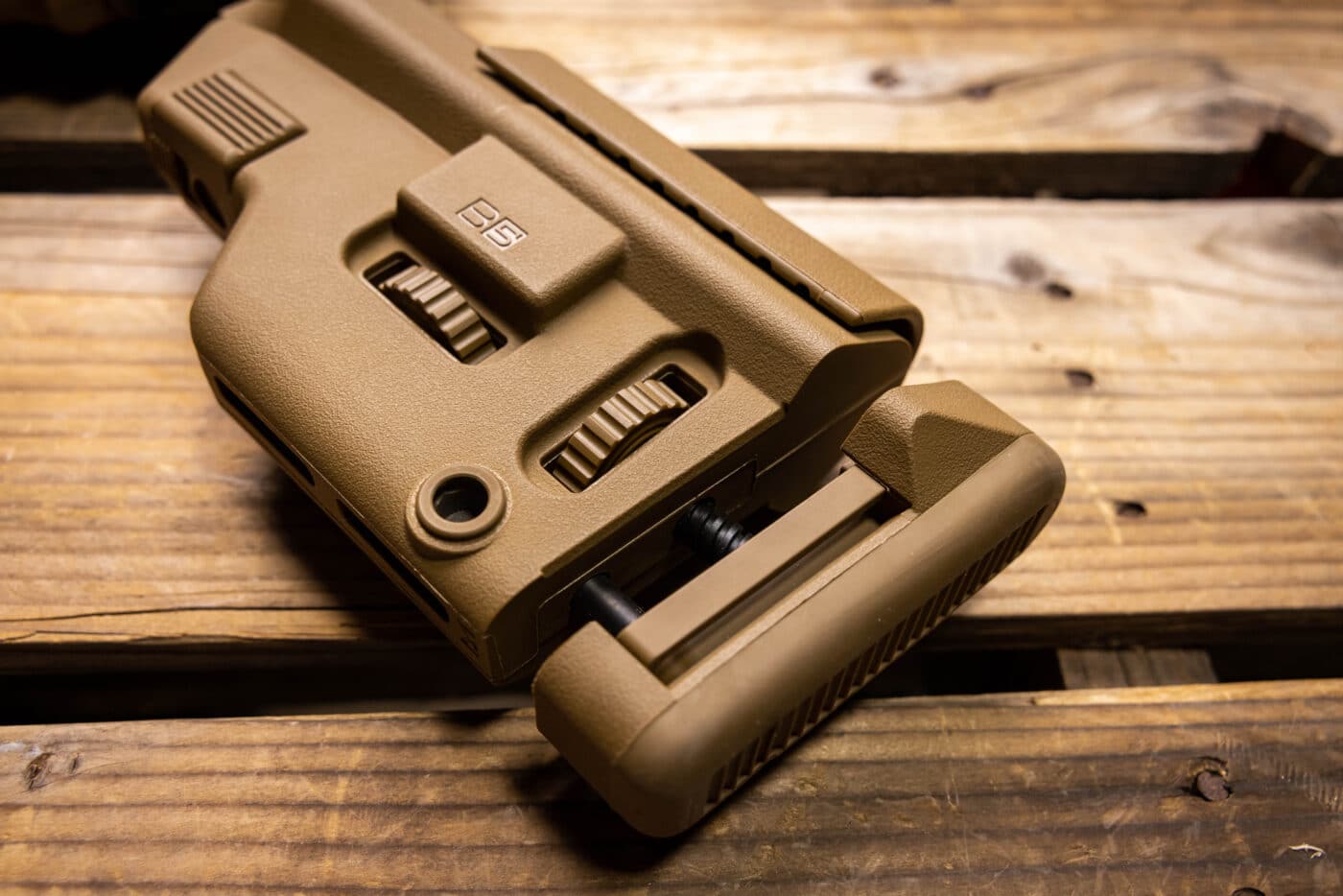 My first time behind the rifle with the B5 Stock was a bit of a surprise. I really didn't expect as much as I ended up gaining from this set-up. I was able to secure a very comfortable shooting position quickly and maintain that position throughout the day without fatigue or constant adjustment. The stock was sturdy and felt very solid without adding too much bulk or weight to the rifle.
The Details
The B5 Collapsible Precision Stock features two anti-rotation QD swivels, one on either side of the rifle, for use with an AR-15 sling utilizing QD. For those using traditional slings, B5 also added hardpoint attachments on either side of the stock. For attaching monopods or other accessories, B5 added two M-Lok slots at the 6 o'clock position of the stock.
This is a very well thought out design with the end user clearly in mind. Even though these are all amazing features, I think one of my favorite aspects of this stock is the wide range of color options. The B5 Collapsible Precision Stock comes in Black, Coyote Brown, Flat Dark Earth, Gray and Olive Drab. Whatever your theme, I think one of these combos will be very attractive to you. If you are a skeptic, take a look at how well the Coyote Brown matches on the beautiful Saint Edge ATC Elite. Move on over, FDE.
The length of pull adjusts from 8.5" to 9.2". The comb adjustment moves from 4.35" to 4.78" and stock weighs in at 20.65 oz. This B5 Collapsible Precision Stock can be found for around $230 at most online retailers. If you have an AR set up for distance, check out this B5 Precision stock option. You won't be let down.
Editor's Note: Be sure to check out The Armory Life Forum, where you can comment about our daily articles, as well as just talk guns and gear. Click the "Go To Forum Thread" link below to jump in!
Join the Discussion
Featured in this article
Continue Reading
Did you enjoy this article?
13