One of the most appealing things about the Model 2020 Waypoint hunting rifle is it's extremely lightweight. In addition to being very easy on the eyes, the Waypoint is an extremely totable option for a hunter that won't kill your back after a six-mile hike into the backcountry.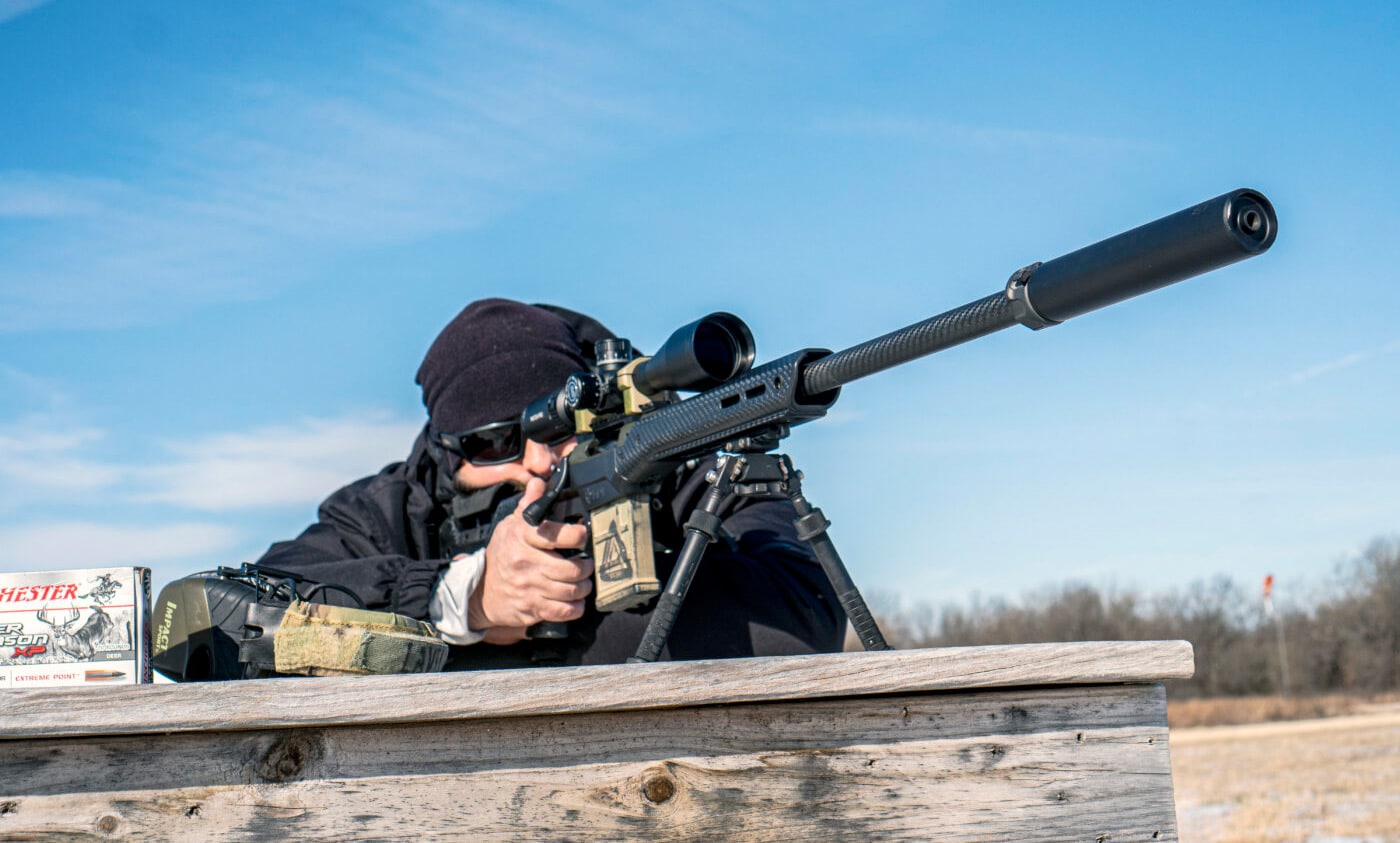 When you have a rifle as light as the Waypoint, it can feel like a sin to attach any gear to it. It's like you're almost ruining the very reason you sought out the rifle in the first place. Magnified optics and bipods can be heavy, so they can begin to weigh down a rifle. But perhaps the heaviest attachment that really can throw off a rifle's balance, and one that is becoming a more and more popular hunting tool, is the sound suppressor.
In the hunting world, suppressors have become almost a necessity for a few reasons. The absolute biggest benefit is that it reduces the decibel rating heard at the shooter's ear. This makes shooting without ear protection much safer. When hunting, every hunter I know wants to be able to sit quietly and hear with their natural ears all the sounds around them. Hunting is all about being in tune with your surroundings, and ear protection with microphones to amplify sound can distort the hunter's perception of the world around them.
The problem when you have a gun like a Waypoint is that even a 1-lb. suppressor will completely throw off the balance of the rifle. Part of this is because of the weight of a suppressor; but there is also the fact that all the extra weight is out at the end of the gun, making it even feel heavier.
A Surefire Solution
The solution of course is to find a lightweight suppressor. For us, Surefire was the answer. We have on hand a 6.5 Creedmoor Model 2020 Waypoint, so we decided on the company's dedicated 6.5mm suppressor in titanium — the SOCOM65-Ti. Titanium is extremely strong, while also around 45% lighter than stainless steel.
Surefire's SOCOM65-Ti is the lightest rifle-mount suppressor that the company makes. The suppressor was designed to exceed military sniper rifle suppressor specifications and is optimized for bolt-action 6mm, 6.5mm and .260 caliber firearms. Those calibers are increasingly popular for hunting now, making this a popular choice for hunters looking for the lightest weight possible.
The suppressor itself has the tight tolerances and quality that you've come to expect from Surefire, and it attaches with the versatile "Fast-Attach" mounting system from Surefire. The suppressor, like all Surefire suppressors, is proudly manufactured and designed right here in the good ol' United States of America.
SOCOM65-Ti Suppressor Specs
| | |
| --- | --- |
| Weight | 11 oz. |
| Length | 7.9" |
| Diameter | 1.5" |
| Caliber | 6.5mm |
| Material | Titanium |
| Mount Style | Surefire Fast-Attach |
Range Time
We took the SOCOM65-Ti out on the range to check out how well it would do with some Winchester Deer Season XP rounds.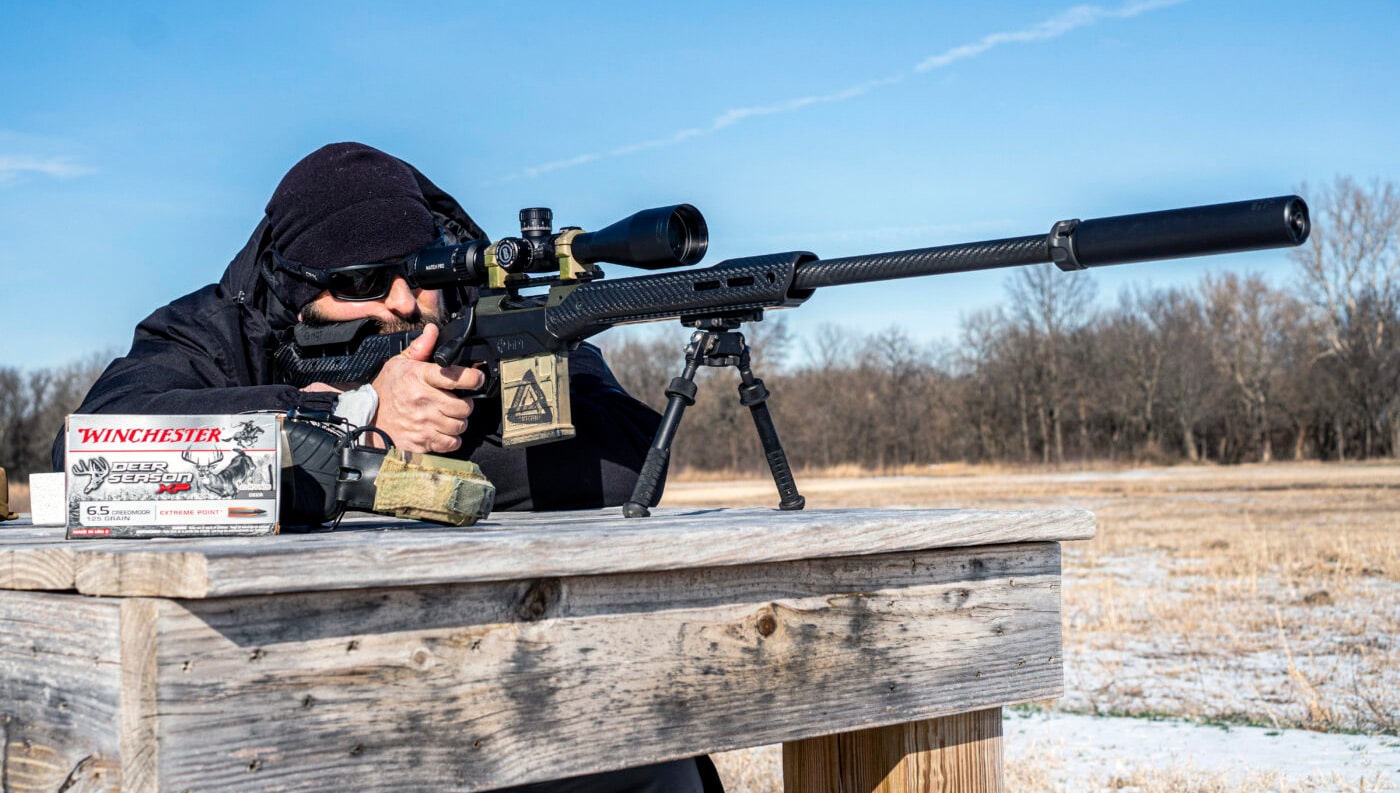 We decided to see how it affected the zero of the Waypoint, so we zeroed the rifle with just the Fast-Attach muzzle brake from Surefire, and then we attached the SOCOM65-Ti to see how it did. We only noticed maybe a .5 MOA shift in our impacts — a small enough margin that it could be just human error-induced or temperature-related as our cold rifle on the 20-degree day warmed up during our range session. The point being, if you're trying to shoot a dime at 100 yards, yes, you might want to re-zero. However, for any normal hunting application, it is still an accurate enough point of impact to smoke any North American game animal.
The second thing we wanted to test was how quickly the suppressor can cool down. So, we fired 10 rounds in fairly rapid succession to build up heat in the suppressor. The suppressor, as you'd imagine, became way too hot to touch. From there, we wanted to see how long it took to be able to touch it by hand. At about the seven-minute mark, it was comfortable to touch by hand.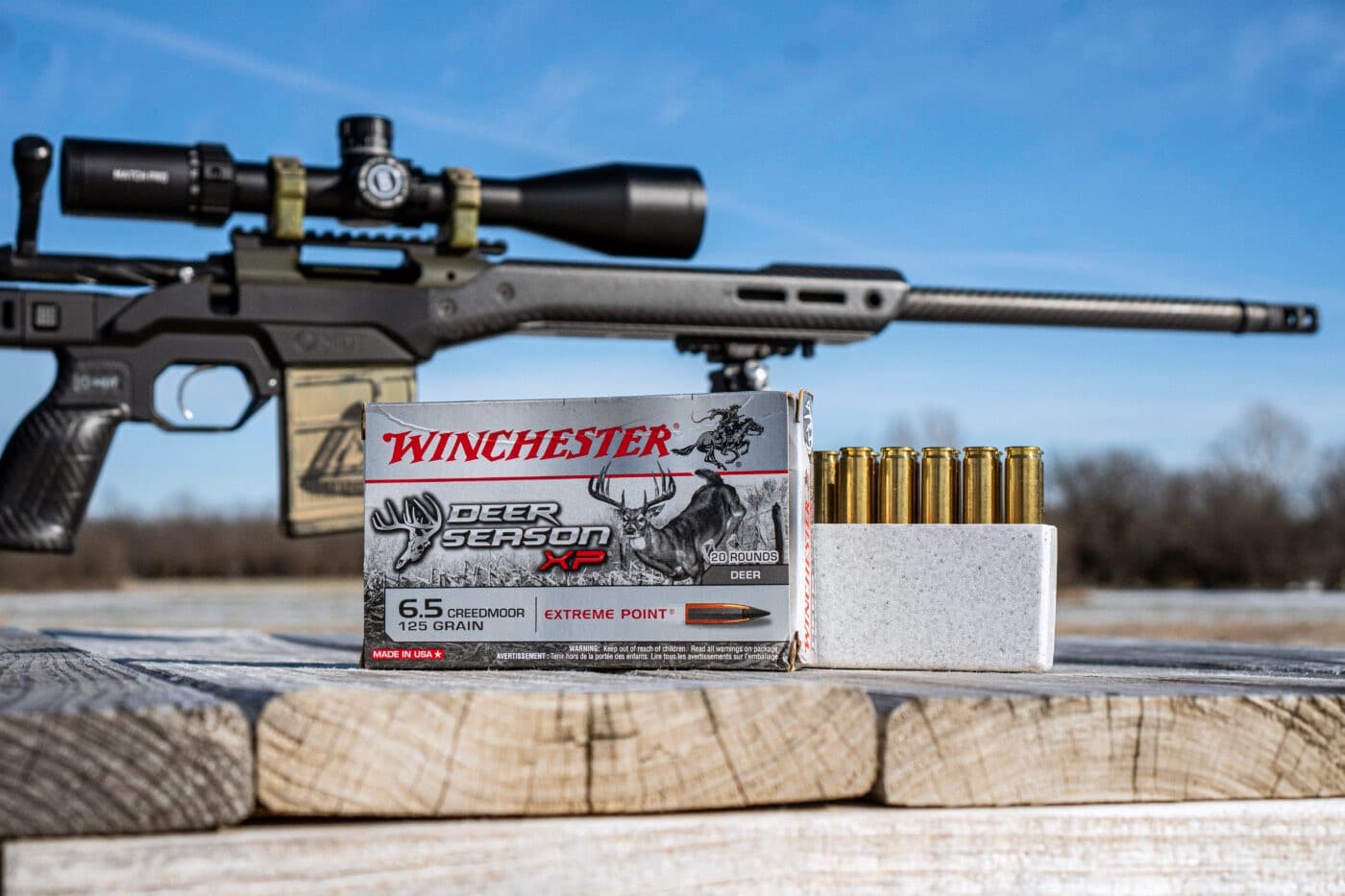 Now, this isn't a truly scientific test; it was 20 degrees out and we didn't have a comparable non-titanium suppressor to do back-to-back tests against. In theory, a suppressor with less material would cool faster, so titanium could cool faster. Also, if it's a summer day and it's 98 degrees, the suppressor would likely not cool as fast as a cold, 20-degree day like we had.
Conclusion
I can't stress how light this suppressor is, coming in at just 11 oz. Its weight almost feels like it's a toy made of plastic, but the surface is undeniably rigid and made of metal. We tip our hats to Surefire for a well-made suppressor with a weight that makes it seem like a product from out of this world.
Editor's Note: Please be sure to check out The Armory Life Forum, where you can comment about our daily articles, as well as just talk guns and gear. Click the "Go To Forum Thread" link below to jump in!
Join the Discussion
Featured in this video
Continue Reading
Did you enjoy this video?
38