Review: The Micro-Sized Olight Baton 3
April 18th, 2021
4 minute read
Many of us have specific items we place in our pockets on a daily basis to go along with our firearm. We consider these our EDC items. Everyone's EDC may be different, but most include some of the following items: a spare mag, a knife, a lighter or a book of matches, a pen, and our cell phone.
But do you carry a flashlight? I'm not talking a small pen light, but a truly bright flashlight. I know what you're thinking … "That's already a lot in my pocket! I don't have room for a large flashlight, plus the weight alone would get to be too much." Well, not with Olight's newest release, the Baton 3.
Tiny Titan
The all-new rechargeable Baton 3 is a powerful compact flashlight that comes with its own unique charging case (if you buy the premium edition). Just one full charge of the premium edition charging case offers multiple charges — 3.7 to be exact — of the Baton 3 flashlight. The Baton 3 is approximately 2½" long by 1" in diameter and weighs in at 1.87 oz. Good thing It comes with a handy pocket-clip, so you don't have to worry about it falling out of your pocket and losing it since it's so small and light.
The Baton 3 has five brightness settings and one strobe setting. The brightness settings are Turbo, High, Medium, Low and Moonlight. The Moonlight and Turbo settings do require more steps to be able to use, same as you'd expect for the strobe.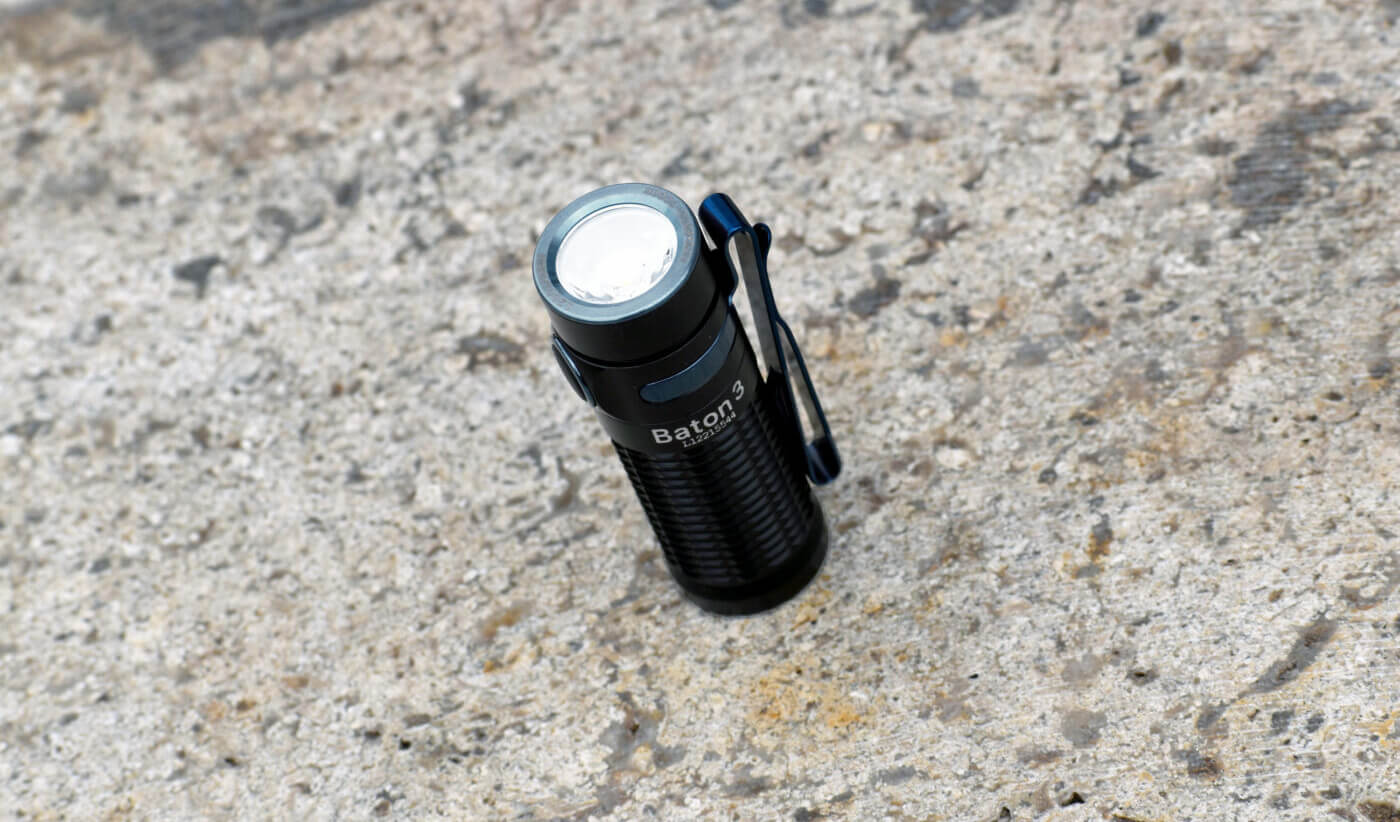 The Turbo setting is 1,200 lumens for 1.5 minutes before it automatically goes back down to the High setting of 300 lumens. The High setting of 300 lumens is rated for a total of 95 minutes as it winds down to just 30 lumens of output. The Medium setting is 60 lumens, lasting 7.5 hours of continuous run time.
The following two settings have a run time of just over a day to multiple days. The Low setting of only 12 lumens lasts 33 hours of continuous use. The lowest setting of Moonlight is 0.5 lumens having a claimed run time of 20 days. Pair that with the 3.7 times of charging with your premium edition charging case, and that gives you a total of 94 days of run time.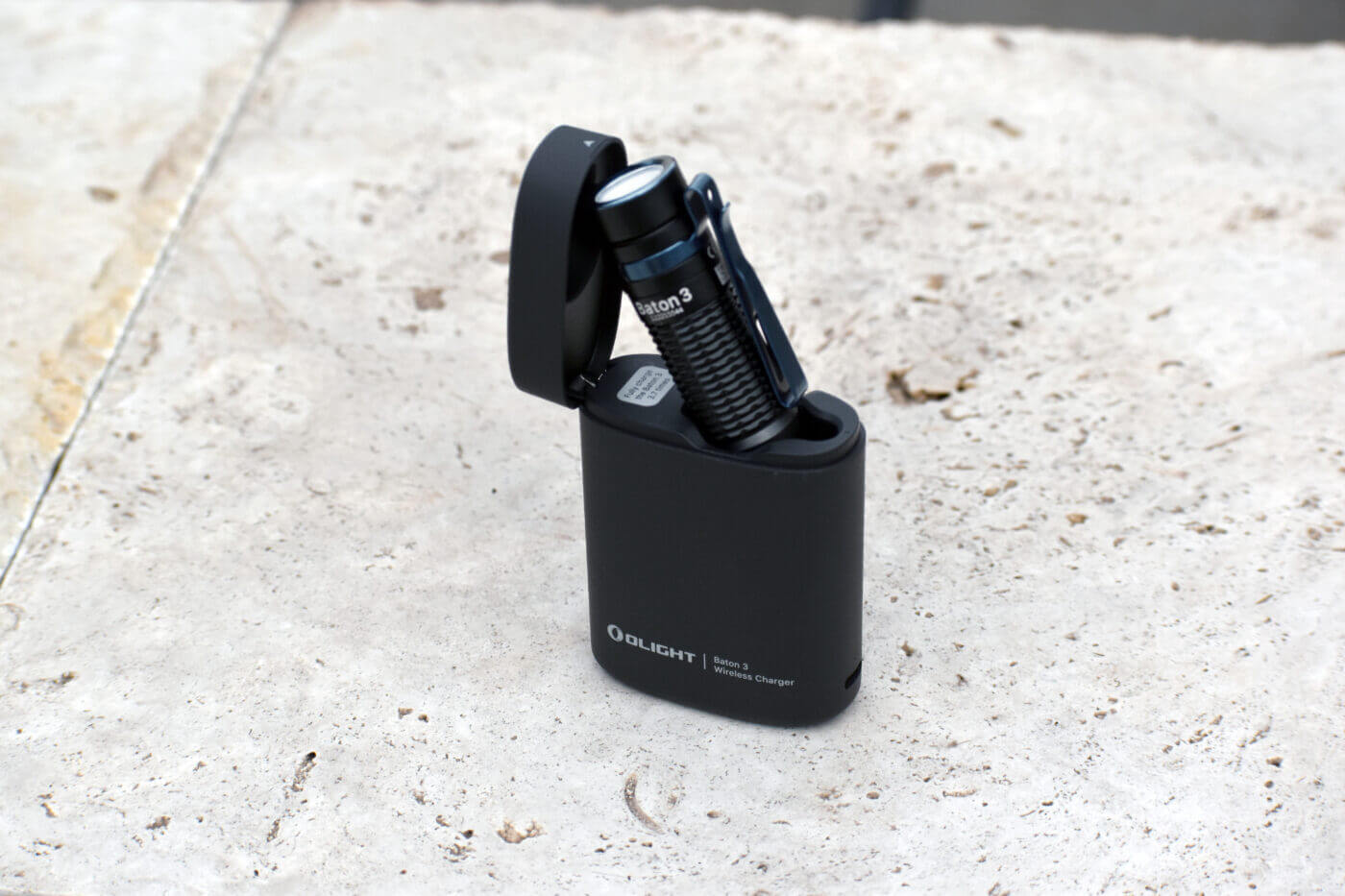 Being a small flashlight, you wouldn't expect an exceptionally large throw. However, the Baton 3 is here to surprise you. The brightest setting on the Baton 3 has a throw of 166 meters; converted to yards that's just over 180. The normal settings of High, Medium, and Low throw out to 82, 38 and 18 meters, respectively. That is quite an impressive throw coming from such a small flashlight.
The Baton 3 has another feature I haven't personally seen in a flashlight, especially one so small. The Baton 3 has two timer settings that once reached, the light will shut itself off. The first setting is a long timer setting allowing the desired light brightness to shut of after 9 minutes. The second setting is a low setting allowing the desired light setting to run for 3 minutes. These are not automatic settings; you do have to go through the settings to select these.
Hands-On
Functionality of the Baton 3 is relatively easy and self-explanatory. Pressing and holding of the side switch while the light is on runs you through the normal light brightness settings. To access the Turbo light setting, press and hold the side button while the light is on for just over a second. The light will enter the Turbo setting. The Moonlight setting is pretty much the same process as the Turbo setting, just performed while the light is off.
You can even lock your Baton 3 when it is off by holding it down slightly longer than you would to enter Moonlight setting, following the same process to unlock it and return it back to use. The Strobe setting can be accessed by rapidly pressing the side button three times while the light is on, using a single click to return to the normal settings.
If you'd like to take a Baton 3 premium edition home, it will run you $99.95. The Baton 3 holds the IPX8 waterproof rating, passed a 1.5 meter drop test and comes with the Olight standard five year warranty.
Editor's Note: Be sure to check out The Armory Life Forum, where you can comment about our daily articles, as well as just talk guns and gear. Click the "Go To Forum Thread" link below to jump in!
Join the Discussion
Featured in this article
Continue Reading
Did you enjoy this article?
46