This story starts back in 1981 with an engineer at Ford Motor Company. This man, named Glyn Bindon, was visiting some family friends with his brother in South Africa. Bindon was about to be introduced to the tritium illuminated red dot Armson OEG. The friend who made these sights wanted to try selling them in America but needed a salesperson. Glyn decided to take on the task as a "side job."
Over the course of about three years, Bindon enlisted the help of his children and ran the warehousing and sales for the product out of the family home. The garage was soon overrun with product, and business was proving to be very strong. It looked like Glyn was onto something.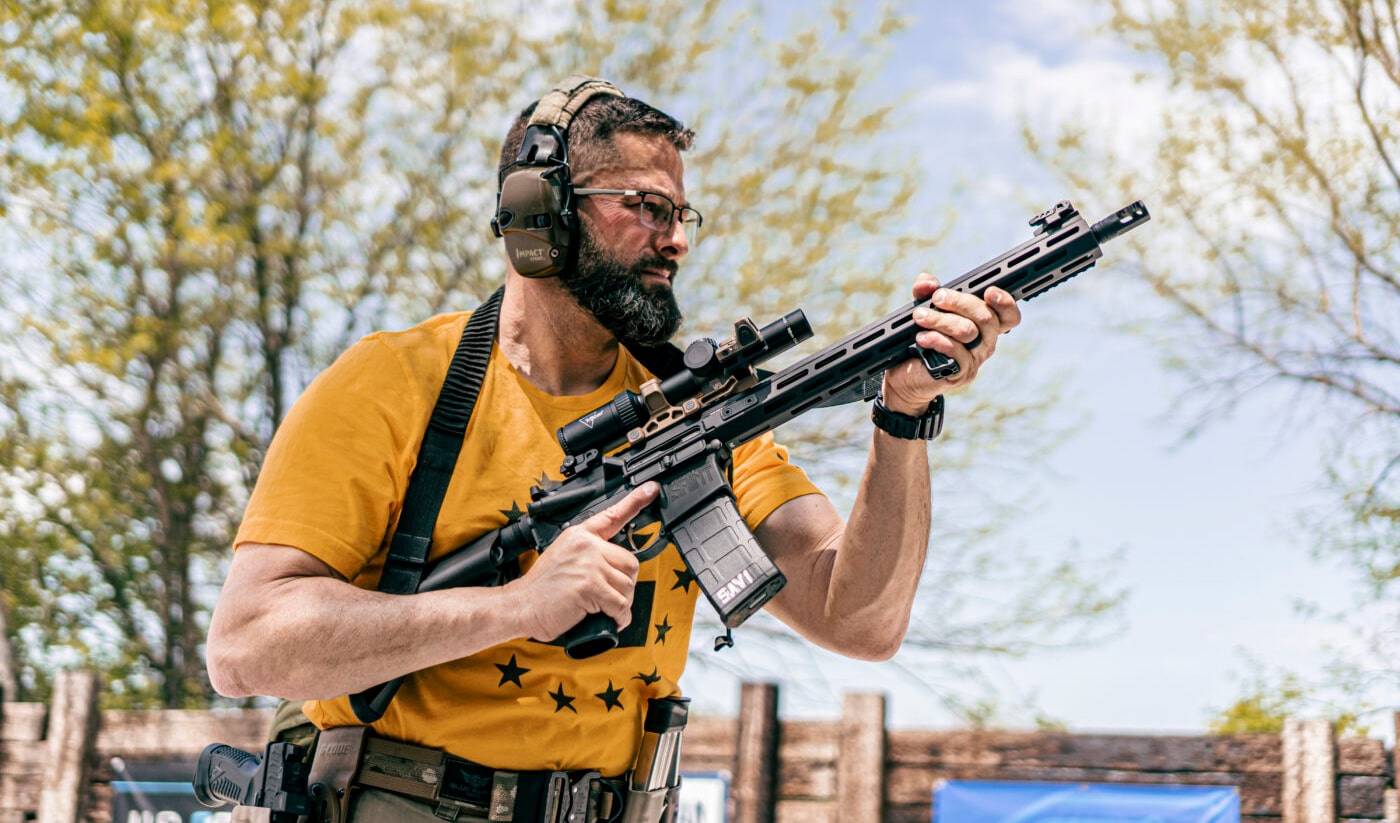 Paradigm Shifter
In 1985, Bindon introduced the world's first tritium-reticle riflescope, the Spectrum Riflescope, along with the first tritium-illuminated iron sights for handguns. Around this time, Glyn was pondering a company name for his new "side job." He wanted to include "tritium" in the name since it was the key element in the innovative sights, and also wanted to include the word "icon," which represented a picture or image.
All that was left was to fit all together. Ultimately, he took "tri" and "icon," and designed to add in an abridging "j". And the name Trijicon was born. An added benefit of that "j" was that it allowed him to line three dots up in the name, representing the three dots of the pistol sights.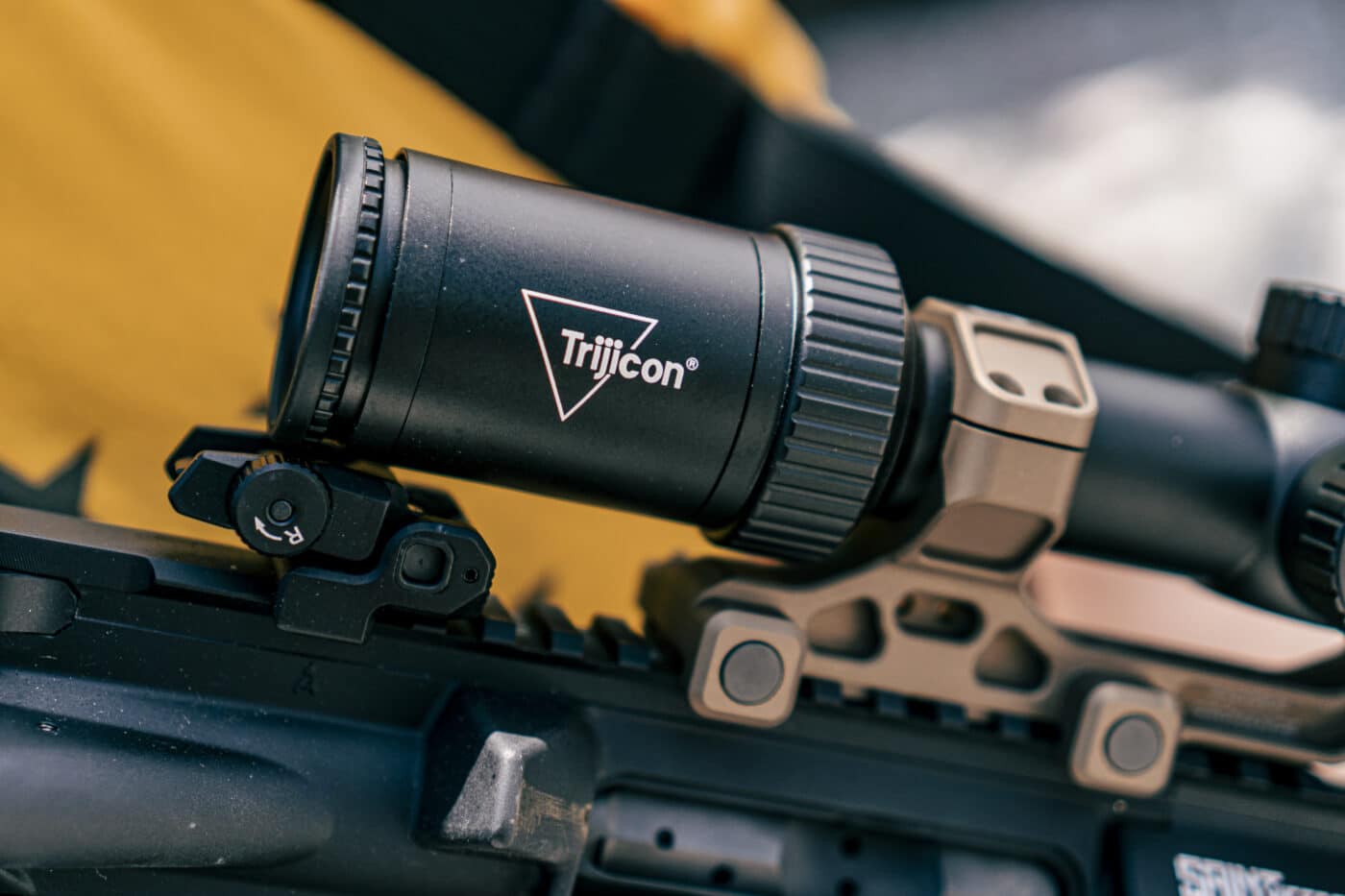 Wondering if this incredibly successful "side job" forced Bindon to give up his Ford job that he loved very much? In fact, he kept his job at Ford Motor Company and did so for several more years. It wasn't until Trijicon had grown beyond being run out of the family home and was occupying a 2,000 square-foot warehouse that he finally left Ford and committed full-time to the new Trijicon company.
This is one of those classic American success stories, where hard work and a good idea really paid off. In fact, Trijicon has grown to become one of the most iconic and recognized optical brands in the world, with proven products used by both the military and civilian communities. And that first scope Bindon offered in 1985 led the way to the scope we are looking at here today.
Hands On
Our creative team here at GunSpot.com gets the very pleasant job of testing out products, and one that we were overjoyed to try out was the Trijicon Credo HX 1-4x24mm scope. Anytime a box comes in the mail with Trijicon on it, it's going to be a good day.
The Credo HX line of scopes is a new line from Trijicon that follows their popular Credo line intended more for tactical use. The original Credo line caters more toward the tactical audience by having reticles that can be used to measure in MRAD and MRAD adjustments (as opposed to BDC reticles) on the elevation and windage knobs. The Credo HX line, however, is designed with hunters in mind. And, while we here at GunSpot do tend to lean toward tactical-oriented products, we were more than happy to try out the Credo HX 1-4X scope.
The Trijicon Credo HX 1-4×24 we received is a second focal plane scope that is 10.5″ long, 2.7″ wide, 1.9″ high and has a 30mm tube. The objective size on this LPVO is 24mm. The reticle is a duplex reticle that can illuminate red, with 10 total settings, thanks to a CR2032 battery. One battery will provide this scope with 68 hours of constant battery life. The scope is adjustable for both windage and elevation in ¼ MOA adjustments, with a total of 100 MOA of travel. The eye relief is 2.6″ to 3.9″. At 100 yards your field of view on the low power is 95 feet and 24 feet on the high power. The housing is 6061 aluminum, and the scope weighs 17.2 oz. This equals out to be 1.07 lbs. This HX Credo 1-4X is offered with the plain duplex reticle or a MOA Precision Hunter reticle. The model can be purchased with reticles either in green or red illumination.
One of the features we really appreciated about this scope was the target knobs. The knobs themselves are capped so you can cover them and protect your zero. Another thing we enjoyed was the fact that, similar to larger target scopes, this scope can be adjusted without tools. The knobs can be moved by hand, and you can visibly track your MOA adjustments around the elevation and windage knobs as you zero your optic. Then once it's time to zero out your knobs and put your "0" back in the middle, you can do this without tools as well.
Simply lift up on the knob and it will loosely spin to let you reset your zero. This makes zeroing the scope quick and easy. Also, since the knobs can be set back to zero and you can see your adjustments, in theory you can still apply DOPE to shoot at longer ranges if you wanted. The adjustments are in MOA and there is no zero stop, so you'd just have to be careful to not lose track of your zero during rotations.
Trijicon Credo HX 1-4x24mm Specifications
| | |
| --- | --- |
| Power/Lens Diameter | 1-4x24mm |
| Reticle | Second focal plane; standard illuminated duplex crosshair |
| Tube Diameter | 30mm |
| Adjustment Range | 100 MOA total travel |
| Weight | 17.2 oz. |
| Length | 10.5″ |
| MSRP | $999 |
Practical Applications
While the Credo HX scope line is specifically marketed to hunters, it is still a great choice for home defense or tactical applications. The 1-4X is more than enough for a 5.56 carbine, like the SAINT Victor on which we tested it. We mounted this scope in a Condition One Badger Ordnance 30mm mount on our SAINT Victor B5 and determined it would be a great choice for tactical use.
With this scope's clarity, generous eye relief, low power setting and bright reticle you can easily shoot with both eyes open using the illuminated reticle in the same way you'd use a red dot optic. At the same time, you can quickly power up to 4X and make more accurate shots or just focus on the reticle and continue to use it as a "red dot." With a little practice at getting the proper cheekweld on your rifle, having a low power variable optic (LPVO) of this quality is invaluable to a shooter.
I will admit that I at first was a bit bummed about getting a scope with a duplex reticle and 1-4X. When you look at other optics out there, even in the Credo HX line where there are 1-6X and 1-8X offerings that have precision reticles, it can feel like you are being shortchanged by looking at something as simple as this one.
However, I soon learned my first reaction was wrong. This is a very nice set-up. The way we used this scope — having it mounted on an intermediate-range carbine in 5.56 — having 1-4X and a duplex reticle is maybe the best option. With this type of rifle and especially the 5.56 cartridge, we won't be doing any serious distance shooting; most of our shooting will be centered around 0-200 yards and focused on self-defense applications. Going forward, for a rifle like this I think I actually will prefer a less-busy reticle like this one.
Conclusion
The HX line of scopes is designed for hunters. Their clarity, tough construction, reliability and illuminated reticle will allow users to hunt with confidence — all while shooting with pinpoint accuracy. If you're in the market for a new hunting riflescope, I'd take a look at the Trijicon Credo HX line. But, as we found, you also have some great options for roles outside the hunting realm as well.
With the Credo HX line, you can find scopes with power settings from 1-4X to 4-16X and everything in between. The Credo HX scope is worthy of the Trijicon name that Glyn Bindon worked so hard to create, and carrying a scope with a story like Glyn's behind it makes it all that much the better.
Editor's Note: Please be sure to check out The Armory Life Forum, where you can comment about our daily articles, as well as just talk guns and gear. Click the "Go To Forum Thread" link below to jump in!
Join the Discussion
Featured in this video
Continue Reading
Did you enjoy this video?
40