Review: Warrior Poet Society Raven Portable AR550 Target
March 23rd, 2022
5 minute read
It was the day after Christmas and I could hardly wait to use the Christmas present I had gifted to myself. After coming home from a day of errands with the family, I hurriedly packed up all my gear. I grabbed my new SA-35 pistol, my SAINT rifles and my XD-M Elite Precision pistol. From there I scooped up a bucket of ammo and called my dad, who conveniently lives in the same neighborhood.
After picking him up we headed out to the old farm that's been in the family for generations. Truth be told nothing is really there anymore to classify it as a farm; all that remains these days is some deer stands that are used for a couple of weeks each year. Other than that, nothing remains but the foundation of the old farmhouse where my Grandpa grew up.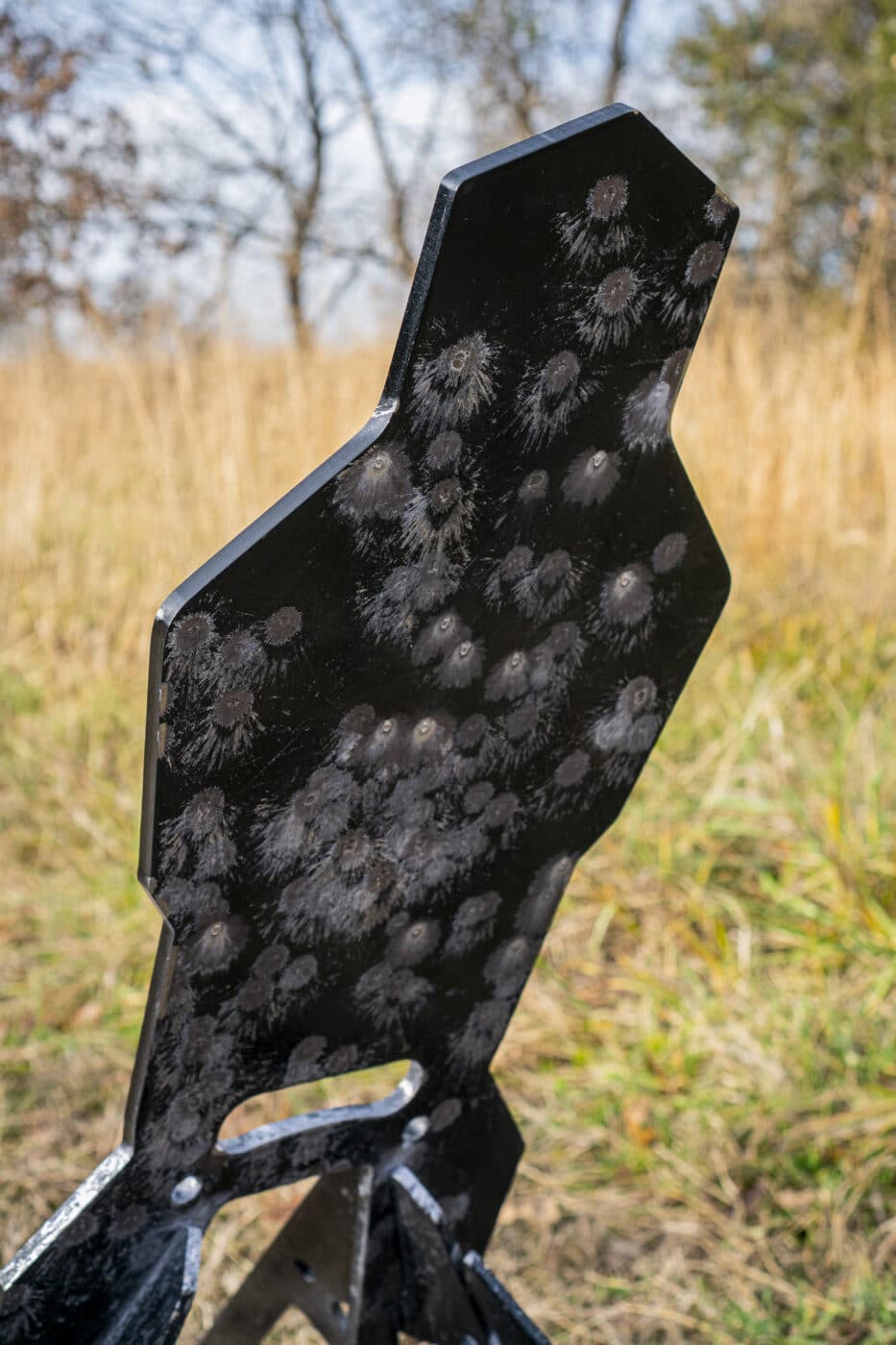 The Christmas present I was excited to try out was the Raven AR550 Steel Target that I picked up from The Warrior Poet Society. The Raven Target first caught my attention back when I saw the WPS owner John Lovell do a quick demonstration of how fast the target stand could come together and how easy it was to carry. From then on it had always occupied my thoughts. Then on Black Friday or Cyber Monday, I really can't remember, I just happened to notice it was marked on sale by quite a bit. So, I decided to treat myself!
Perfect Portability
The Raven target is perfect for my lifestyle. The Target also has its own stand and you can put it up in a matter of seconds by yourself without needing any extra help. This is what drew me to the Raven. In my work life, I have the fantastic GunSpot Gun Range that has everything I'd ever need when shooting. At home, I have a membership to an indoor range that I can go to as often as I please, with the comfort of staying dry and having heat and air conditioning to help me get through the seasons.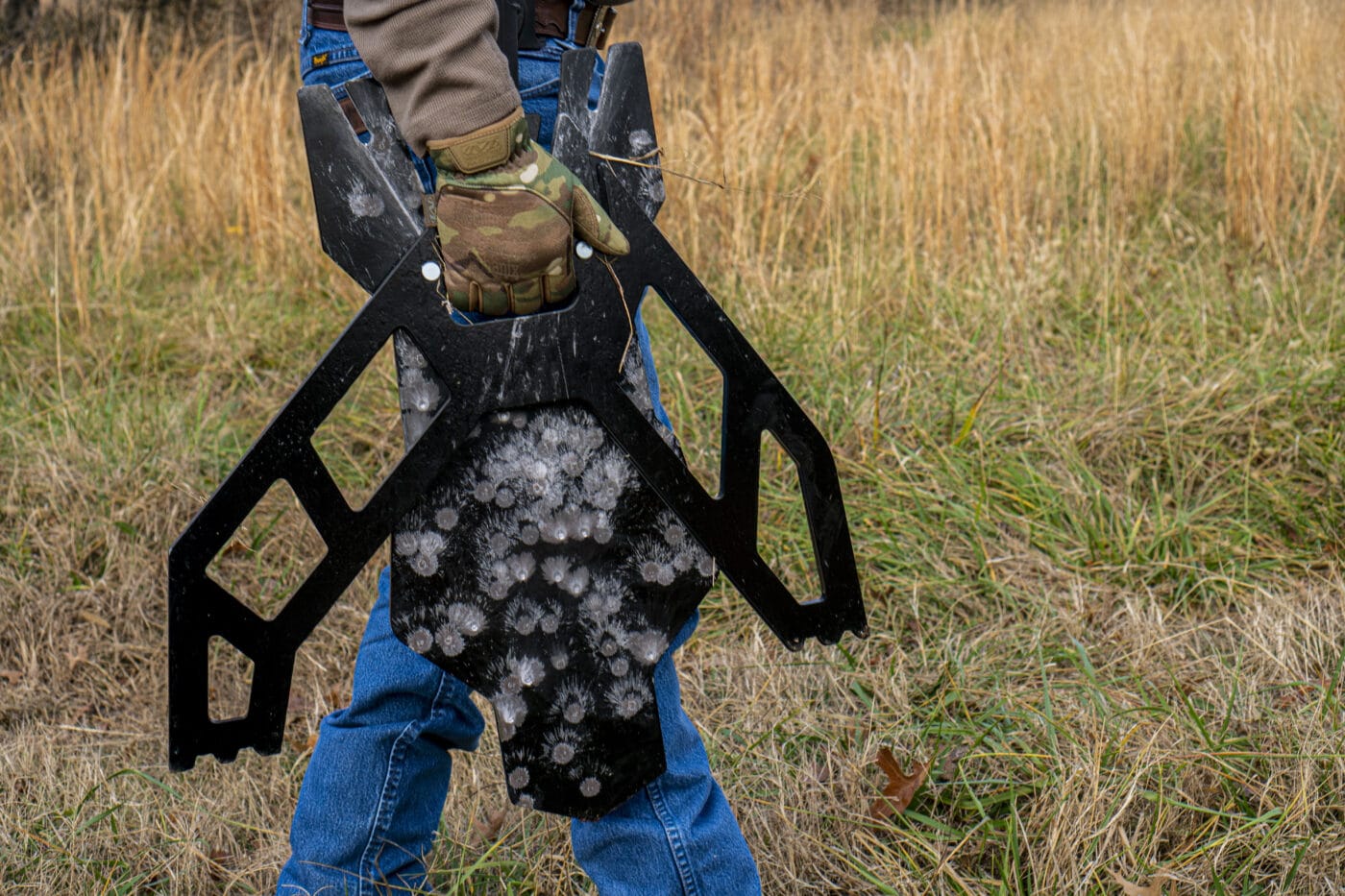 But in my free time if I want to do things like reloads, or practice getting in and out of kneeling, or prone position, I can't do any of that at the indoor range. But outside with my own target, I can move and shoot at my own speed accomplishing training in a safe manner for my skill level.
The Details
The Raven consists of three main pieces. There are two legs, then the target itself that makes up the bulk of the product. The only other pieces are two pins that hold the target and leg parts together for easy transport.
When assembling the Raven all you have to do is undo the pins separating your main three steel pieces. From there, stand up one leg and put the steel target in the slot that's angled forward. Then, attach the second leg to the target and it is ready to shoot.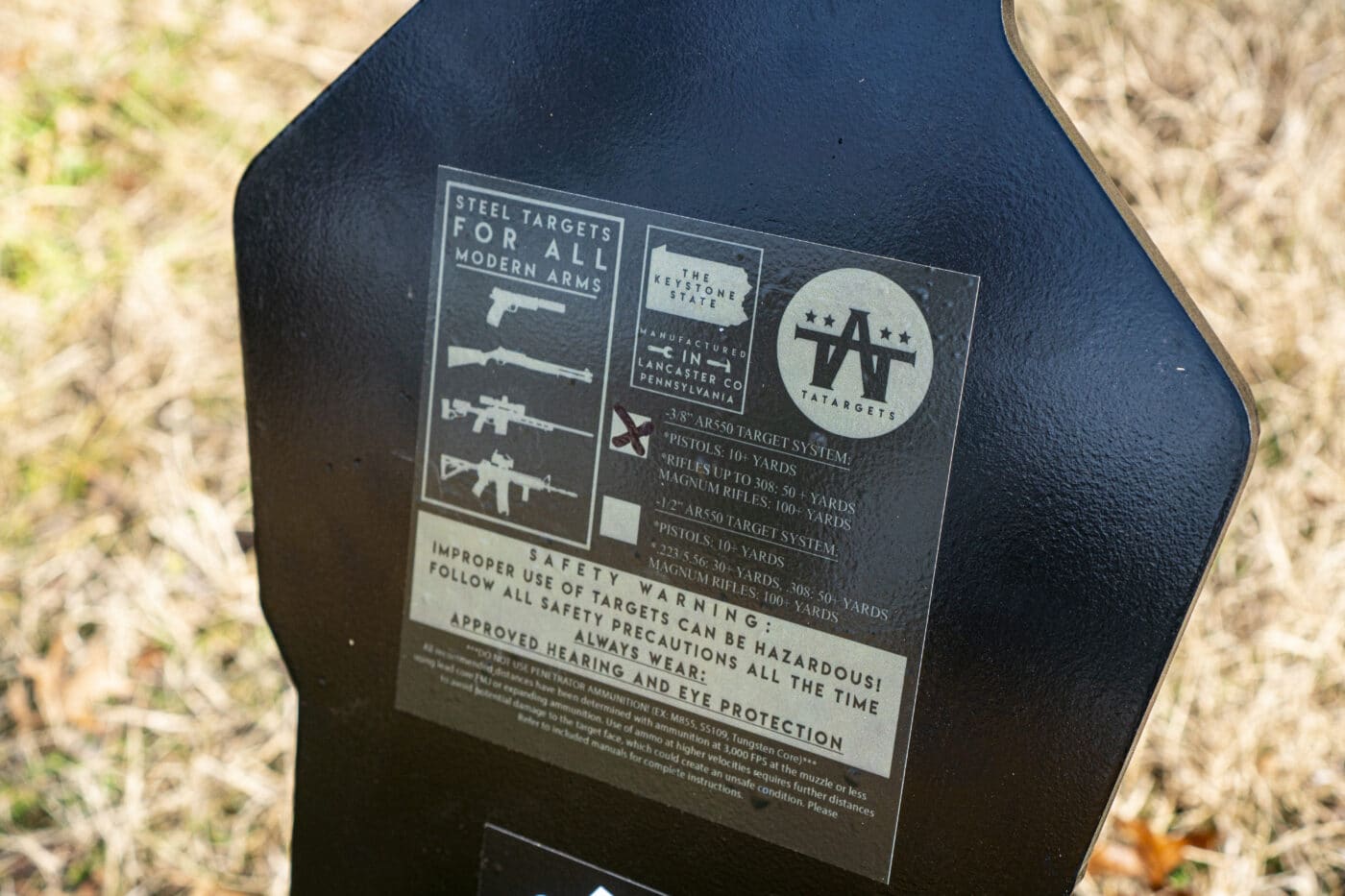 The Raven target has a total height of 37" tall once it's on the legs. The torso target itself measures 26.25" tall, and I would describe the whole target surface itself as the size of a C zone on an IPSC target but with a head also. The Raven target when assembled has a 20 degree lean forward to the shooting surface. This is the perfect angle to direct spall safely into the ground. The target surface is made out of ⅜" thick AR550 steel and the legs are ¼" AR500. Altogether it's a durable traveling target with a total carry weight of 48 lbs.
Range Time
After I got the target assembled it was time for the fun part — time to ruin that pretty black paint job. The Raven Target is rated for pistols at 10 yards (9mm, .40, .45 ACP, 10mm). It is rated for light carbines at 50 yards (.223/5.56, 300 BLK, 7.62×39, etc.) and it is rated for other rifles and even magnum calibers at 100-plus yards. It is important to adhere to the guidelines set forth by the manufacturer so that you don't end up putting dents in the target, which in turn can cause threatening ricochets off the target.
When shooting it that day I fired only 9mm and 5.56mm, adhering to the guidelines, and after a day of shooting there were only three spots where I could feel any sort of abrasion on the target surface. The whole surface still felt quite smooth. We also accidentally shot the legs as well, and I'm happy to say that the AR500 on the legs did not chip at all. The target held up extremely well and I was pleased with my purchase. Perhaps the thing that made me the happiest was the dark fresh dirt in a line under the target. It was very noticeable to see the spall consistently hit the dirt over and over in the same spot.
Conclusion
Because of the portability of this target, I was able to head out and make memories with my dad. I'm excited about the future now that I have the Raven target. I can set it up anywhere with a safe backdrop. I feel more in control of my own range time now that I have plenty of options and ways to shoot and I'm looking forward to taking my dad shooting as often as I can.
Editor's Note: Please be sure to check out The Armory Life Forum, where you can comment about our daily articles, as well as just talk guns and gear. Click the "Go To Forum Thread" link below to jump in!
Join the Discussion
Featured in this article
Continue Reading
Did you enjoy this article?
52