When it comes to hybrid multi-capable and electronically integrated optics, Sector Optics (a division of the prestigious Torrey Pines Logic brand) has provided consumers with some of the most feature-rich and innovative commercially available glass on the market in recent years. As Sector Optics specializes in high-quality thermal imaging, they've managed to integrate this keystone feature into their line of rifle scopes, range finders, and binoculars with some very impressive technology.
In this article, we will take a look at a selection of products from Sector Optics ranging from their top-tier thermal multi-application imager/rangefinders to some of their more affordable standalone miniature-thermals and handheld devices.
G1T2 System
Digging in, we'll start by taking a look at one of Sectors most prestigious systems, the G1T2 rifle scope + thermal imager + range finder, embedded with Internal Display technology. To help better understand what Sector Optics is offering customers in this unique platform, you have to take a look at the G1T2 as a sum of its extremely impressive parts.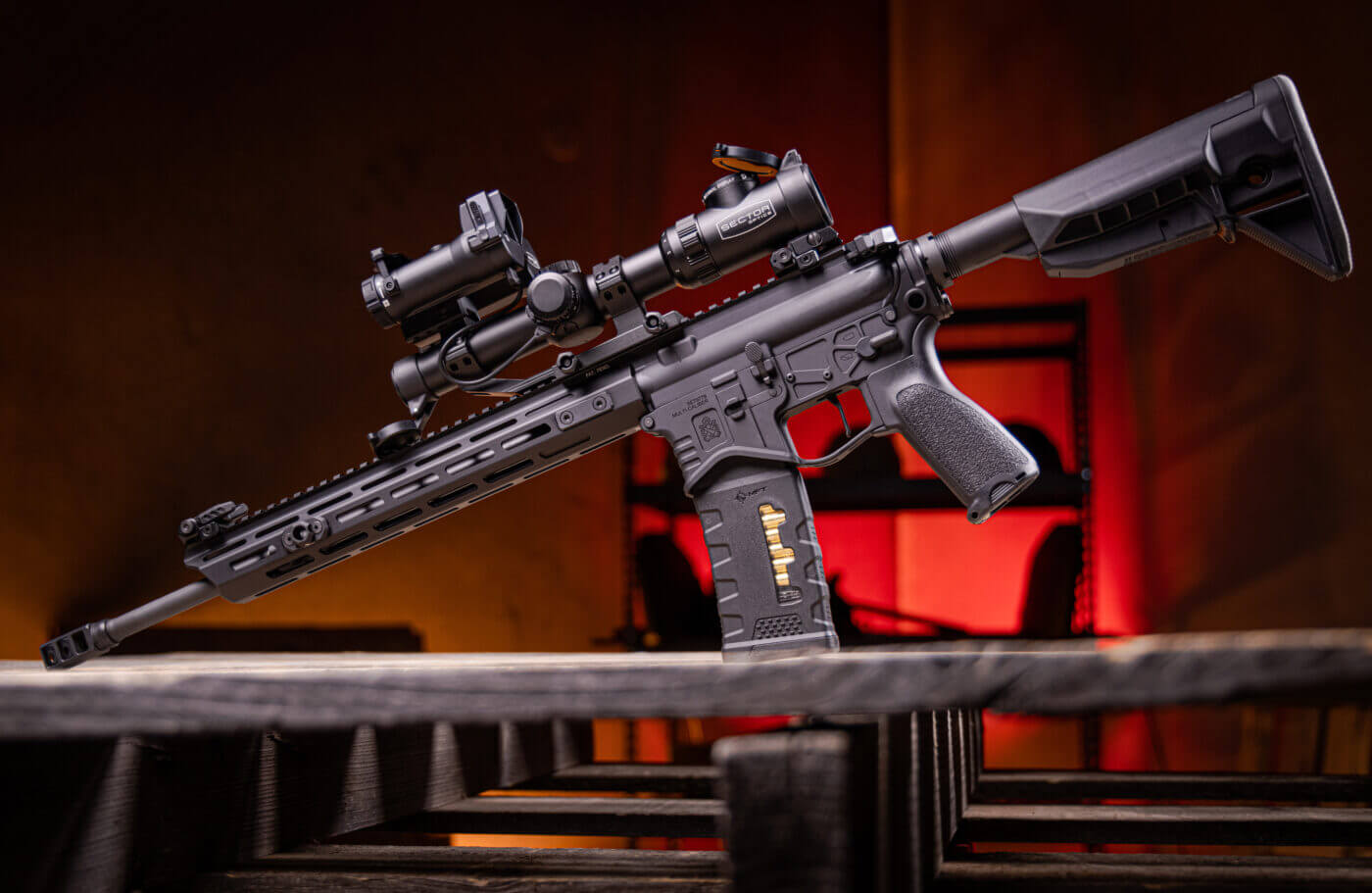 This system utilizes Sector Optics proprietary G1 riflescope and their T2 Thermal imager with range finder unit. The G1T2 system is the first Sector Optics product with its unique Internal Display (ID) technology to be integrated into it. The G1 rifle scope affords shooters a 1-8×24 focal plane, anti-reflective coated lenses, and an illuminated reticle. It's also the very first ever riflescope to utilize Sector Optics ID technology, and this tech is really where the magic happens.
Internal Display technology delivers what was once cutting-edge technology reserved for elite military applications to the consumer. Similar to a "heads-up display" (HUD), the ID tech essentially projects a transparent display into Sector's integrated riflescopes, spotting scopes, and binoculars. The scope serves as a platform for these accessories to display an array of data and imagery, such as thermal and night vision video streams, ballistic information such as range-finding data, and more. The image HUD overlay when looking through the scope is unobtrusive but large enough to be crystal clear and provides you with a really beneficial "picture-in-picture" sight of your target area. The T2 can swiftly generate the HUD image of your target in multiple thermal color options and gather rangefinding data and display the range within the same HUD. The display of this information is transmitted to the riflescope via a wired connection from the T2 thermal imager/rangefinder, which mounts atop the G1 scope via a Picatinny rail.
The Sector Optics G1T2 System enhances the potential successful outcomes for shooters by expanding the amount of data and sensory input they have access to at the push of a button. Of course, the competency of the shooter is, and always will remain the key factor, the capability of this system to deliver this array of data concerning the target, the surrounding environment, and the ability to quickly and accurately range the target up to 1,000 yards are phenomenal assets. This system combines these two pieces of gear and affords you three very valuable feature sets.
Now those of you who may be thinking that "less is more" when it comes to your optics and are skeptical about electronic tech being integrated into your tried and true analog glass – you'll be happy to know that the ID technology and the imaging does not interfere with any standard function of the riflescope. It is simply expanding your options. In my opinion, in this case, "more is truly more" and the G1 scope with augmented sensor technology vastly expands the user's capabilities without ever requiring the shooter to take one's eyes off the target. I see this as an increased capability and additional sensory input, if you will, that vastly aids the shooter in both target acquisition, identification, and impact confirmation.
It's really amazing to see through the scope with crystal clear quality, and have a small window providing a digital range finder readout and to be able to cycle through the images 4 thermal color options (color, NV Green, White Hot, and Black Hot) and to be able to acquire secondary verification/data regarding the target.
G1T2 System Specs
3-8x thermal imager optical zoom
On-board image processing enhancement modes
On-board image capture
USB port with power input
2X CR123 or 1X 18650 rechargeable battery
MSRP for G1T2 System: $4,079.99
MSRP for G1 Rifle Scope alone: $1,079.99
MSRP for T2 Thermal Imager + Rangefinder: $3,219.99
T20x Thermal Imager
On the other end of the Sector Optics spectrum in terms of form factor, while still presenting tremendous value and capability, we have the T20x mini thermal imager with real optical 3-5.5X zoom. The T20x is an intuitive, microthermal imager unit that allows you to quickly survey and scan a potential target in any lighting condition.
You can certainly utilize this unit as a handheld device for spotting, surveying, and general adventuring purposes. But it can also be used as a firearms-mounted sight, which greatly helps you identify the heat signature, outline and identity of a target in dark conditions and engage accordingly. The T20x thermal imager also incorporates an optical zoom, allowing you to punch in on your target from 3 to 5.5x zoom. This means a significant optical clarity and true-zoom ability, versus a simulated digital zoom.
T20x System Specs
On‑board image enhancement
Shutter (featuring automatic NUC)
Battery-saving auto shutdown motion sensor
Display views: white hot / black hot / NV green / color
30mm mounting ring compatibility
MSRP: $1,034.99
G1T3 System
Circling back to the G1 rifle scope, Sector Optics offers another system featuring this rifle scope, the G1T3 System, which is also embedded with their ID, Internal Display tech. This system basically combines the G1 riflescope platform to display the video feed from Sector Optics T3 thermal imager device. Simply put, the T3 is the thermal imaging component of the T2 unit, it just doesn't include the range-finder feature. It does however include a real-optical 2-4x zoom and it runs on a CR123 battery for up to 10 hours of operational use.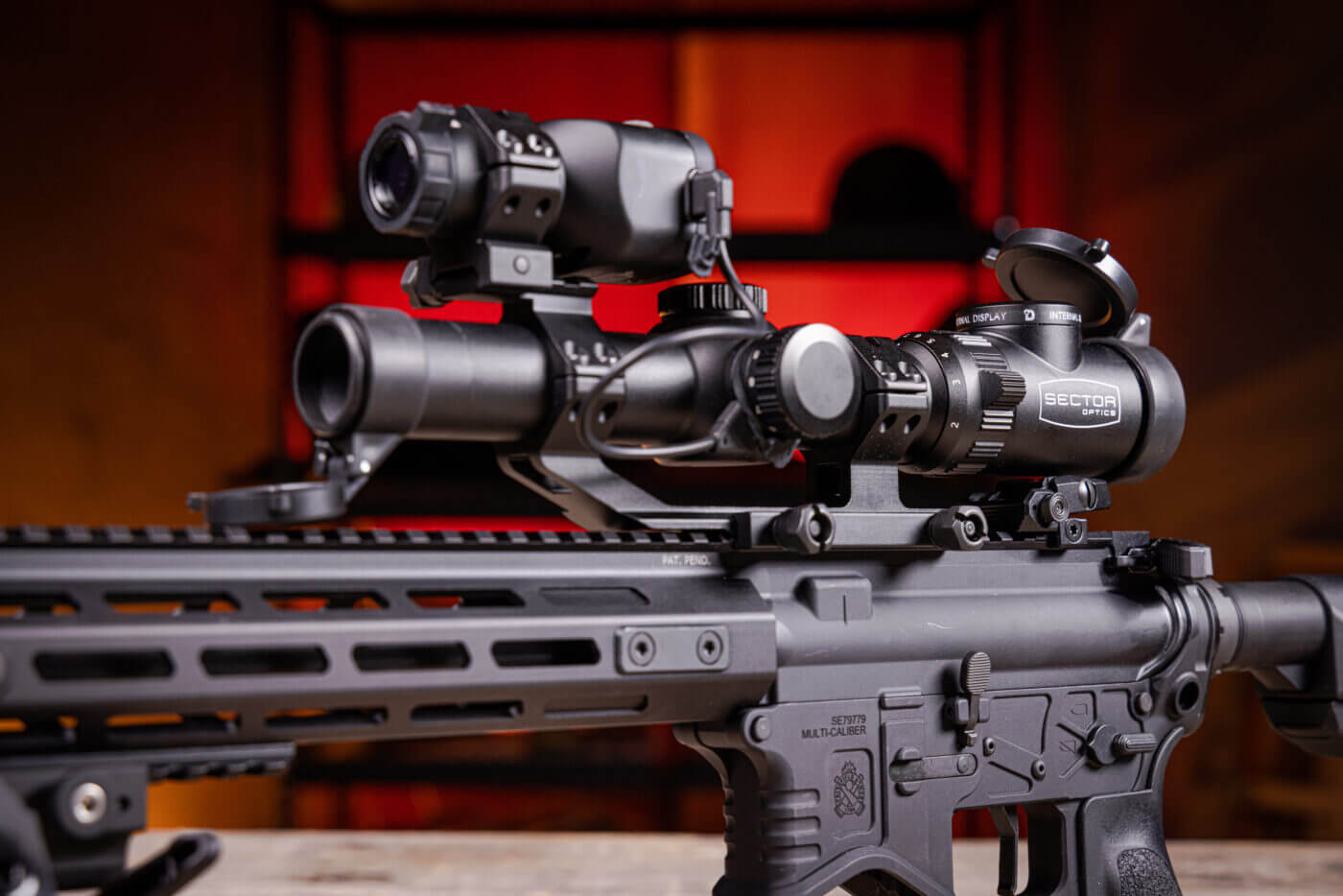 The G1T3 System produces thermal images within the Internal Display (ID) riflescope eyepiece through a wired connection. Like the G1T2 System, the 1-8×24 riflescope has a tube diameter of 30mm and includes a glass-etched, illuminated reticle.
G1T3 System Specs
Anti-reflective low light performance coatings
Second focal plane reticle
Glass-etched illuminated reticle featuring brightness control
Thermal imager optical 2-4X zoom
On-board image processing enhancement modes
On-board image capture
CR123 or rechargeable battery
MSRP: $2,649.99
MSRP for T3 Unit alone: $1,779.99
F1 Rangefinder
For those seeking an upgrade to their rangefinding gear, look no further than Sector Optics F1 Rangefinder. The Sector Optics F1 Rangefinder boasts being the first 1 km-plus range handheld (or mounted) rangefinder unit with multiple outputs to hit the market.
The F1 has a very sleek shape reminiscent of a small flashlight, which sits naturally and contours to the palm of your hand. The durable and low-profile user interface is intuitive and easy to use and manipulate and the rapid range-response time comes in at .25 seconds.
F1 Rangefinder Specs
Range over 1.5km
Simple user interface
Range and horizontal equivalent distance
MSRP: $3,219.99
Conclusion
Sector Optics is setting a high bar in the realm of hybrid thermal optics for the consumer sector. If you have the opportunity to run one of these units, I highly recommend it. The technology is impressive, the capability it affords hunters, recreational shooters and even those engaged in search and rescue operations is phenomenal.
Editor's Note: Please be sure to check out The Armory Life Forum, where you can comment about our daily articles, as well as just talk guns and gear. Click the "Go To Forum Thread" link below to jump in and discuss this article and much more!
Join the Discussion
Featured in this video
Continue Reading
Did you enjoy this video?
24