As responsible gun owners, one of the most important things we can do besides training is storing our firearms safely and securely. There are numerous options these days for storing your firearms, from small smart safes to vaults that can take up an entire room.
I've used many of these options and, while nothing is ever perfect, you can get pretty darn close these days to fit your specific needs. In this review, I take a look at the SecureIt Answer Lightweight Model 12 Pro.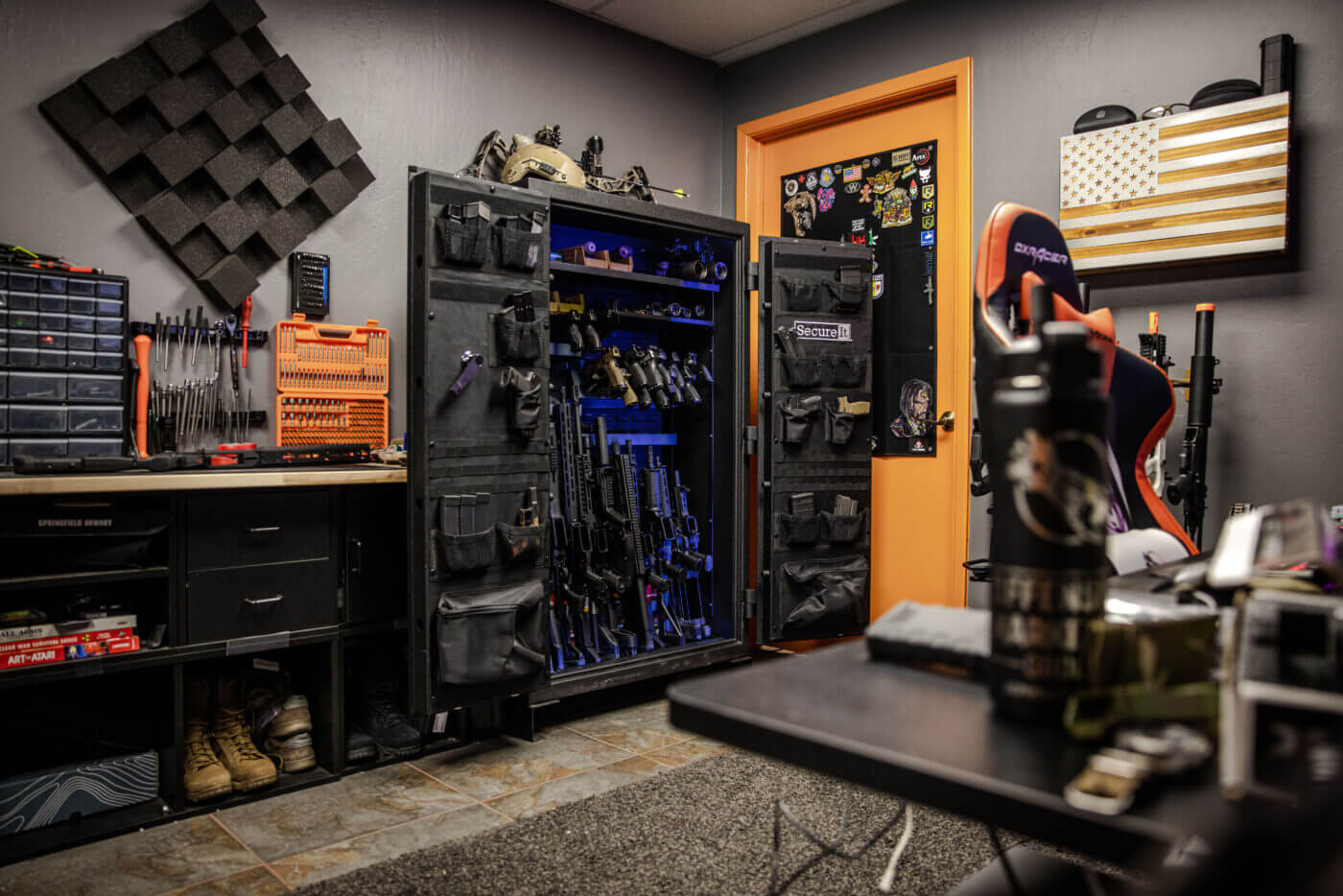 What I Want
I've got a few gripes with my traditional safes. Sure, they are incredibly secure, but they can weigh anywhere from 800 to 1,500 lbs. Paying a company to move these things will be hundreds of dollars, at a bare minimum. They are large and bulky, limiting what rooms they can be stored in, and within those rooms they are not discreet.
Another gripe is that when they are full, getting a gun out of the back of the safe is either a chore, or I end up bumping and scratching many other guns in the process of removing them.
Personally, these are the things I look for in a gun safe: multiple locations (decentralized storage), quick access, modularity, ease of storage, safe storage for the firearms, and a open layout for a quick view of everything inside.
A New Direction
A unique option I found recently is from a company called SecureIt Gun Storage, and they check all those boxes for me. The company started in the early 2000's, supplying the U.S. government with storage solutions for our military. After considering the traditional safes available in the U.S. market and where they could be improved upon, SecureIt decided to create products for the civilian market as well.
With my growing collection of firearms, it was time to get another safe for my office. It needed to hold at least 12 long guns, but also be slim enough to fit within the space. I ended up picking up the SecureIt Answer Lightweight Model 12 Pro.
The safe is a mere 59" x 36" x 18" and weighs just 399 lbs. That light sound like a lot, but that is well within the range of a safe that can be moved without too much hassle. Despite its compact size and relatively light weight, the safe fits 12 long guns, tons of accessories and multiple pistols. I was able to fit a total of 30 firearms easily within my safe.
Setting Apart
The design of the safe is truly innovative. I really love the CradleGrid technology in the safe, which allows you to attach accessories to the back of the safe and configure everything to your needs. One of my other favorite features of this safe is the dual swing-out door design. It allows me quick and easy access to the safe, and at a glance I can see everything in its place.
The safe's size also made it a breeze to store in my office, whereas a traditional safe would have been impossible to fit. SecureIt also offers Ultralight models that can ship flat and you assemble them at home. These weigh 100 lbs. or less. Beyond that they offer Fast Box models, perfect for under the bed or in the closet.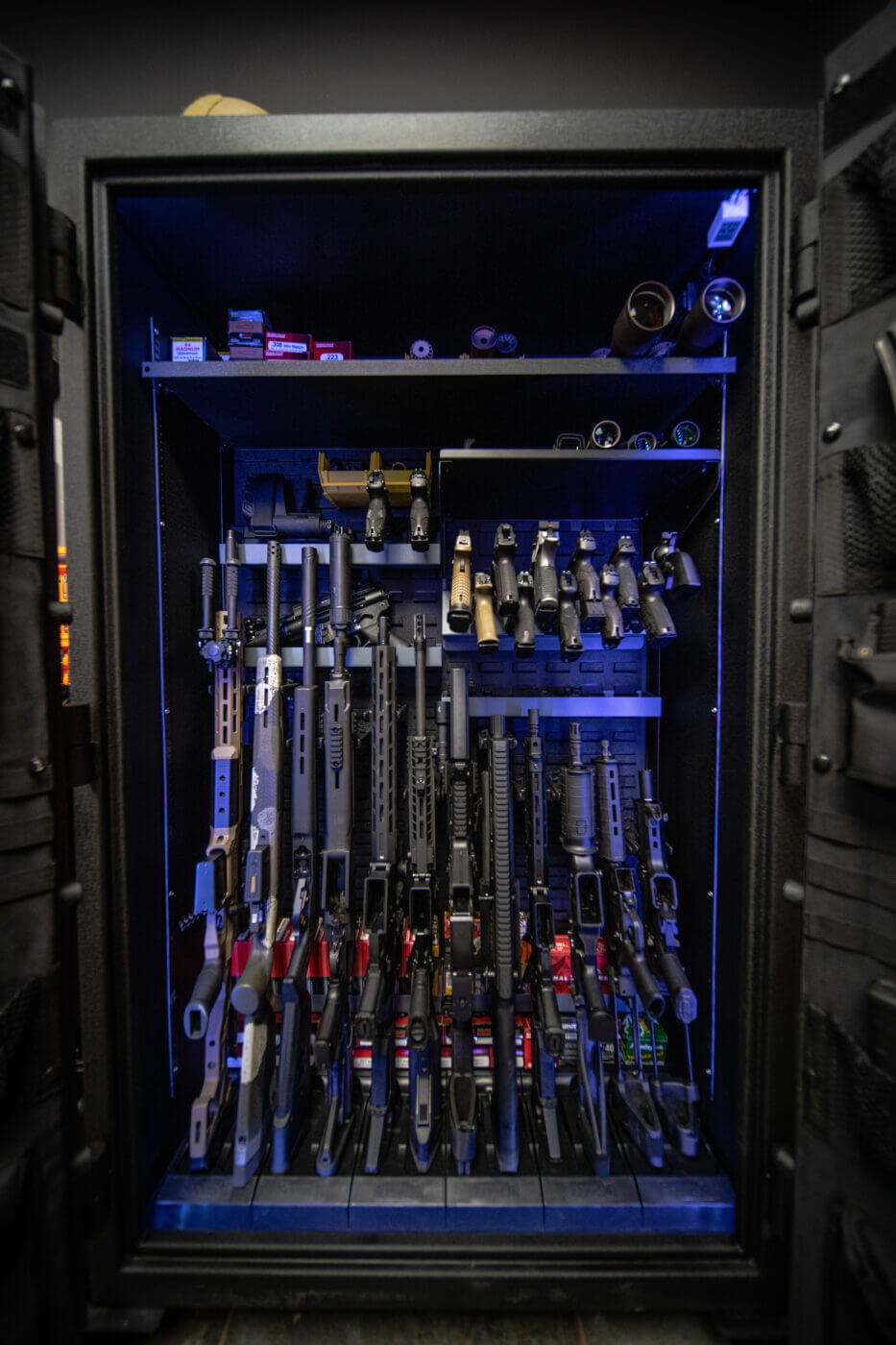 To me, this method of multiple storage locations is a fantastic option for safety or home defense. Personally, I prefer to have a small rifle safe next to the bed with a shotgun that could get me to other parts of my home. I also like to have a smaller, more discreet safe in my home office where I can store a pistol. This way on both levels of my home I have quick access to a firearm.
Last but not least, if you've got the space SecureIt offers great wall storage solutions, perfect for that man cave or gun room.
Conclusion
All in all, this is a very impressive product, as is all the other offerings I have seen from SecureIt. Well-made and thoughtfully designed by people who understand the needs of gun owners, these products definitely stand out. The SecureIt Answer Lightweight Model 12 Pro is one of the best secure storage solutions I've reviewed.
SecureIt Gun Storage was also kind enough to create a discount code for anyone who reads the article and is interested in a purchase. Use code JT2021 for a discount.
Editor's Note: Please be sure to check out The Armory Life Forum, where you can comment about our daily articles, as well as just talk guns and gear. Click the "Go To Forum Thread" link below to jump in!
Join the Discussion
Featured in this video
Continue Reading
Did you enjoy this video?
81