Almost like magic, the Silencer Central Banish 30 expels the thunderous boom from your rifle through industry-leading technology and material sciences.
I recently got my hands on the Banish 30 Gold, with the "Gold" designation indicating that it allows the use of their QD muzzle devices. The benefit of QD over direct thread is the ability to utilize this one suppressor on many other calibers and platforms. Simply purchase a 1/2×28 and a 5/8×24 muzzle device, and you can use this one suppressor on your bolt gun and your AR-15.
My testing was done on my custom-built Waypoint and my Saint Edge ATC. I chose these rifles as they are the most comfortable and accurate rifles that I own. On a good day, they can produce .3 and .5" groups, respectively.
The Why
When searching out suppressors, I consider weight, length, material and availability. The last may not seem very sexy, but there is nothing worse than suggesting or reviewing a product that no one can ever purchase. For weight, you can imagine the impact this could have on the end of a 20"-24" barrel. The more weight on the end of your barrel, the higher possibility of a point of impact shift when you attach that suppressor, as this affects barrel harmonics. The material used to create the suppressor will significantly affect the weight.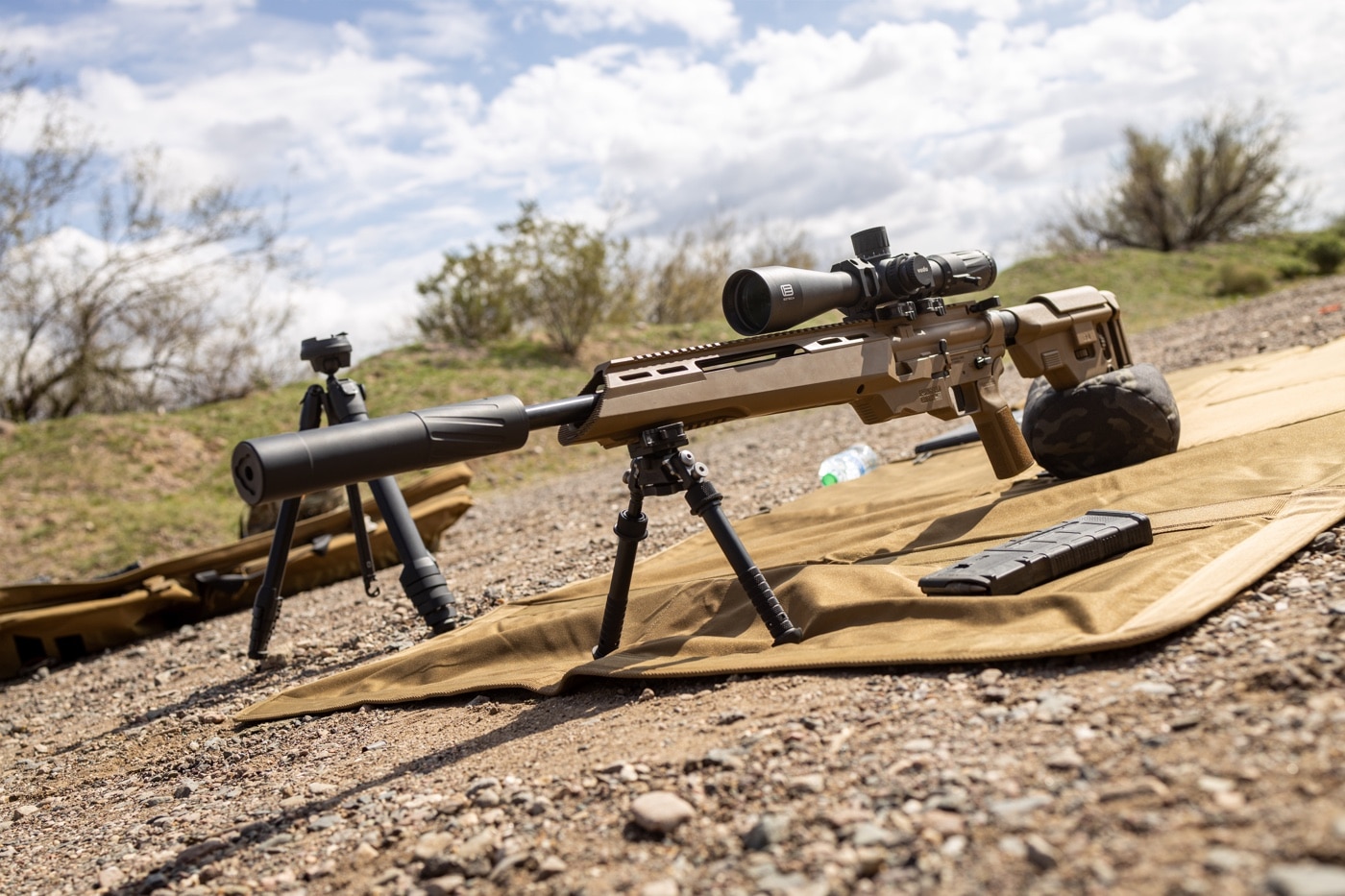 The Silencer Central Banish 30 is made from titanium, which is a lightweight yet strong alloy. Because of this, the Banish 30 Gold weighs just 13 ounces. For reference, it's not uncommon for .30-cal. suppressors to weigh anywhere from 15 to 21 ounces. You can imagine the benefit, especially when hunting, of having a lighter suppressor. The Banish 30 Gold has a length of 8.2", which is average for .30-cal. suppressors.
In Practice
Installing the muzzle devices on my Waypoint and Saint Edge ATC was a breeze, and swapping the suppressor from rifle to rifle was as simple as threading it off and on. When zeroing the rifles, the POI shift was minimal and repeatable. This is important as you can record the exact shift and easily dial your scope in for the adjustment when suppressed or unsuppressed. The reduction in sound, recoil and displacement of terrain was significantly reduced when using the Banish 30. I shoot suppressed so often that it felt wrong to shoot the Waypoint with a muzzle device only.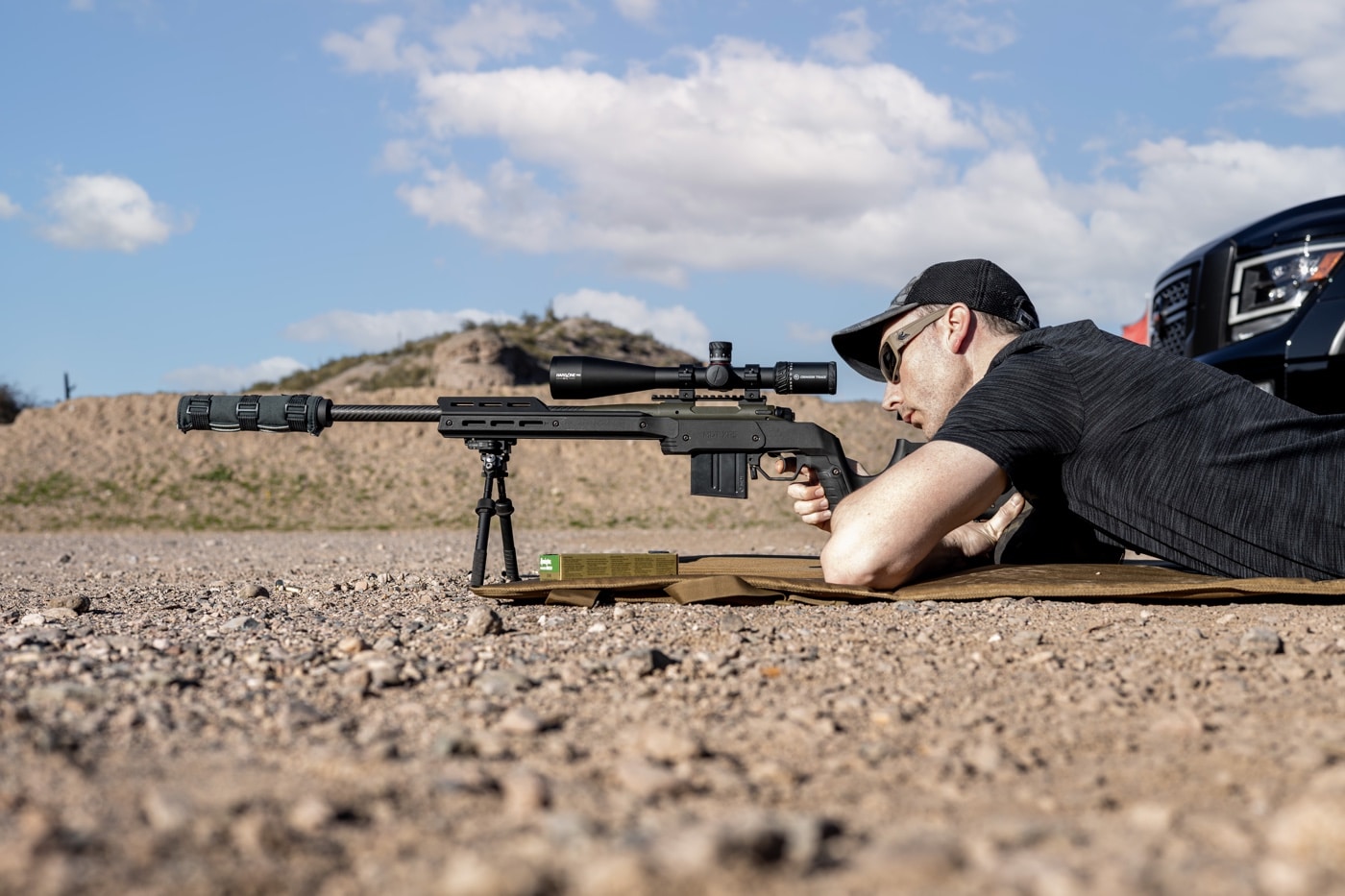 Another huge benefit of suppressing these rifles is the human element in accuracy. The Waypoint and ATC will always be far more accurate than I can be. A big part of precision accuracy is having little to no reaction from the mini explosions coming out of the barrel and forcing the rifle up and backward. It's easy to want to anticipate the coming pop, which will ultimately affect your shot placement. If you can eliminate some of that sound and recoil, you will be less likely to react to the function of the rifle.
In the Kit
When I ordered the Banish 30 Gold, I was quite surprised to see all the extras that the company ships with it. In the box were two muzzle breaks, 1/2×28 and 5/8×24, a Devour suppressor cover, a suppressor pouch and a baffle removal tool for cleaning. Considering most companies charge $100-$300 for muzzle devices, this is quite the deal.
Speaking of purchasing, Silencer Central has — by far — the easiest system for buying and transferring a suppressor into your name. You can do all your paperwork through their system, then once your tax stamp comes in they can ship directly to your door. (To learn more about that process, read the author's article on Silencer Central here.)
Overall, I've been really impressed with the Silencer Central Banish 30 in terms of accuracy, weight, reliability and I think one of my favorite aspects, user serviceability. If you've ever peered into a suppressor after hundreds of rounds, you will see how dirty they can get from carbon build-up. With the Banish 30, you can remove all the baffles and clean them individually, then seal everything back up and you are ready for the range.
Conclusion
If you are in the market for a suppressor, I think you will really enjoy the Banish 30 or Banish 30 Gold. Either one will be a rockstar for you, the Gold having an edge in being more easily transferred to your other rifles. I also saw that Silencer Central released a Banish Backcountry .30-cal. Suppressor, which looks perfect for hunting. Coming in at a mere 7.8 oz with a 5.5" length, this looks like the perfect companion for a backwoods hunter on long stalks.
Give Silencer Central a peek and see their entire lineup of Banish suppressors, from .22-cal. all the way up to .338 Lapua. They're sure to have something to fit your needs, and they also have some of the most knowledgeable staff committed to understanding all the nuances of ATF compliance and suppressor ownership.
Editor's Note: Please be sure to check out The Armory Life Forum, where you can comment about our daily articles, as well as just talk guns and gear. Click the "Go To Forum Thread" link below to jump in!
Join the Discussion
Featured in this video
Continue Reading
Did you enjoy this video?
43