Spartan Harsey TT Knife Review
March 4th, 2020
5 minute read
It goes without saying that a good knife is a handy tool to have at your side, whether you are out having a picnic or in the middle of nowhere building an emergency shelter. Man's oldest tool, the versatility of a knife should make it an essential part of anyone's daily kit.
However, while the basic concept of the knife is fairly simple — a blade, usually made of some kind of metal, sharpened to an edge and sporting a handle of sorts to hold onto — the many forms and roles a knife can fill are limitless. The old adage, "the right tool for the job" comes to mind, and is very applicable. Just as you would not use an axe to peel an apple and wouldn't try to cut down a tree with a paring knife, you sometimes need to pick the right tool.
Multi-Role Knife
Okay, but what does any of this have to do with the Spartan Blades Harsey TT fixed blade? Well, it's simple — I'm trying to explain all the rules that this knife is trying to break. While it's preferable to always have the right tool on hand, it's not always practical.
Just like how an auto mechanic has thousands of pounds of tools at their shop, they can't lug around all of them when going to an off-site job. While you may want to carry five or six blades on you at all times to cover any and every situation, it's not really practical. More often than not, having too much gear is not worth the potential need when weighed against the practical weight and space requirements to drag them around. This is where the TT comes into play.
Behind the Blade
Owned and operated by a pair of ex-U.S. Army Special Forces members, Spartan Blades has been creating top-notch cutting tools for the military community as well as us regular folks for over a decade and have quite a fervent following of users.
As the name suggests, the knife was designed by legendary knife maker Bill Harsey, who wanted to make a knife that fills both the "tactical edged tool" as well as a general field-use blade roles, and thus created the Tactical Trout (or as it's known, the TT).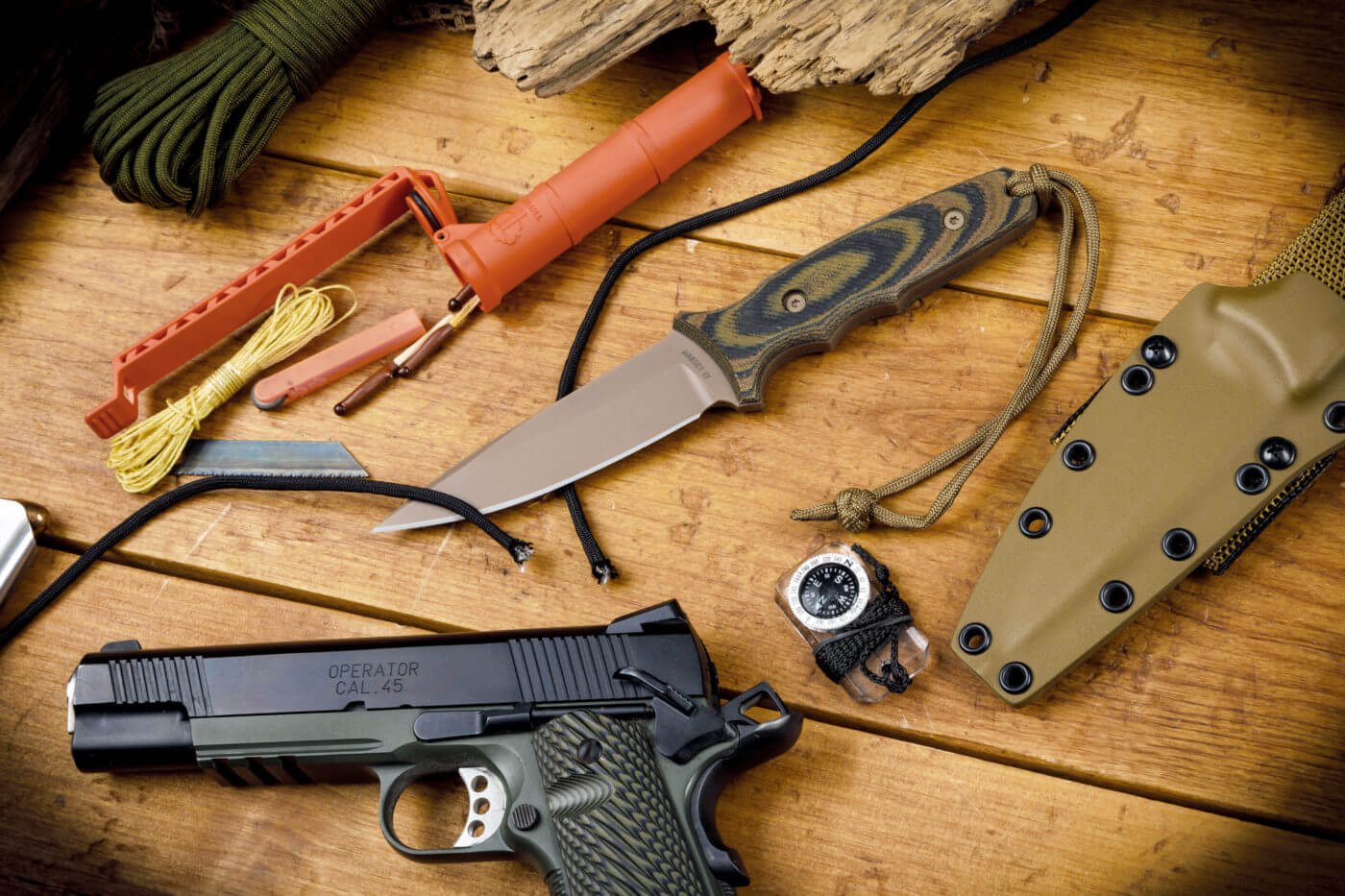 Cut to the Chase
The TT was designed to fill a ton of roles, for all manners of users. It is easy enough to carry on your belt, ruck or carrier, while staying large enough to tackle most daily chores both big and small.
The TT is a mid-sized, full grip fixed blade that hits a sweet spot. A fully formed grip made from Micarta offers a contoured and grippy hand hold for your bare or gloved hand, with a slight texture suited for use in wet or dry conditions. The grip is large enough to stay in place during heavy use, and small enough to fill a concealed role. The superbly balanced blade makes prolonged use comfortable, while being lightning-fast and precise in defensive situations.
The grip scales cover the full tang (for those not in the know, this means that the knife has a steel core that runs the entire length, from the tip all the way to the butt end) resulting in a strong blade that you don't need to worry about abusing. The TT features a Spearpoint blade profile, a jack-of-all-trades, well-rounded blade profile, giving both a high-performance cutting profile and a fine tip for detail work. The main bevel is "flat ground" for extra strength throughout the length of the blade. The knife is ground from stainless steel and has a tough PVD finish for extra corrosion resistance.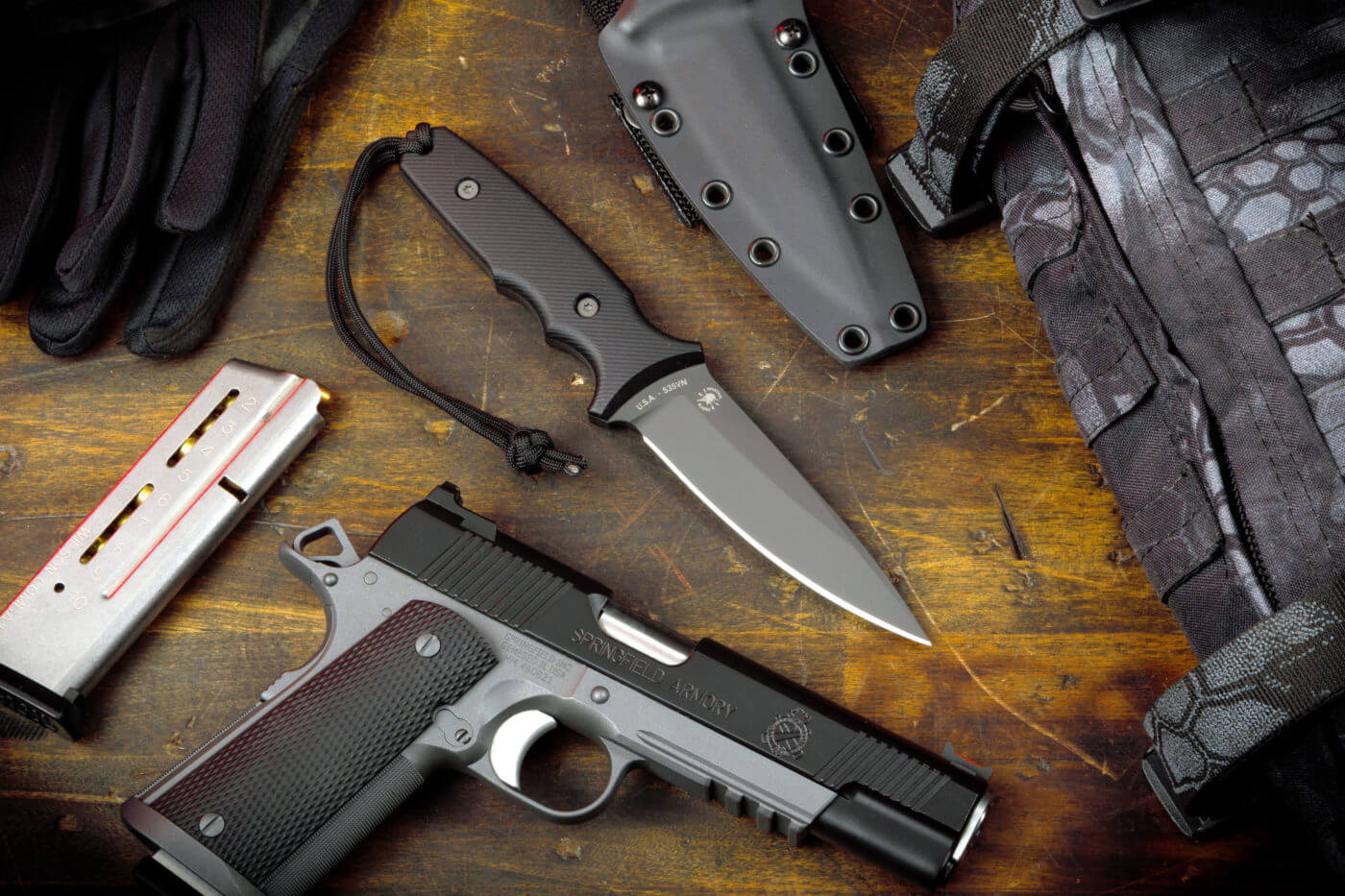 The grip scales are removable, making for very easy cleaning and maintenance. The TT comes with a hybrid kydex/nylon sheath (and is available with a standard nylon sheath). This kydex section gives you a sturdy, easy to clean place to stow the blade. Just like your favorite holster, the sheath has positive, tactile retention. This gives you a snappy, easy draw while keeping the blade in place when the going gets rough. The nylon portion allows easy mounting and carry, and is removable from the sheath altogether so as to be compatible with a wide array of mounting solutions.
Get Your Blade On
The Harsey TT is a tough, lightweight (just over 7 ounces) and ultimately capable blade that is meant to fill in for multiple tools in your loadout when every ounce and inch counts. Designed and built in the United States by Spartan's small and talented team with U.S.-sourced materials, the quality is apparent from the second you pick up the blade. Each one comes with a lifetime warranty, so no need to worry about your hand-built, expertly made cutting tool.
If you have been looking for a tool to take on your next camping trip, deployment, foray into the urban jungle, or just to stash in your bug-out bag, the Spartan Blades Harsey TT should be up for serious consideration.
Editor's Note: Please be sure to check out The Armory Life Forum, where you can comment about our daily articles, as well as just talk guns and gear. Click the "Go To Forum Thread" link below to jump in!
Join the Discussion
Featured in this article
Continue Reading
Did you enjoy this article?
49