Anyone who has shot one knows the Model 2020 Waypoint is a fantastic precision hunting rifle. Both its capabilities and its aesthetics are top-notch. The rifle is guaranteed to provide sub-.75 MOA accuracy for three shots with match grade, and we have easily achieved that with our rifle. But, in addition to that performance, the rifle also offers users an incredibly lightweight platform through the use of carbon fiber. In fact, the lightest model weighs in at just 6 lbs., 9 oz.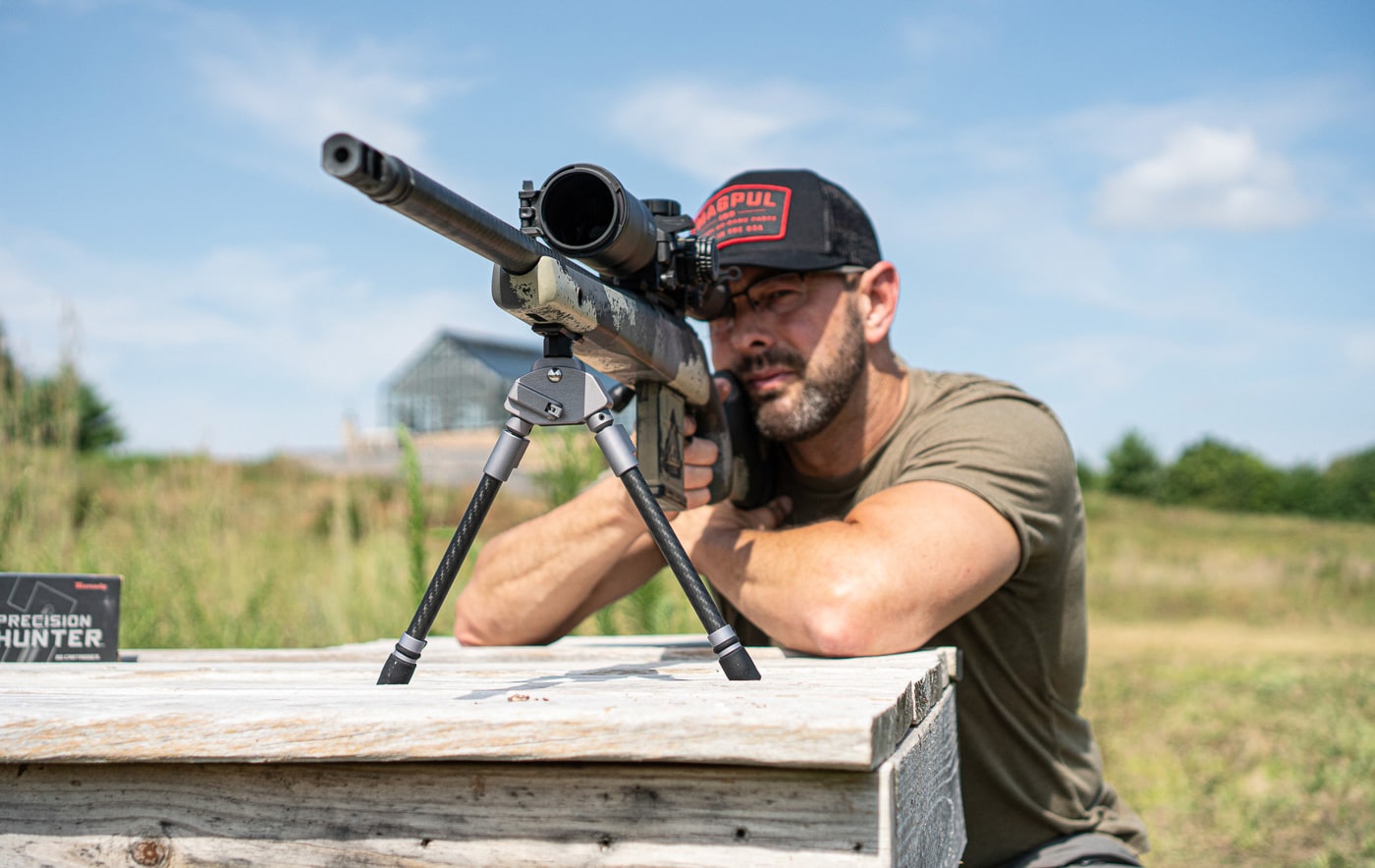 When dealing with a rifle as sleek and lightweight as the Waypoint, it can almost feel like a sin to start weighing it down with gear. As a result, we like to look for things that match its feathery weight to try to keep the whole package as light as possible — while not compromising on performance.
One of the biggest perks of the Waypoint, in our opinion, is the fact it is so good in its factory configuration. Just put a scope on it, and this thing can hunt all day long. But, it's hard to deny that adding a capable bipod can be a great addition to a rifle like this — assuming it does not have too much of a weight penalty.
Weighty Concerns
Well, we think we have found the perfect bipod to pair with the lightweight, minimalist hunting set-up the Waypoint provides. The Spartan Precision Equipment carbon fiber Javelin Pro Hunt Tac Long Bipod is the perfect pair for the Waypoint, available from the Springfield Armory Store and with the Springfield Armory logo.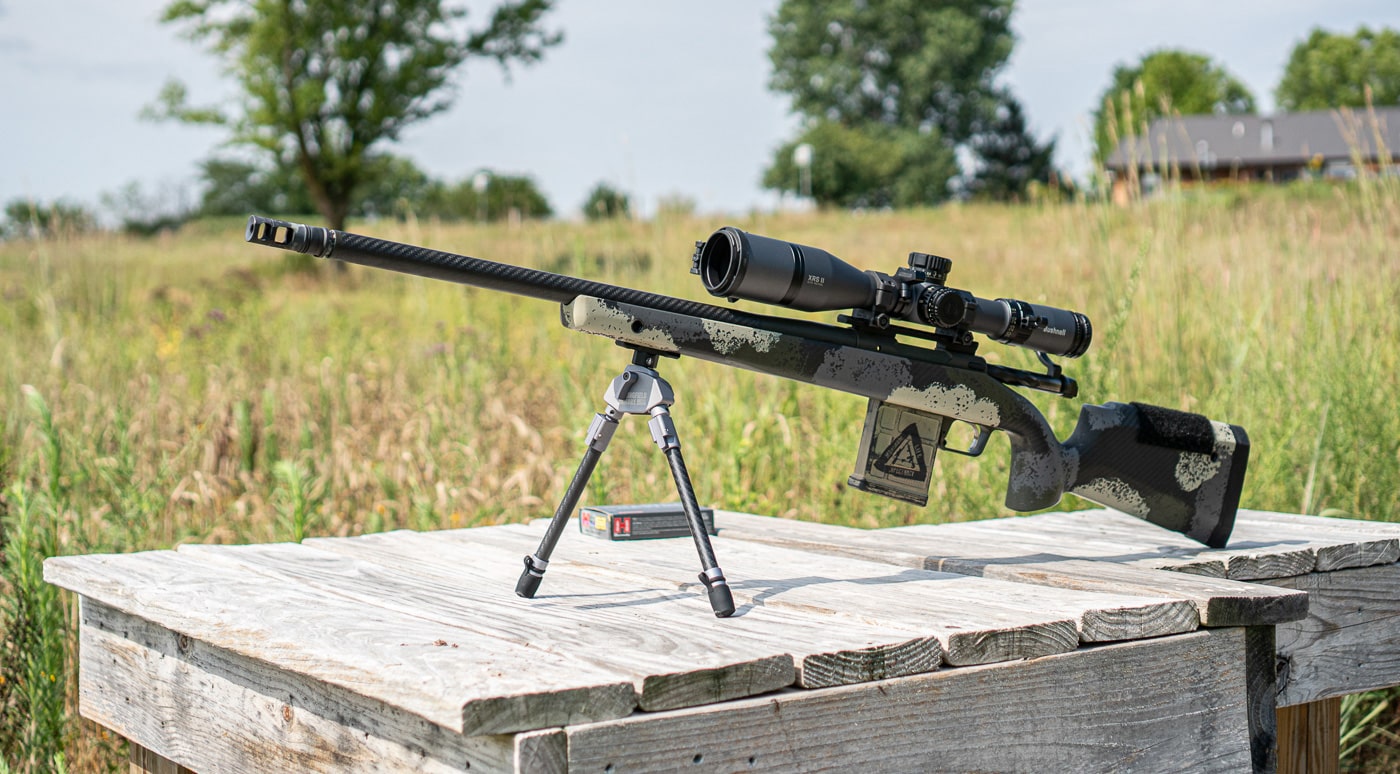 Spartan Precision is an industry leader in ultra-lightweight carbon fiber bipods. The first thing you will notice about this bipod is that its aesthetic pair quite nicely with the Waypoint. Weighing a mere 8.3 oz., the bipod body is hard anodized 7075 aluminum, and the legs are multi-layered carbon fiber legs that have adjustable ground clearance from 8.9"-12.2". The sleek look and carbon fiber legs match the look of the Waypoint nicely.
How the Bipod Attaches to the Waypoint
The bipod isn't just handsome, though. It has several features that really stand out for hunters. The bipod attaches in a rather unique way, with Spartan Precision's patented magnetic attachment system. The magnetic system consists of an M-Lok mountable swivel into which the bipod snaps.
This swivel mounts to any standard M-Lok slot; there are separate parts sold separately to adapt this bipod to standard sling swivels or Picatinny rails. The swivel itself has a very minimal footprint with a look similar to a QD sling socket.
Due to this handy quick-detach/mount system, this bipod is designed to be stored or carried by the shooter and is quickly deployed when it is needed. When the bipod is needed, all the shooter must do is take the bipod and stick the attachment end into the M-Lok swivel socket. Immediately, the shooter will notice a quick magnetic click securing the bipod into place.
Bipod Legs
The body of the bipod is also unique in the fact that the legs do not fold together where each leg moves equally to meet in the middle. Nor does the bipod fold up to be parallel with the barrel. One leg of the tripod slides over toward the other leg to create a slim package. Then instead of folding the tripod up toward the barrel, you simply just pop it off the included socket and store it.
The legs of the bipod have spring-loaded tension on them with several ratcheting steps all the way out to their maximum clearance of 12.2". The legs, as mentioned above, are made of multiple layers of carbon fiber, which is known for its amazing strength and low weight.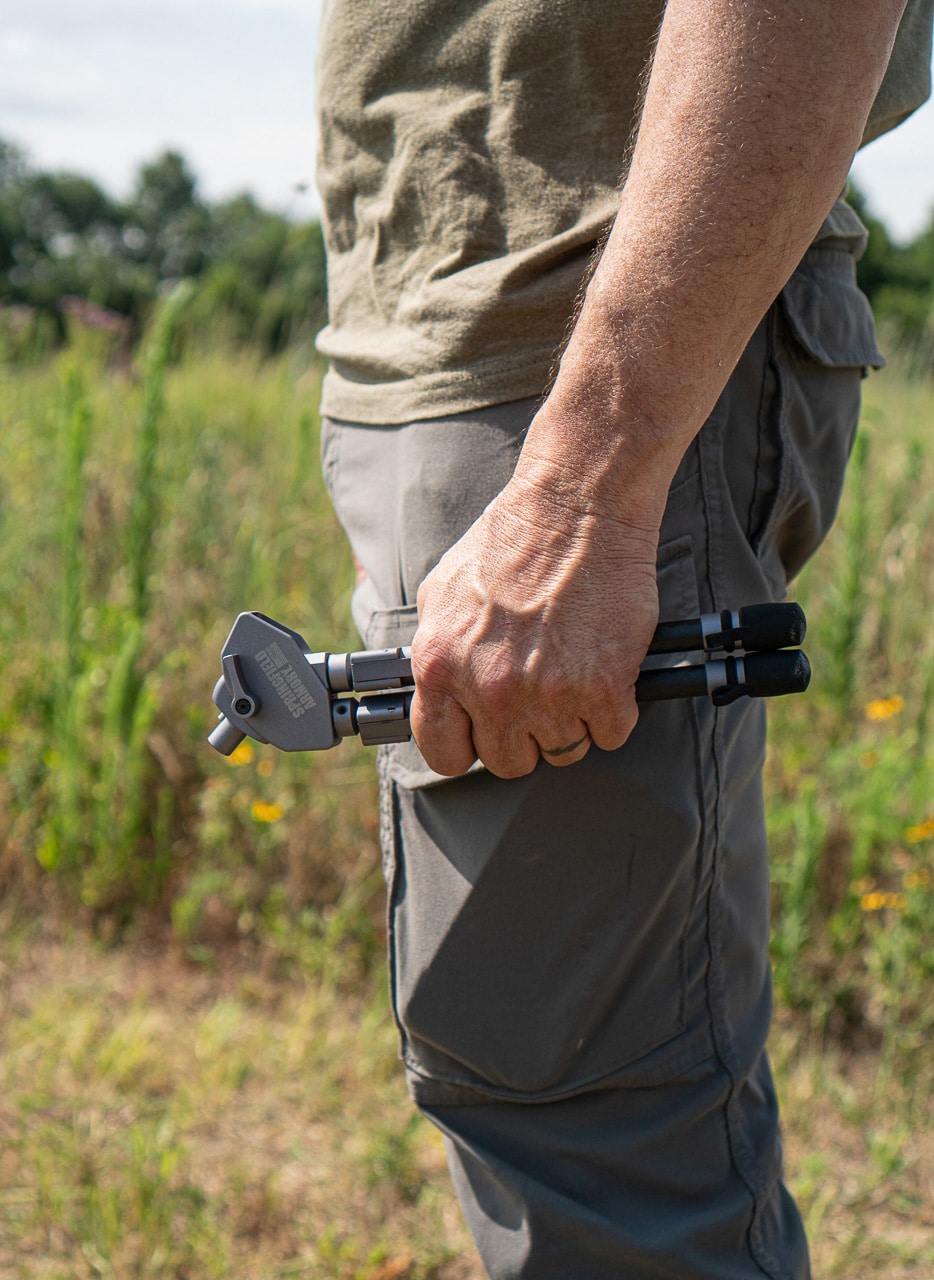 The feet of the bipod come covered with rubber caps that are great for surfaces you would not want to damage, such as resting the bipod over a car hood. But, if you are shooting in the prone with your bipod resting in the dirt, you can uncap your bipod feet to reveal spikes. These are, of course, great for digging in and building a secure shooting position. When the legs expand out to their bipod support position, they will actually lock in place, ensuring there is no movement.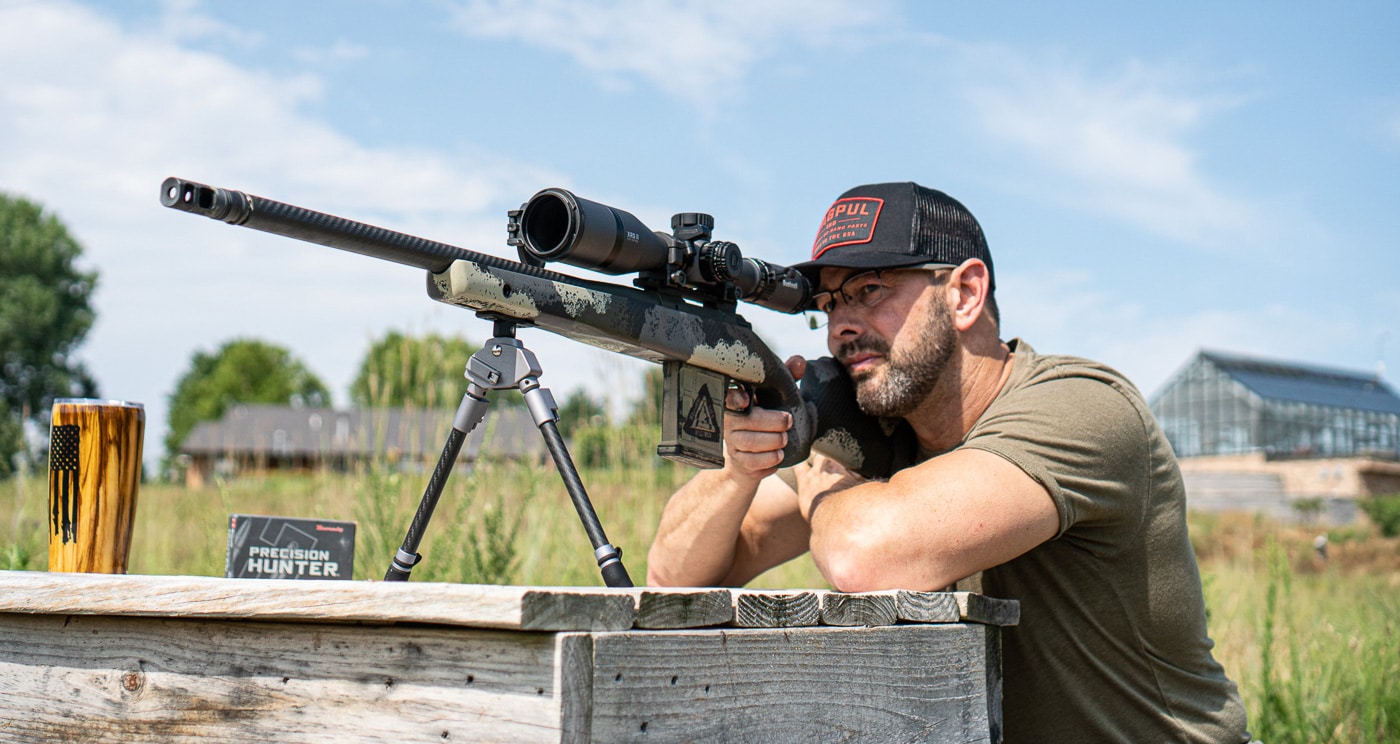 On the body of the bipod is a lever for adjustable cant and pan. This bipod's pan feature, in particular, is fantastic for hunters. The bipod is able to pan a great distance. This is beneficial for following game animals through your scope while they are moving. Many hunters will know the challenge of following an animal as it lopes across a field.
Conclusion
In our experience, Spartan Precision Equipment Javelin Pro-Hunt is a piece of equipment designed for a specific audience, and it fits it well. This bipod is designed for hunters who want to remain light on their feet, but maintain top-level performance. They want to carry minimal gear and reduce snagging risks as they navigate through forests, and climb up mountains or into stands.
Most hunters, whether they carry bipods with lower clearance like this one or large clearance shooting sticks, are almost always taking some sort of device to give them a stable shooting position in their pack. This bipod is genuinely a fantastic piece of gear to keep in a hunting pack. Its form factor is short and thin, and it weighs next to nothing.
The truth is you may make it to your stand for the day, and you might not need it. But in the event you do, you'll be happy to have it!
Editor's Note: Please be sure to check out The Armory Life Forum, where you can comment about our daily articles, as well as just talk guns and gear. Click the "Go To Forum Thread" link below to jump in and discuss this article and much more!
Join the Discussion
Featured in this video
Continue Reading
Did you enjoy this video?
35