Sportsman's Warehouse Exclusive Viridian Hellcat Pro Threaded
November 20th, 2023
6 minute read
The shooting world changed back in 2019 with the introduction of the Springfield Armory Hellcat. Prior to that time, you had to choose. You could opt for a service pistol that was as large as a running shoe and carried 15 or so rounds in the magazine. That thing carried underneath light clothing about as comfortably as, well, a running shoe. On the other end of the spectrum was a little packable mouse gun that typically spat tiny little bullets and only carried half a dozen or so onboard. With the advent of the Springfield Armory Hellcat, however, gun nerds were forever freed from that sticky quandary.
That early Hellcat would conceivably ride in the front pocket of your 5.11's, yet still packed 11, 13 or even 15 rounds of 9mm in the box. In addition, unlike previous generations of pocket pistols, the Hellcat was actually fun to shoot. While recreation on the range is indeed a small part of the overall equation, running a gun that doesn't beat you to death becomes a positive incentive to practice. That is actually a big deal.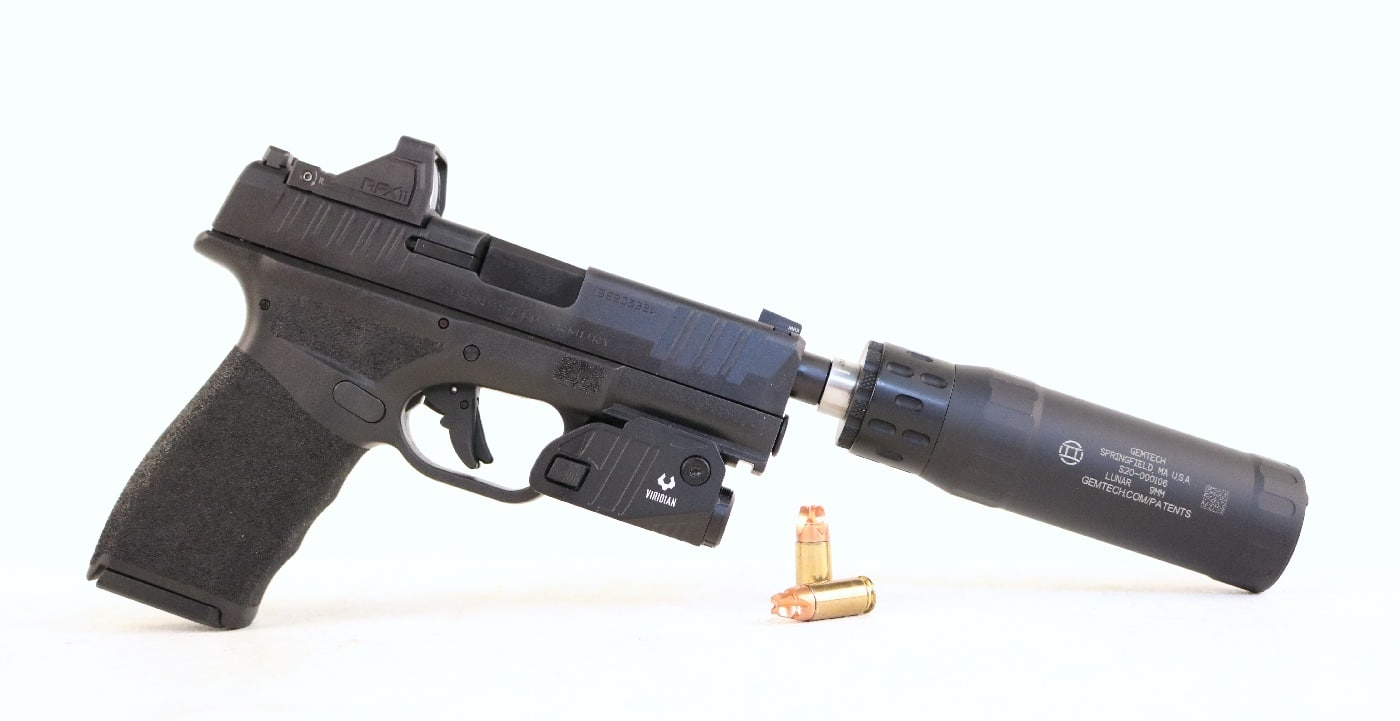 Since that time the Hellcat has evolved considerably, with new additions to the family introduced. The latest Hellcat Pro features an extended slide and barrel to help mitigate muzzle flip and provides a generous sight radius. It also sports a more hand-filling grip for even better control. Lots of folks actually use these nifty little concealed carry pistols for bedside home defense nowadays. As I said, you no longer have to choose.
As variety is indeed the spice of life, the gang in the Springfield Armory skunkworks have recently introduced a special-edition Hellcat Pro that offers some pretty sweet ballistic synergy. By combining all that is righteous and wholesome about the Hellcat Pro with a factory-installed red dot optic and light from Viridian along with a factory threaded barrel, Springfield Armory now offers a DIY tactical carry kit all in one box. Just add ammo and you're ready to go. This particular rig is a unique, exclusive offering through Sportsman's Warehouse.
A Match Made in Heaven…
I live in a small town in north central Mississippi. We lack many of the amenities and creature comforts that one might find in a more congested space. That is honestly one of the biggest reasons I choose to live here. In the days of ubiquitous Amazon Prime overnight shipping, that's really not a terribly big deal. Back in years past, however, I would load up the family a couple of times a year and trek up to Memphis for a proper shopping trip.
Back when the kids were small, the annual Christmas shopping adventure to Memphis and its environs was a reliable crowd-pleaser. We stocked up on presents for friends and family and then punctuated the day with dinner and a movie. We would then put Memphis to our stern, tired and satisfied. One particular shopping center was always a personal favorite.
Whoever designed this place was an absolute genius. Sportsman's Warehouse and Books-a-Million were next-door neighbors. Now, don't get me wrong. I like to read just as much as the next unwashed Mississippi redneck. However, my boys and I invariably made a beeline for the guns, ammo, knives, flashlights, and sundry hunting and survival gear that adorned Sportsman's Warehouse while my wife and daughter hit the bookstore for some high-brow reading material. At Sportsman's Warehouse, the prices were great and the selection sublime. I never left without at least a couple boxes of ammo. Sometimes I landed much more than that.
The Package
If you hang out at The Armory Life, you are no doubt already familiar with the Hellcat Pro. This compact defensive hotrod will indeed tuck into some of the most covert spaces, yet handles and shoots like a much larger gun. I love mine and carry it every day.
This particular Hellcat Pro comes with one 15 and two 17-round magazines as well as a magazine loader to help you get those last few rounds stuffed into place. If you cannot manage your problems with that many 9mm hollowpoints, then I think you should get some new problems. In addition to this model, there are also reduced capacity models for restrictive locales. For example, there is a 15-round-only variant, and a 10-round-only version. Both of those come with three magazines as well.
In addition to the inimitable reliability, ergonomics and shootability of the Hellcat Pro, this one comes with something extra special. This Hellcat arrives standard with a Viridian RFX11 optical sight as well as an adorable thumb-sized rechargeable CTL weaponlight.
The RFX11 fits any Shield RMSc footprint and offers automatic brightness control, an ambient light sensor that turns the unit on automatically, and a 30,000-hour runtime on a standard CR2032 button cell. The 0.44-oz. optic is just about indestructible and features a 3-MOA green reticle. The human eye responds better to green than it does red, particularly in low-light conditions. For this reason, the cockpits of the Army combat helicopters I used to fly were all illuminated with green light.
The CTL weaponlight projects 525 lumens and can be set to run in high, medium, low, or on a disorienting strobe mode. The CTL weighs a paltry 1.73 ounces and includes easily accessed bilateral activation buttons. The 6061 aluminum chassis is as tough as the Hellcat Pro that hosts it. The coolest bit, however, is that the CTL doesn't take batteries, at least not in the conventional sense.
The Viridian CTL includes a magnetic recharge port that lets you top off the internal rechargeable battery on your own schedule. The CTL takes about an hour to charge fully, and it runs for about an hour once in action. The CTL is so small and so light as to add very little to your carry burden.
As this Hellcat Pro came with a threaded barrel, I naturally mounted up my Gemtech Lunar 9 sound suppressor. The Lunar 9 splits in half, so it can be optimized for either long performance or short compactness. It also comes with a Nielsen Device for reliable operation on Browning-style tilting-lock pistols like the Hellcat.
Synergy
Day or night in any weather or conditions, this tricked-out Hellcat Pro from Sportsman's Warehouse will keep you and yours safe come what may. Compact enough to ride comfortably underneath shorts and a t-shirt, the gun can also be set up with 17+1 onboard and used for home defense. Relatively quiet, all-weather, comfortable, and fun, this special Hellcat Pro Threaded is also as reliable as the tides.
Editor's Note: Please be sure to check out The Armory Life Forum, where you can comment about our daily articles, as well as just talk guns and gear. Click the "Go To Forum Thread" link below to jump in and discuss this article and much more!
Join the Discussion
Featured in this article
Continue Reading
Did you enjoy this article?
158