At its launch in late 2019, the Springfield Armory Hellcat micro 9mm quickly established itself as a serious player in the CCW/EDC world. This was borne from its appealing combination of compact size and ample round capacity. Specifically, the Hellcat featured a patented magazine design and touted the "best in class" capacity of 11+1 with the flush-fit magazine and 13+1 with the included extended magazine.
Editor's Note: This first look is a great introduction to the new Hellcat Pro. For an in-depth look, with ammunition and reliability testing, be sure to read Massad Ayoob's Hellcat Pro review.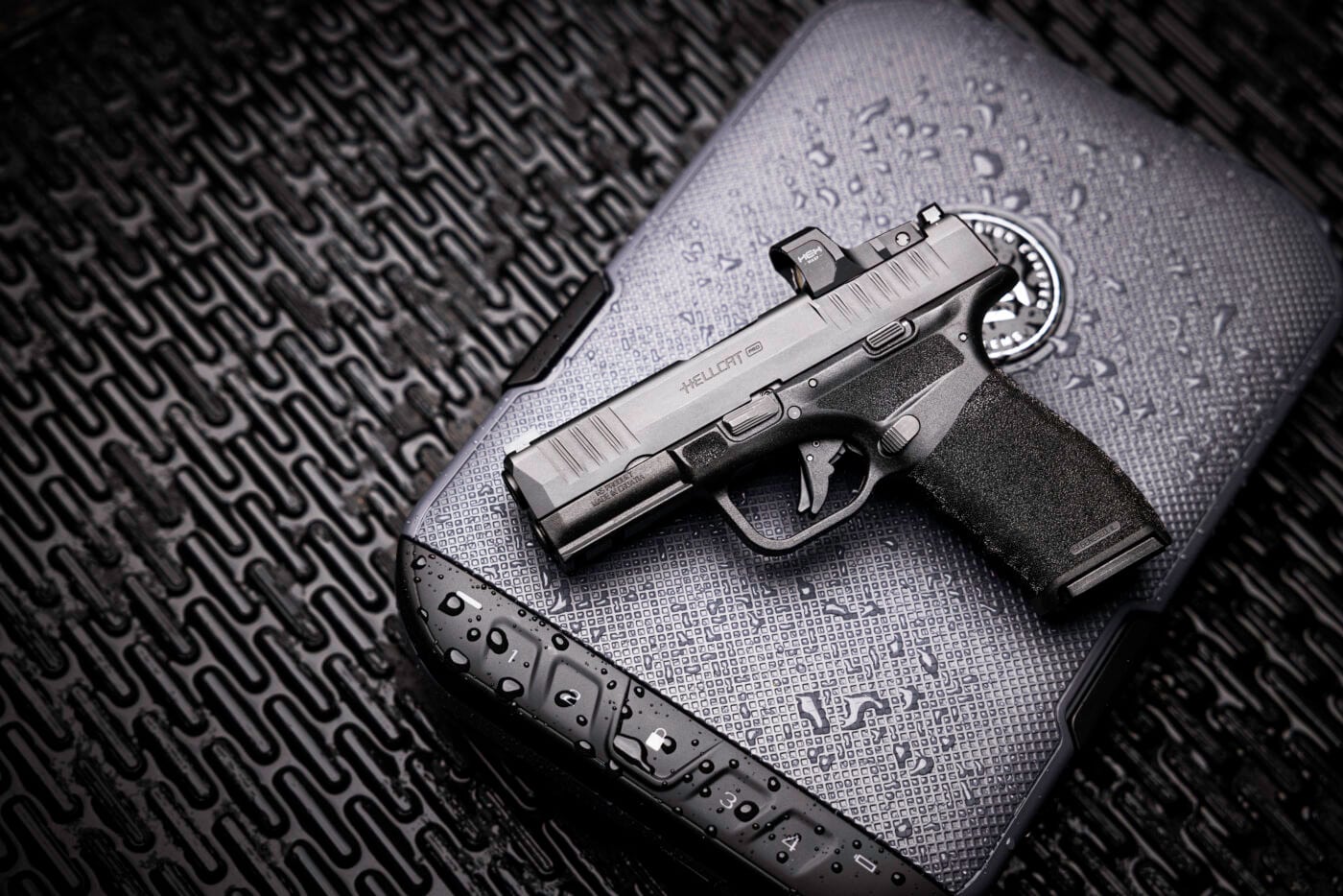 In addition to this impressive capacity, the Hellcat also featured another innovation — its optional OSP (Optical Sight Pistol) capability, with a slide milled to accept the direct mounting of micro red dot optics in the "Springfield Micro" footprint. With this system, you can direct mount — with no plate — an optic like the HEX Wasp, and co-witness with the pistol's excellent U-Dot iron sights.
I personally remember my initial impression of the Hellcat as it was a game-changer — not solely for its capacity, but for other refined and thoughtfully integrated ergonomic features that made handling such a small form factor pistol an easily manageable and enjoyable experience. An example of this is the pistol's Adaptive Grip Texture, applied to the frame and extended magazine baseplate.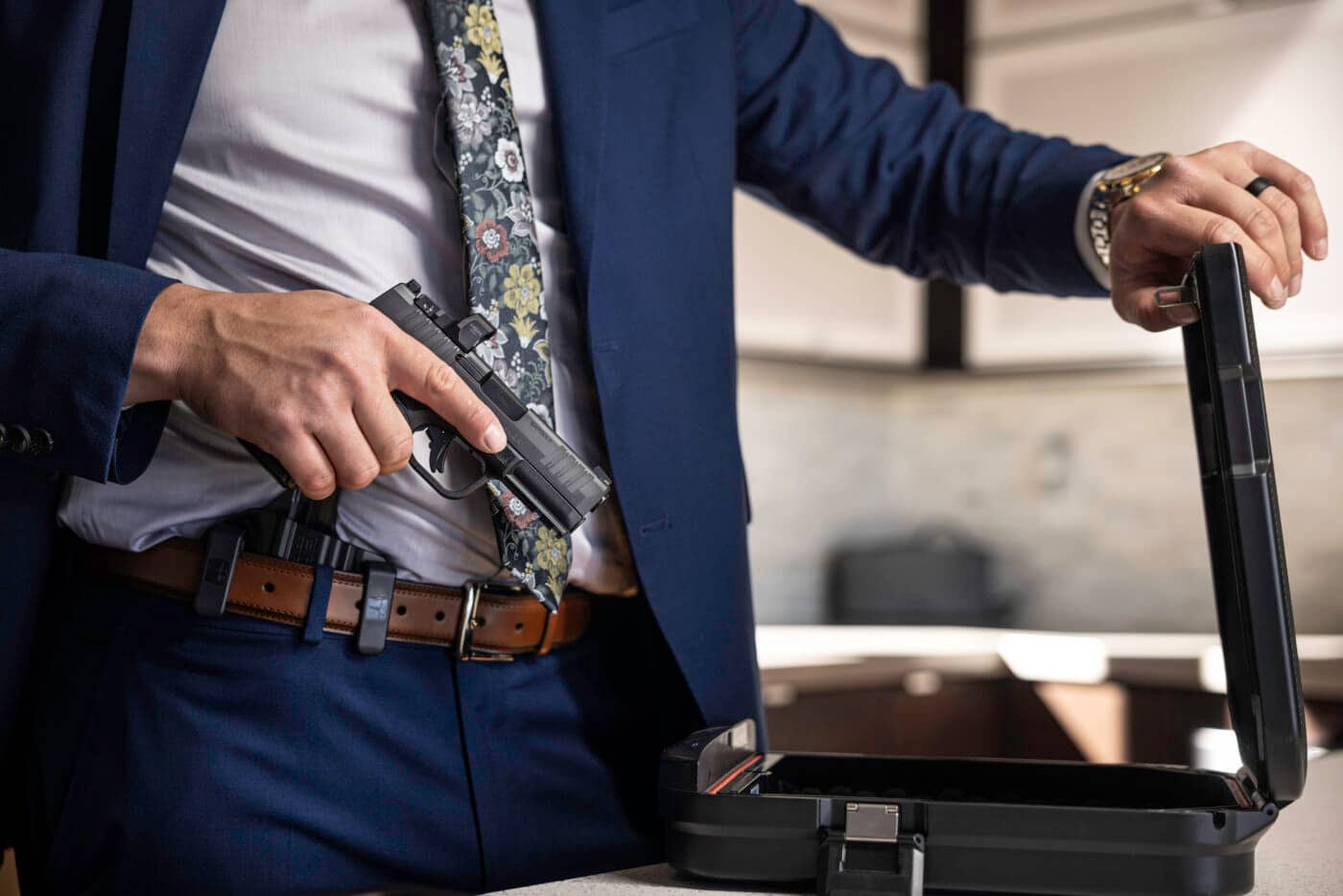 Featuring a custom pressure-activated grip texture, it employs a pattern of staggered pyramid shapes. This texturing has tall pyramids with a flattened top and shorter ones that come to a point. These combine to give you a secure hold with a firm grip, but one that will not abrade against the skin or clothing.
When More Is More
Granted, in direct comparison to other duty-carry/full-sized pistols in my collection, micro-compact pistols such as the Hellcat tend to present a significantly different shooting experience. While the Hellcat is certainly controllable and quite manageable for a pistol its size, it is a micro 9mm. Physics still apply.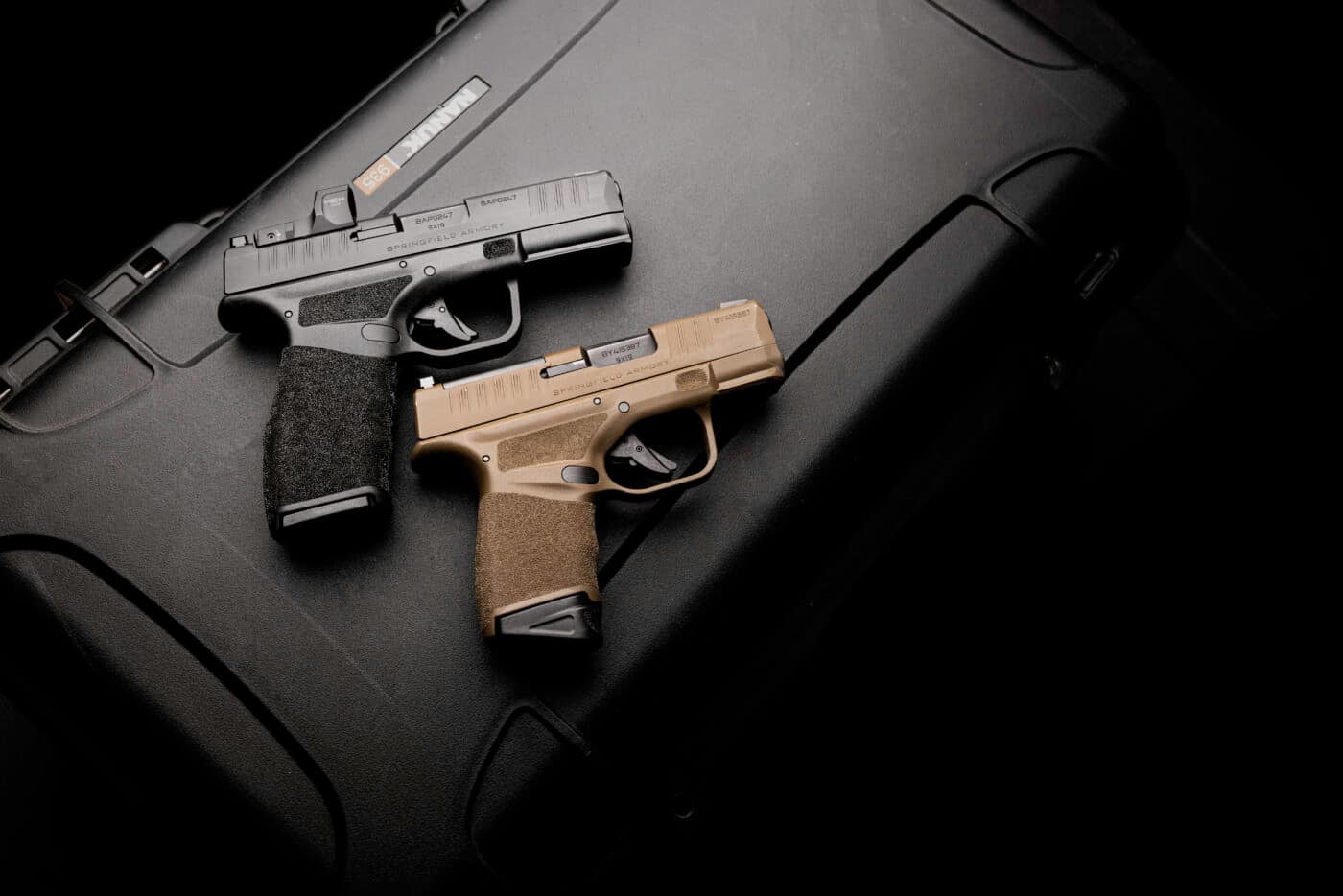 The learning curve and adaptation to the micro compact platform overall, specifically when it comes to target re-acquisition and adjusting to the feel of the smaller frame, can be accommodated through good training, but it also can't be ignored as a factor. For those that absolutely need the smallest 9mm they can carry with good capacity, the Hellcat is the ideal answer. But how about those that might want something a bit more substantial?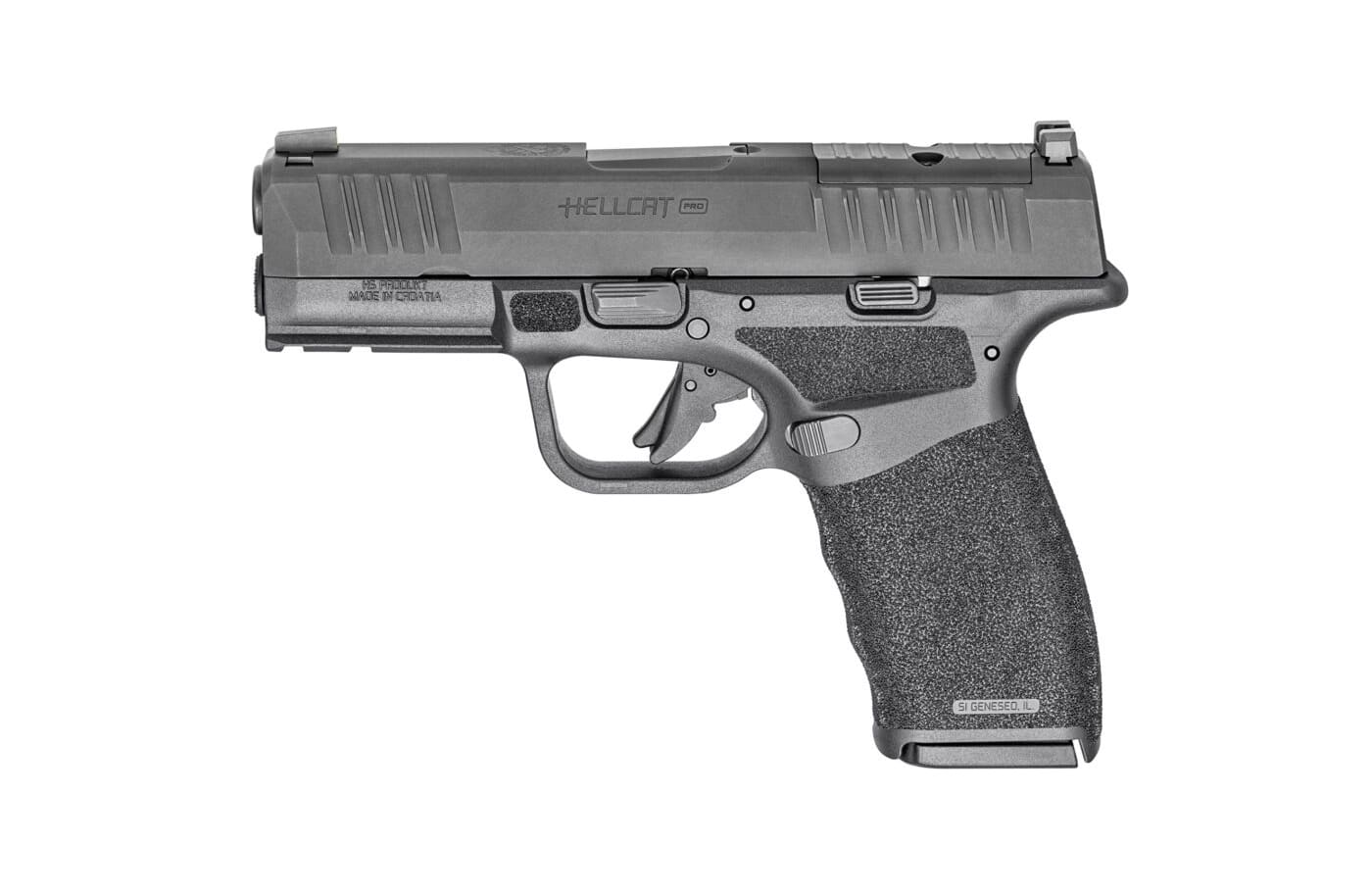 One thing I have always appreciated about Springfield Armory is the fact the company seems to truly listen to their customers. Whether it be the release of the compensated Hellcat RDP, offering the Hellcat with a manual safety, etc., the company is constantly striving to offer new and interesting options for fans of the design.
Onward and Upward
Fast-forward to today, and the team at Springfield has pushed forward the evolution of the Hellcat line yet again with the new Hellcat Pro. A slightly upsized version of the Hellcat OSP, the new 15+1-capacity Hellcat Pro offers shooters a version of the pistol that combines the performance of a much larger pistol, but in a still extremely concealable form.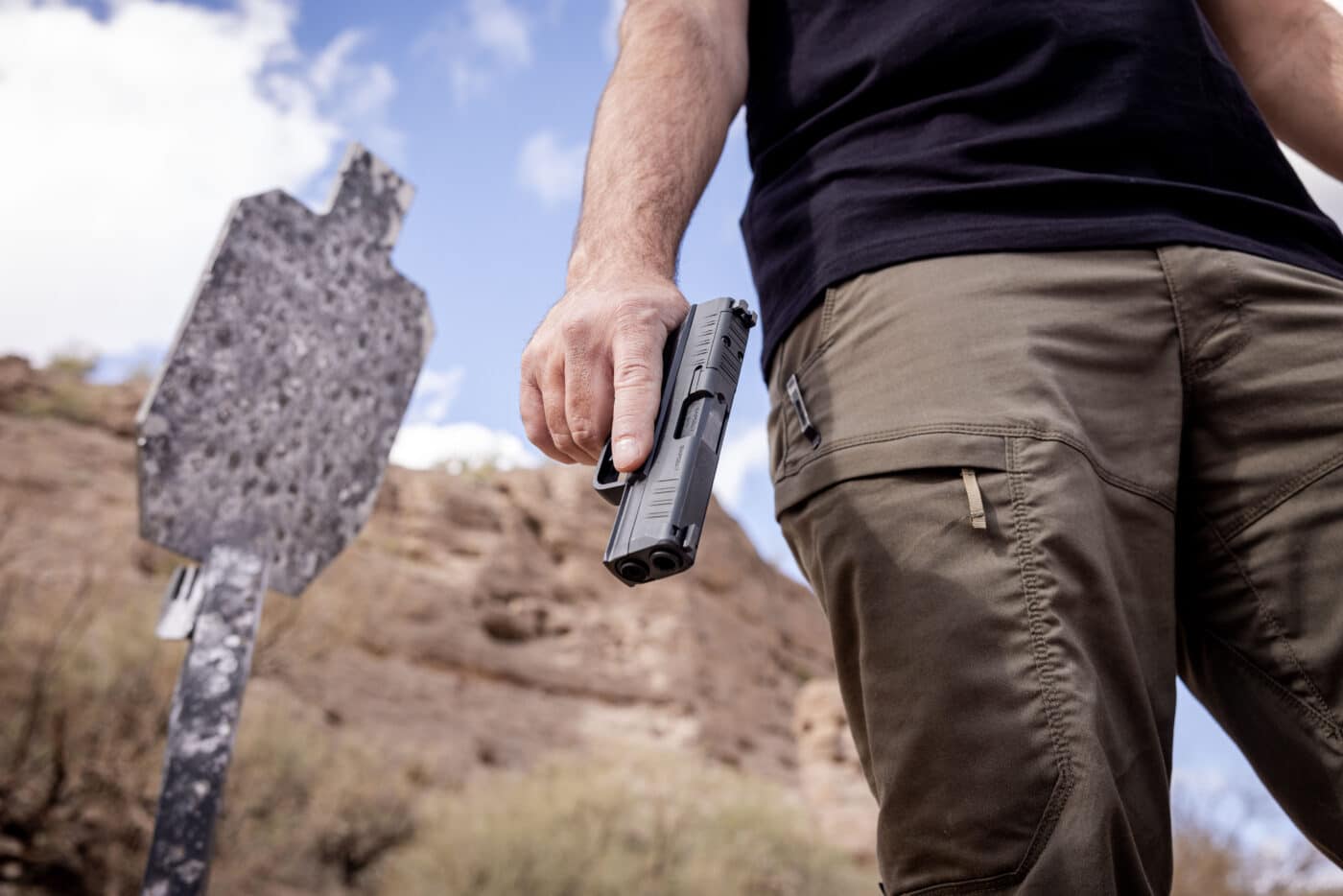 The pistol comes out of the box measuring in at 6.6" in length, 4.8" in height and a slim 1" width. Weight is a mere 21 oz., and the barrel measures 3.7". While this is still what I would classify as a "compact" pistol, it is one that has performance capabilities more in line with a much larger pistol with its OSP optics-ready capability and 15-round, flush-fitting magazine.
The 9mm Hellcat Pro retains all of the features I have grown to know and love with the standard micro version but has now been scaled up in form factor. Diving into the nuts and bolts of the new offering, the pistol will be right at home in the hands of a Hellcat fan. The billet-machined OSP slide is cut for an optic and features a black Melonite finish — matched on the hammer-forged barrel. Topping off the slide is the Hellcat's excellent U-Dot sights, made up of a "Tactical Rack" rear sight with U-notch and tritium/luminescent front sight.
The polymer frame of the pistol features a lengthened grip, which houses the flush-fitting 15-round magazine — of which two are included with the pistol. In addition to the lengthened frame, the Hellcat Pro also has a longer dustcover area, which gives you a longer strip of Picatinny rail for fitting a wider range of lights and lasers on the pistol.
Range Time with the Hellcat Pro
I was immediately impressed by the Hellcat Pro as soon as I took it out of the box. I could tell this would be a pistol that would carry easily, and I suspected it would also be a true pleasure to shoot. So, obviously, it was time to hit the range and put it through the paces.
Running the Hellcat Pro at the range was a comfortable, familiar experience, but with a fresh new take. Everything ergonomically and control-set-wise remained identical to my Hellcat micro-compact pistol. If you love your Hellcat, chances are, you're going to enjoy the new Pro model.
If the phrase "the same, but different" ever applied, it was to this scenario and experience when comparing my familiarity and comfort with the original Hellcat to the new Hellcat Pro. Working with an inside-the-waistband (IWB) holster and wearing a light jacket, printing with the Hellcat Pro was minimal if not non-existent when standing and doing general maneuvering.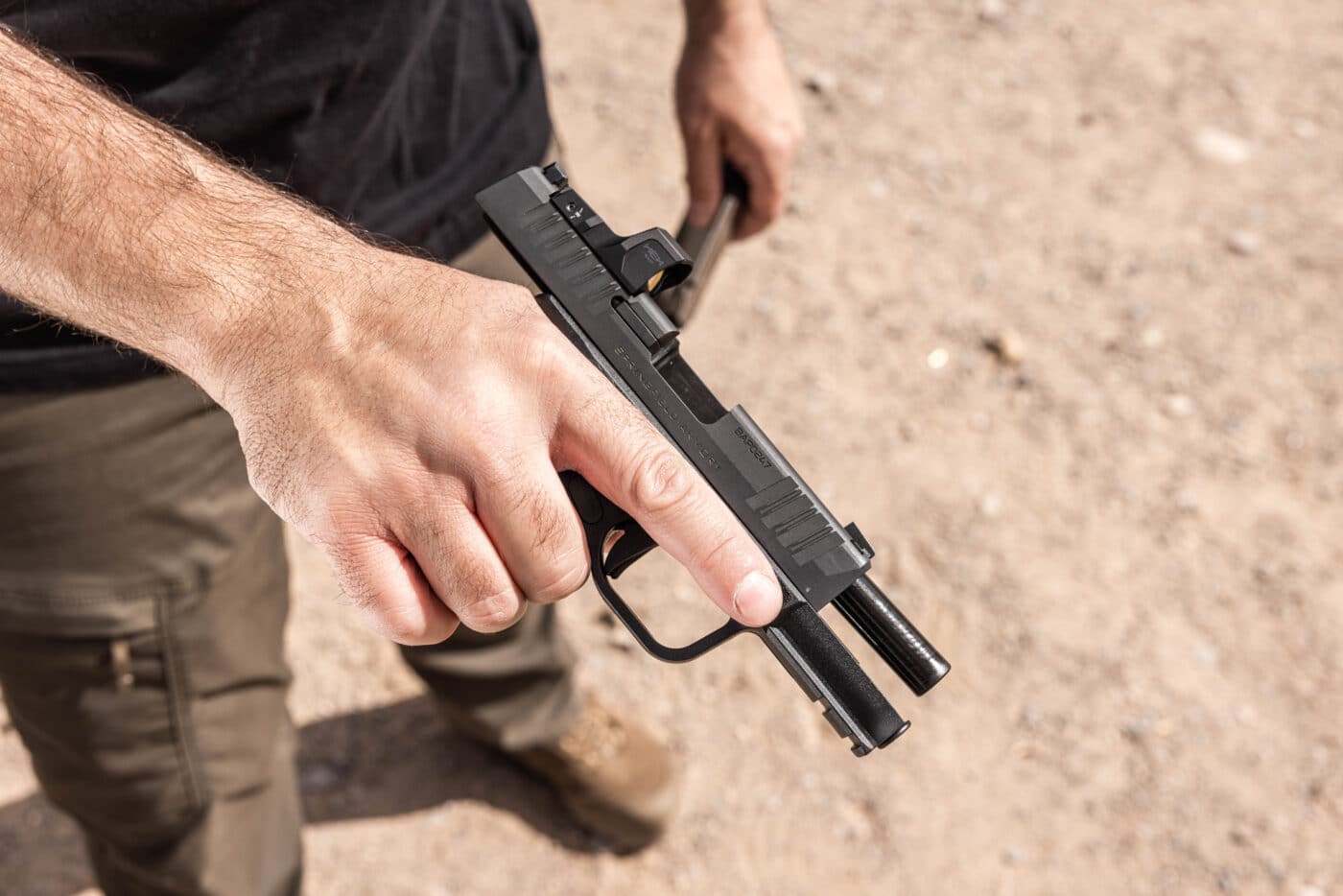 Running the Hellcat Pro on steel and then paper at between 7 to 15 yards, I found its handling to be even easier to control for me. This was exactly what I had expected, and stood to reason, as a larger surface area naturally equates to more grip and control surface. This was especially noticeable when placing rapid follow-up shots.
As I ran the gun on the range, my impression of the Hellcat Pro was that it was shooting for me like a much larger pistol. My results were on par with what I would get from a full-sized duty pistol, yet in a pistol that is still quite slim and small, and very easy to carry and conceal. If you need a deep-cover pistol, the Hellcat is your gun. If you want one that you can still EDC but wring out performance more like you would get with a full-size, then the Pro is just about ideal.
Advantages
Speaking of capability, running the stock U-Dot sights, with the tritium/luminescent front sight and tactical rack U-Notch rear sight, has always been one of the features I really enjoyed about the Hellcat. Combining this with the co-witnessing HEX Wasp micro red dot I tested on the Hellcat Pro made for a really nice combination.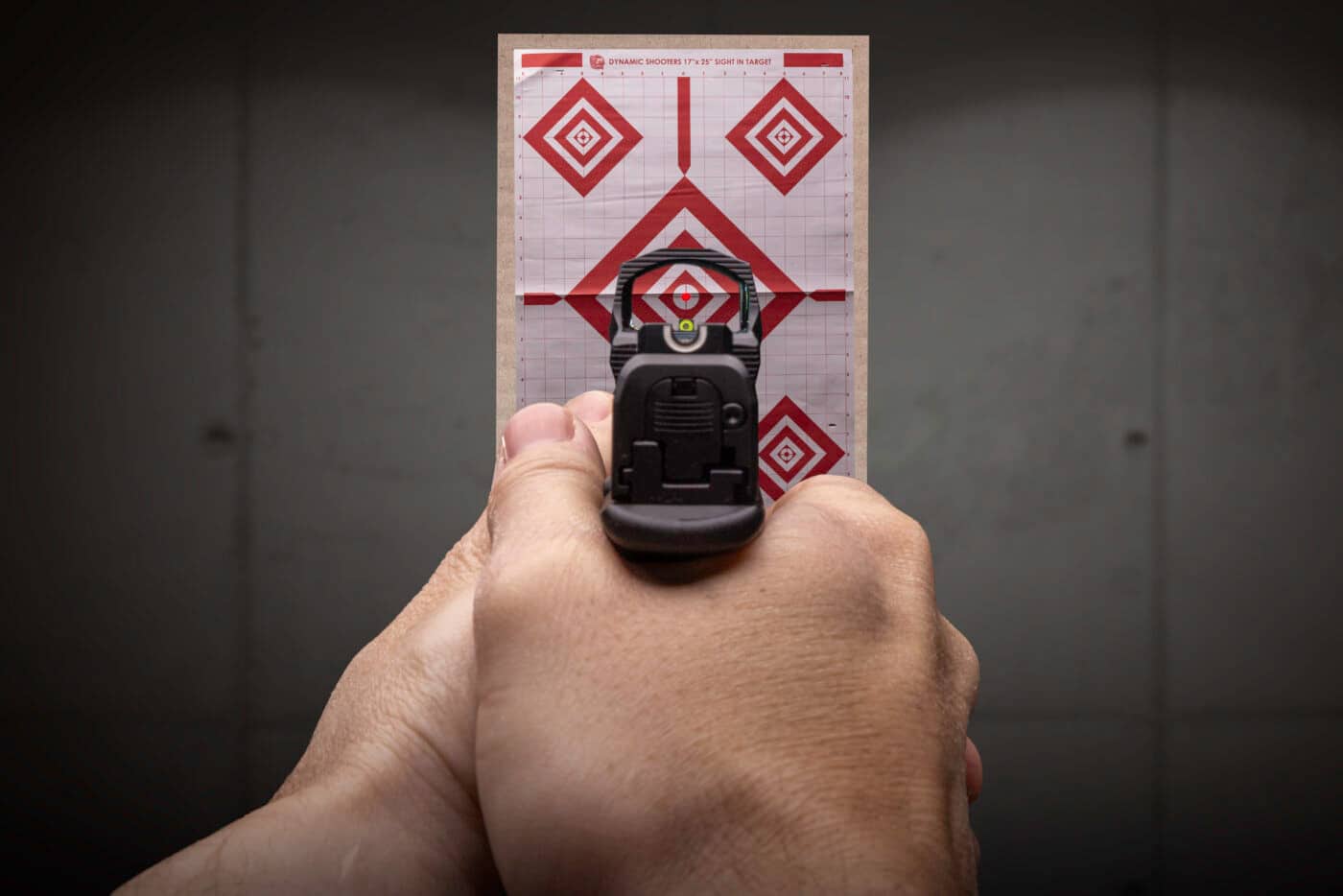 Machined out of highly durable 6061 T6 Hardcoat anodized aluminum, the HEX Wasp makes target practice even more fun, and the brightness, clarity and efficiency of this low-profile dot is impressive. The direct-mounting capability makes it a great option for compact, EDC applications.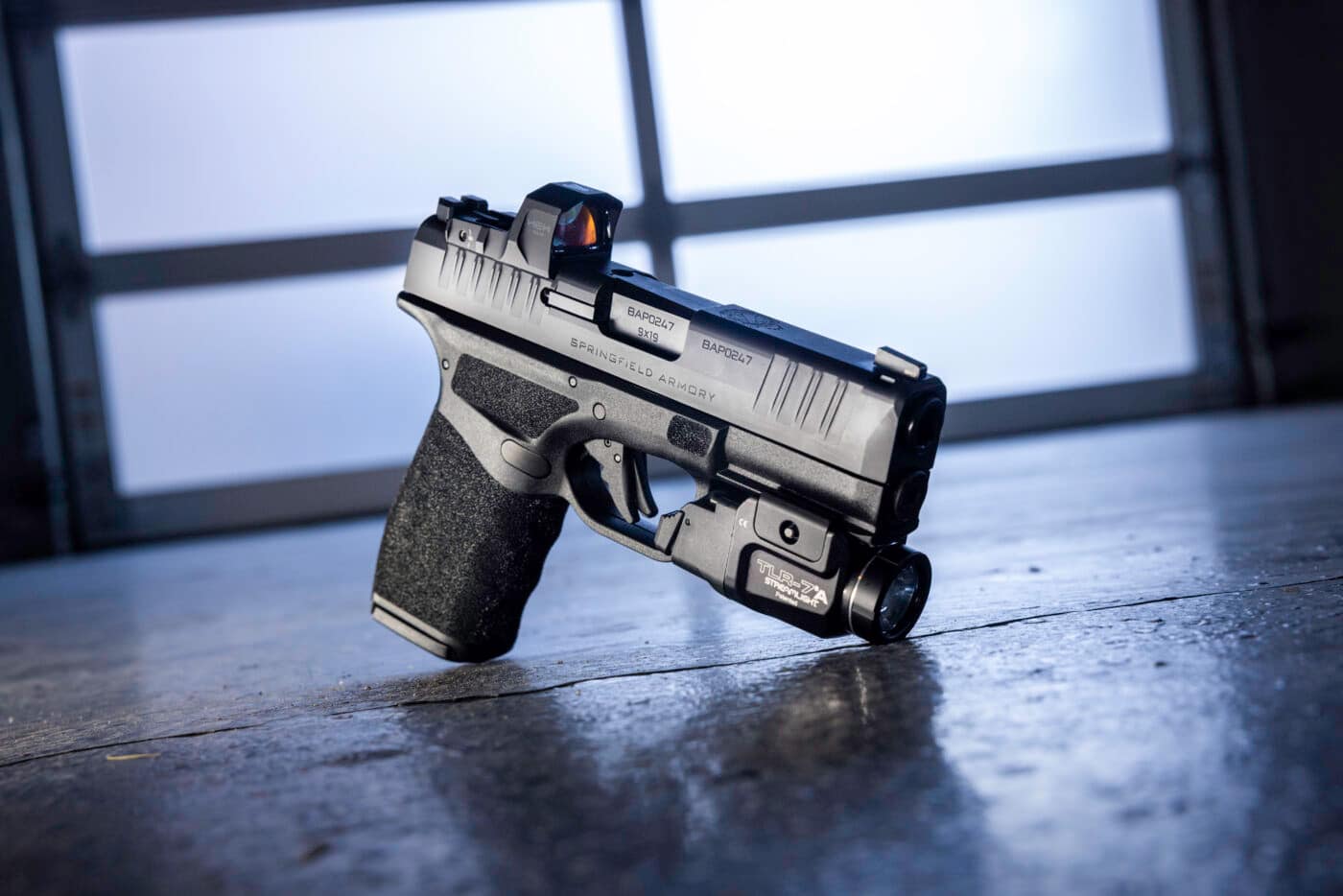 This continuously powered optic includes an auto-dimming sensor and will remain operational for over 65,000 hours on its lowest power setting. With the accessory rail, I was also able to run a Streamlight TLR-7A weapon light on the Hellcat Pro, offering low light training and operational potential to the mix. With the enhanced rail space being offered due to the larger frame size, users will be able to outfit their Hellcat Pro with a wide range of options.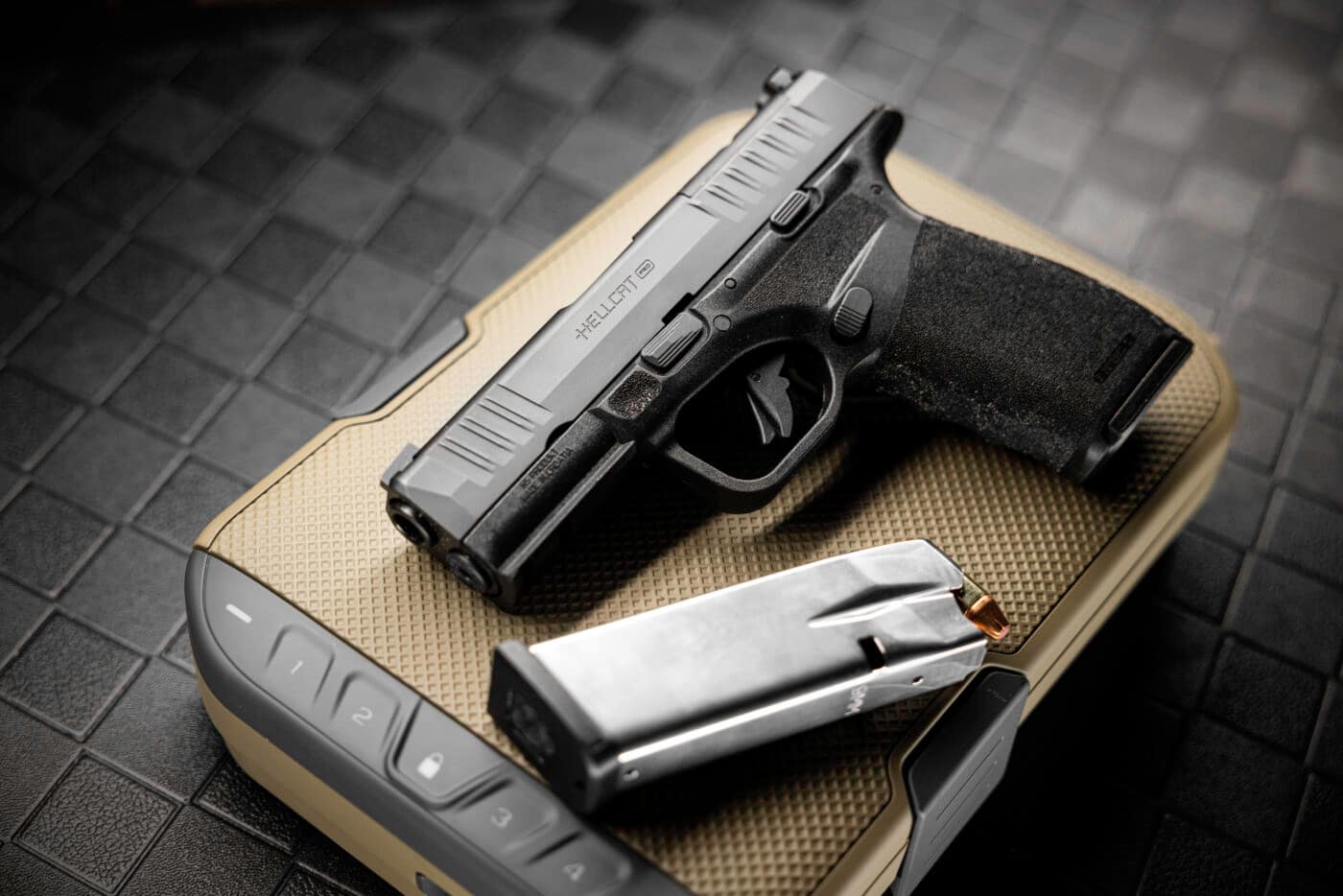 Conclusion
When considering the slightly scaled-up size of the Hellcat Pro and the added benefit of increased capacity and performance, the increased size of the new pistol is negligible enough for me to consider it as an EDC of choice going forward. When I have the means to carry a slightly larger pistol that punches way above its weight class, the Hellcat Pro is an easy choice for me.
It has successfully maintained all of the exceptional features I've grown fond of over the years with a Hellcat at my side, while offering a bit more real estate with which to work. If you are familiar with and are a fan of the Hellcat line, you won't be disappointed, as the experience is familiar and comfortable, but adds a level of enhanced handling for those more familiar and better suited to a larger framed pistol.
Editor's Note: Please be sure to check out The Armory Life Forum, where you can comment about our daily articles, as well as just talk guns and gear. Click the "Go To Forum Thread" link below to jump in!
Join the Discussion
Featured in this video
Continue Reading
Did you enjoy this video?
328