When Springfield Armory released the Hellcat in September 2019, nobody knew the Hellcat line would expand so rapidly in the coming months and years.
The initial Hellcat launch included two models — the standard Hellcat and the OSP (Optical Sight Pistol) Hellcat. Springfield created an incredible performing micro 9mm pistol that was loaded with features.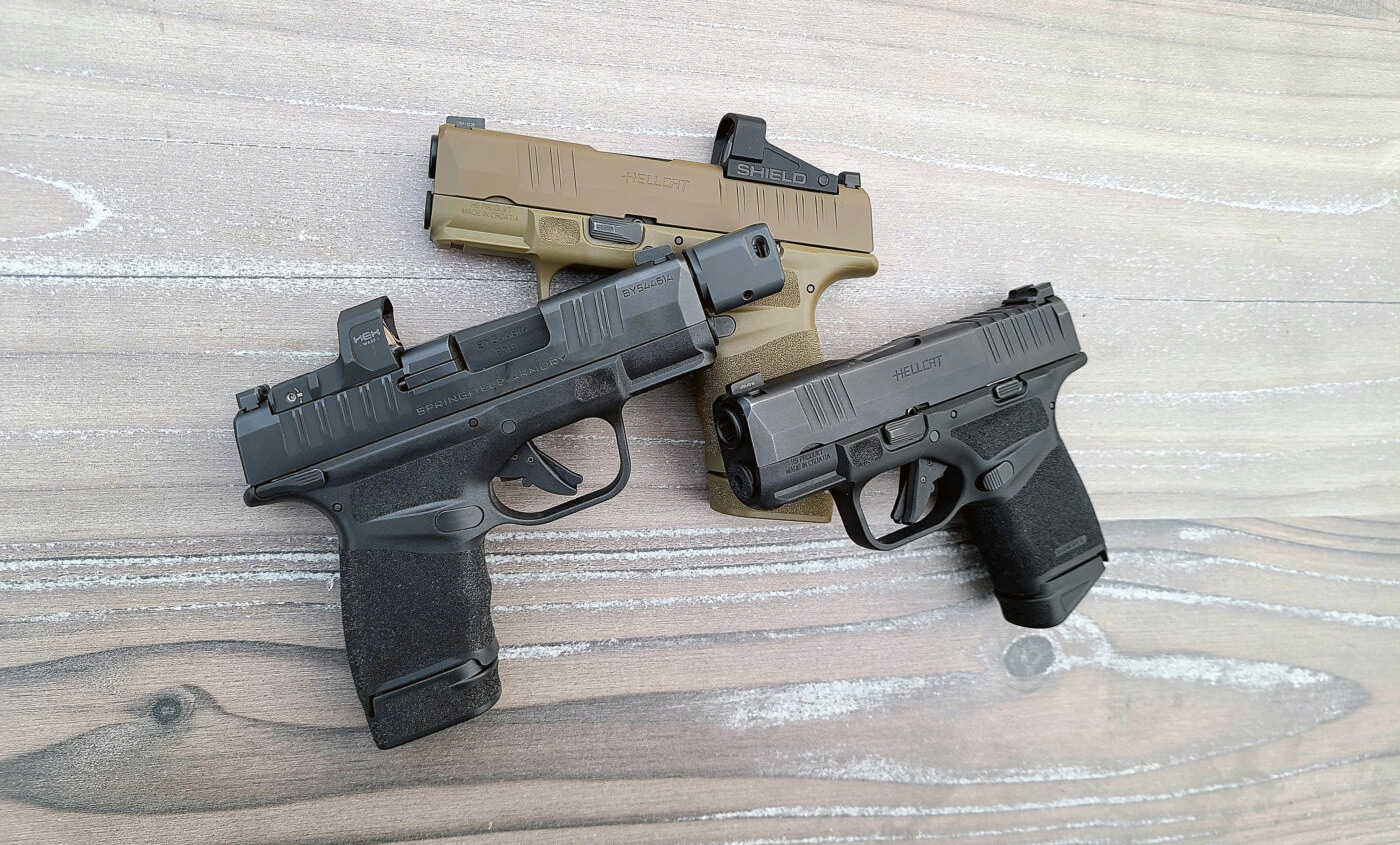 I instantly fell in love with the fit and function of the Hellcat. The magazine capacity of 11 rounds (13 rounds with the extended magazine) was stunning. That is the highest magazine capacity in the industry for a micro-sized 9mm pistol.
Details
The features include a 3″ barrel, Adaptive Grip Texture on the frame, a 5-lb. flat trigger and the excellent U-Dot sight system. The rear sight is a steel U-Dot and the front is a tritium night sight with a bright luminescent ring. Loaded with 12 rounds, the Hellcat weighs only 23 oz.
This pistol lit the concealed carry world on fire. Shooters were blown away with the size, weight and shootability of the Hellcat. I loved the specs, however, it wasn't until I hit the range until I became a true believer. Being a micro-sized pistol, it fired incredibly smooth and accurately.
More Options
Upon the initial launch, both the standard and OSP models were black in color. In June of 2020, Springfield Armory created a desert flat dark earth Hellcat. Adding beauty and function in one package, it had shooters' heads turning.
I acquired an FDE Hellcat OSP with a Shield SMSc micro red dot installed. Once the red dot was sighted in, it fired so accurately I felt like I was cheating. Everything I've learned about shooting was turned upside down.
Relying on and trusting a red dot on a handgun was a unique experience. Once I settled in, I realized why so many shooters were carrying pistols with red dot optics. I became a huge fan of the Hellcat OSP. The beautiful desert flat dark earth model certainly added to my excitement as well.
Level Up
As the Hellcats made their way into the gun world, CCW carriers and gun firearm enthusiasts became familiar with the Hellcat line. Springfield offered both the standard and OSP models which were available in both black and desert flat dark earth.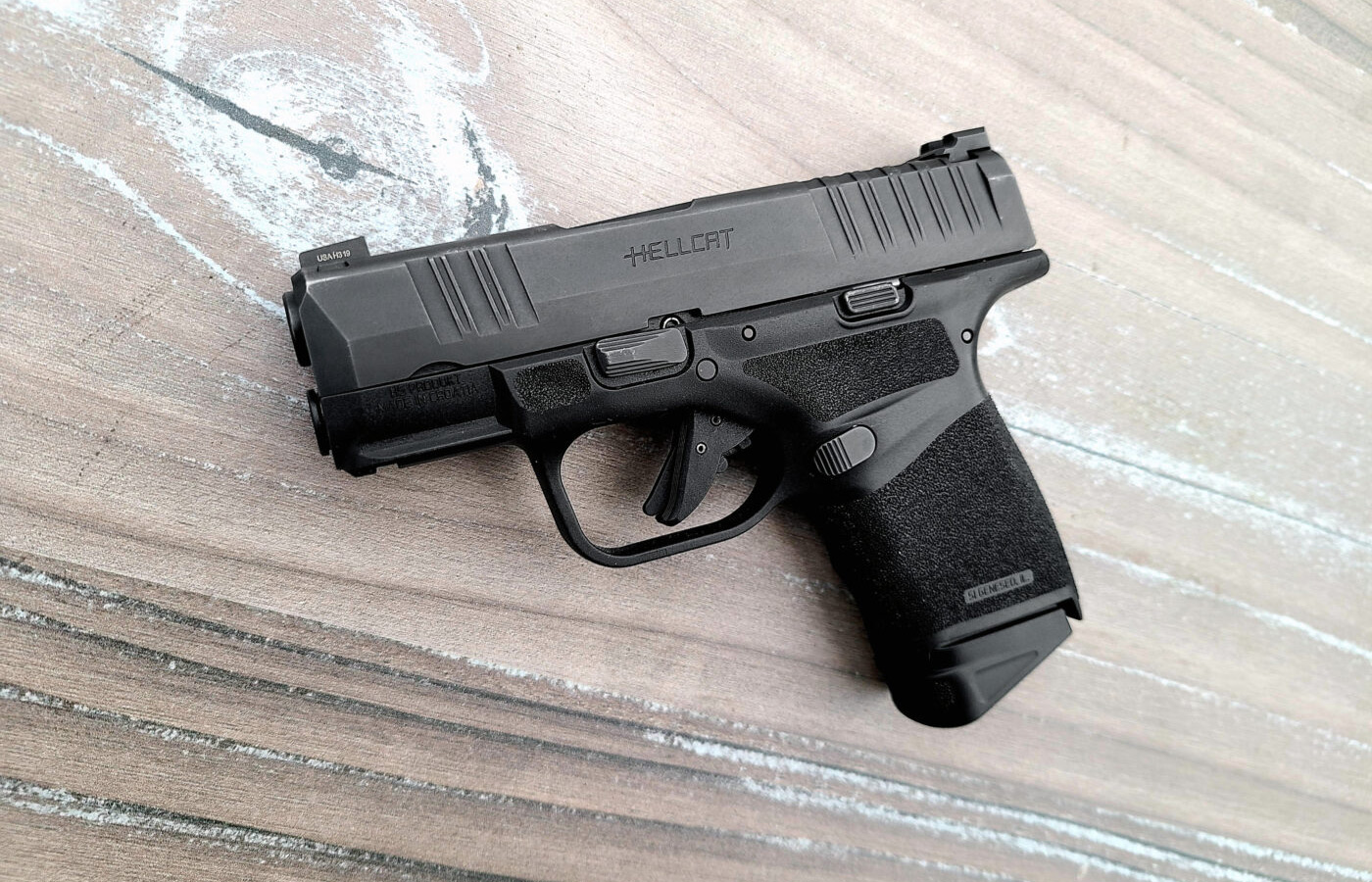 The Hellcat handguns were a pistol that shooters enjoyed. However, it didn't stop there. Springfield Armory doesn't sit still with their firearms. They consistently improve, innovate and meet their customer's demands. What did they come up with next?
In February 2021, Springfield introduced the Hellcat RDP (Rapid Defense Package). [Editor's Note: Be sure to read Paul Carlson's review of the Hellcat RDP.] The Hellcat RDP offered something we do not typically see on sub-compact handguns. The barrel was threaded and lengthened from 3" to 3.8".
A compensator was added at the muzzle to disperse the gasses aiding with decreased muzzle rise and more comfortable shooting. Adding a compensator was truly innovative. Springfield didn't stop there. They offered an optional ambidextrous thumb safety.
The Hellcat RDP also ships with a HEX Wasp red dot. The Wasp is a phenomenal red dot. It is housed in an aluminum body with a 3.5 MOA red dot. It is crisp and easy to acquire.
My first time shooting the Hellcat RDP with HEX Wasp was pure joy. To put it in simple terms, Springfield Armory created another masterpiece to the line of Hellcats.
Wait, there is more! In May of 2021, Springfield Armory announced they produced a 15-round Hellcat magazine. Not only did they have the highest magazine capacity in the industry for micro-sized 9mm with 11 and 13 rounds, but now they offer an optional 15-round mag.
Specifications
Here's a specs comparison of the pistols:
| | | | | | |
| --- | --- | --- | --- | --- | --- |
| | Hellcat | Hellcat OSP | FDE Hellcat | FDE Hellcat OSP | Hellcat RDP |
| Chambering | 9mm | 9mm | 9mm | 9mm | 9mm |
| Barrel Length | 3.0″ | 3.0″ | 3.0″ | 3.0″ | 3.8″ threaded |
| Weight | 18.3 oz | 17.9 oz | 18.3 oz | 17.9 oz | 19.3 oz |
| Overall Length | 6.0″ | 6.0″ | 6.0″ | 6.0″ | 7.0″ |
| Sights | U-Dot | U-Dot | U-Dot | U-Dot | U-Dot |
| Optic Ready | No | Yes | No | Yes | Included |
| Grips | Integral | Integral | Integral | Integral | Integral |
| Action | Striker-fired | Striker-fired | Striker-fired | Striker-fired | Striker-fired |
| Finish | Black | Black | FDE | FDE | Black |
| Capacity | 11+1, 13+1 | 11+1, 13+1 | 11+1, 13+1 | 11+1, 13+1 | 11+1, 13+1 |
| MSRP | $569 | $599 | $610 | $643 | $899 |
Conclusion
I have been a fan of the Hellcat from the beginning. The choices for today's shooters are plentiful, and what Springfield Armory was able to create with their growing line of Hellcats and accessories is nothing short of amazing. I am a proud owner of three Hellcat pistols and you better believe as soon as they come up with something else for the Hellcat, I'm all in.
Editor's Note: Please be sure to check out The Armory Life Forum, where you can comment about our daily articles, as well as just talk guns and gear. Click the "Go To Forum Thread" link below to jump in and discuss this article and much more!
Join the Discussion
Featured in this video
Continue Reading
Did you enjoy this video?
205