The problem with buying brand new handguns is that it's often difficult to find holsters. This doesn't seem to be a major problem with the Hellcat. The industry has embraced the micro 9mm with arms wide open.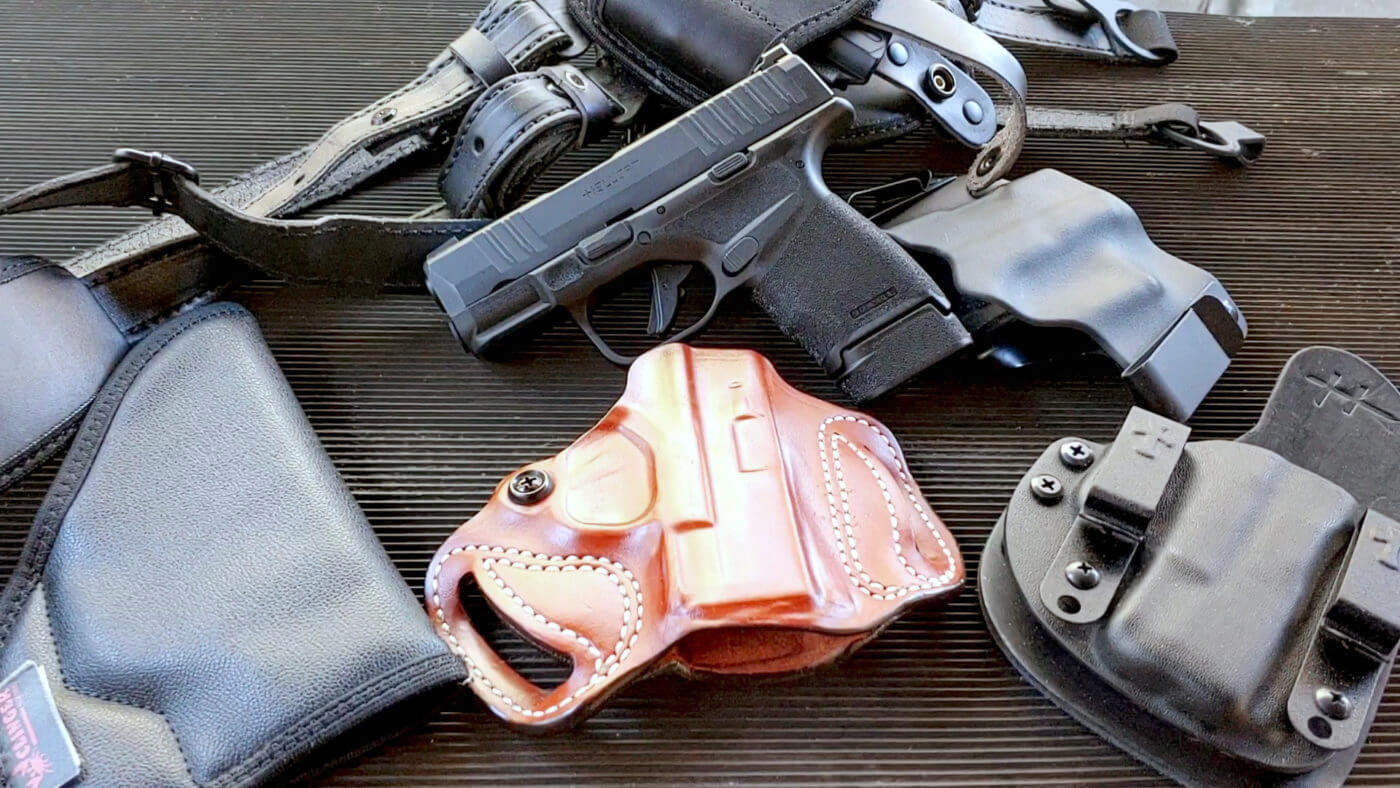 I've recently had the chance to test a Hellcat out for myself and decided to do some digging on carry options for the little pistol. The great thing about a gun this small is that it gives you a lot of options in carry modes. From pocket, to outside and inside the waistband, to appendix, to shoulder carry, and more, there are a lot of options out there.
As a result, I've gathered five different holsters for the Hellcat covering a range of carry modes. My focus was on concealed carry in my selection because the Hellcat is clearly a concealed carry gun. So, without further ado here is a list of my current top five Hellcat holsters. You can also see my video on them at the top of the page.
OWB Option: Desantis Mini Slide
There is always a place for a classic leather holster. While kydex is here to stay, the attractive and thin nature of leather is always appreciated. The DeSantis Mini Slide is an all-leather outside the waistband (OWB) holster that uses passive retention to keep the gun in place. The passive retention is adjustable via a small screw. The leather is shaped perfectly for the Hellcat and it's a work of art.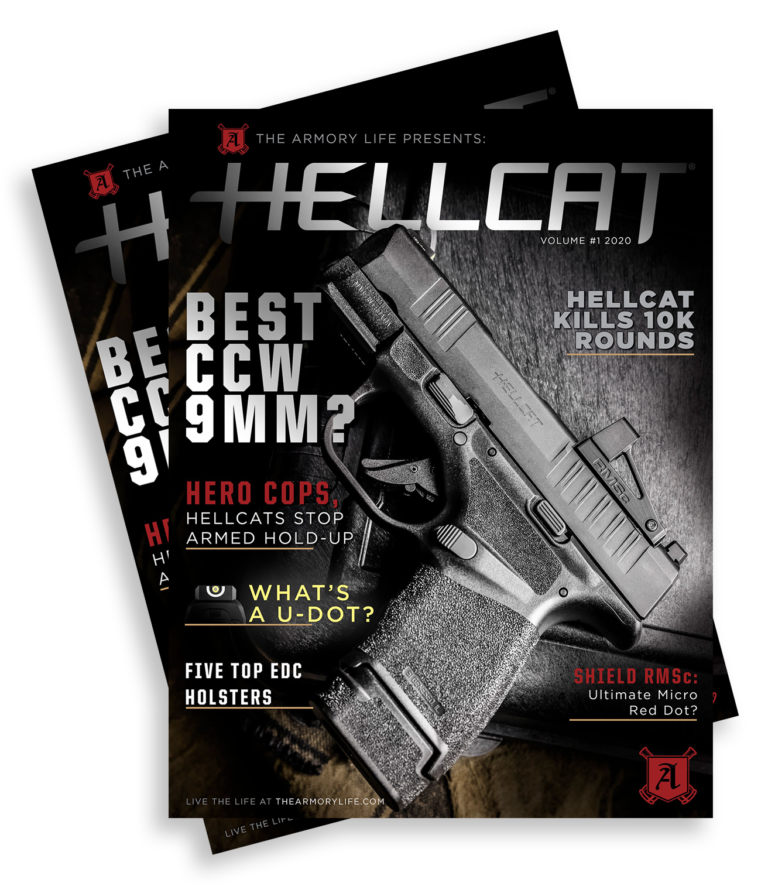 It's also functional and very comfortable. The Mini Slide clings tightly to the body and is nearly effortless to conceal. It's remarkably comfortable and perfect for daily carry if you prefer OWB. The Mini Slide has the gun sitting at a slight cant, and that helps with your draw as well as concealment. The Desantis Mini Slide is an awesome OWB option and harkens back to the days when leather was king.
When it comes to the Hellcat, the Mini Slide is a remarkable combination of a high-tech, micro-compact 9mm with some old-school appeal.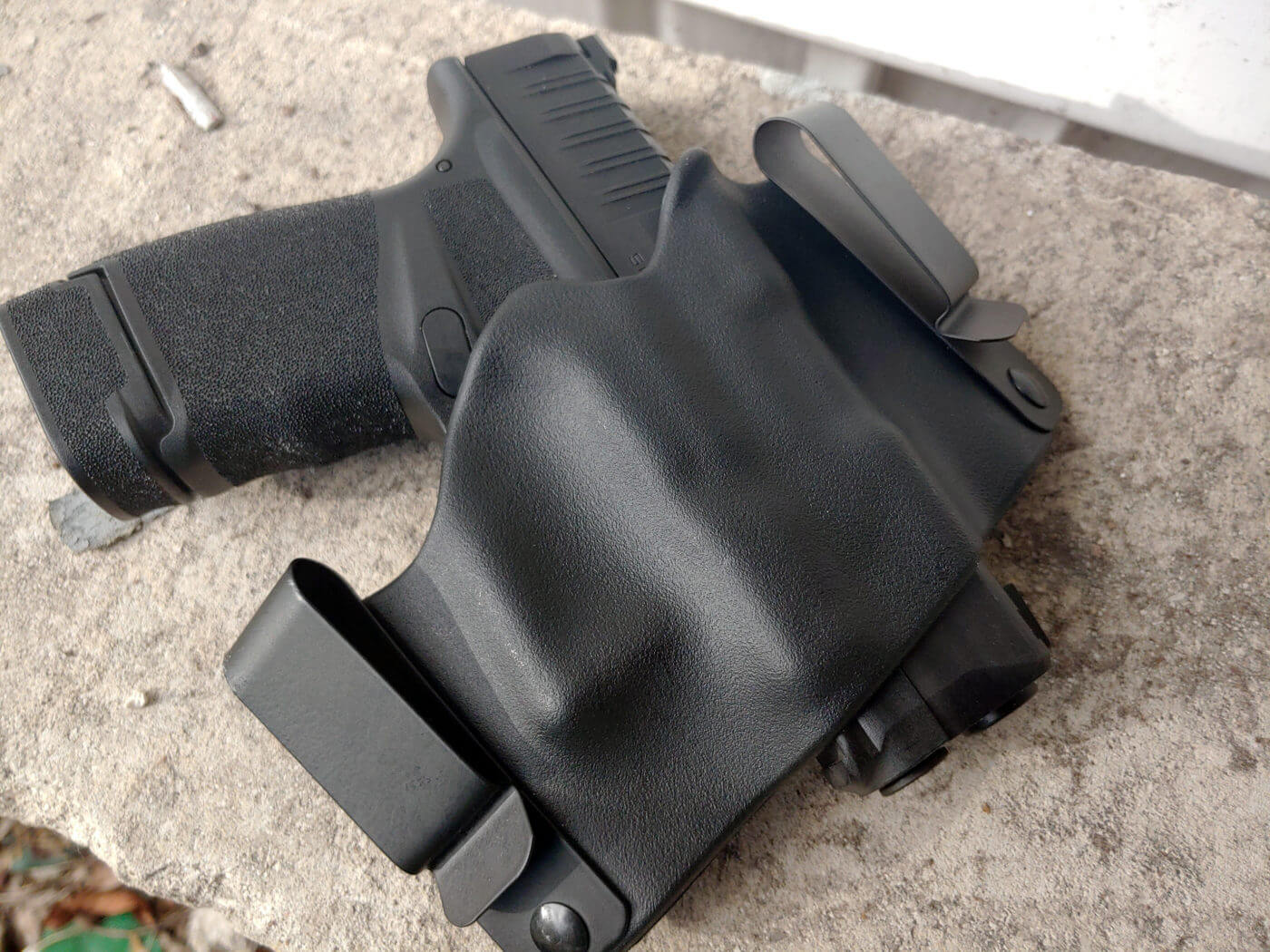 IWB Option: Phalanx Defense Stealth Operator Compact
The Phalanx Defense Stealth Operator is a series of holsters designed to accommodate over 150 different guns. I tried out the Compact inside the waistband (IWB) version and found that the Hellcat clicks into place nearly perfectly with it. The trigger guard retention device holds the gun in place, and the friction from a belt-mounted IWB holster will do the rest.
This kydex design is rock solid and made to last. I've been using these holsters for years now and the Stealth Operator is a comfortable and reliable option for daily carry. Its rigid design makes it easy to reholster and draw from. Its dual metal clip system holds the gun solid and steady for all-day carry.
This is a very modern means to conceal. The Stealth Operator IWB design is an awesome choice for deep and concealed carry.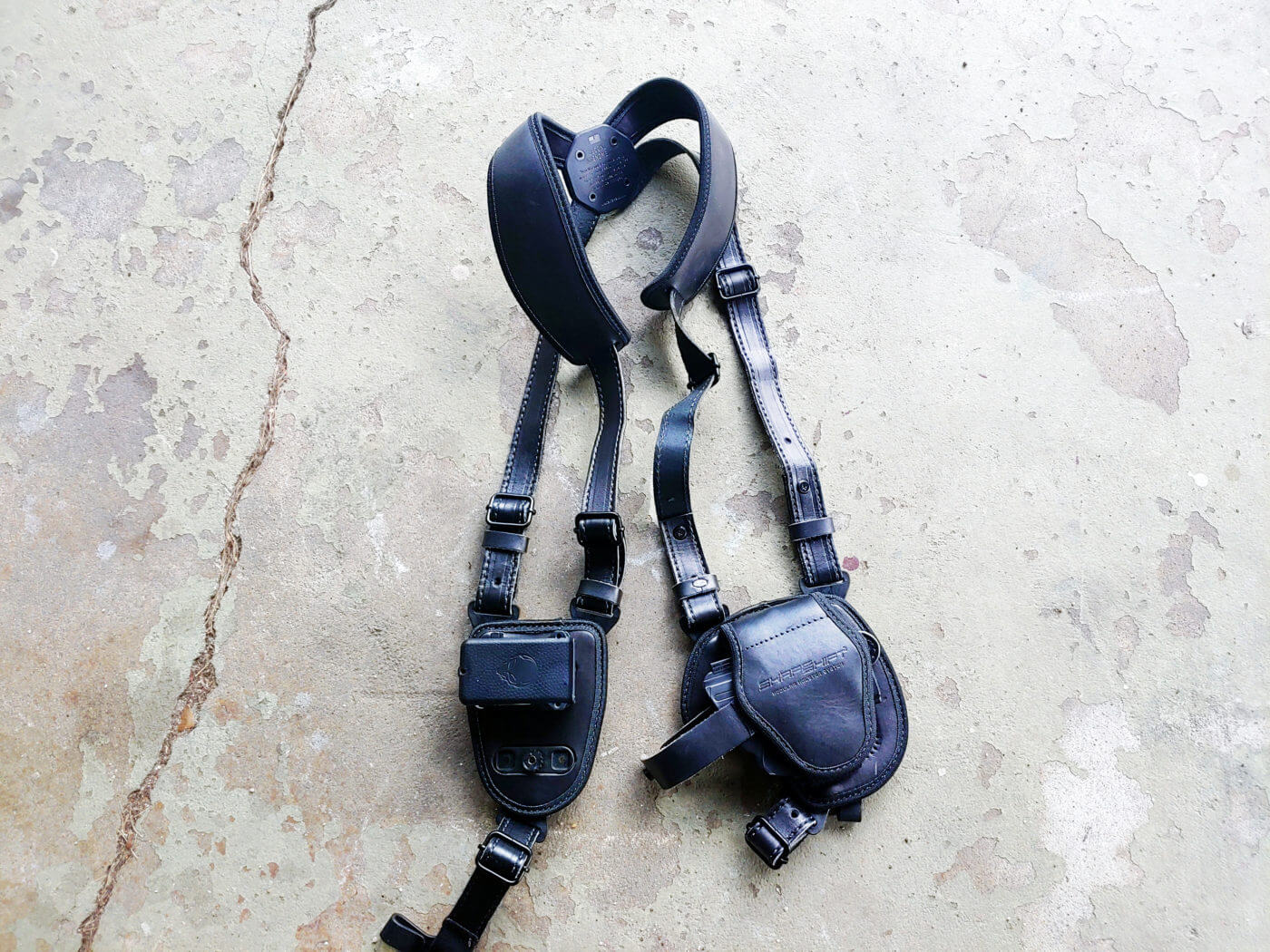 Shoulder Holster: The AlienGear Cloak
Shoulder Holsters are niche holsters, but they certainly have their place. I like mine for road trips, as I find it easier to access and more comfortable when seated in a vehicle. With winter around the corner jackets are breaking out and people are layering up, so shoulder rigs are going to making their yearly rounds.
The Cloak Shoulder Holster uses a custom-molded shell implanted in a leather housing. This design accommodates your Hellcat and uses a leather thumb clip to retain it. The holster is made from leather, and offers tons of flexibility for comfortable carry. It moves with your body, and the optional magazine pouches and included tie-downs give you a complete shoulder rig for your Hellcat.
Appendix Carry: Crossbreed Reckoning
Appendix carry is easily the most popular method of carry around today. It offers shooters a faster draw, an easier to conceal gun, and a comfortable and accessible position for toting a firearm.
The Crossbreed Reckoning holster was one of the first holsters available for the Hellcat and it's a show stopper. The Crossbreed Reckoning is a low-profile IWB holster adaptable to OWB usage, and capable of being used for appendix carry (as tested here). It's a rig that's a combination of leather backing and a hard shell. The hard shell retains the weapon brilliantly and the padded leather shell ensures it's comfortable all day long.
The Reckoning uses two metal clips for a secure fit and is effortless to conceal. The holster uses a passive retention that is very quick to draw from. The hard-molded shell means you can easily reholster the gun and your draw will be uninterrupted.
The Reckoning is cut to accommodate a full grip and makes it easy to draw with confidence and to be ready to engage.
I highly recommend reading editor Mike Humphries's review of the CrossBreed Reckoning. He had a lot of things to say about the concealed carry rig.
Pocket Carry: Clinger Holster Comfort Cling
The Springfield Hellcat is just small enough to be pocket carried if you go with the flush-fitting, 11-round magazine. The Clinger Holsters Comfort Cling fits the Hellcat like a glove and is remarkably comfortable. It slides into the pocket and clings to it. When you draw your Hellcat the holster stays put, making it quick and clean to draw your weapon. Pocket carry is an awesome, deep-concealment carry method well suited for those who can't carry in a traditional way due to how they are dressed.
The Comfort Cling can also be worn as an IWB holster. Again, there is no clip to hold it in place, so pack a good belt for a friction fit. It's comfortable when worn like this and it does conceal easily. The downside is once the gun is drawn you can't reholster without removing the holster to do so. In my opinion, the Comfort Cling works acceptably as an IWB holster and extremely well as a pocket holster.
Conclusion
So there you have it. Five solid holster options for the new Hellcat micro 9mm, giving you a broad range of carry mode options. If you want to carry in your pocket, at your appendix, under your shoulder, or on your hip, there's one here for you.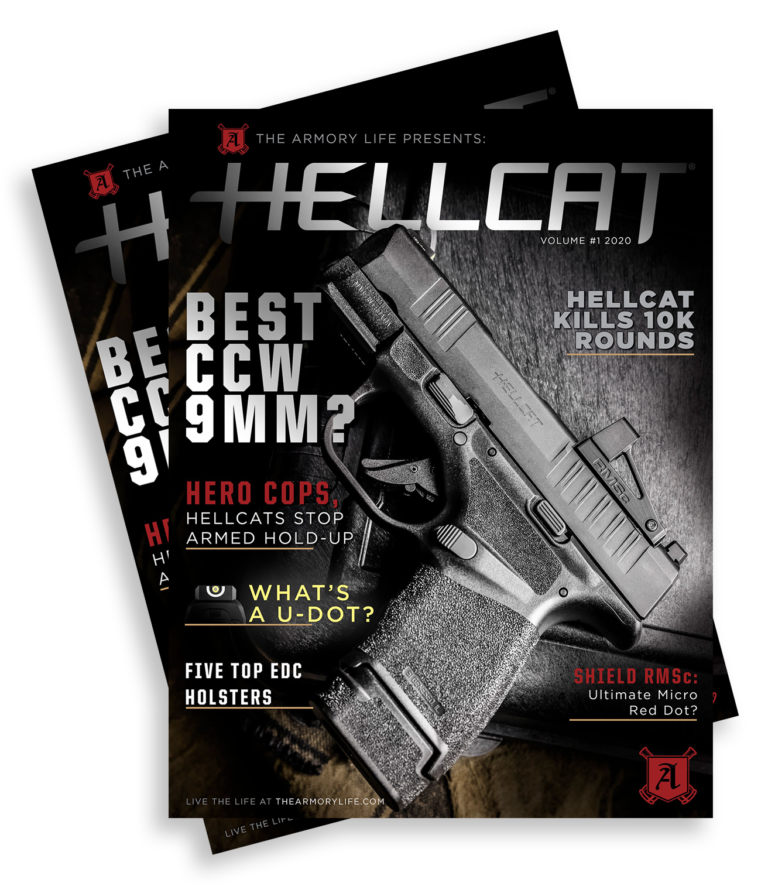 Join the Discussion
Featured in this video
Continue Reading
Did you enjoy this video?
178