The Springfield SAINT, like other AR-15 rifles, has a variety of sighting options. Magnified optics offer excellent precision at longer ranges, but what happens if you suddenly need to engage a target at close range? That's where 45˚ sights come in. Mounting Springfield Armory's offset sights on your SAINT lets you twist the gun slightly for close engagements. In this article, Michael Mills tests these 45˚ flip-up iron sights.
I'm sure you have heard the saying, two is one and one is none. Well, that's definitely true with sights — especially when it comes to running a low power variable optic (LPVO) like the Crimson Trace Hardline 1-6X optic I have been testing lately.
[For additional information on these scopes, read Crimson Trace Hardline Pro Optics Overview.]
If you do go this route and acquire a back-up sighting system for your optic, the decision you have to make is whether you want a second electronic optic in an offset fashion or a set of manual flip-up iron sights. Remember, there are advantages and disadvantages for both.
For me, the decision was easy — I tried out a set of Springfield Armory 45-Degree Flip-Up Sights. These sights, a rear unit and a front sight unit — both sold separately — are designed to attach directly to standard Picatinny rails and fit nicely flush to the side of your rifle. They are made of aircraft-grade aluminum with steel retaining hardware for light weight as well as durability. Each are priced at $64.99.
The Details
Mounting them up was simple and easy, requiring just a single star wrench. They were a perfect fit for my SAINT Victor 5.56mm. One note — remember, they don't need to be torqued excessively. Something like 20 inch pounds or so will keep them solidly in place.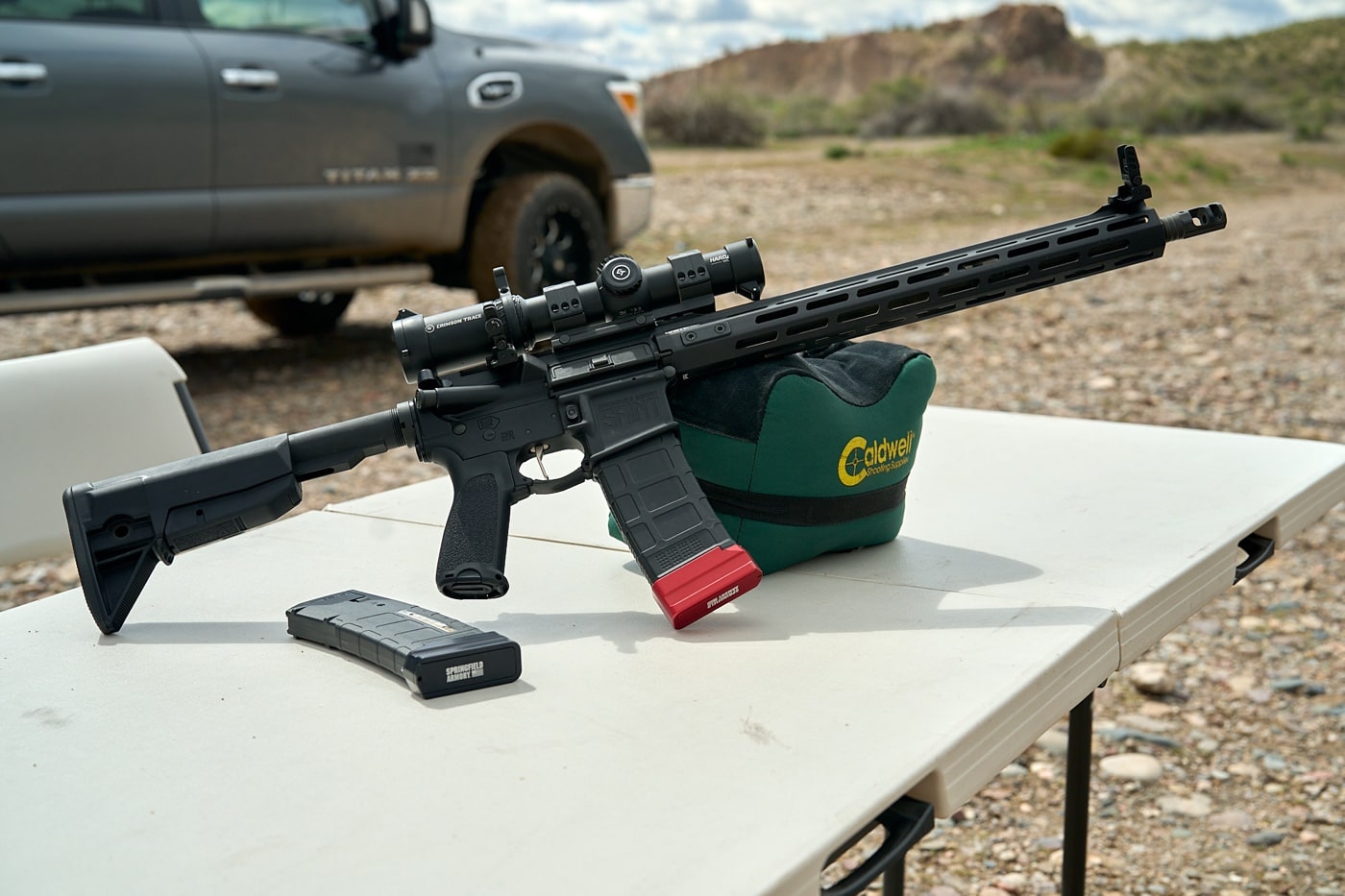 Zeroing the sights is extremely easy since they do not require tools. Just use the integrated dials/wheels to get your zero. Once you have them zeroed, you can now leave your magnified optic on a higher power and use the iron sights for those closer engagements by simply angling the rifle.
There are several nice touches when it comes to these Springfield offset sights. The crossbolts provided for clamping them to your rail are much bigger than many others on the market, which makes them not only easy to install but will help ensure you won't strip the bolt or have a failure.
The flip up and down design of the sights is very smooth, but there is also a cross-locking mechanism on both the front and rear sight. So, if you want the sights locked in the upright position, you can do that by pressing the lock inward towards the rifle. But say you are running and gunning in a competition and smashing your rifle into barricades, leaving the sights unlocked will prevent damage since they can close.
The design of both sights is very low-profile, so when you look through your optic you are not going to see a big school bus parked on the end of your rail like some other sights. On the rear sight, you will get a paddle-style day and night aperture. For those who don't know what the "aperture" is, it's the rear peep hole you look through. The smaller "peep" is for day and the larger is for night or more up-close engagements.
Conclusion
On the range, I found the offset sights to be right where I needed them when rotating my rifle from my primary LPVO to the irons. Once the zeroing process was done, I used them for a series of drills I like to run to get used to new optics and offset sights. I use this process to ensure my cheekweld and stock settings are right.
[Additional information is available in our article What Is an LPVO Scope?]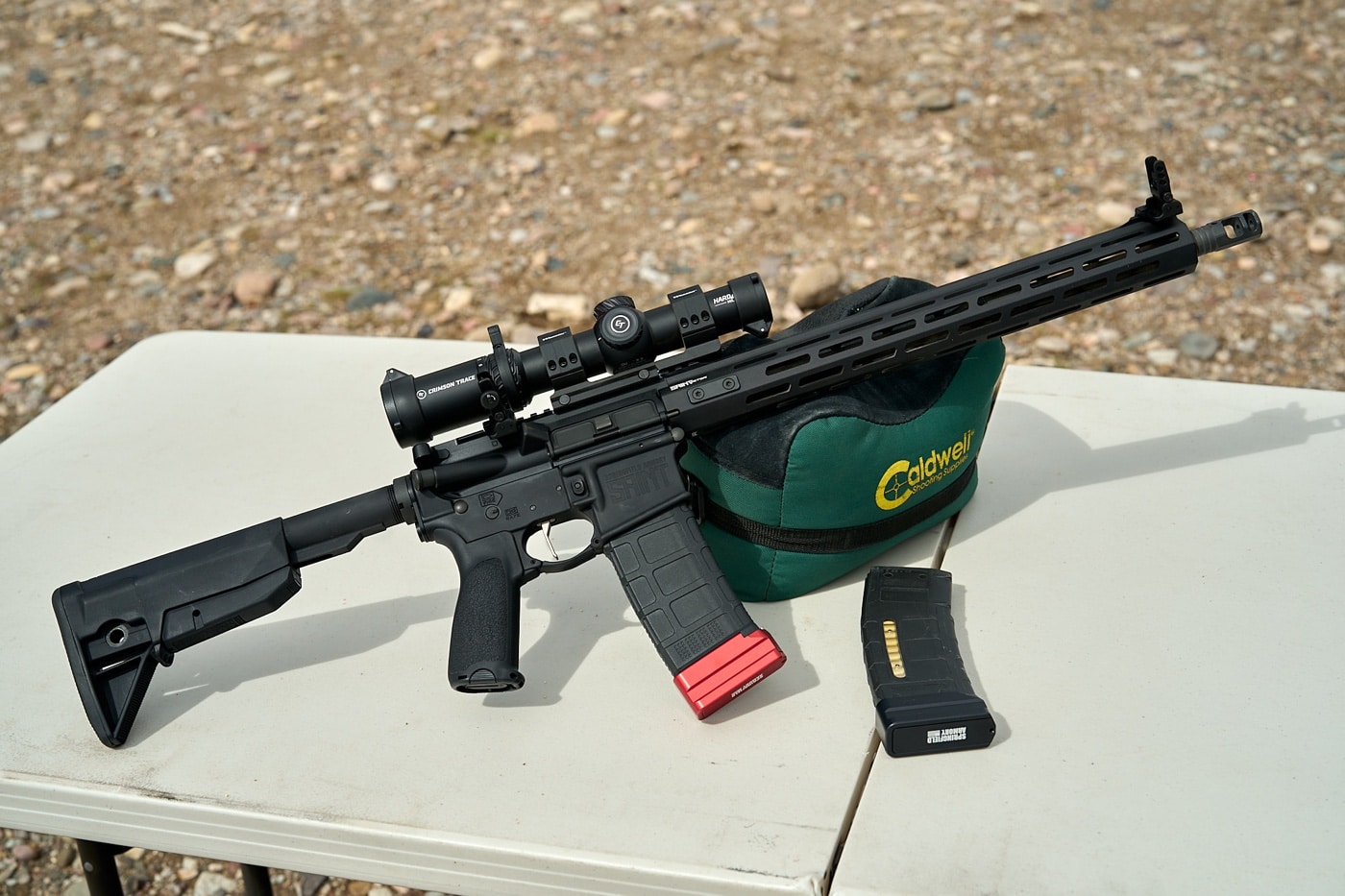 I found that if I rolled the stock up against my cheek, the sights were in perfect view of where I needed them to be. Ultimately, they turned out to be a great option if you are looking for a solid set of back-up iron sights in an offset configuration for your SAINT rifle — or any Picatinny rail-equipped long gun.
Editor's Note: Please be sure to check out The Armory Life Forum, where you can comment about our daily articles, as well as just talk guns and gear. Click the "Go To Forum Thread" link below to jump in!
Join the Discussion
Featured in this video
Continue Reading
Did you enjoy this video?
44