Crimson Trace Hardline Pro Optics Overview
February 17th, 2023
7 minute read
If you've been in the market for an affordable — but high-quality — rifle optic, you know how daunting it can be to find something that gives you the best bang for your buck. With all the choices and new companies popping up each year, it can be difficult to discern what is quality or just hype. This is where Crimson Trace stepped in: to fill a perceived void of high-quality optics at a good price which provides shooters with a solid option.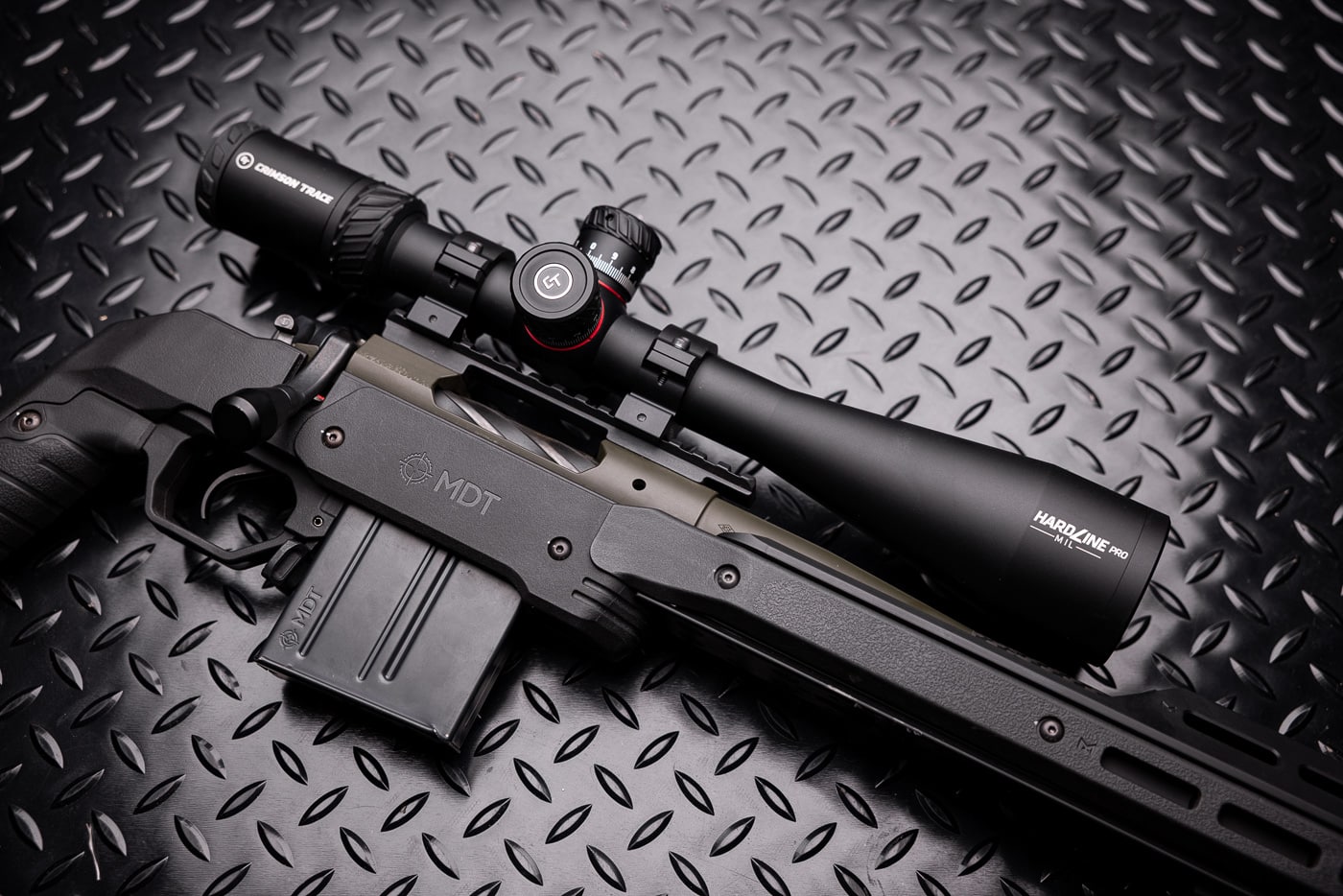 Crimson Trace has been known for their robust line-up of pistol-mounted laser systems, as well as some white light illumination options. And now, it has a solid family of rifle and pistol optics.
Personally, I've gotten some hands-on time with their higher-end optics, the Hardline and Hardline Pro series. I've got the Hardline 1-8X sitting on my SAINT Victor carbine, the Hardline Pro 4-16×50 on my SAINT Edge ATC, and the Hardline Pro 6-24×50 on my customized Waypoint 2020.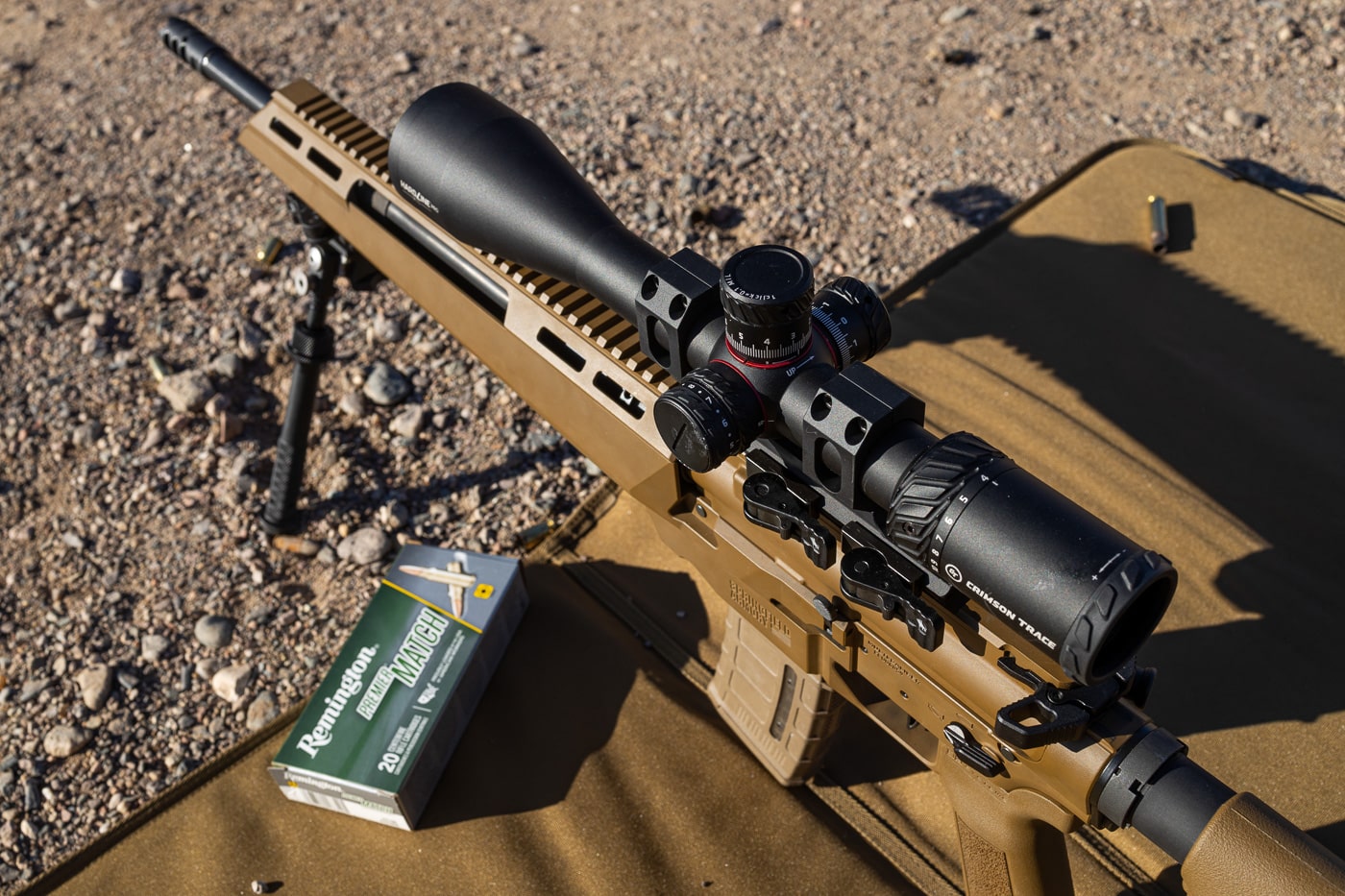 I was first introduced to the Hardline series at an event where I got to run the 1-8X on a few stages and ranges with my SAINT Victor carbine. I was impressed with the clarity of the glass, the illuminated reticle and the rugged housing. Keeping in mind this optic has an MSRP of $549.99, I was pleasantly surprised by the quality of the product.
I figured if the Hardline series was good enough for a great range experience, the Hardline Pro series should be even better. I picked up the 4-16×50 and the 6-24×50 to get some more time behind the Crimson Trace glass with different platforms and shooting styles. For me, it's important to test not only a traditional carbine with a low-power variable optic (LPVO), but also with a precision semi-auto AR-15 and a bolt-action rifle. Each platform offers a unique experience and capabilities, and it's a great way to really feel out the products in depth. But first, let's look at what the optics offer in specs.
Crimson Trace Hardline Pro Series
Fully multi-coated lenses, nitrogen purged, shock resistant, aerospace aluminum housing, illuminated reticle, 30mm tubes with a zero stop. First focal plane (FFP) and second focal plane (SFP) options, 17 reticles including Mil, MOA, BDC and Competition. The optics also all include a lifetime warranty.
That is a lot of features for some optics that retail for only $970.00 to $1,100.00 MSRP. I chose both of my optics to be illuminated Mil reticles. The reticle tree had generous usable information without being too cluttered. The reticle provides you with 16 mils from left to right and 14 mils from bottom to top. The sub tensions for windage are in .2 mils and for elevation they are in .5 increments. This is a perfectly usable reticle for the vast majority of people hunting, or sport shooting.
For the adjustments within the scope, you can expect 25 total mils in the windage and elevation range with the click value representing .1 mils. Another great feature of these scopes is the side parallax going below 100 yards. This comes in very handy when taking shots at 50 yards and in.
When mounting the scopes to my rifles, I utilized my favorite scope mounts in the industry, American Defense Manufacturing for the SAINT ATC and Warne rings for the Springfield Armory Waypoint. When shooting bolt guns, I want my optic to be as low as possible for my cheekweld position and to eliminate as much height over bore as possible. For the ADM mount, I used the Recon style mount. Since the ATC has an adjustable cheek riser, this position worked great for me.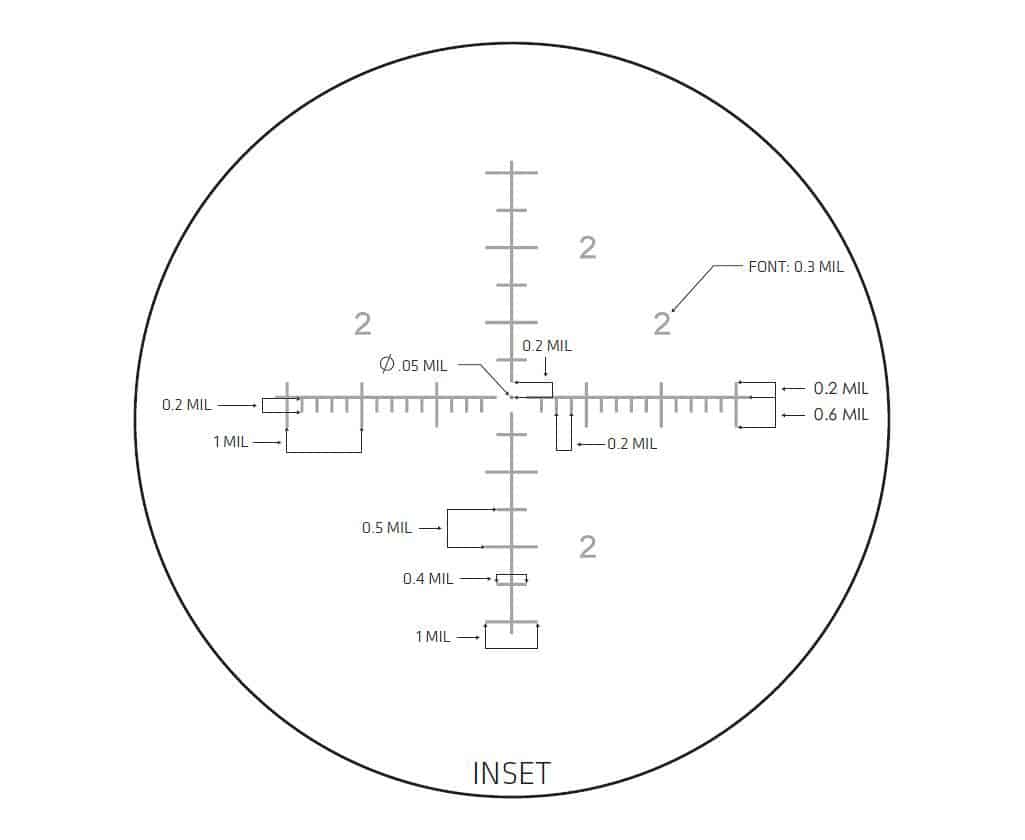 After mounting the optics, I set off for the range to confirm zero and stress test the optics. Out of the box, they were both easily on paper, and I could dial them in with a single three-shot group. Once dialed in, you simply remove the top cap, spin back to zero and tighten the screws. I love when companies make floating your turrets a simple, painless dummy-proof process.
Range Time
After dialing the optics in, I began running a few tests with some quick fire drills, to dialing the turrets all the way to max, then back to zero and seeing if there was any shift in my zero. Through both of these tests, the optics retained their zero positions. That is the sign of a scope that is worth sitting atop your rifle. Sure, you can have more clarity, features, magnification, etc. But it's not worth your time if your turret doesn't track or hold zero.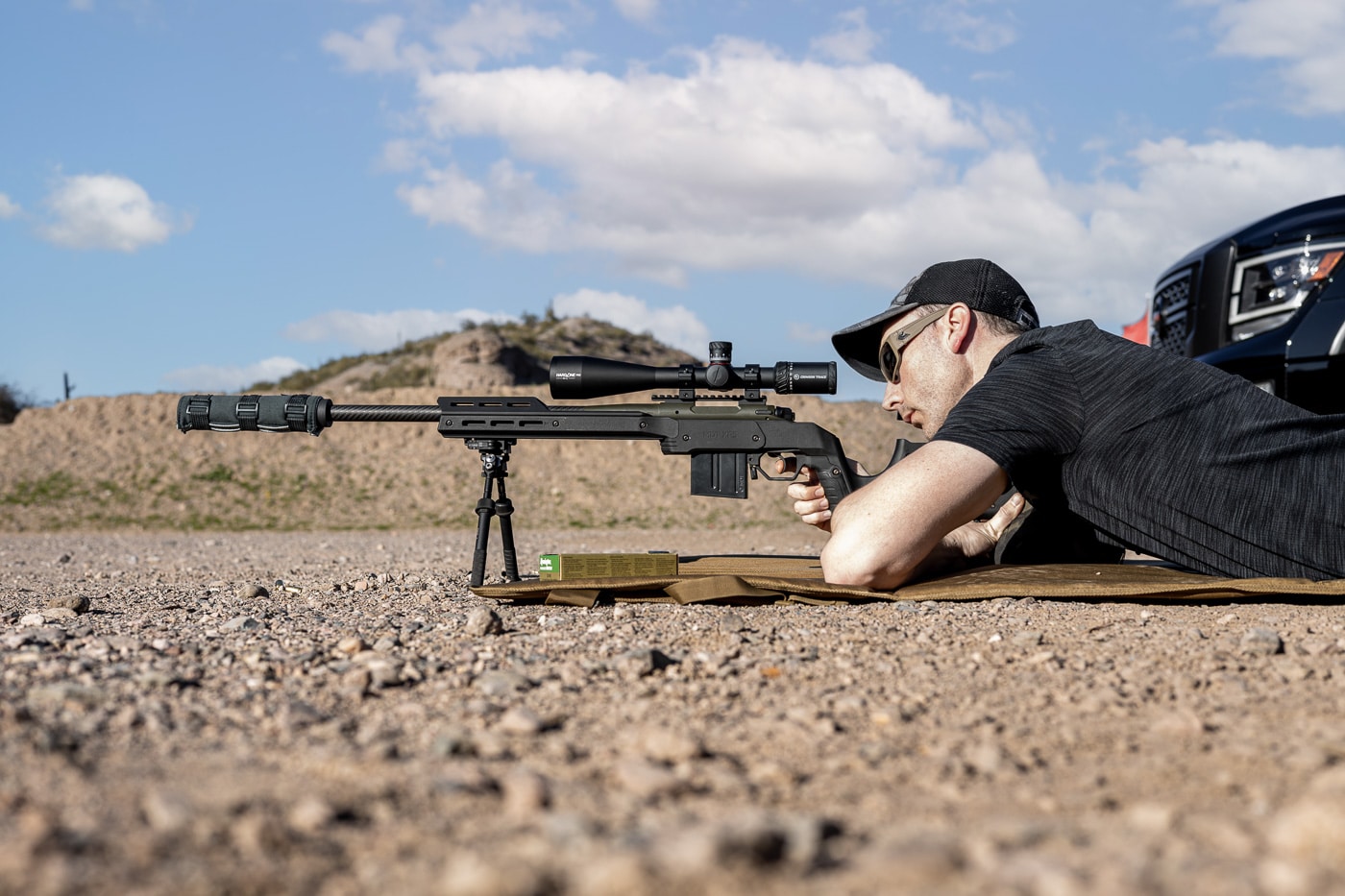 The illuminated reticle was a very welcome feature, especially for me. Unfortunately, I am cross-eye dominant, meaning that I am right-handed and left-eye dominant. For pistols, I can easily work around this, but for rifles, I must use my right eye. This can make it hard for me to focus on the reticles for magnified scopes, especially If they are thin reticles. When popping the illumination on, it really makes the reticle pop and my eye can discern the reticle with much more ease. And, if I need to drop the illumination to see the target better, I can easily do so with a twist of the ring.
As far as magnification goes, the sweet spot for me is the 3-18X range, so the 4-16X scope was definitely my favorite of the two. I will say having the option to reach out to 24 power is quite nice as well. I look forward to hitting a range that can reach out to 1300 yards to make use of that magnification.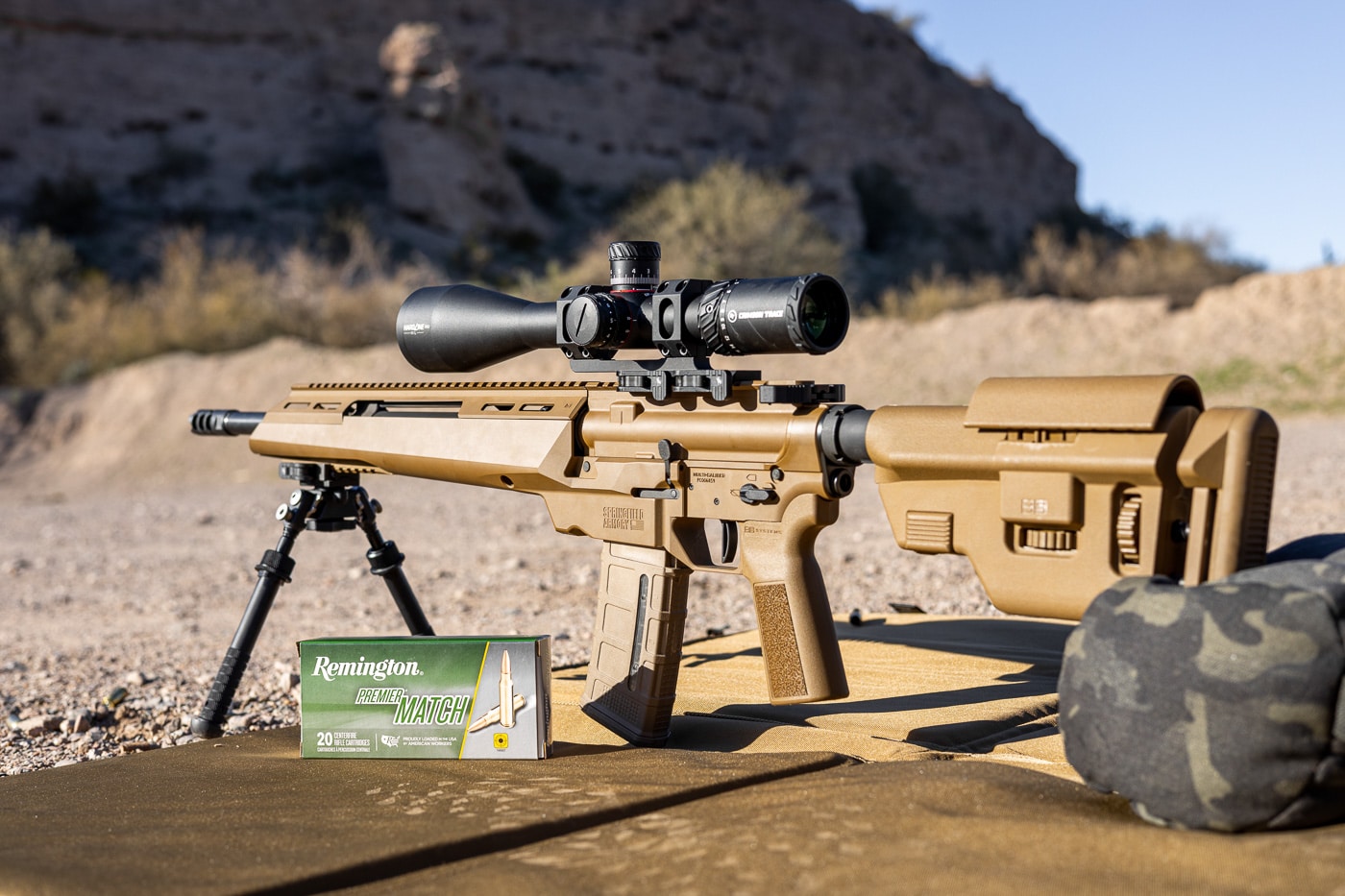 If cost weren't a factor, I would add locking turrets and 34mm tubes to these optics, and they would be a grand slam. Without locking turrets, you need to pay much closer attention to your turrets to make sure they haven't moved since taking your last shot. It's easy in a hectic competition to bump them or on a hunting trip to have them move in your pack. Just keep a close eye on the settings before every shot and you'll have no issues.
Conclusion
I think these scopes really shine for people looking to get into more competition shooting. They come in at a budget-friendly level while being feature-rich and reliable enough to get you into the world of precision shooting. The Hardline Pro series is a great starting point for those who don't want to break the bank but require a good deal of features.
Worth noting is the Hardline Pro 1-6X with the BDC-Comp reticle. The reticle is specifically designed for .223 55-gr. bullets at 3,165 fps. The reticle blends a circle dot with hash marks that have defined ranges prescribed to them, from 100 yards all the way out to 600 yards. This is useful for quickly acquiring your targets from your carbine in a competition. I've seen some guys using 1-6 LPVOs that easily outshot guys with much higher magnification.
What Crimson Trace has been able to offer for the price is a fantastic option for a vast range of shooting disciplines, from hunting to tactical to target shooting. Be sure to check out the line-up of optics, you should be able to find quite a few of them at your local sporting goods stores.
If the Hardline or Hardline Pro series is out of your price range, Crimson Trace offers a Brushline and Brushline Pro specifically for hunters. Don't forget to check out their RAD pistol-mounted red dots lineup. Whatever your optics needs, Crimson Trace has a solution for you.
Editor's Note: Please be sure to check out The Armory Life Forum, where you can comment about our daily articles, as well as just talk guns and gear. Click the "Go To Forum Thread" link below to jump in and discuss this article and much more!
Join the Discussion
Featured in this article
Continue Reading
Did you enjoy this article?
42