Springfield M1A Loaded Precision Rifle
September 14th, 2019
6 minute read
I was a young boy when the U. S. military adopted the M14 rifle to replace the M1 Garand. Reading legendary gun editor Lucian Cary's comments on it in my dad's True magazine, I looked forward to the day I could shoot one. That took a decade or so.
Eventually, I qualified to be issued one for NRA High Power competition through the State Rifle and Pistol Association. I liked the National Match M14 better than the National Match M1 partly because I could reload it faster and seemed less muzzle-heavy, but mainly because its downward-extending 20 round magazine could reach my support hand palm and give me a more stable platform in the tricep-against-chest hold that we all used for off-hand standing position. It won me a few medals, and it made me sad to turn it back in.
Time marched on. Springfield introduced its semi-auto-only clone, the M1A, in the mid 1970s. I tried early ones and wasn't impressed. I saw some that were sweet and some that weren't.
Time marched further on. Springfield listened attentively to constructive criticism from the shooting field. Quality control got better, and more consistent. M1As started winning championships. I wound up buying several over the years, and all lived up to expectations. There are a couple in my gun safe right now.
So, after seeing another review of the Springfield M1A Loaded Precision, I ordered one.
It lived up to expectations, too.
This Particular Variation
The test rifle was fitted at the Springfield factory in Geneseo, IL with Archangel's adjustable precision shooter stock, a stainless National Match barrel, and a 4.5-pound trigger pull that's so smooth on the press and so clean on the break that it strikes a perfect balance between "safe for use under stress" and "precision." We ordered the test sample with the added-cost option of Springfield Armory's own scope mount, the best I've ever worked with on the M1A/M14 platform.
For the test, we mounted a Vortex 6-20X telescopic sight, which obviously is not included in the M1A Loaded package as it comes from Springfield.
So equipped, this particular variant of the M1A is a heavy mutha, a whisker over thirteen and a half pounds before you insert the magazine. Not what you'd want for shooting running bunnies from off-hand standing, to be sure, but it absorbs recoil wonderfully when shooting powerful .308 Winchester and 7.62m NATO ammunition from braced positions. Having tested very light .308s that hurt to shoot, I can tell you that this one is a joy in that respect.
Meet the Test Team
I had been away from High Power competition for a long time, so I turned this rifle over to a crew who were vastly experienced and totally up to date in that respect, and who all had far more experience than I running M1As and M14s in serious competition, including national level. Mike Bougor, Bill Fisher and Russ Lary did the bulk of the shooting at the Ethan Allen range in Underhill, Vermont. Testing notes read: "Mirage due to heat. 69 degrees when we started, 82% relative humidity, clear and sunny. Started at 10AM. Wind 1-2 MPH left to right across the range. Mirage medium to heavy. By 10:30, 72 degrees and humidity down to 72%."
At 100 yards, Lapua 170-grain "lock base HPS" .308 Winchester delivered a very tight double, and put all three shots into 9/16ths of one inch, with the farthest-apart bullet holes measured center to center. For most of my lifetime the "minute of angle group," all shots in roughly one inch at this distance, has been the gold standard for rifle accuracy. With this Lapua ammo, the M1A Loaded shot twice as tight.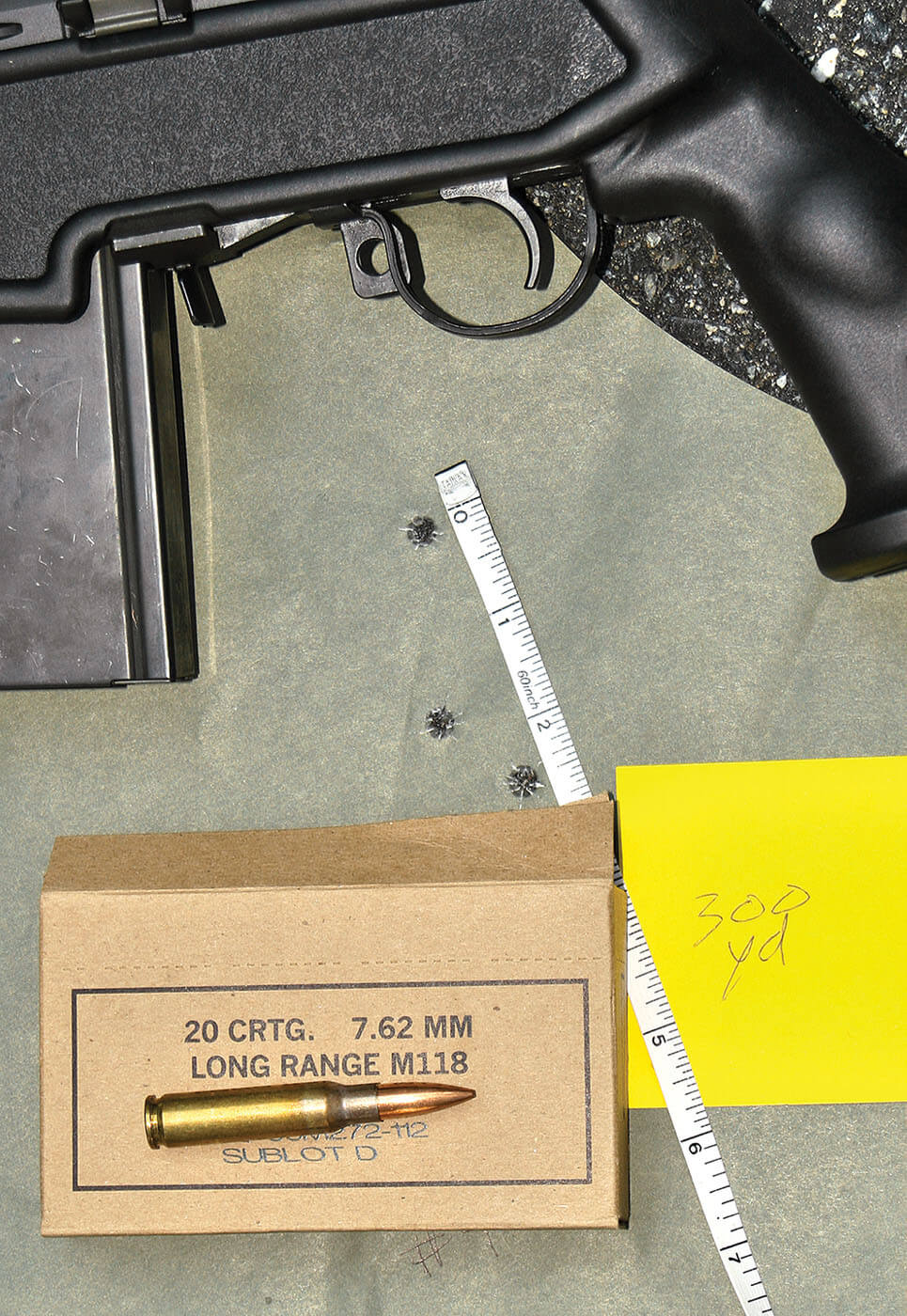 From 300 yards, a load developed for the military—the MK 118 175-grain boat tail hollow point—put three shots into 2-5/16ths inches. Well within a minute of angle, and delivered with a powerful semiautomatic rifle.
At virtually every distance, our test team was putting bullets into the tie-breaking center "ten-X" ring. Accuracy that, delivered on demand, would win national championships.
No malfunctions of any kind were noted by any of the testers. 100% reliability.
Why A Semiautomatic Precision Rifle?
For more than a hundred years, conventional wisdom has held that if you wanted the ultimate in precision, you'd need a single-shot or bolt-action rifle, and a semiautomatic was for when you needed to shoot multiple shots fast, with coarser accuracy being the universally accepted penalty.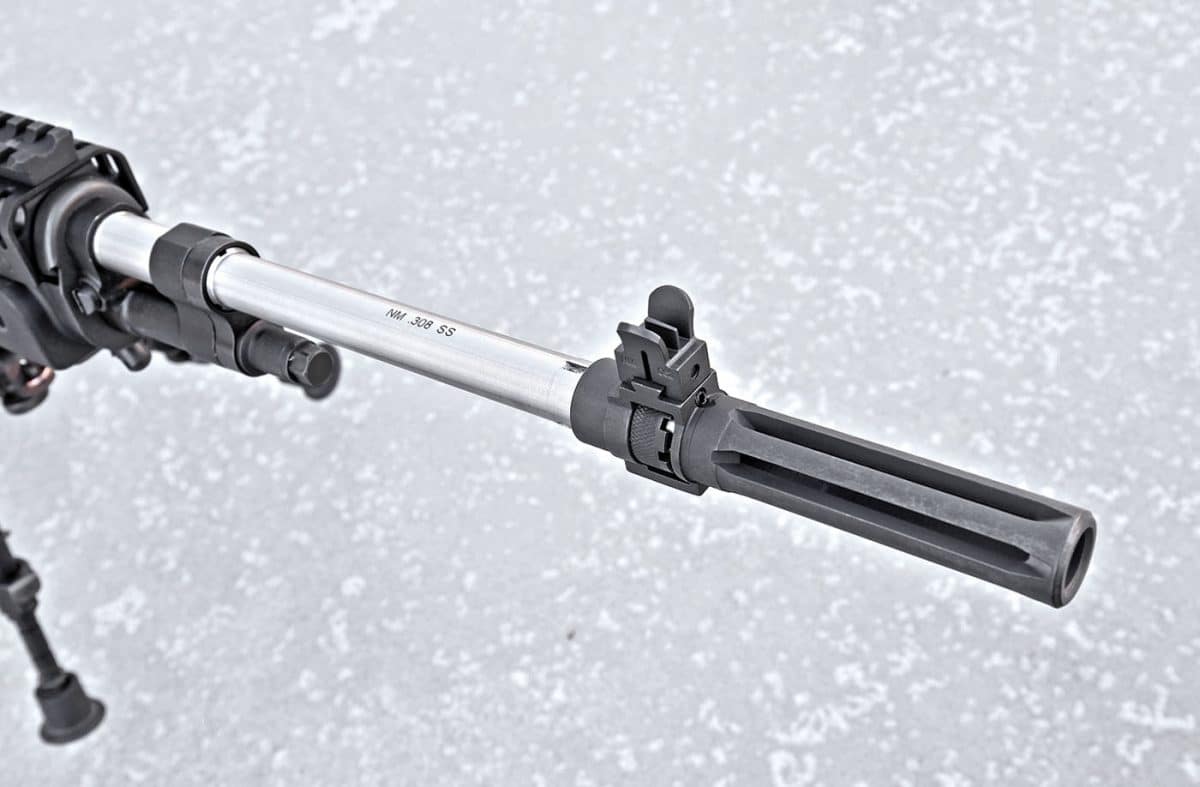 That has changed, largely due to the prevalence and advancement of the AR-15 platform. Modern advancements have impacted the M14/M1A platform, too. When our military abandoned the M14 as the general issue rifle they kept it for faster-shooting sniper work, and when the designated rifleman concept came in during recent conflicts, the military scrambled to take old M14s out of mothballs for that assignment.
Years ago, when I was teaching for the Sacramento Deputy Sheriff's Association at their agency's range, we hosted as a guest lecturer the man who had been behind the precision rifle when the Two Guys electronics store hostage situation went down in 1991. A gang of four homicidal thugs were holding forty hostages. When it became clear that deadly force would be the only option for the largest hostage rescue operation in American police history, the plan was for a SWAT sniper—our guest lecturer—to take out the leader with the first shot, at which time the staged rescue team would make entry.
He was behind a standard bolt-action precision rifle, with the target spot on in his crosshairs. However, just at the moment he pressed the trigger, the lead hostage taker pulled a heavy glass door closed between himself and the bullet. The angled, thick glass was just enough to deflect the .308 slug.
Still up and running, the killer raced away from the door, shooting hostages, before the rifleman could bolt another round into the chamber. The entry team exploded in, but by that time four hostages were dead and several more wounded. The HK MP5SD submachine guns of the entry team quickly put down the hostage takers—three killed, the fourth wounded and captured—but the man behind the precision rifle still grieved for those who were killed by the man who had escaped the one shot the rifleman had no time to follow up with his bolt gun. I have always wondered what the outcome would have been if he could have simply fired one or two more follow-up shots instantly, with a semiautomatic rifle as accurate as, say, a Springfield M1A Loaded.
Value Factor
My thanks to Fred Mastison, whose excellent article in GWLE convinced me I needed to shoot this rifle. It's too heavy to be an "all-purpose" rifle, but when fast, powerful shots are needed at ranges that may be long, the Springfield M1A Loaded is absolutely worth every penny of its manufacturer's suggested retail price of $2,005, given that it includes the already-expertly-fitted Archangel stock that runs close to $250 as a separate item that isn't necessarily easy for the aftermarket buyer to install. The MA5028 Steel Mount runs $299; the Vortex Viper 6 Scope, $739; and the Vortex Rings, $50 a pair. Total retail on a rifle set up like this one: $3,093.00.
Editor's Note: This article was written by Massad Ayoob and shared with us by On Target Magazine.
Join the Discussion
Featured in this article
Continue Reading
Did you enjoy this article?
81