When I was around five years old, I remember getting my very first G.I. Joe. I wish I could find a picture to show you. He was an Army G.I. Joe that came with a green dress uniform, tie, dress shoes, hat and all.
He came with one gun and one gun only: a beautiful walnut-stocked M14.
Okay, it was actually made of plastic, and the rifle was proportionally sized to fit his 12″ height. But the rifle that was with him was a standard-issue M14, the military sibling of the Springfield Armory M1A.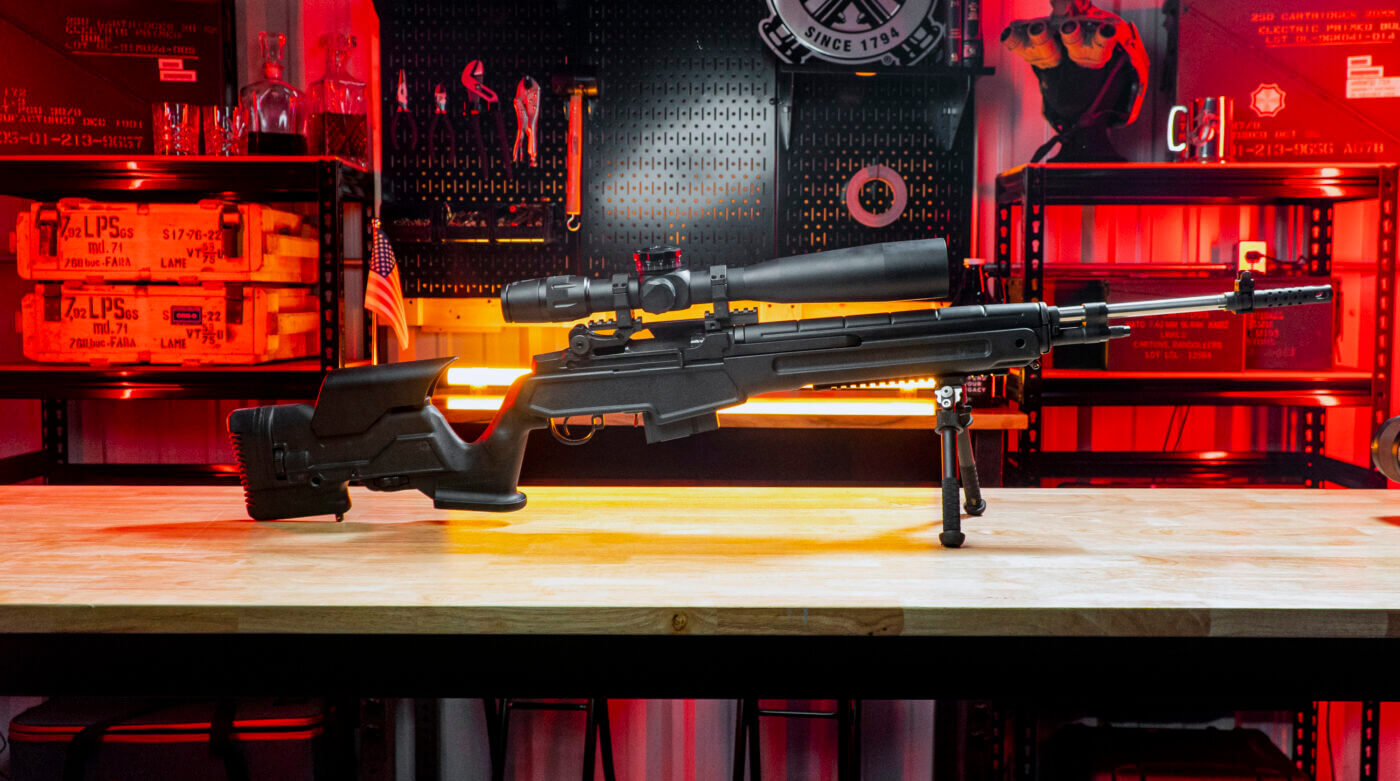 Ever since then, from my five-year-old brain until now, the shape of an M1A has been ingrained in my head. I can spot one from across the room and know immediately that it's an M1A. The rifle is iconic. We have seen it on the big screen in movies, and our beloved childhood toys came equipped with it.
The name Springfield Armory has long been associated with guns that have made a mark on history. The M1 Garand is where the fascination with the story of the M1A began. The Garand is a fantastic gun design that was truly advanced for its time, and people still love it today. I know personally, I'd like to have one just because it's a famous American rifle. Today, the M14-based semi-automatic M1A is really no different. Basically, I'd like one of those standard-issue M1A rifles too, just because. I know there are a lot of people who are no different.
Yesterday and Tomorrow, Today
For me, nostalgia is enough reason to purchase an M1A. But for those who want something a little more modern, Springfield Armory developed the M1A Loaded Precision rifle. Designed with distance shooting in mind, the M1A in the Loaded Precision package comes in an Archangel stock with an adjustable buttstock so that you can get the perfect eye relief for your optic. They offer this version in the traditional .308 chambering, but they also have it available in the modern 6.5 Creedmoor round that is much better at wind deflection for long-distance shooting.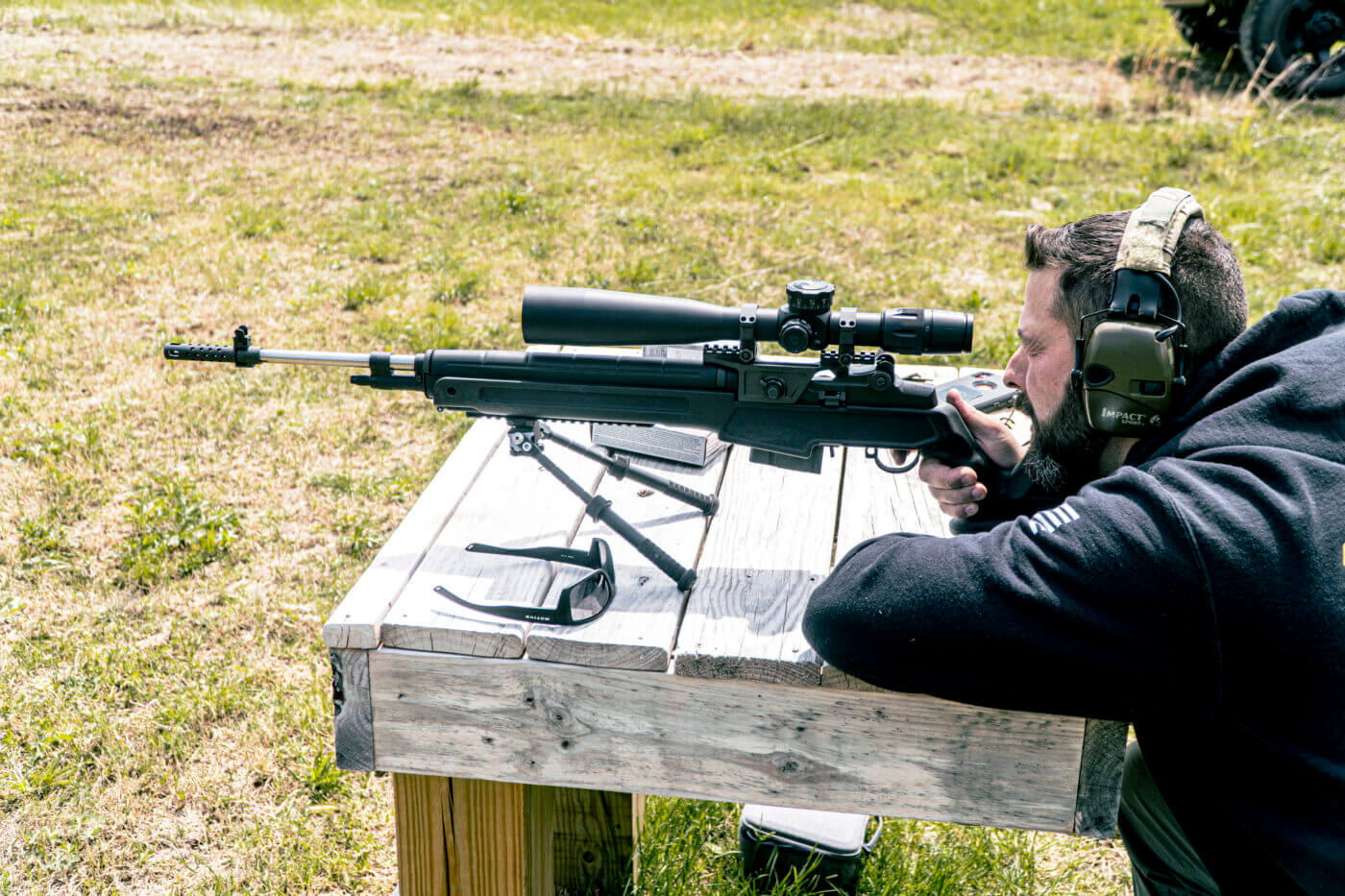 We were fortunate enough to have our hands on the M1A Loaded Precision rifle in 6.5 Creedmoor for a while, and it is without a doubt a very worthy distance-shooting rifle. We took it out to the range and shot some Winchester Deer Season XP 6.5 Creedmoor rounds with the rifle and were hitting consistently at 600, 700 and 800 yards.
This version of the M1A weighs in at over 11 lbs. and is around 46″ in overall length. It has a National Match medium-weight barrel with a 1:8″ twist. It also has a National Match tuned two-stage trigger. These qualities and features aid this rifle in being living up to its name of a precision rifle.
M1A Loaded Precision Specifications
Here are the specs on the M1A Loaded Precision as tested in this article:
| | |
| --- | --- |
| Chambering | 6.5 CM |
| Barrel | 22″ |
| Weight | 11 lb. 4 oz. |
| Overall Length | 45″-46.25″ |
| Sights | Aperture rear |
| Stock | Precision adjustable |
| Action | Semi-auto |
| Finish | Black, stainless steel |
| Capacity | 10 (one included) |
| MSRP | $2,088 |
Conclusion
Springfield Armory has done a fantastic job at keeping the M1A up with the times and providing customers with a rifle that is relevant, no matter what purpose they need it to fill. The M1A is a rifle that no doubt will be around for many, many more years. I for one would be glad to see the M1A stick around. A truly American rifle with a distinguished look and unique design deserves nothing less.
Editor's Note: Please be sure to check out The Armory Life Forum, where you can comment about our daily articles, as well as just talk guns and gear. Click the "Go To Forum Thread" link below to jump in and discuss this article and much more!
Join the Discussion
Featured in this video
Continue Reading
Did you enjoy this video?
56