Here at GunSpot, we were lucky enough to meet the folks at U.S. Optics at SHOT Show 2020, and since then they have sent us an FDN 25X scope for review. This is their top-of-the-line, maximum power long-distance scope. Naturally, we needed a high-powered rifle to pair with it, so we chose the Loaded M1A Precision rifle in 6.5 Creedmoor.
The FDN 25X is a 5-25 power scope with a 34mm tube. The quality of this scope is fantastic. It is highly durable, and this is apparent as soon as you get your hands on it. I feel pretty confident to say that you could take this scope and beat someone with it in self-defense, put it back on the rifle and it would not be broken and would still hold its zero. This scope is just over 2 lbs., so it is a thick-walled and dense optic.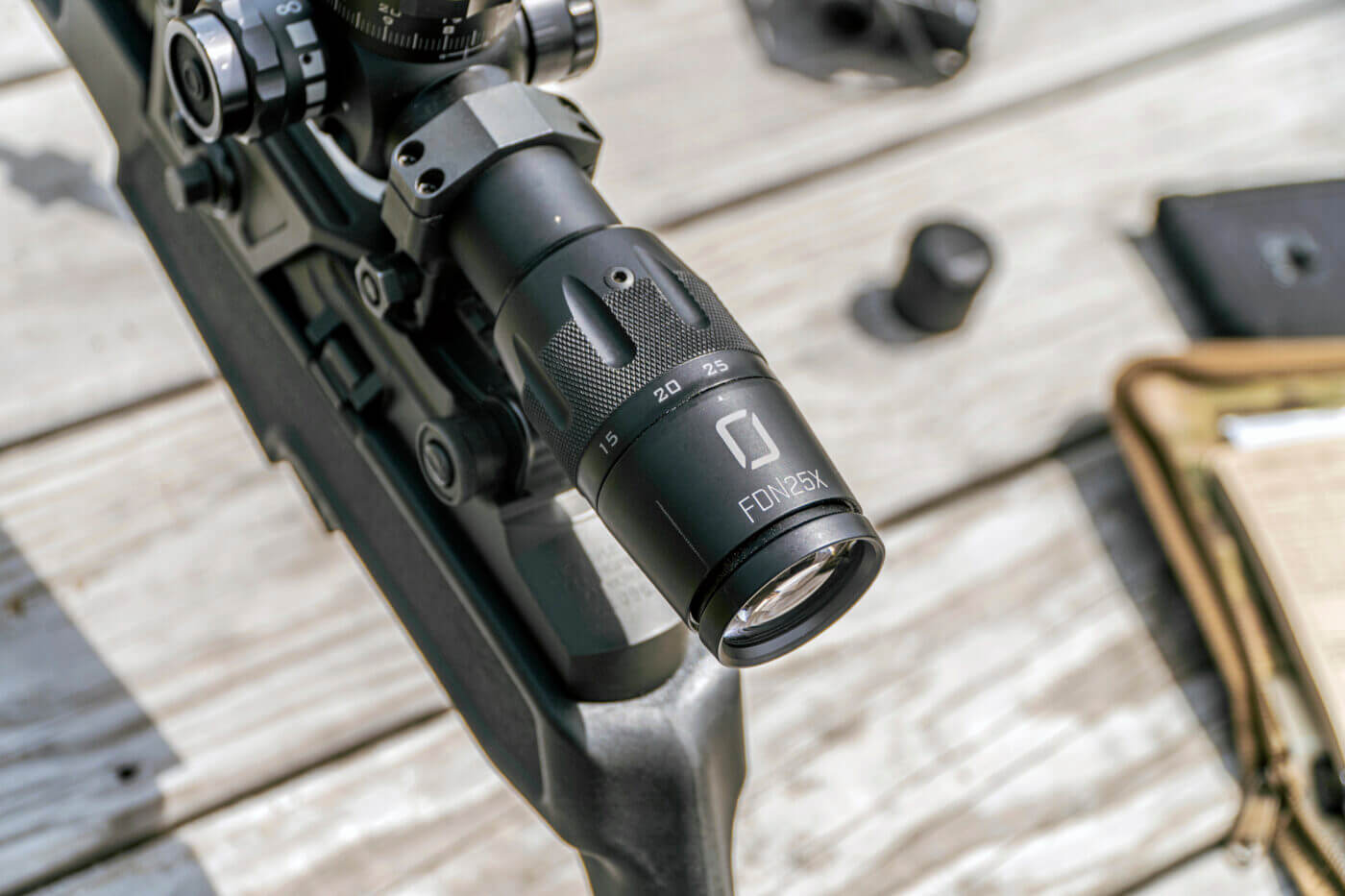 This scope features a 52mm objective, 6061-T6 aluminum 34mm tube, and a low-profile ER3K elevation knob with a zero stop. It also has an ergonomic capped US#1 windage knob. This scope does have an integrated illuminated reticle and parallax knob. (Get additional information on parallax here.) Something to note is the fact that the zoom on this is a smooth rapid adjustable 180-degree magnification throw. Scopes with a power adjustment from 5-25 can have some pretty stiff magnification sometimes, but this one is consistently smooth all the way through.
Custom Grade
This scope has a starting price tag of around $3,499, but depending on the options you choose the price can go up. This brings me to another point I'd like to mention about this scope. You can customize this scope for you in almost any way that you want. You can choose from any Cerakote number that you want for a color. So, if there's some custom color you want you can order your scope in that color from U.S. Optics.
This is cool because putting Cerakote on a scope can be a challenge. Scopes have gases inside the optic, and it makes it a challenge for the Cerakote process.
There are 11 reticle options you can choose from on their website. We got ours in with the JVCR reticle. The reticle options they have available right now are as follows:
GAP
GENIIXR
MGR
MPR
JVCR
IGR
MDMOA
H59
H102
TREMOR3
PR2
So, there should be a reticle option for everyone out there!
There are three illumination options for the reticle including red, green and blue. There are also options for elevation, windage and even your eyepiece.
U.S. Optics FDN 25X
| | |
| --- | --- |
| Power/Lens Diameter | 5-25x52mm |
| Reticle | GAP, GENIIXR, MGR, MPR, JVCR, IGR, MDMOA, H59, H102, TREMOR3, PR2 |
| Tube Diameter | 34mm |
| Weight | 34.4 oz. |
| Length | 17.93″ |
| MSRP | $3,449 |
The Why
There is no doubt in my mind that you can find scopes cheaper than this one at the same power option. But, this scope from U.S. Optics is a custom scope and it's handmade here in the United States.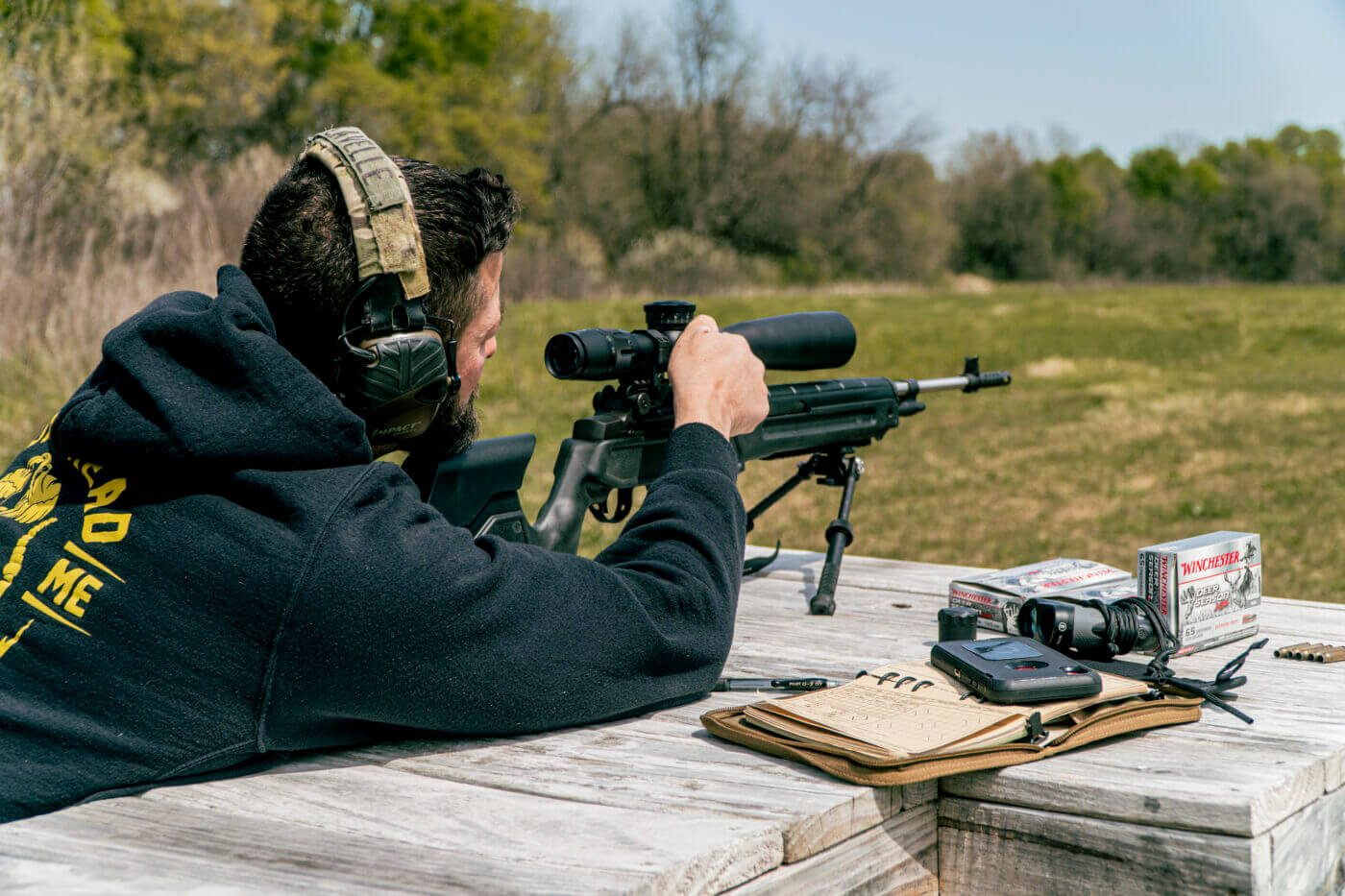 We did shoot it on the M1A Loaded Precision rifle in 6.5 Creedmoor and were able to shoot targets over 1,000 yards. On the video, we shot at 800 consistently. In fact, the FDN 25X is able to acquire targets out to 2,000 yards, so there will be no issues of this scope lacking power.
The knobs on this scope are great; in particular, the extremely large beefy elevation knob is fantastic. The elevation knob is used the most when applying DOPE since a wide group of shooters prefers to just hold their wind adjustments instead of dialing them.
The elevation knob being so large is great for gloved hands and cold hands. Having all that material is great to grab onto and it lets you easily see the numbers as you turn the knob. The large knobs really helped make the sighting in process much easier!
U.S. Optics also has a really great way of resetting the 0 of the knobs. On the top, there are two small set screws in the elevation knob and when you take those out it lets you lift the cap off so you can move your 0 back to the proper middle position after you sight in your rifle.
Conclusion
The FDN 25X is a custom scope and it is made for some of the top shooters in the world. That's right, I said in the world. U.S. Optics has customers who use these scopes for competitions, and their livelihoods depend on the dependability and accuracy of these scopes.
That being said, since it's a custom scope tailored to you, and some of the best shooters in the world choose this scope, it's going to be higher in price range than some others out there. But if you shoot a lot and you need a custom reticle, illumination color and scope color to go with your rifle, this is without a doubt a good one. Plus, it's made right here in the United States.
If you'd like to buy a scope from US Optics use the promo code GUNSPOT15 at checkout to get 15% off!
Editor's Note: Be sure to check out The Armory Life Forum, where you can comment about our daily articles, as well as just talk guns and gear. Click the "Go To Forum Thread" link below to jump in!
Join the Discussion
Featured in this video
Continue Reading
Did you enjoy this video?
21