Springfield SAINT B5 Review
August 23rd, 2023
8 minute read
Over the past six decades, the AR-15 type rifle has undergone various modifications, upgrades and enhancements. I often wonder if Eugene Stoner envisioned the amount of modularity and breadth of offerings you see today when he first designed the rifle.
While there are a range of applications for which the AR is appropriate, its versatility and low recoil make it particularly ideal for home defense, in my opinion. When The Armory Life asked me if I would like to review the SAINT B5 Systems M-Lok rifle, I jumped at the opportunity to go hands-on with a budget-friendly production rifle. Based on my experiences with it, I believe this carbine is well-suited for the defense of hearth and home, as well as police patrol duty. 
[Ed. note: This is a Springfield Armory SAINT B5 review. Be sure also to read our SAINT Victor B5 review.]
Initial SAINT B5 Impressions
When I opened the box at my local FFL, I was impressed with the attention to detail that Springfield included. Packed in the box are Items that will help new gun owners get to the range immediately. Things like a soft case with magazine storage and a bright orange chamber flag, something now required by many ranges, were just some of the included items.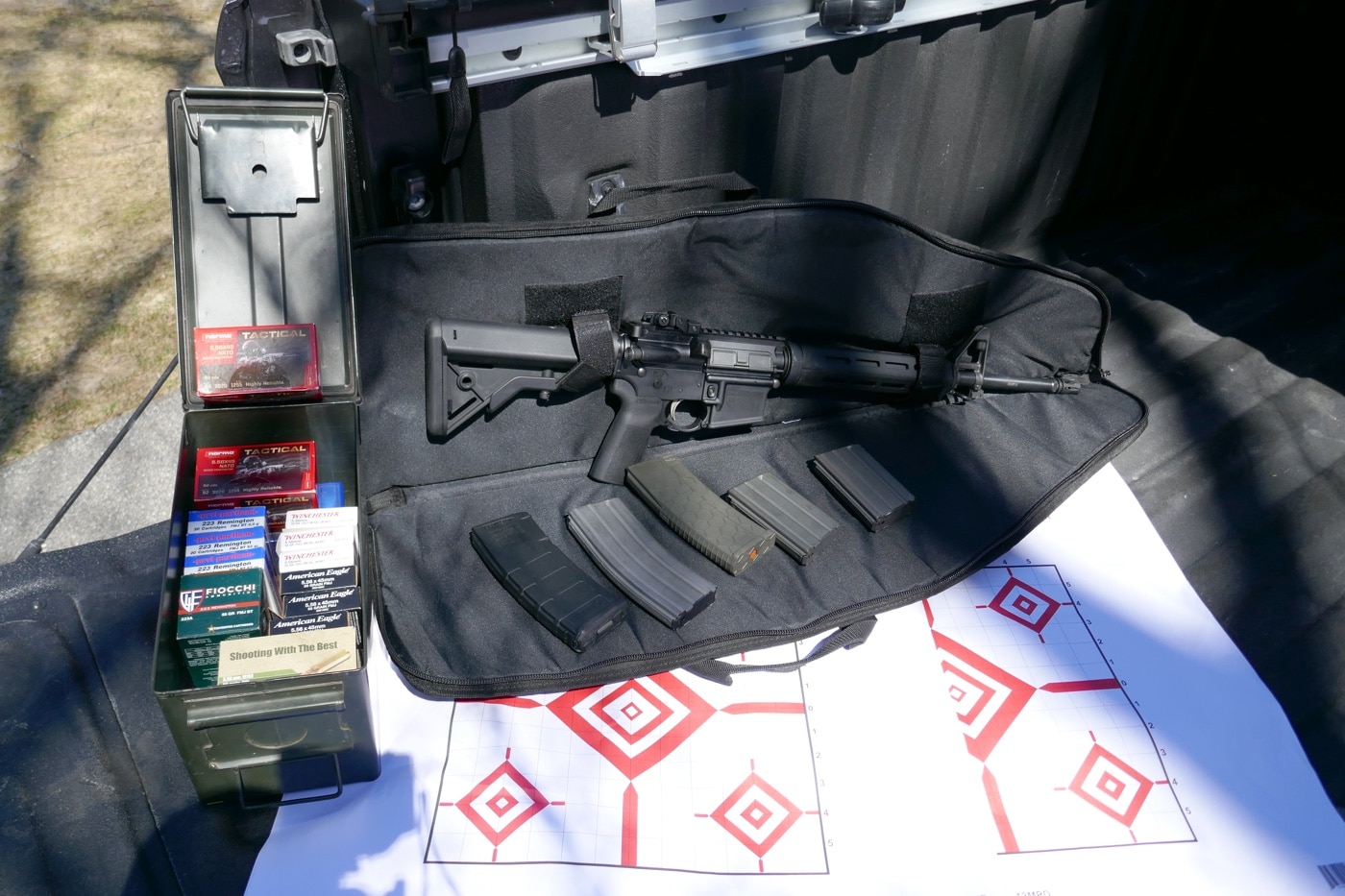 Functional upgrades are standard on this rifle. Some of them include:
Metal rear sight, with large and small apertures, that folds flat
Mid-length gas system

M-Lok

handguards
B5 SOPMOD buttstock (for a good cheek weld)
B5 Type 23 pistol grip
Melonite coated barrel, bolt and carrier
Springfield wisely marked the lower receiver as MULTI-CALIBER and laser engraved the barrel with the chambering of this specific rifle, which is 5.56 NATO (it can fire both 5.56mm and .223 ammo). A nice touch is the laser-engraved logo on the bolt.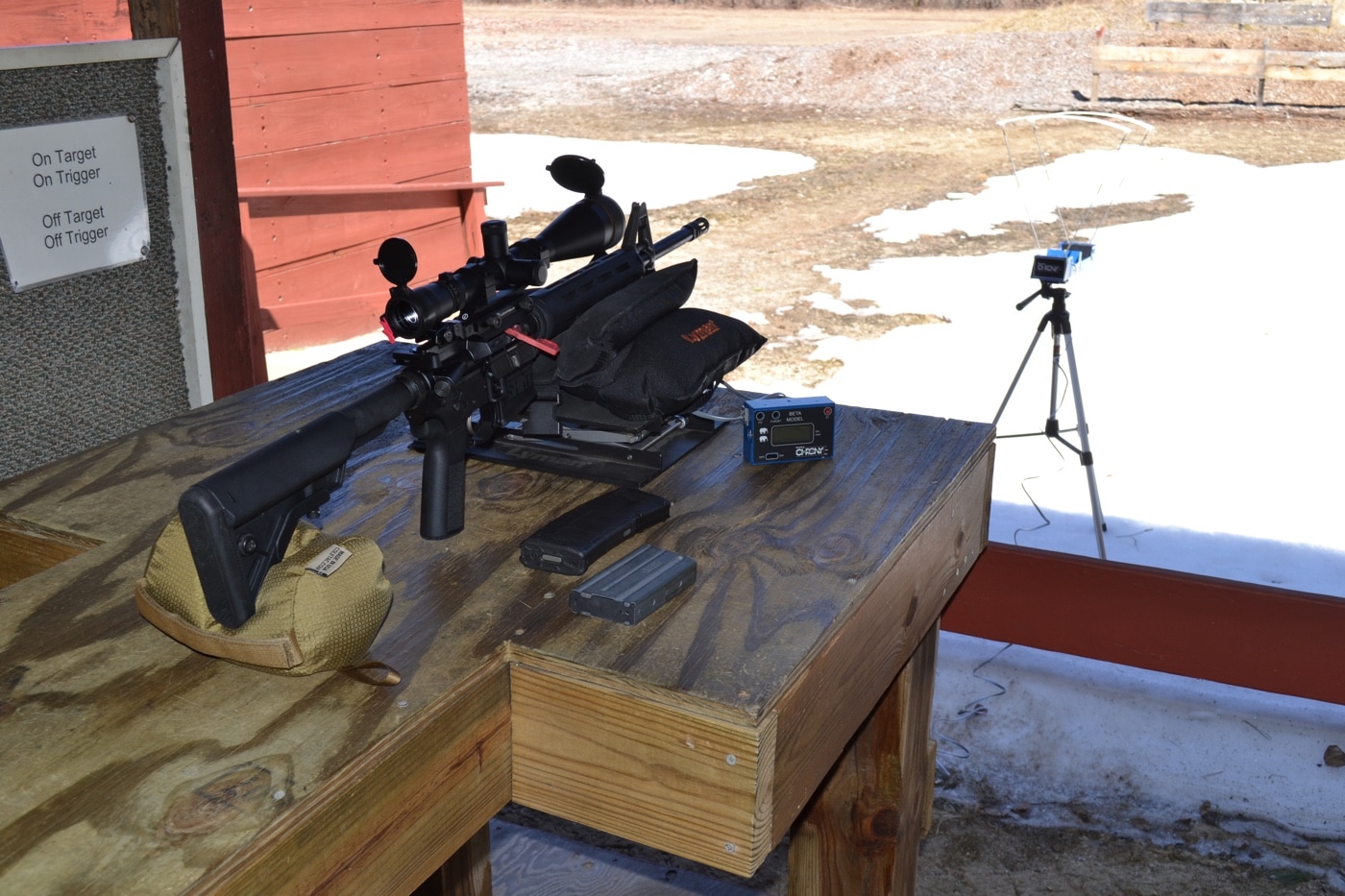 The trigger had a consistent pull weight of 6.2 lbs. as measured on a Lyman Electronic Trigger Pull Gauge. I checked the pull weight after a day of shooting, in which I estimated the pull weight to be closer to four pounds; I attribute the lighter feel to a lack of creep and the nickel boron coating. After that same day of shooting, cleaning the rifle was easy due to the Melonite coating.
[Learn more about Melonite in our article Common Coatings and Finishes for Modern Guns.]
SAINT B5 Specifications
Caliber
5.56 NATO (.223 REM)
Barrel Length
16″
Twist
1:8″
Overall Length
33″–36.25″
Weight
6 lbs 4 oz (unloaded)
Lower Receiver
Forged 7075 T6 aluminum
Upper Receiver
Forged 7075 T6 aluminum
Bolt Carrier Group
M16 with Carpenter 158 steel bolt HPT/MPI
Gas System
Mid-length [Read: What Is a Mid-Length Gas System?]
Stock
B5 Systems Bravo (mil-spec extension)
Trigger Guard
B5 Systems polymer
Grip
B5 Systems Type 23 P-Grip
Handguard
B5 Systems Mid-Length,

M-Lok

Sights
A2-style front sight, flip-up rear
MSRP
$1,023
Accuracy Testing the Springfield Armory SAINT
To determine the inherent accuracy potential of a rifle with specific ammunition, a solid rest is required to help hold the exact same point of aim for each shot. For this testing, I used a Lyman Bag Jack and a Cole Tac Woobie Bag as a rear rest.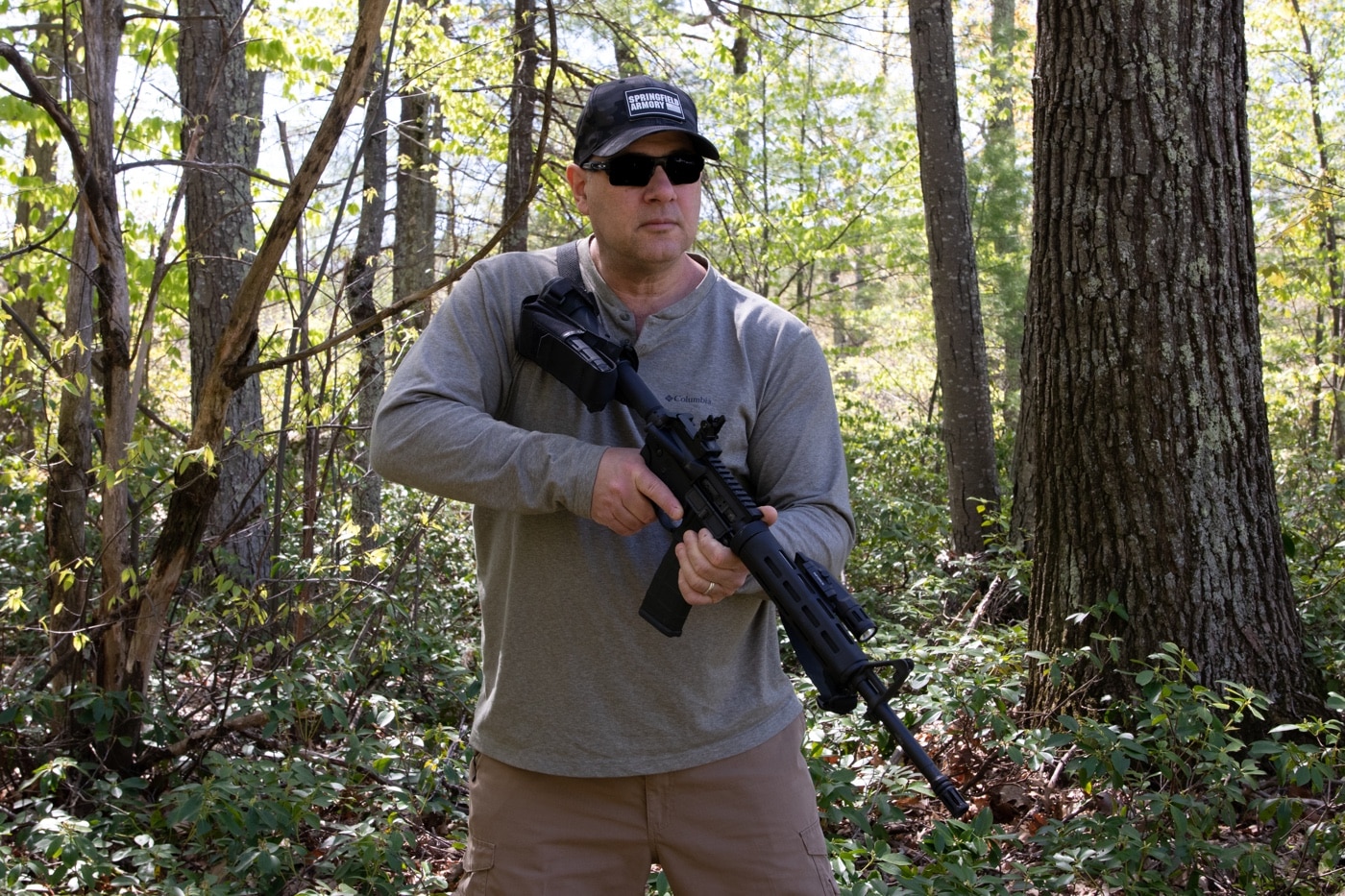 For an optic, I mounted a vintage Leupold Vari X III 8.5–25 scope, which, with its duplex reticle, allows the shooter to easily hold a point of aim on a sight-in-target and easily shoot for groups. Without these tools, it would be difficult to determine the true accuracy potential of a rifle/cartridge combination. (Author's note: in the accompanying photo, it appears as if the A2 front sight blocks the scope. For some reason, known only to optical engineers, it does not. There is a clear, unobstructed view of the target.)
When performing this sort of testing, off-center groups are not a concern: a scope can be adjusted later, and the primary concern is group size. Despite the ammunition shortages and price increases of the past few years, I dipped into my personal arsenal. I pulled out several different types of ammunition for testing and evaluating the SAINT M-Lok.
[You should also read our article What Is M-Lok?]
On a cool and windy spring day in New Hampshire, where the high temperature was about 45 degrees, I shot five-shot groups at a zeroing target 100 yards away. To determine the three loads which produced the smallest three-shot groups, I disregarded the two worst shots and measured the group size of the three best shots (which, as the accompanying chart and photo shows, were very close). Norma Tactical 62 grain SS109, IMI M193 Ball and Hornady/Frontier M193 ball all produced groups that were slightly over 1 MOA.
All three of these cartridges are loaded to 5.56 NATO pressures. The IMI and Hornady used a 55-grain bullet, and the Norma is loaded with a 62-grain SS109 projectile.
Ammunition Performance at 100 Yards
| Ammunition | Velocity | Energy | Best 3 Shots | Best 5 Shots |
| --- | --- | --- | --- | --- |
| Hornady/Frontier M193 ball 55-grain | 3,213 fps | 1,261 ft-lbs | 0.950″ | 2.800″ |
| Norma Tactical SS109 62-grain | 2,996 fps | 1,236 ft-lbs | 1.365″ | 2.500″ |
| IMI M193 ball 55-grain | 3,002 fps | 1,101 ft-lbs | 1.100″ | 2.525″ |
Accuracy results measured by hand with a dial caliper. Shooting velocities are an average of five shots over a Shooting Chrony Beta chronograph at 10′ from the muzzle.
The group sizes were unsurprising because the SAINT M-Lok has a Melonite-coated barrel, and the 1:8" twist will stabilize nearly any bullet weight selected for defensive use. Melonite provides excellent corrosion resistance and, in my experience, generally produces smaller groups than a chrome-lined barrel.
[For additional information about the advantages of this twist rate, please read Twist Rate and the SAINT: What Does 1:8″ Get You?]
Once I was done shooting groups with the scope, I decided to use the iron sights to shoot an MR-31 service rifle target. An MR-31 is a 600-yard target, reduced for 100-yard ranges — in other words, the black center is sized proportionally so that it appears as if the shooter is looking at it through open sights at 600 yards. I used Norma's ammunition.
An MR-31 target, shot at 100 yards, is a good choice for a carbine instead of a full-length rifle due to the velocity loss from the shorter barrel. At 100 yards, mirage and wind are less of a problem. The A2 front sight, paired with the Springfield fold-down rear sight (I used the small aperture) made shooting for a group at the MR-31 target pretty easy.
The SAINT M-Lok performed admirably at all distances, but the rifle is best suited for self-defense or police duty where lethal threats must be clearly identified and are most likely to be within 100 yards. An 8.5 -25 scope is not the best choice for a defensive carbine, so I mounted a low-power variable optic (LPVO). Specifically, a vintage Leupold Vari X II, 2-7 and zeroed it for 50 yards and practiced some defensive shooting drills.
Sure, this scope is dated — it has an old-fashioned fine reticle without illumination or a red dot in the center. However, at 2X instead of the increasingly common 1X, the A2 front sight cannot be seen when looking through the scope — that is important. An LPVO gives the shooter a significant advantage when attached to a CQB rifle — threats can be clearly and quickly identified, and target acquisition is faster because there are no sights to align.
[For additional information about low-power variable optics, check out What Is an LPVO Scope?]
Legally armed citizens and police officers must be able to identify a target properly and be able to explain why the person they shot at (or pointed a firearm at) posed a lethal threat. As distance increases the ability to identify a threat becomes more difficult. An LPVO, even one without an illuminated reticle, that was manufactured before LPVOs were popular — provides enough magnification to identify a threat clearly but not so much that shooting "off-hand" becomes difficult within 100 yards.
I added a sling, a buttstock spare magazine carrier and an INFORCE WMLx GEN 2 weapon light because many self-defense situations occur in low light.
About 300 rounds of several different types of ammunition were fired for this evaluation. The ammunition was fed from 20- and 30-round capacity magazines made by Sentry (Hexmag,) Magpul, NHMTG and Brownells. No malfunctions were experienced.
When evaluating the overall quality of a rifle, I want to know if the manufacturer held the headspace as close as possible to the minimum chamber dimensions. A headspace gauge will confirm that a rifle is safe to shoot. I didn't check the headspace; I presume a production rifle is safe to shoot. What I did do was to check the fired cases in an L.E. Wilson Case Gage to get an idea of how much they expanded.
Reloaders use case gauges to help them correctly set up full-length resizing dies. If the die does not "bump the shoulder back" far enough, a resized case won't fit in a rifle. Using a case gauge also prevents the reloader from oversizing the case by pushing the shoulder back too far.
Dropping a few fired cases into a Wilson Case Gage tells me a lot about chamber dimensions and headspace. Sometimes, a fired case has expanded so much that it will barely fit in — that tells me that even though a particular rifle fired and cycled properly, the chamber is too large. In other instances, the case drops in most, but not all of the way.
After my range day with the SAINT M-Lok, I dropped a few fired cases into a Wilson Gage and they dropped all the way in with almost no resistance. This told me Springfield Armory used a quality reamer, and the chamber is sized correctly. A properly sized chamber will, in most cases, increase accuracy. However, if a chamber is too tight, a semi-automatic rifle will not feed and extract reliably. The folks at Springfield got the SAINT's chamber dimensions just right.
Final Thoughts on the Springfield SAINT B5
The SAINT M-Lok is an excellent value for anyone needing a budget-friendly AR-15 defensive carbine that can be easily upgraded later. For the firearms owner who already owns a few rifles, the competitive pricing of the SAINT B5 Systems M-Lok makes it an excellent choice for a spare rifle or a vehicle gun. The folks at Springfield Armory clearly thought this through, and they have a winner.
Editor's Note: Please be sure to check out The Armory Life Forum, where you can comment about our daily articles, as well as just talk guns and gear. Click the "Go To Forum Thread" link below to jump in and discuss this article and much more!
Join the Discussion
Featured in this article
Continue Reading
Did you enjoy this article?
181