The Grunt's Greatest Gat
October 31st, 2019
5 minute read
On July 7, 1944, Sergeant Thomas Baker was gravely wounded while fighting fanatical Japanese defenders during the Battle for Saipan. His primary weapon had been ruined during vicious hand to hand fighting. Not wanting to endanger his comrades, Sergeant Baker asked for a 1911 pistol containing eight rounds of ammunition. When last seen alive he was resting with his back against a tree in a jungle clearing.
When American forces later assaulted through the area they discovered Thomas Baker's lifeless corpse. The slide was locked back on his empty pistol, and there were eight dead Japanese soldiers scattered about the clearing. Sergeant Baker's posthumous Medal of Honor stands in profound testimony to unimaginable personal courage. The G.I. pistol he carried is an American icon.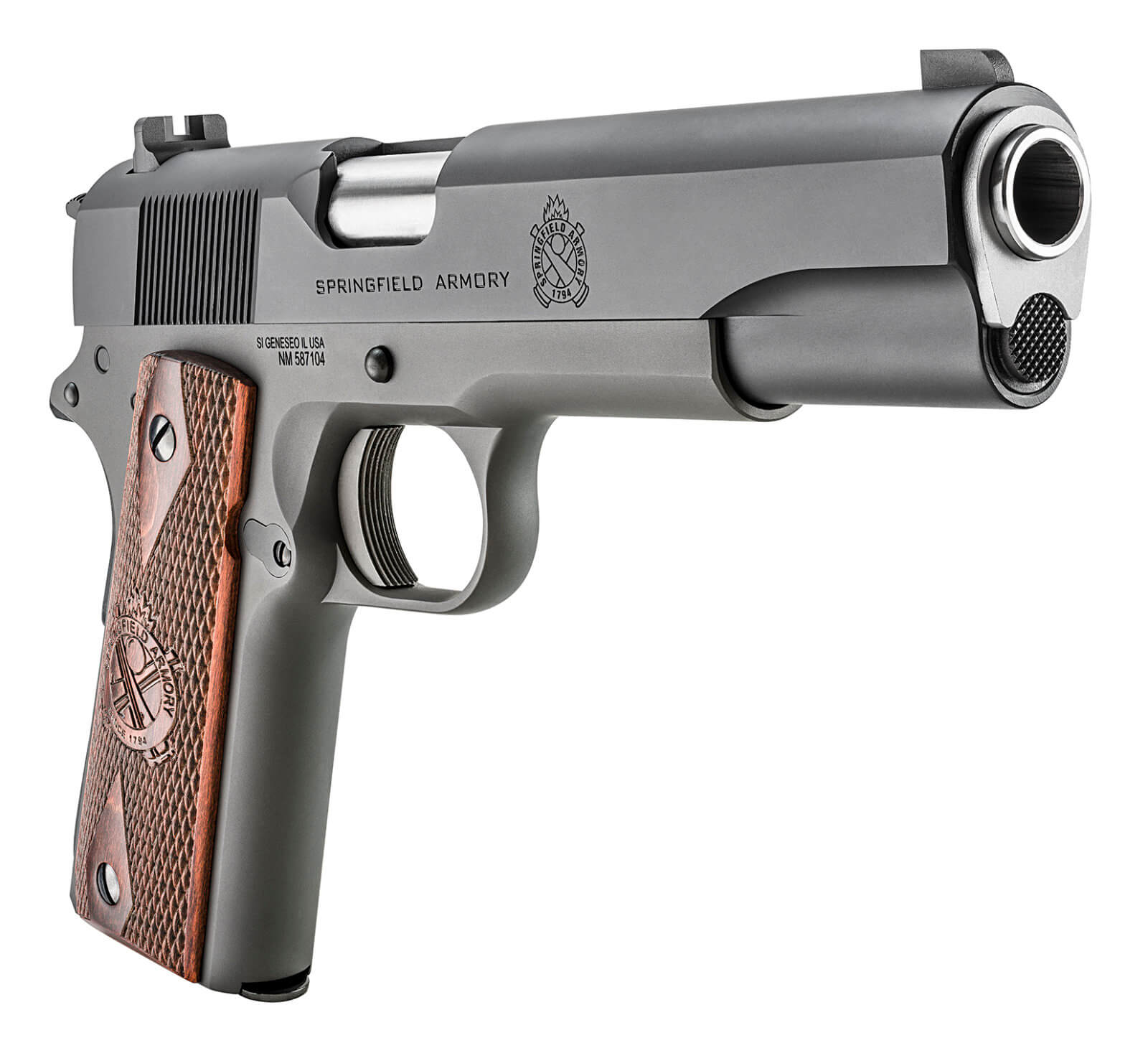 The M1911 pistol earned its place in Sergeant Baker's hand that fateful day as a result of a grueling head to head trial between John Moses Browning's design and one from Savage. The competition came down to a two-day torture test, winner take all. A single example of each gun fired six thousand rounds. When the guns got hot they were simply immersed in water to cool them off. The other had thirty-seven stoppages. John Moses Browning's 1911 had none.
After more than 2.7 million GI-issue pistols later, the M1911 has formed the foundation of modern pistol craft. Even more than a century after its introduction the 1911 still has more than its share of rabid acolytes. I am one of them.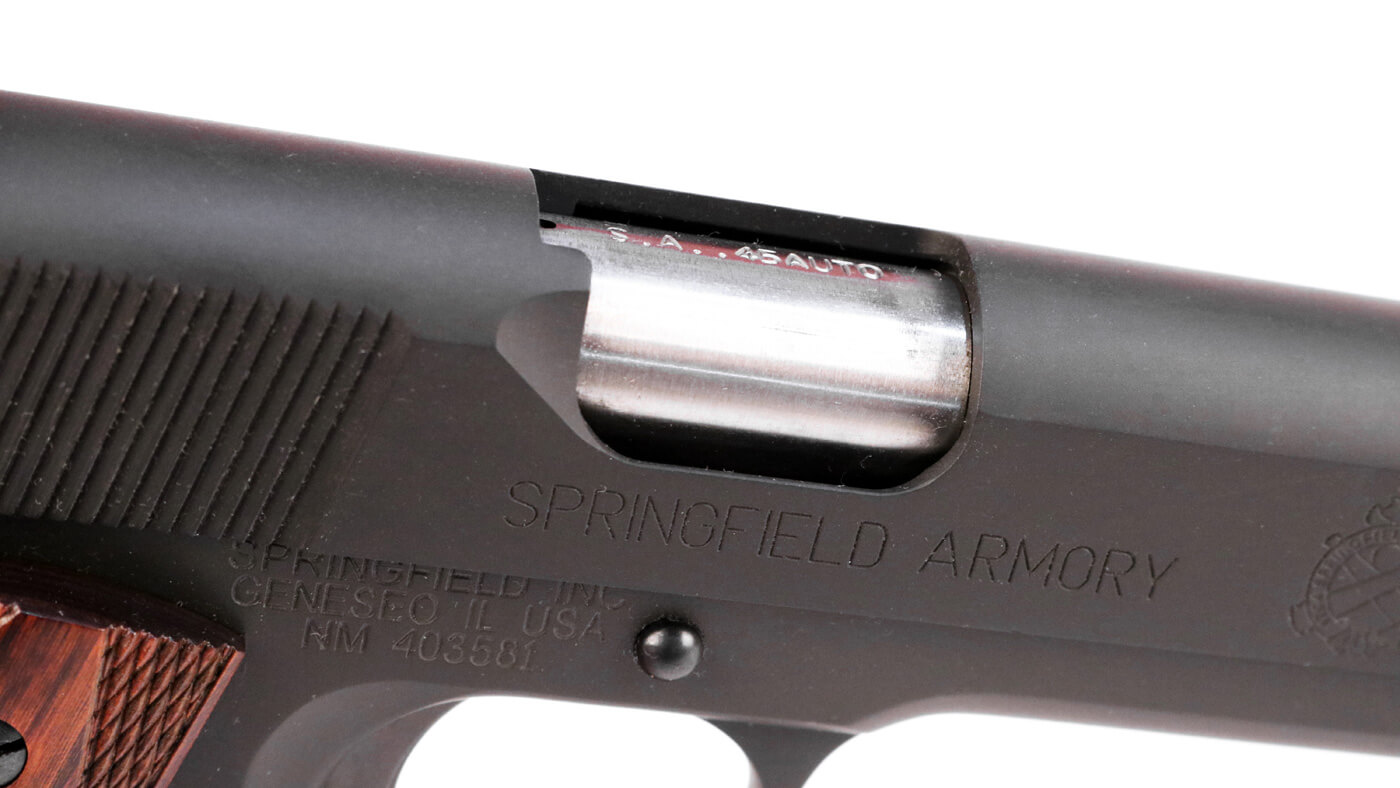 Modern Treatment
The sundry details of memory bumps, skeletonized triggers, checkering, and customized controls are the places where pistolero dreams go to thrive or die. An entire industry orbits around customizing John Browning's timeless hogleg. However, like Coke Classic, Lady Liberty, the Beatles, and Marilyn Monroe, sometimes there are salient attributes to be found solely in the original. In addition to the fancier sort, Springfield Armory also fills that need.
Overall the Springfield Armory 1911 Mil-Spec is typical 1943. The front bit of the frame is smooth, the mainspring housing is arched, and the trigger is small and unremarkable. There are no extraneous grooves on the slide, and the hammer is a classic spur. The gun weighs 39 ounces, just like Browning's original, and the barrel is a full 5″ long. The gun is finished in a pleasing dull Parkerizing.
There are indeed a few nods to modern technological evolution. The sights are about the same size as the originals, but they now feature three white dots. The grips are a beautiful walnut with the Springfield Armory crossed cannons logo. The biggest departure, however, is to be found in the ejection port.
I have an original 1944-production M1911A1 that is a jewel in my personal collection. The gun runs like a sewing machine, but it drops its empties on the top of my head with monotonous regularity. The lowered and flared ejection port of the Springfield Armory 1911 Mil-Spec spits the hot brass out to the side without bouncing the cases off your face. The difference is obvious at a glance, but most normal folks won't care. This does make the gun perform much better on the range while enhancing reliability.
How Does She Run?
A little trigger time behind the Springfield Armory 1911 Mil-Spec reminds you what all the fuss was about back before the First World War. The single-stack, seven-round magazine keeps the grip comfortable for most American shooters with normal-sized mitts. The slide-to-frame interface slides like greased glass. The trigger is indeed shorter than those on custom guns, yet it nonetheless feels familiar and tight. The three-dot sights are much easier to acquire than the tiny unadorned G.I. versions.
Recoil is manly without being uncomfortable, and the controls fit me like my favorite pair of broken-in boxers. The slide locks back with authority on the last round fired, and empty magazines shoot out of the gun like a liberal fleeing responsibility. Combat reloads will channel your inner Audie Murphy.
Ruminations
John Dillinger carried a gun like this. So did my wife's grandfather. That young stud fought all the way across North Africa, Sicily, and Italy, slogging through places like Anzio and Monte Cassino to ensure that his children grew up in a world free from the Nazis and their ilk. Countless brave American warriors have wielded John Browning's martial marvel to crush the forces of oppression and tyranny for three quarters of a century. Armed professionals continue to slay dragons with theirs even today.
Springfield Armory makes reliably awesome guns. Their 1911 Mil-Spec takes an American classic and sprinkles it with just enough modern technology to make a tactical player in the Information Age. The overall effect is retro gold.
Firearms in this article
Did you enjoy this article?
132
Springfield Armory® recommends you seek qualified and competent training from a certified instructor prior to handling any firearm and be sure to read your owner's manual. These articles are considered to be suggestions and not recommendations from Springfield Armory. The views and opinions expressed on this website are those of the authors and do not necessarily reflect the views and opinions of Springfield Armory.