The Story Behind Federal's Custom Shop
December 14th, 2022
9 minute read
"Here we serve customers who want what the factory doesn't make," said J.J. Reich, ushering me and a handful of other visitors into a big, brightly lit room. Its wide windows fronted a corridor broad as a country lane. Beyond that sprawled the main manufacturing floor of Federal Cartridge. The company opened its Custom Shop in the fall of 2019. If, upon entering you don't drool, you're not a handloader. It's a den of dreams, to which the faithful would promptly add a kitchen and a bed. Besides progressive presses and electronic gadgetry to weigh and measure and check component concentricity, its gleaming benches hold instruments to find the tiniest flaws in finished ammunition. Computers assist the talented engineers blessed to work here.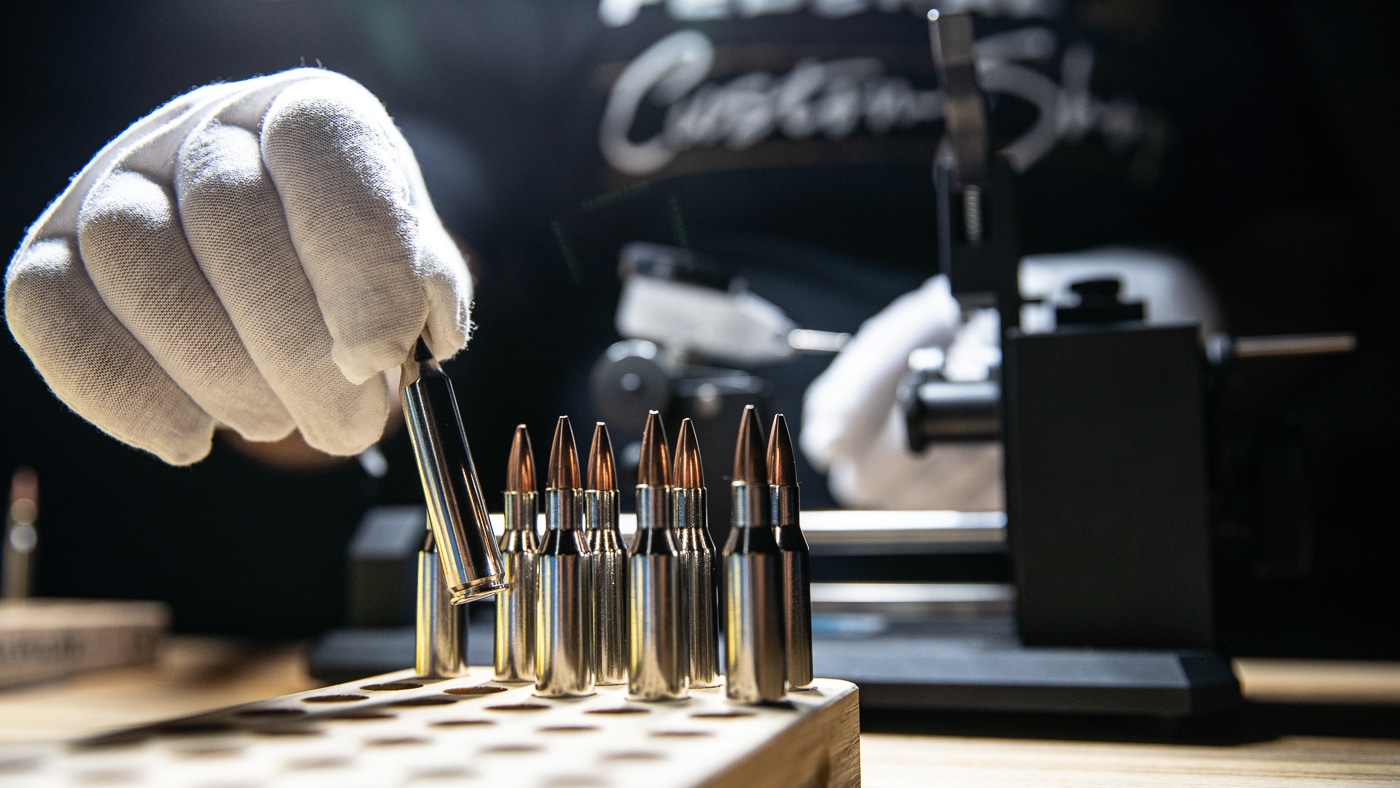 Depending on the projects at hand, explained Federal's J.J., the Custom Shop is run by three or four people.
Federal's first crew wasn't much bigger.
In September, 1916, on 31 Minnesota acres that would become Federal's hub, Harry and Lewis Sherman had established an ammunition factory. Federal Cartridge and Machine Co., crowed the Anoka Union newspaper, would become a "massive" plant, "where all kinds of cartridges will be made." Soon after operations began in its 60×320-foot shop, FC&M was re-organized as the Federal Cartridge Co. But plans to produce 175,000 shotshells a week for military contracts died in November, 1918 — after conflicts with investors had driven the Shermans out. They landed in Kansas City, Missouri, where they founded American Cartridge Co, ironically later acquired by Federal!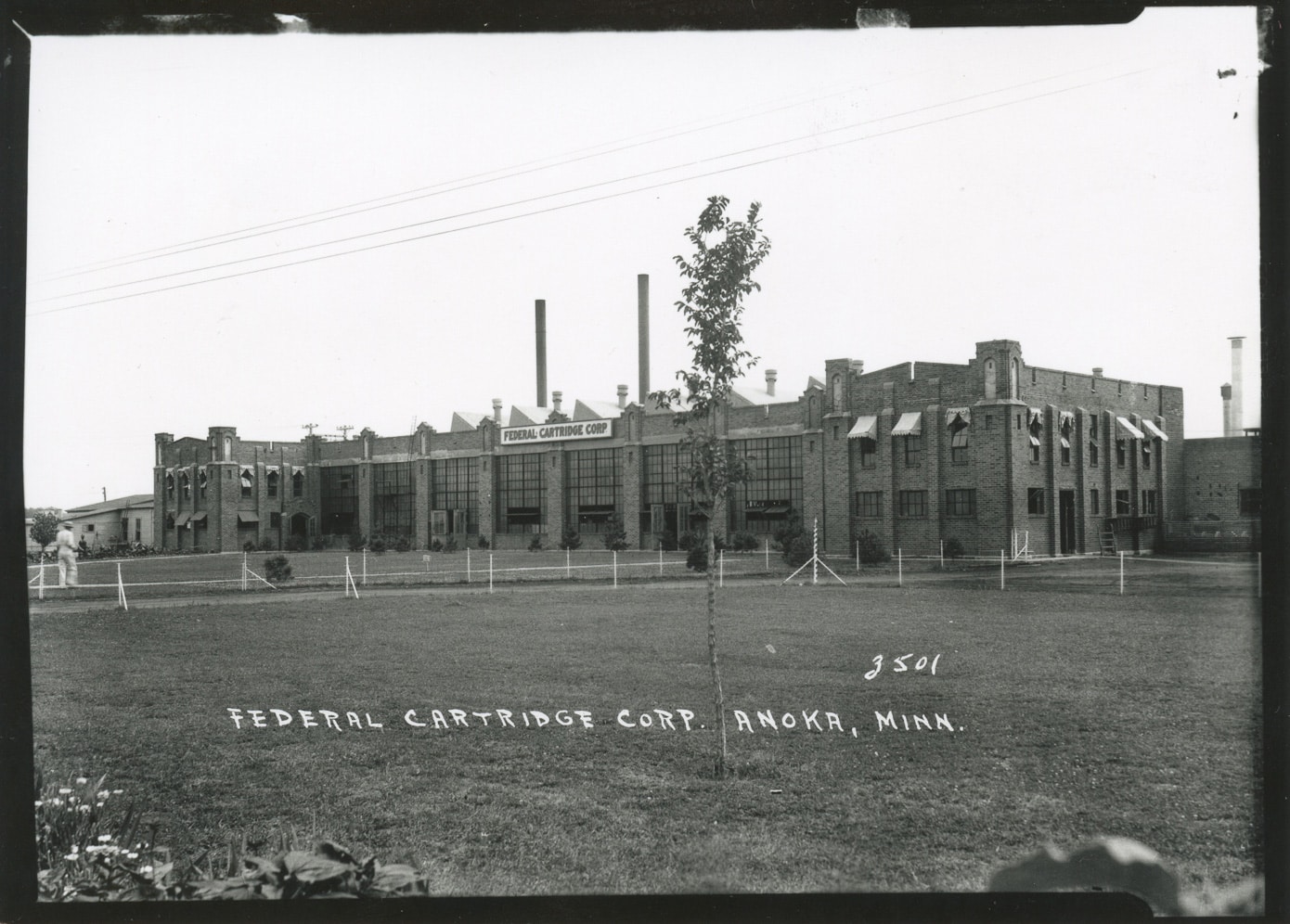 Few orders for 12-bore shells were filled by FCC before it closed its doors in 1920. Then in 1922, Minneapolis-based Charles Horn was urged — quite possibly by Federal's sole remaining stockholder — to resurrect the company. Horn, 34, was president of the American Ball Co., and he was seeking a source for paper tubes to package his company's BBs for air guns. The dormant Federal factory nearby had rolled paper shotshell hulls. On April 27, 1922, Horn founded what became Federal Cartridge Corp. It produced black-powder and smokeless shotshells. And BB tubes.
Keen to grow his company, Horn decided to make rimfire cartridges, too. A risky venture. Federal would have to sell many millions of .22 rounds to justify the initial investment. He hired Maurice Swope from Western Cartridge to design and run the plant. By 1924, it was shipping .22 cartridges.
New projects — with the optimism, effort and people to ensure their success — continued to mark Federal's progress. In March, 1942 Federal tapped an $87 million contract with the U.S. government to build the Twin Cities Ordnance Plant 10 miles from Anoka. During the war TCOP eventually employed 25,000 workers! Contracted to produce 100 million cartridges, it would ship more than five billion by V-J day in August, 1945. While TCOP (renamed Twin Cities Arsenal) was deactivated in '46, the experience producing metallic ammunition wasn't lost on its staff. In 1951, Federal began manufacturing primers for handloaders. In '63 it announced a dozen centerfire rifle cartridges, and two for handguns.
Looking Forward
That was big news six decades ago; but now Federal's catalog lists more than 230 centerfire rifle loads in its Premium stable alone — with roughly 150 more in three other lines. Its five handgun categories comprise more than 120 loads; shotshells add at least that many to the total produced by 1,400 employees in three daily shifts at the 700,000-square-foot Anoka plant. So: "With that selection," I asked innocently, "why does Federal need a Custom Shop?"
J.J. could have replied, "There's no need. If you can't find a Federal factory load that you like as well as any handload you dream up, a pox upon you!" But J.J. is both patient and courteous. And Federal has long had its finger on the pulse of shooters difficult to please. "Custom Shop ammo offers cartridges and loads not available in Federal's catalog," said my host. "It also features the best of components, all of which undergo close inspection. There are additional steps in loading, more checks along the way. Each order is assembled by Federal's most knowledgeable technicians, under chief R&D engineer Paul Furrier. They have tooling you won't find on home benches, and almost unlimited access to top-shelf components from companies industry-wide. Final tests ensure every completed order meets the highest standards for function and accuracy."
When the Custom Shop announced operations, Federal Ammunition President Jason Vanderbrink answered the "why" this way: "If it's not in Federal's catalog as factory-loaded ammo, we may have it on our website as a load we'll custom handload for you. For instance, Barnes 120-gr. Tipped TSX bullets in 6.5/284 Norma and 28-gauge TSS turkey loads aren't [standard offerings], but you can order both from our Custom Shop."
Okay. But how much flexibility do shooters have in specifying components? What tests are run for pressures, velocities, accuracy? How do I place an order? What's the cost? The turn-around time?
I must have put these questions to J.J. in machine-gun cadence, because he raised his hands as if to deflect more of them. "Good questions," he said charitably. "Let me explain." And he did. I spoke too with Trevor Alt and Dave Dellapaolera, who work in the Custom Shop.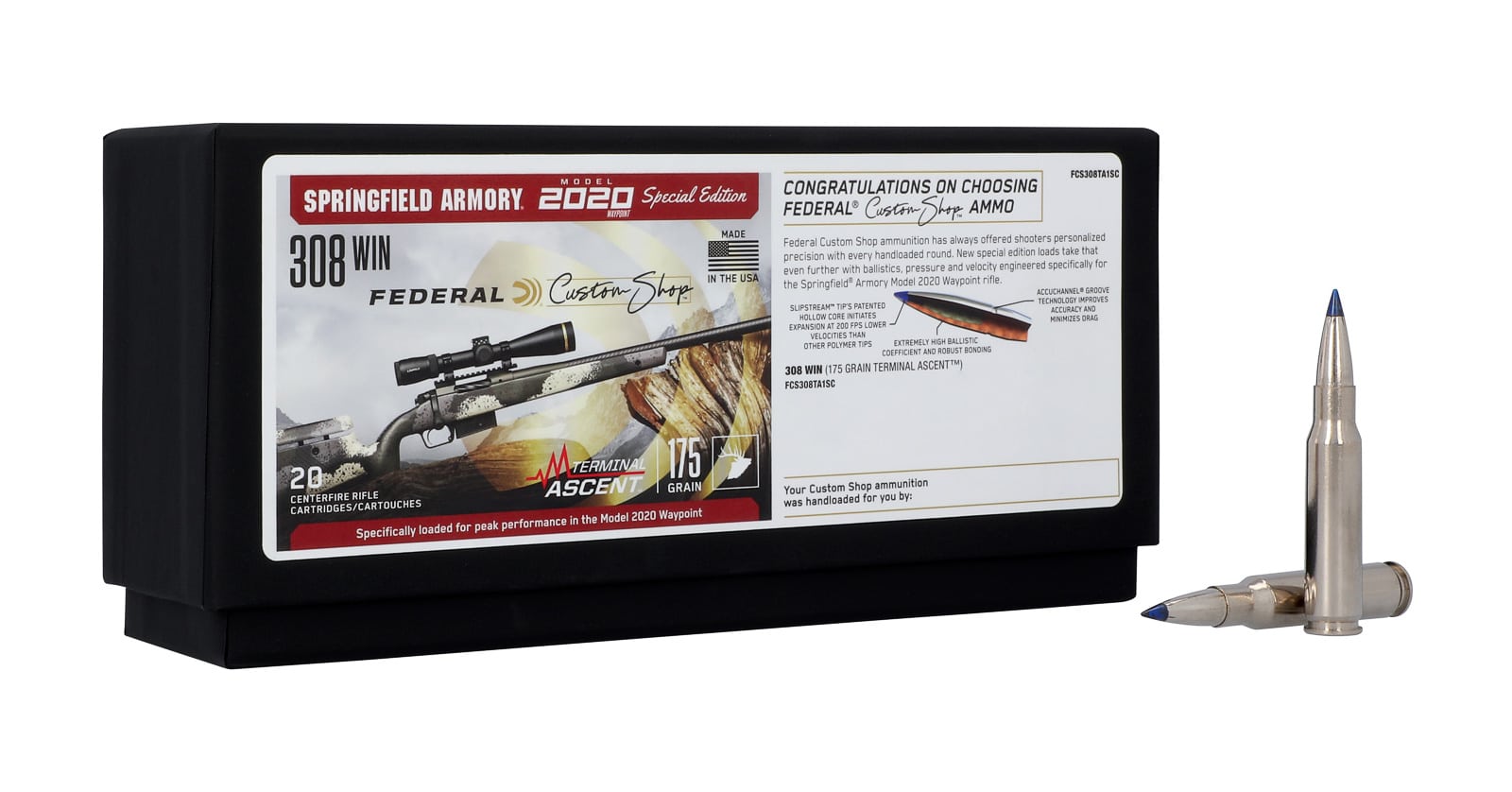 First, the process: A page on the website, federalpremium.com/custom-shop.html, takes you to an order form where you choose cartridge and component options. You can add notes for the technician assembling the load. Next, pre-pay with a credit card. That's all there is to it, save for the wait. Figure a few weeks for most orders. Large quantities and orders just before hunting season can extend that lead time. I'm told orders are not accepted by phone, though Dave said "e-mails and phone chats can help answer questions and prevent misunderstandings. We're shooters, too. Each order matters to us."
Understanding the Parameters
The Custom Shop won't fill orders for wildcat ammunition. And at this writing, it doesn't deal in handgun rounds. But you can specify SAAMI-approved rifle cartridges that don't show up in Federal's catalog. Examples include 26 Nosler, .264 Winchester, .284 Winchester and .300 PRC. Of course, you can tailor your own loads for cartridges Federal lists in its "factory" lines. Bullet options also include those not offered by Federal elsewhere. Besides the company's own Trophy Bonded, Trophy Copper and Terminal Ascent, the Custom Shop has bullets by Barnes, Berger, Hornady, Nosler, Speer and Sierra, among common brands.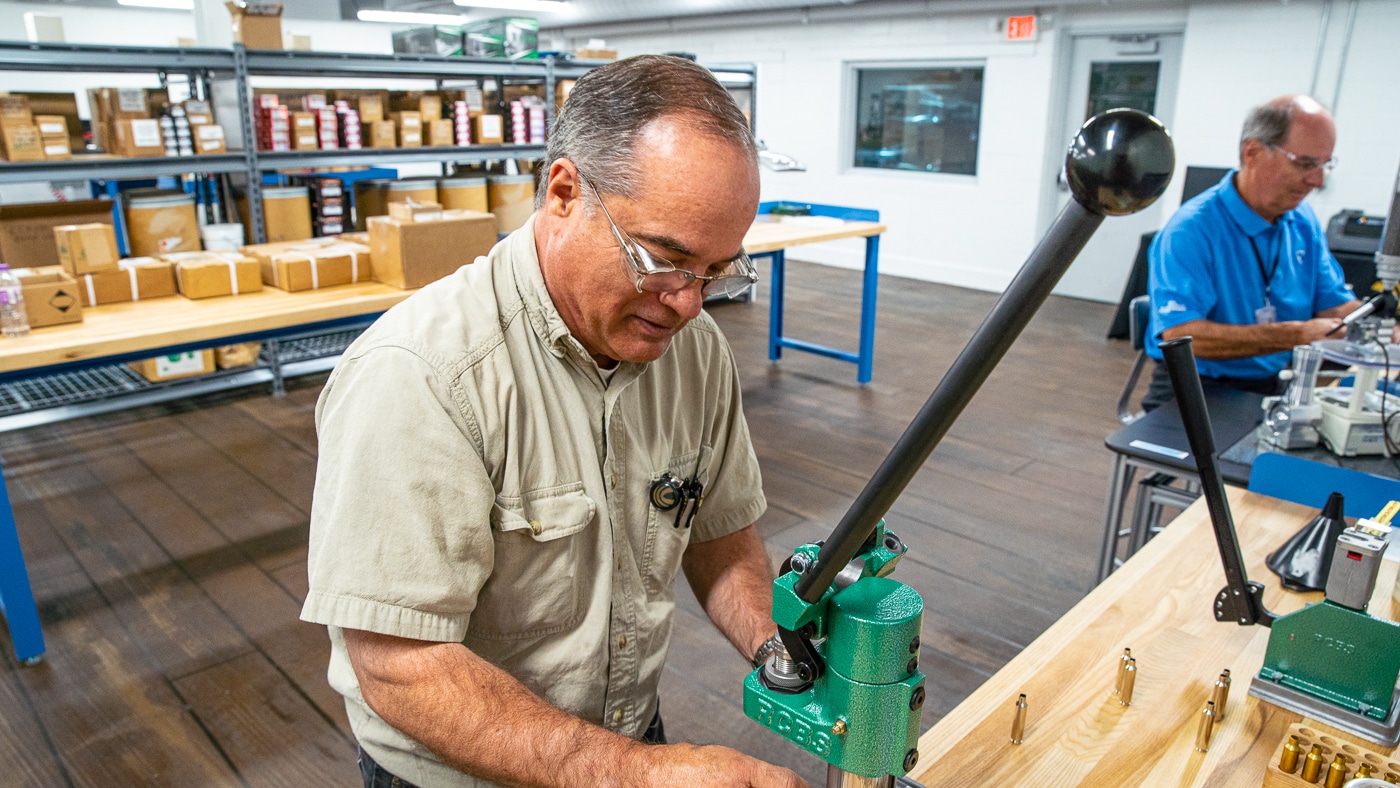 Brass for rifle cartridges is sourced from top names in the industry, including Lapua and Norma. Nickel-plated in loads from the Custom Shop, it is fitted with Federal's Gold Medal primers: GM210M for standard loads, GM215M for magnums.
Each load starts with component inspections, performed by hand. The flaw-free cases selected are then checked to ensure dimensional uniformity and concentricity.
"We don't accept orders that specify powders," J.J. told me. "Our technicians typically start with a propellant that has a proven track record in the cartridge. As you'd suspect, we have a huge data bank to draw from. When warranted, we'll run tests with other powders too. The load you get will be one that best meets velocity and pressure targets and prints the smallest groups we expect from that cartridge. Our test barrels wring the potential from each load."
To ensure each cartridge functions safely and performs at a high level in any firearm chambered for it, the Custom Shop staff determines such variables as seating depth and crimping. Finished cartridges are measured with a micrometer and checked for concentricity.
Firing tests for accuracy are conducted at 200 yards. Said Dave: "We work hard to achieve half-minute precision. Some loads print closer to a minute of angle. The most effective big game bullets won't always nip the tiny knots competitive shooters demand from match bullets."
While you'll know the bullet, case and primer of your Custom Shop load, Federal does not notify you of the propellant or its charge weight. "You will get a ballistic chart for the load," Dave assured me. It's on the black, hard-cardboard cartridge box, distinctive for its full-coverage slip-over lid and Custom Shop label. Cartridges are individually held in hard foam inside.
If you create an online account, added J.J., "Federal will keep the load data for your order, so you can re-order more cartridges with the same specifications."
Price? Custom Shop ammo for popular rifle cartridges lists from $100 to $110 a box. Figure $35 more, on average, than Federal Premium loads. Minimum order: one 20-round box, which explains in part the cost. Besides cartridge assembly, it must cover load development work, inspections and tests.
And, the offerings are not limited to rifle cartridges — the Custom Shop also loads shotshells in 10, 12, 16, 20 and 28 gauges, and .410, in lengths from 2¾" to 3½". The minimum Custom Shop order for shotshells is one box of 10. It's pricy ammo — from $80 to $120 a box. But you're getting the best. And in this inflationary time, a C-note shouldn't trigger domestic strife. You'll emphasize, of course, that you bought just one box, and that Trevor remembers an order that totaled $20,000. You'll be congratulated for your prudence.
Finding Your Waypoint
If you own a Springfield Armory 2020 Waypoint, you know of its .75 MOA accuracy guarantee for a three-shot group at 100 yards with match-level factory ammunition. What if you could have a load or loads designed specifically for this rifle, to get its very best performance? My experience with the 2020 Waypoint has shown it capable of wringing all the accuracy built into the very best ammunition!
For Waypoint shooters, Federal's Custom Shop has developed a special edition line of ammo for the rifle, in its four current chamberings: 6mm Creedmoor, 6.5 Creedmoor, .308 Win. and 6.5 PRC. Engineers in the Custom Shop worked directly with Springfield Armory to develop loads tailored to that action and barrel, each component chosen, and each step in the loading process targeted to deliver the very tightest groups from the 2020 Waypoint. As with all Federal Custom shop offerings, this ammunition is handloaded to your order. Herewith, your options:
| Caliber | Bullet Weight | Bullet Style | Muzzle Velocity | Muzzle Energy |
| --- | --- | --- | --- | --- |
| 6.5 PRC | 130 gr. | Terminal Ascent | 3,025 fps | 2641 J |
| .308 Win. | 175 gr. | Terminal Ascent | 2,520 fps | 2467 J |
| 6mm Creedmoor | 90 gr. | Nosler AccuBond | 3,120 fps | 1945 J |
| 6.5 Creedmdoor | 130 gr. | Terminal Ascent | 2,800 fps | 2263 J |
Bullet weights measured in grains (gr.), and velocity in feet per second (fps).
All four of these loads are available at the Springfield Armory Store. Price: $109.99 for 20 rounds.
Conclusion
Have I used Custom Shop ammunition? Not shotshells. I'm due a session with Blue Rocks and a hand trap first. But a box of 6.5 PRC rifle loads arrived just before my South Dakota deer hunt last month. Its 130-gr. Terminal Ascent bullets shot well from my rifle. On the third day of a cold, windy week, a fine whitetail buck jetted from a cedar copse. He was gone in a wink. As luck would have it, I spied him farther along in my still-hunt, across a broad valley threaded by a sinuous stream. With no cover but no other prospects, I eased toward him through ankle-high grass, trying to keep the county's lone, leafless tree between us. By the time I scrambled down a steep bank to wade the icy creek, he was lost in the wooded background beyond. I crawled to ravine's lip and, despairing, glassed from my elbows.
Some distance off, a pair of ears appeared above the grass. A doe. She climbed a knob 100 yards off and stared at my orange cap. Then, below her: antlers! Only his back-line showed in the Leupold. But with his companion alert, tail at half-mast, I dared not rise to give the bullet a clear path. The rifle's clap brought a most welcome "thwuck!"
Would another load also have felled that buck at 80 yards? Probably. But I wasn't using another load. The cartridge of the moment — the one that counted — was from Federal's Custom Shop!
Editor's Note: Please be sure to check out The Armory Life Forum, where you can comment about our daily articles, as well as just talk guns and gear. Click the "Go To Forum Thread" link below to jump in and discuss this article and much more!
Join the Discussion
Featured in this article
Continue Reading
Did you enjoy this article?
80