Three of a Kind: Springfield's Deep-Cover 9mms
February 8th, 2021
5 minute read
In a poker game, sitting on three of a kind is a good position to be in. Likewise, Springfield Armory holds a great place in the concealed carry market with three tremendously capable deep-cover 9mm pistols.
Each of the handguns is similar, yet with differences that easily distinguish one from another. It is those differences that make each appeal to the needs of different shooters. All can make a winning hand, but the preferences of the owner will determine which is best for whom.
Let's take a look at the trio dealt by Springfield Armory.
Springfield Armory 911
If you've spent a lot of time training or competing with the 1911-style pistol, the Springfield 911 is probably the best card to draw when looking for a deep-cover 9mm handgun. The pistol is a modern interpretation of the classic gun in a size that makes it handy for just about everyone to carry.
The 9mm version of the pistol holds six rounds in a standard magazine and weighs in at less than a pound. An extended magazine is included with the pistol and gives you one additional round of felon repellent. In .380 ACP, the gun is a bit shorter and lighter but has the same capacity options.
Both versions of the gun offer the classic 1911 feel and offer an ambidextrous thumb safety. The gun is a single-action pistol with a crisp trigger pull that you will really enjoy. On top of the 416 stainless steel slide, Springfield uses high-visibility night sights. The front Pro-Glo sight has a tritium vial surrounded by a broad photoluminescent ring for fast accuracy at any time of day.
While new shooters take to the gun quickly, I've found that existing fans of the 1911 platform are the ones who like to hold this card. If, however, you play a high-stakes game where ammo capacity is a key factor, perhaps the next card in the deck will be of greater interest.
Springfield Armory Hellcat
The newest pistol of the bunch, the Hellcat is a real ace. As I write this, overwhelming demand for the Hellcat makes the pistols as hard to find as the queen you need to finish your royal flush. However, that popularity ensures ample aftermarket support for the guns, with many holsters and optics already available.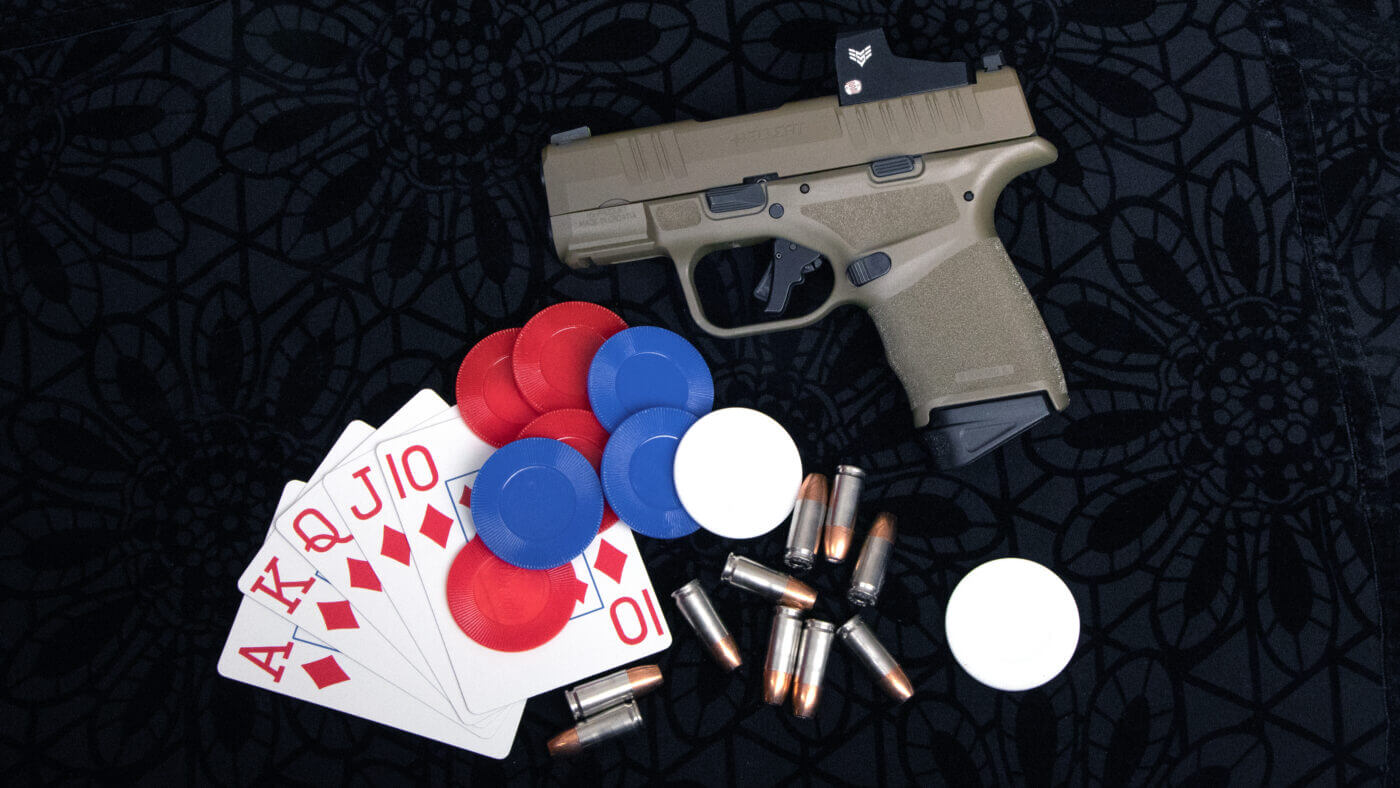 Why is the gun so successful? I'm not one to accuse without proof, but the design team at Springfield might be using a marked deck. They certainly seemed to know exactly what the shooting public was looking for.
The Hellcat is as small as, or smaller than, many single-stack pistols; yet the standard 9mm capacity of the pistol is 11+1. Combined with combat sights and an Adaptive Grip Texture, you're able to get on target fast and stay in the fight if Lady Luck ever turns on you. Further, many models are available with a factory slide cut for a red dot optic.
This is a deep-cover, striker-fired pistol that is straightforward and uncomplicated. While smaller pistols can be more difficult to shoot than larger ones, the Hellcat makes an excellent concealed carry pistol for someone with a moderate amount of shooting experience. It is designed for every day, all day carry with the features you need when the chips are down.
I would not classify the Hellcat as an expert's pistol. I've spoken with regular shooters who are infatuated with this gun. Nevertheless, several relatively new shooters I was working with expressed a preference for the final gun in this hand.
Springfield Armory XD Sub-Compact
A classic part of the deep-cover Springfield Armory line is the XD Sub-Compact. Based on the same design as the XD Service Model, the pistol is a solid card to hold in any defensive situation.
Compared to the other guns on this list, it has a thicker grip that better fills some shooters' hands. Likewise, its increased mass mitigates the recoil impulse and muzzle rise making it easier for a completely new shooter to control.
But this isn't a gun with training wheels. Quite the opposite, actually. The gun can run hard and fast, giving you a trump card in a tough situation. It also makes a great backup gun for professionals who carry a gun as part of their uniform. Its durability in harsh conditions makes it a good choice for ankle carry or to hang on a bullet-resistant vest should you ever need to play a wild card.
That wider grip I mentioned takes 13-round magazines, standard. It also can run from the larger 16-round magazines that feed the Service Pistol. For anyone carrying a full-size pistol in a law enforcement or security setting, the XD Sub-Compact is the perfect companion when the chips are down. Should your primary pistol become inaccessible, you can run the Sub-Compact as a backup with the exact same feel and manual of arms.
All In
Which card you decide to play is up to you. While the stakes are high in this game, every one of these 9mm handguns can serve you well in a personal protection role. The key is to find the one that meets your deep-cover needs.
Once you find the correct pistol, get to the range and train. As in poker, having the right cards is only part of the overall response to a self-defense situation. You also need to know how and when to play them.
Editor's Note: Please be sure to check out The Armory Life Forum, where you can comment about our daily articles, as well as just talk guns and gear. Click the "Go To Forum Thread" link below to jump in and discuss this article and much more!
Join the Discussion
Featured in this article
Continue Reading
Did you enjoy this article?
167