Springfield recently released their new 1911 DS Prodigy pistols in September of last year, and with new pistols come new accessories. Some of the most sought-after with new pistols are, of course, holsters. When guns first come out, it can be hard to find a holster because they take time to develop and make. But fear not. We have collected a selection of holsters for the 1911 DS Prodigy to show you what is available now for the pistol.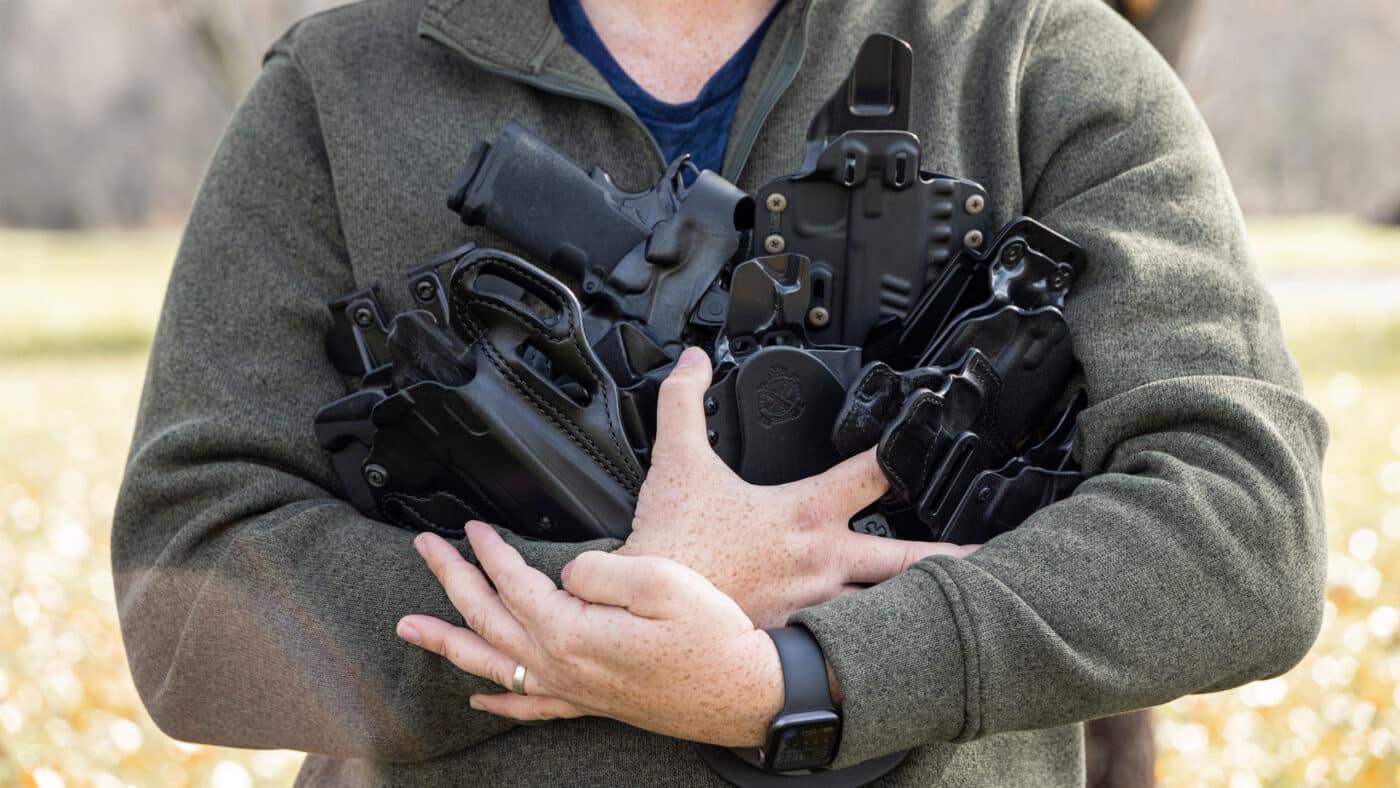 In this article, I will go over 11 holsters that are shipping now and can be found on the Springfield Armory store website. All the holsters are compatible with optics, which is important because all Prodigy pistols are optics-ready through their AOS (Agency Optics System) plate system.
Blackpoint Tactical MU
The first holster up is the Blackpoint Tactical MU holster. The MU is a new line of multi-use outside-the-waistband (OWB) holsters. This holster is a Kydex fold-over holster with adjustable retention. It comes with two belt loops and a separate paddle attachment. I love Kydex holsters such as this, and I love being able to set my retention easily by tightening some screws.
There are versions of this holster for the 5" and 4.25" Prodigy. There is also a version for the 5" Prodigy with a mounted Surefire X300 pistol light. Pricing is $84.99.
DeSantis Mini Scabbard
The next holster in our round-up is the DeSantis Mini Scabbard. This little holster is available only for the 4.25" Prodigy version.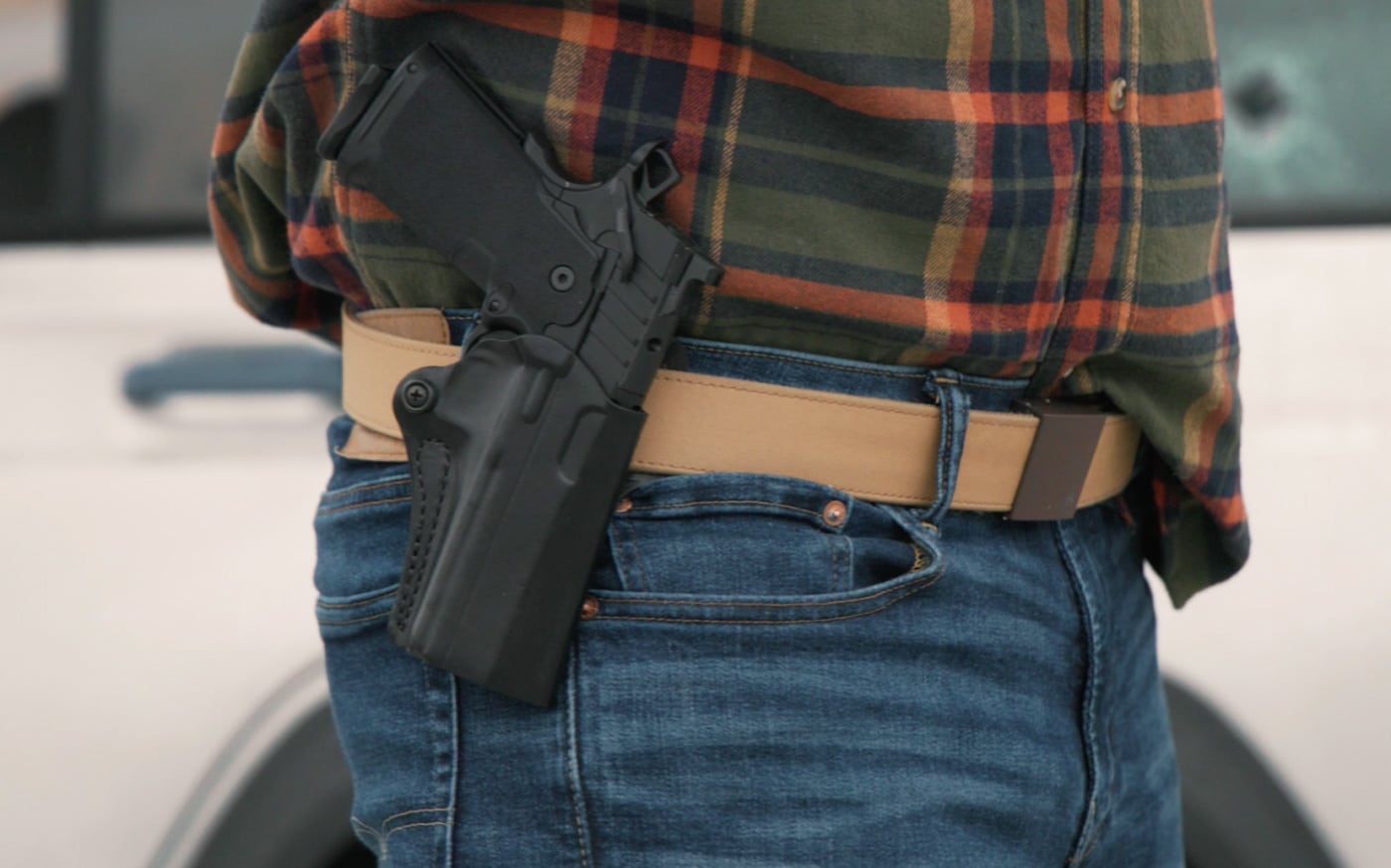 It is an outside-the-waistband holster with a leather finish. This holster is reduced to the barest of essentials, but it is still quite secure. That's because it has adjustable retention and precise molding. It is a sleek-looking minimalist OWB carry option for your 4.25" Prodigy. Pricing is $66.99.
DeSantis Inside Heat
Holster number three is the first inside-the-waistband (IWB) holster on our list, the DeSantis Inside Heat Holster. This is again exclusively available for the 4.25" version of the Prodigy.
This holster has a comfortable, smooth leather exterior with a precise mold that contours to the pistol. This holster has a very minimal footprint which is going to be comfortable when it's tucked in your waistband. The holster has one wide metal belt clip that secures it to your belt. I found this holster extremely comfortable in the appendix position. Pricing is $50.99.
CrossBreed Rogue
Holster number four comes to us from CrossBreed Holsters. It is the Rogue, available for both 5" and 4.25" versions of the Prodigy. Both of these holsters are very easy on the eyes and offer adjustable retention on their fully Kydex body. It is unusual that this holster is from CrossBreed since they are known for hybrid leather/Kydex holsters.
This holster includes tons of versatility; for example, it ships as an outside-the-waistband (OWB) holster, but you will notice the drilled holes on the font enable you to switch it out into an IWB carry option. One of the best parts is this holster features an audible satisfying snap into position as the pistol seats in the holster. Pricing for either model is $79.95.
Comp-Tac International Holster
For number five, we are going to step firmly outside the waistband to talk about the Comp-Tac International holster. Out of all the holsters so far, this is our biggest OWB holster and it has tons of options. It includes three mounting options — a belt slide that can adjust to different belt widths, a paddle attachment that works well for a variety of pant and belt setups, and a drop offset option.
We chose to run this holster for the 1911 DS Prodigy 5″ with the drop offset option. To configure it into this position, you attach the drop piece and then the belt slide to the drop piece. The holster can adjust its cant with eight different mounting holes so you can get the perfect desired cant for your draw. Pricing is $70.
DeSantis Speed Scabbard
Holster number six is the DeSantis Speed Scabbard. This one comes in both 5" and 4.25" versions.
This has a clean leather appearance with an adjustable tension screw to dial your retention just the way you want it. This holster has three total 1.75" belt slots; because of those slots, you can run the holster with or without a cant due to its three slots. Pricing is $82.99.
DeSantis Thumb Break Scabbard
Speaking of thumb break, if you want a leather holster that has one, you will want to check out holster number seven, which is the DeSantis Thumb Break Scabbard.
This holster is almost the exact same as Holster number six. But now, it includes a thumb break that adds an extra layer of security. Again, you will see the holster available for both 4.25 and 5" versions. Pricing is $82.99.
DeSantis Slim Tuk
With holster number eight, we will jump back into the waistband with the DeSantis Slim Tuk ambidextrous holster. That's right, this holster that is for the 4.25" version of the Prodigy pistol is ambidextrous.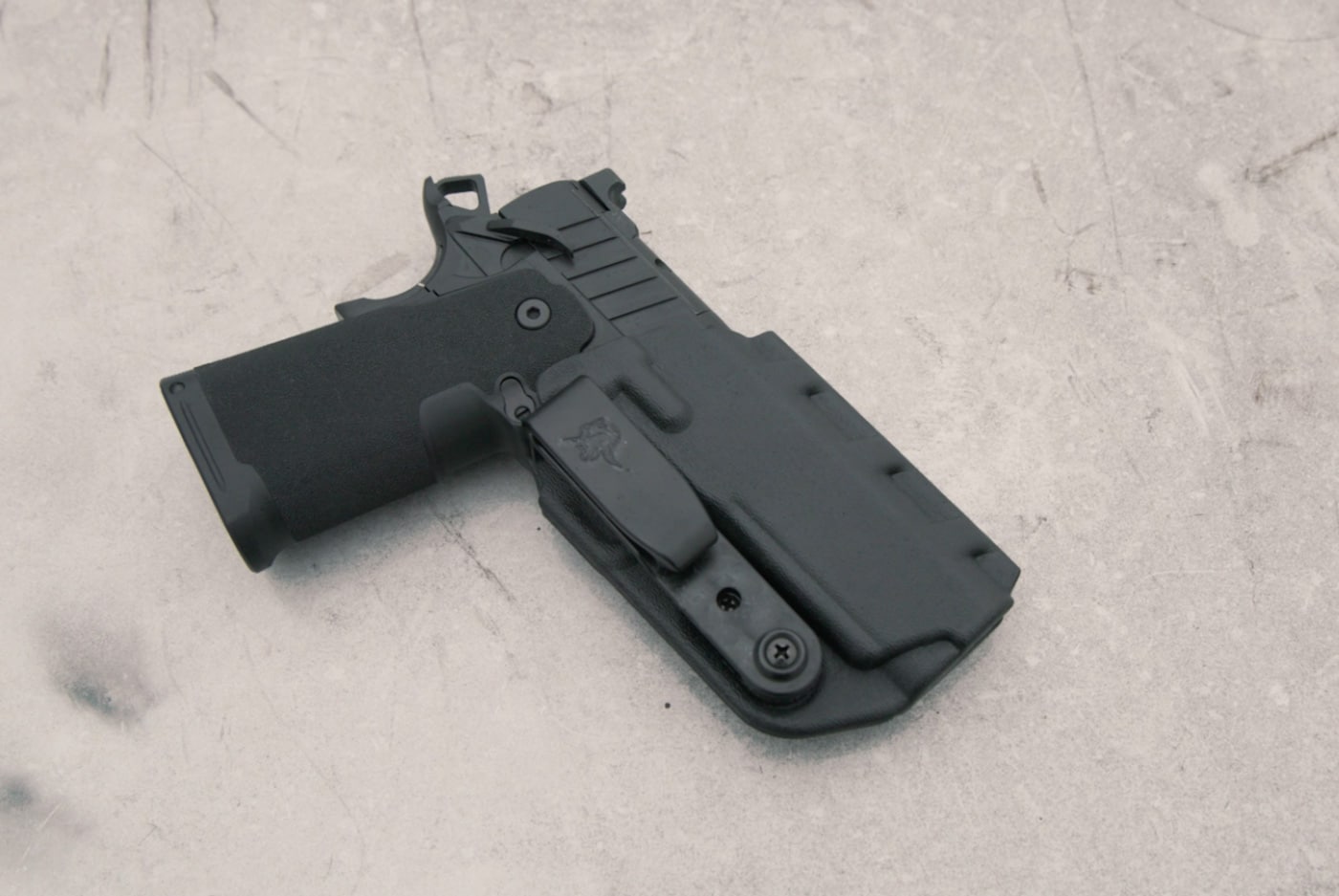 All you have to do is flip the belt clip to whichever side you'd prefer to carry it on. This is an extremely minimalistic Kydex holster. The retention is adjustable, and, like our previous Kydex holsters, it has a perfect snap sound as the gun fits into the holster. Pricing is just $39.99.
DeSantis Cazzuto
Holster number nine is another fantastic OWB option, the DeSantis Cazzuto for the 1911 DS Prodigy 5″. This one comes with a belt slide and a paddle attachment.
The paddle attachment for this holster is extremely comfortable. It is another holster made out of a thick Kydex well suited for outside waistband carry. It has loops to fit 1¾" belts. Pricing is $72.99.
CrossBreed Reckoning
Our second to the last holster is the CrossBreed Reckoning holster. It's a holster that is undoubtedly familiar to many, it has been around for a long time for various models. And due to its hybrid Kydex/leather design, it's quickly recognizable.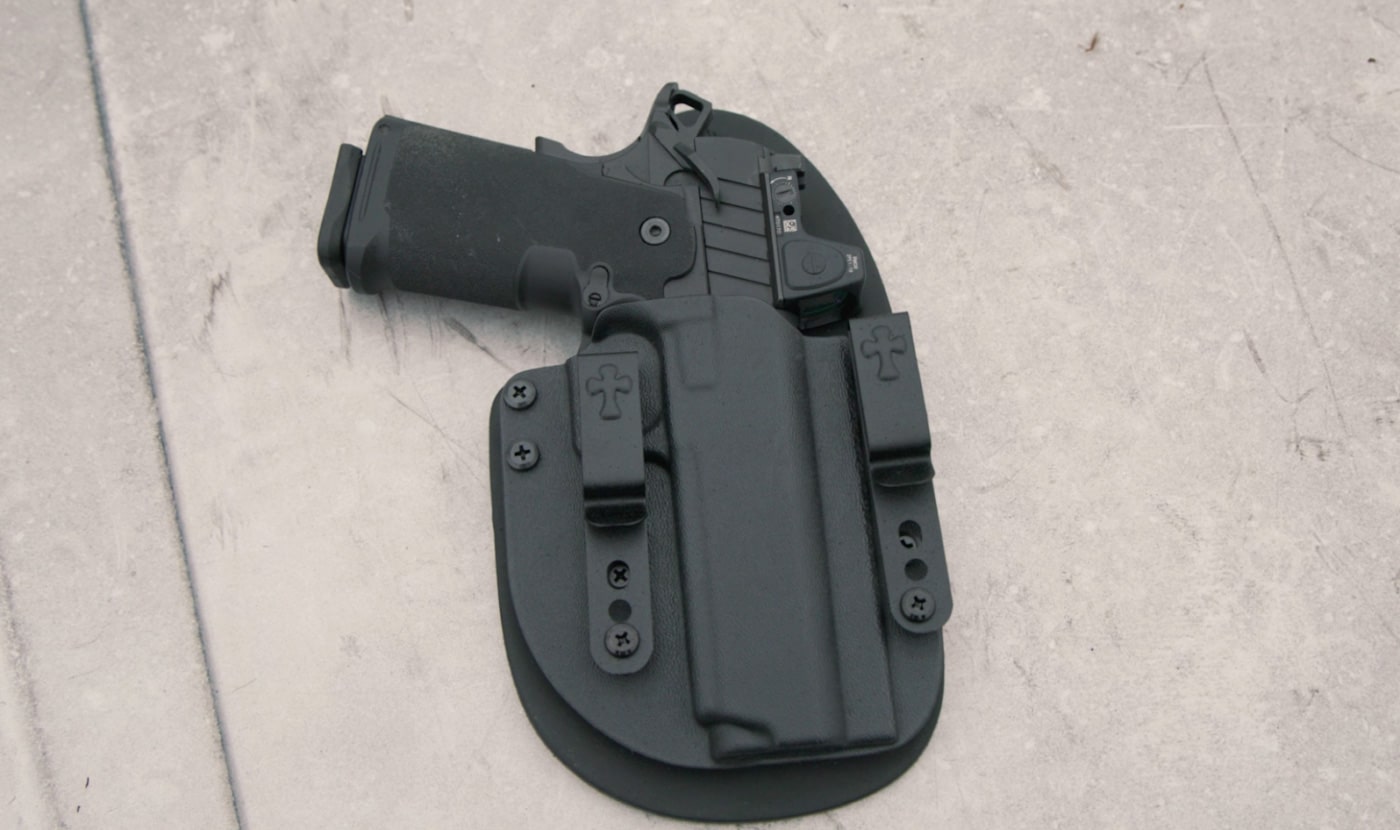 It's an IWB holster available for both 4.25" and 5" Prodigy pistols. This holster has dual metal belt clips so that the weight of the Prodigy doesn't cause the holster to cant inside the waistband. The holster can be worn on the strong side, appendix or cross-draw positions. The leather backing provides you with a comfortable surface against your body as you carry. And again, we have adjustable retention. Pricing is $74.95.
DeSantis Veiled Partner
Our last holster is the DeSantis Veiled Partner holster for the 1911 DS Prodigy 5″. This Kydex holster is an OWB holster that seems perfect for this mode of concealed carry. The loops work with 1¾" belts, and you can adjust for both height and cant by flipping around the loops.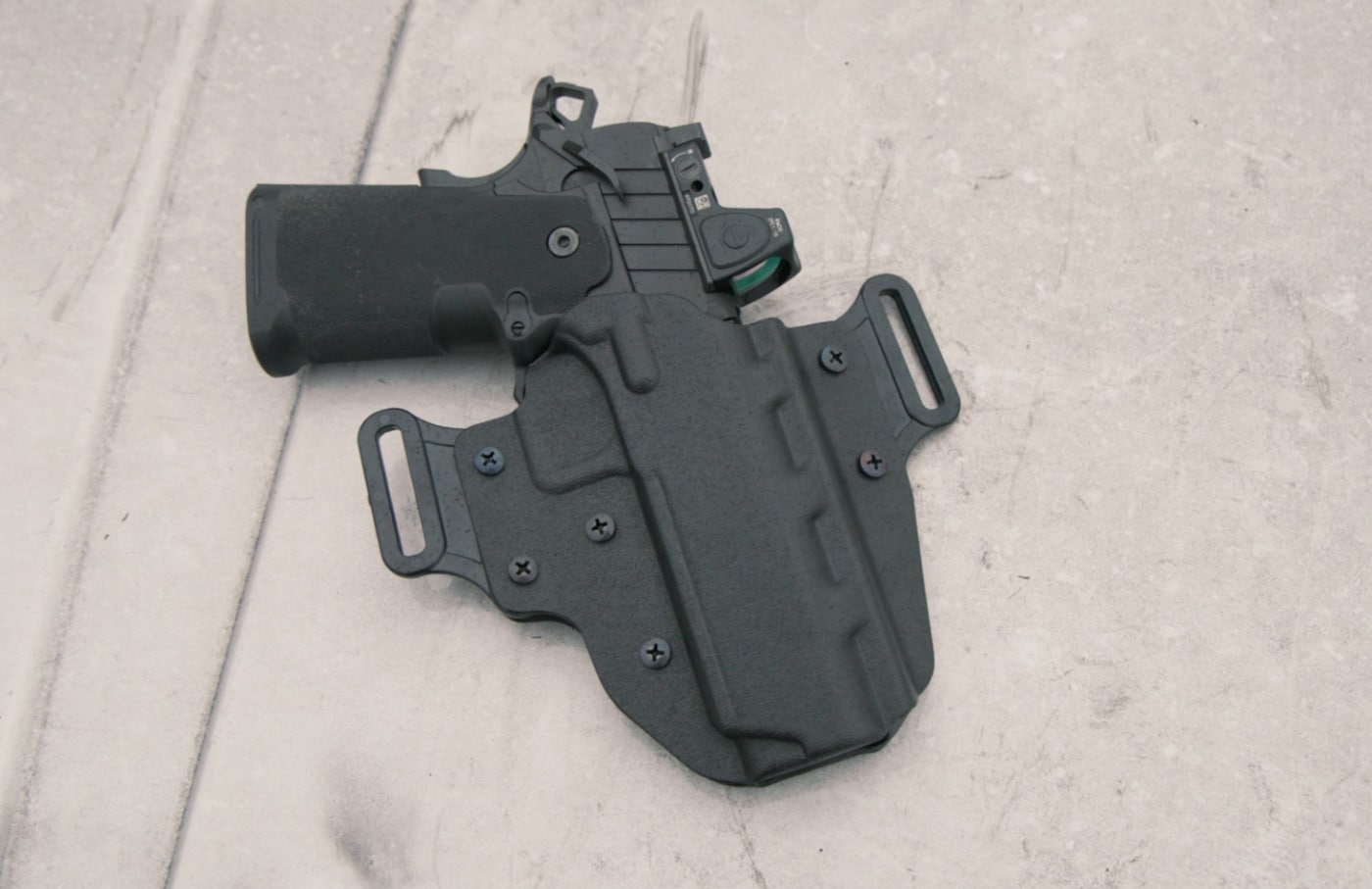 This holster hugs the body tightly because it has loops that are flat, aiding in its concealability. For those that like to carry on the strong side, outside the waistband but concealed, this is a great option. Pricing is $62.99.
Conclusion
These are all holsters made from quality materials and available for the Prodigy. In this list, there are many different styles of holsters for a variety of uses with different end users in mind. This list is reflective of that.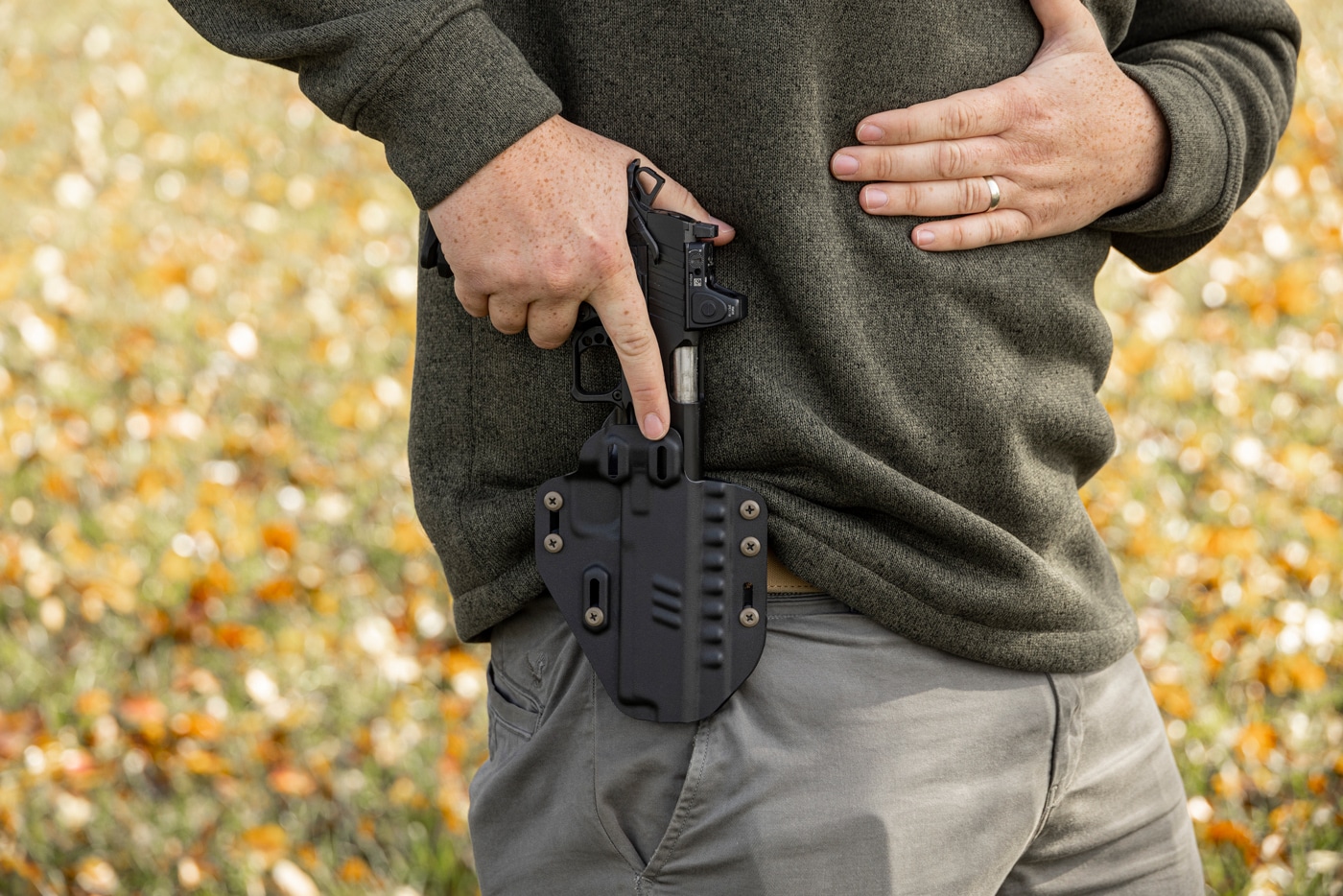 There are all-leather classic-looking holsters like the DeSantis Thumb Break Scabbard. Then there are excellent outside-the-waistband options with very modern design approaches, like the CrossBreed Rogue.
No matter the application and how you want to carry your Prodigy, some fantastic holster options are available here. So be sure to check them out!
Editor's Note: Please be sure to check out The Armory Life Forum, where you can comment about our daily articles, as well as just talk guns and gear. Click the "Go To Forum Thread" link below to jump in and discuss this article and much more!
Join the Discussion
Featured in this video
Continue Reading
Did you enjoy this video?
76