Two-Tone Desert FDE M1A Review
July 3rd, 2023
4 minute read
Retro guns are all the rage right now, in case you haven't noticed. You see people cloning CAR-15's, M16A1's, M16A2's and so on. One gun that people always seem to mod and love, myself included, is the M1A. It is the civilian version of the M14, an iconic American firearm and a direct successor to the also incredibly popular M1 Garand.

The M1A is a gun that I could have 10 different builds of and still be happy with all of them — all the while probably wanting more. When you consider all the versions of the M14 in history in books, movies, video games, and more — including modern applications like the MK14 — you will realize just how many different variations have been built off the famed M14.
An Icon
Perhaps one of the most popular builds is one like the M14 from the movie "Blackhawk Down". The Delta Force M14 was carried by Randy Shughart, who was killed in action and later awarded the Medal of Honor for his bravery and selfless actions in the Battle of Mogadishu, Operation Gothic Serpent, in October of 1993. The rifle is shown in the movie carried by the actor who portrays Shughart. While many details about the rifle are not known because it was never recovered, lots of people mock-up their M1As to be reminiscent of this legendary rifle.
For example, I myself did my best to create a rifle with readily accessible parts to look like the rifle shown in the movie. I purchased an FDE Standard M1A, put on a rail, added some paint, and of course, attached an Aimpoint to top it off. After some elbow grease, I got it looking pretty close. But Springfield Armory has released something super cool that would make a project like this much easier. Springfield worked with Nations Best Sports (NBS) to make a from-the-factory M1A that is pretty similar to the Blackhawk Down M14.
The Details
The NBS-exclusive M1A is at its core a standard-issue M1A, but with a new look and some cool extras. This M1A features a two-tone desert FDE striped camo composite stock, which really looks sharp with the barreled action in a Desert FDE Cerakote finish. Not only does the camo paint look close to the "Blackhawk Down" paint job, but it would also be highly effective. It can camouflage you quite well against your environment, provided you are in a desert terrain that's dominated by shades of brown. The gun comes with not one, but two magazines — a 15-round magazine and a 10-round magazine. The rifle will also ship with an olive-drab green cotton sling that is very similar to classic G.I. slings.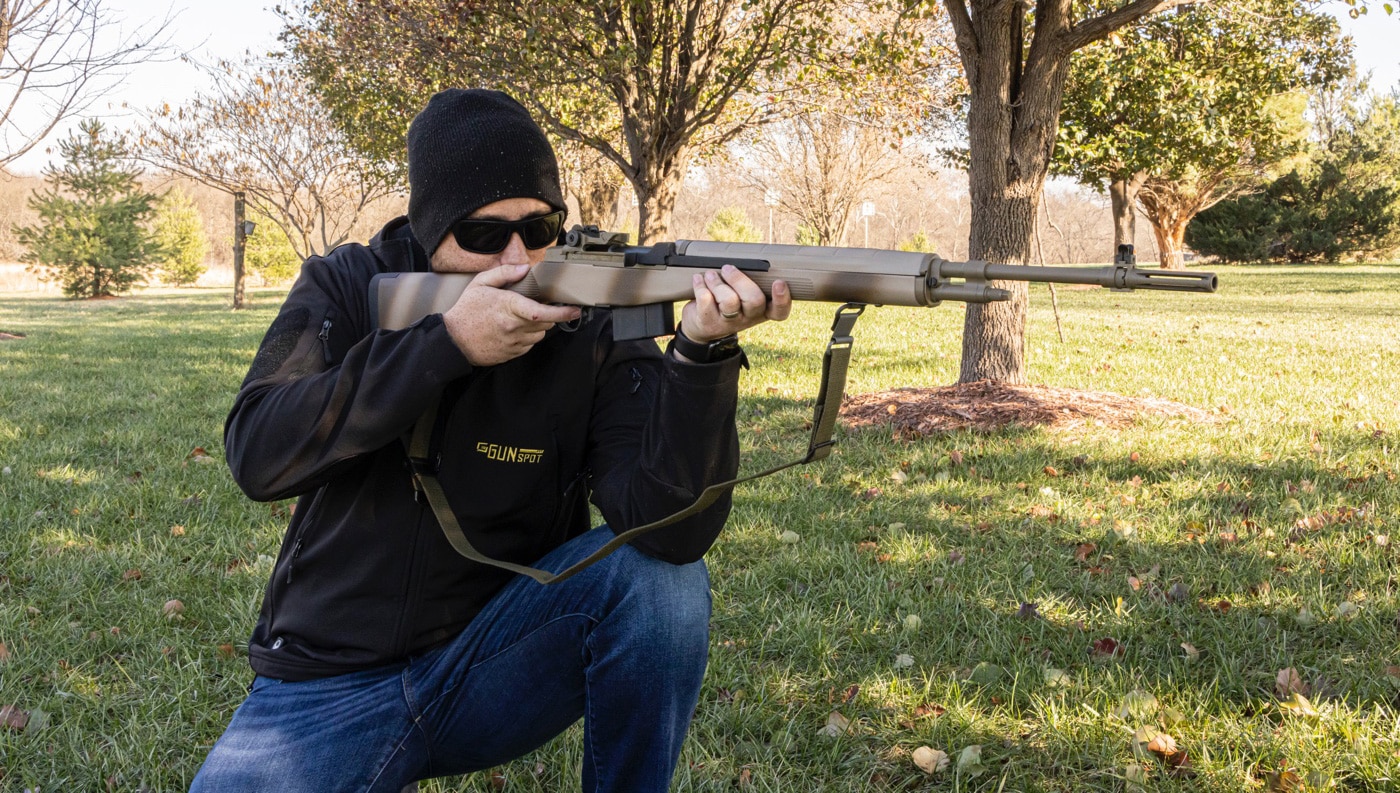 The rifle is, of course, the M1A we know and love when it comes to its specs. It is chambered in .308 WIN with a 22" six-groove carbon steel 1:11" twist barrel, a two-stage trigger, and a National Match .062 blade for the front sight with a military .0690 aperture for the rear sight with MOA adjustments for both windage and elevation. It weighs in at a sturdy 8 lbs., 8 oz.
The MSRP of the rifle is listed at $1,847 while the standard M1A with composite stock is listed at $1,770 with the total difference being $7. Do the math. Most people who Cerakote firearms that I know will charge $100-$200 for a solid color Cerakote, and a 15-round M1A magazine is $54.99 on top of the standard 10-round magazine. That'd be easily $150-$250 of extras, not including the sling.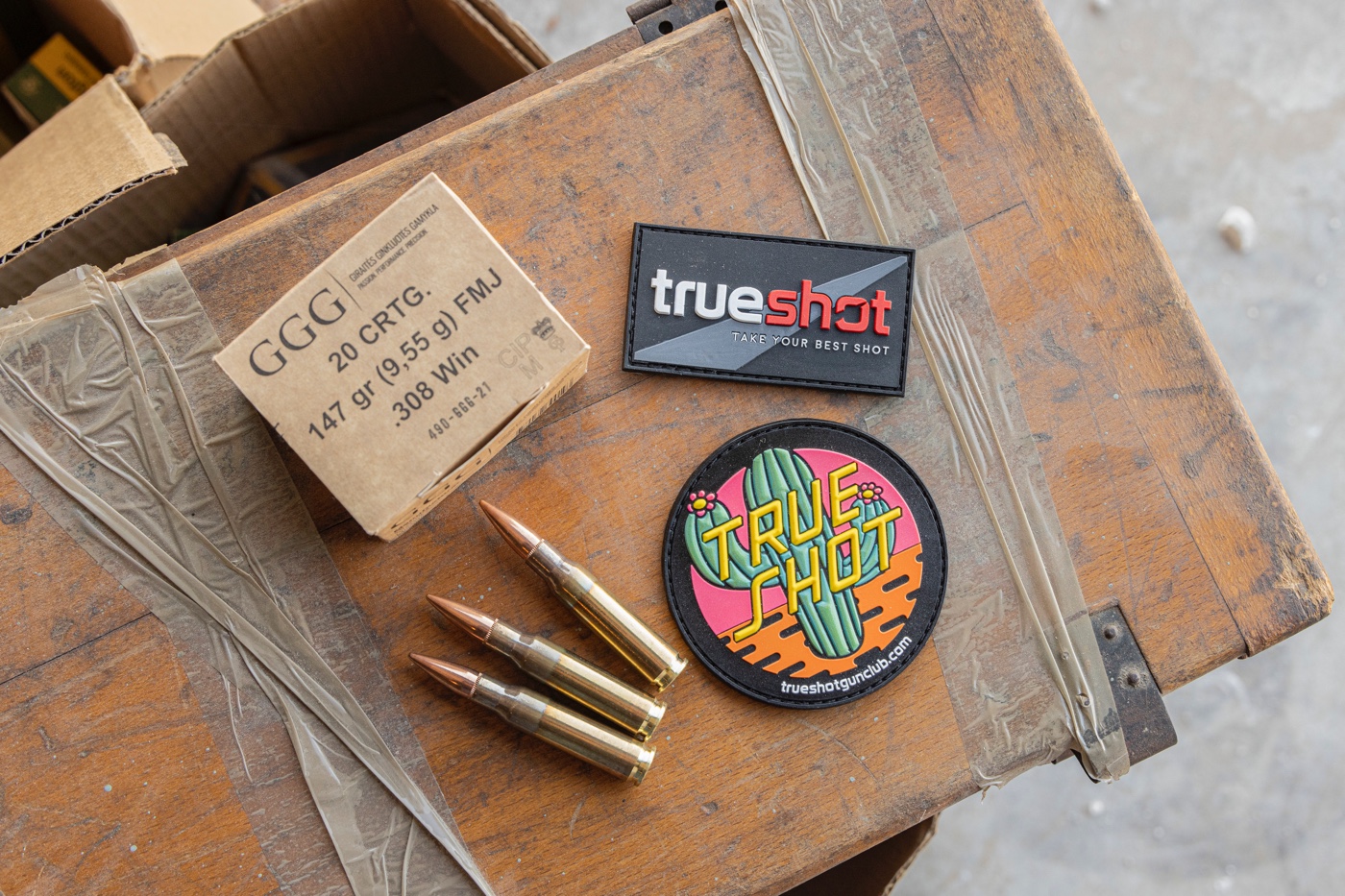 The NSB exclusive M1A of course performs on par with what you are used to with a Standard Issue M1A. It is accurate rifle, it handles the .308 Win. recoil effectively, and it has some of the best iron sights ever devised for a rifle, in my opinion.
Conclusion
I love to see manufacturers make retro'ish guns like this for consumers. It's always great to see them jump on board a bit with trends and what customers want. I'd love to see more and more gun manufacturers get in on releasing builds like these. Hats off to Springfield Armory for working with NSB to create this exclusive rifle!
Editor's Note: Please be sure to check out The Armory Life Forum, where you can comment about our daily articles, as well as just talk guns and gear. Click the "Go To Forum Thread" link below to jump in!
Join the Discussion
Featured in this article
Continue Reading
Did you enjoy this article?
268