We here at GunSpot were lucky enough to get in the exclusive Primary Arms Holosun 503G with the ACSS CQB reticle. For those not familiar with this optic, it was made exclusively for Primary Arms by Holosun, and features a very unique — and uniquely capable — reticle. To me, it seemed like something that added more capabilities to your rifle than a traditional red dot.
First, I want to give a special "thank you" to Primary Arms for sending the optic to us so that we can review it. Primary Arms is essentially an online superstore with some of their own exclusive optics, and we hope to be able to do more reviews of some of those in the future. Please feel free to note in the forum discussion thread for the piece which ones you might like to see reviews of.
What's in the Box
The optic comes with a one-third co-witness mount and a low mount. A tool to tighten the optic to your rifle, a lens cleaning cloth, a rubber lens protector, and some blue thread locker is also included.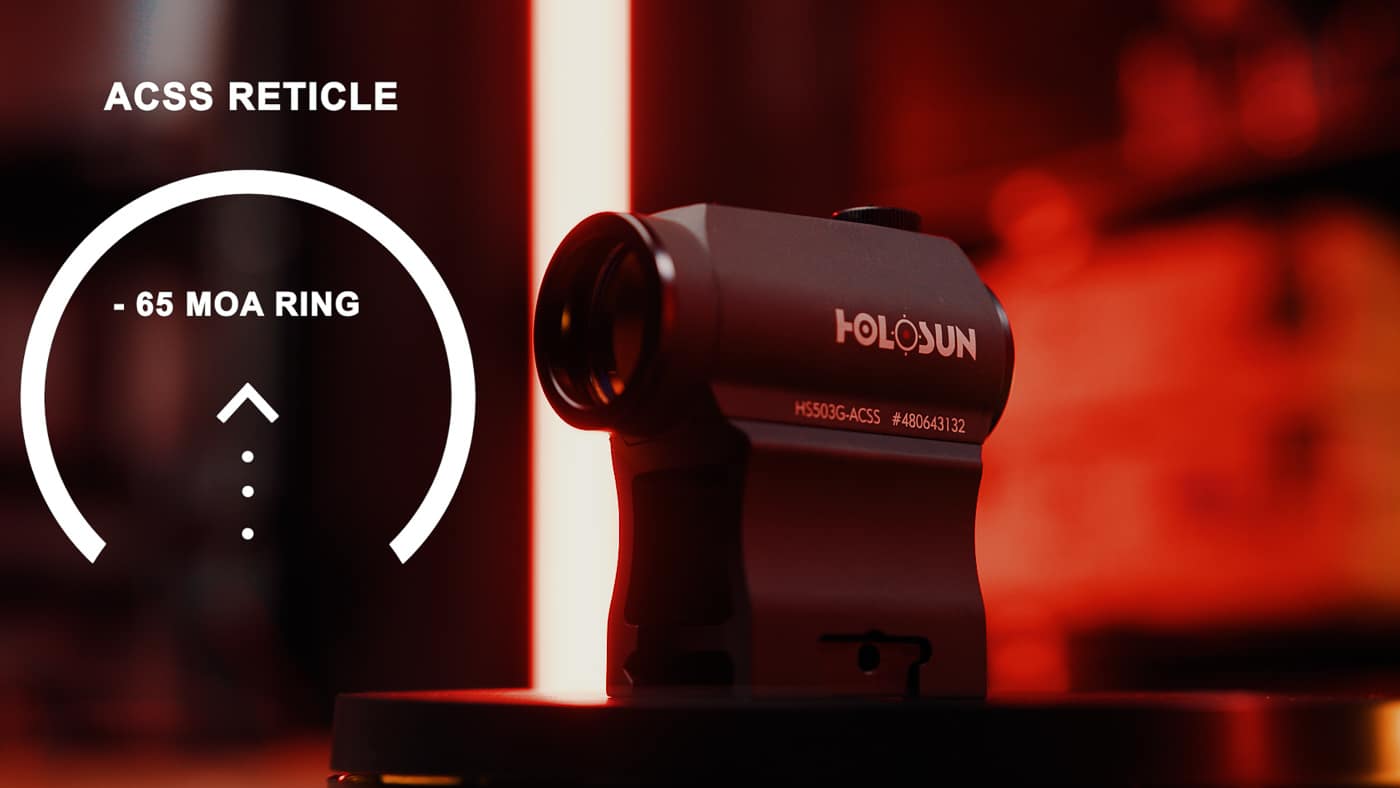 If you know the 503 series of optics from Holosun, you know they are rugged, reliable and well-made. So, the exclusive ACSS (Advanced Combined Sighting System) BDC (Bullet Drop Compensation) reticle is what we need to discuss now.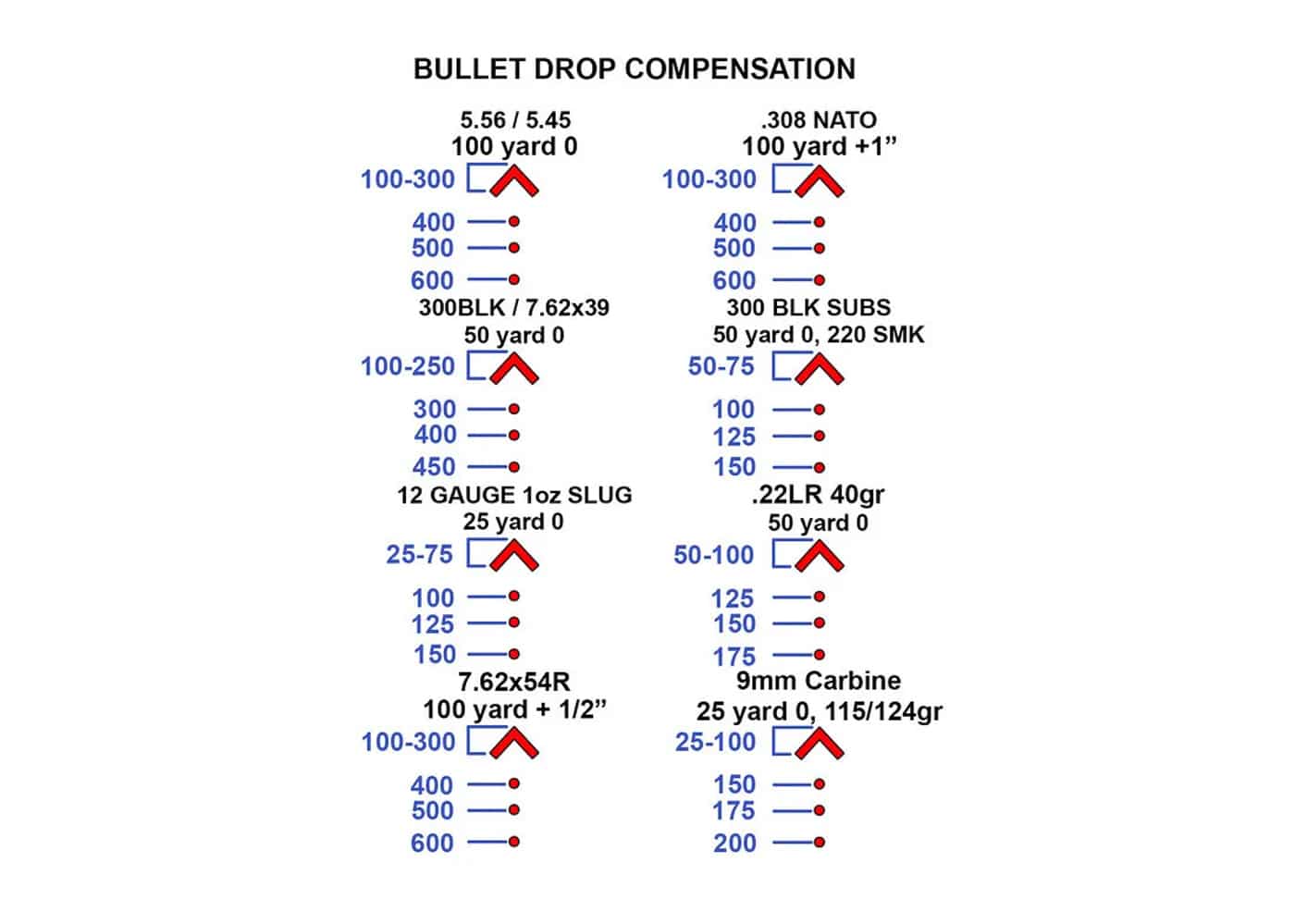 Frankly, the ACSS is very cool. Using "zero" ranges of 25, 50 or 100 yards, the ACSS BDC is compatible with the following calibers:
5.56 NATO / 5.45×39 from 100 to 600 yards
300 BLK / 7.62×39 from 50 to 450 yards
12 gauge 1 oz. slug from 25 to 150 yards
7.62x54R from 100 to 600 yards
7.62 NATO / .308 Win from 100 to 600 yards
300 BLK 220 gr subsonic from 50 to 150 yards
.22LR 40 gr from 50 to 175 yards
9mm carbine 115gr from 25 to 200 yards
As you can see, it goes well beyond your standard red dot. If you haven't seen the ACSS reticle before, it has a lot of information that can help you make some long shots. The standard aiming point isn't just a dot, it's a chevron where the top point is your zero. Then below the chevron is a BDC reticle with three dots to help you account for bullet drop. The three BDC dots are each 1 MOA at 100 yards, and give you the ability to shoot out to 600 yards if you are using .223 or .308.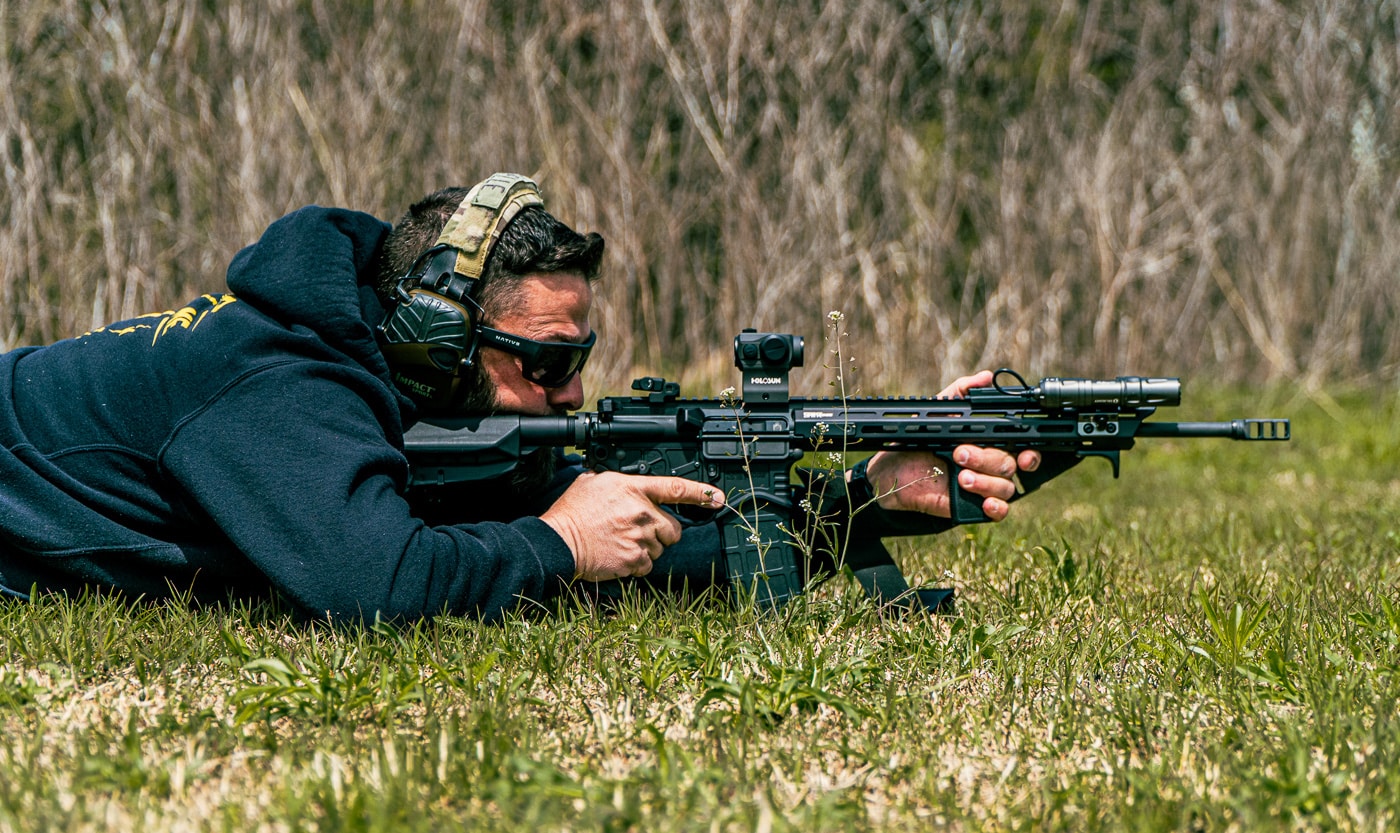 Primary Arms and Holosun developed this unique reticle system to address the concern that a large dot past 100 yards makes it hard to aim with precision. The ACSS reticle's chevron is ideal for close-in shooting, and at distance, the pointed tip makes for a more precise aiming point.
There is also a 65 MOA ring on the outside of the reticle which can be turned on and off. You can turn it off by holding the "minus" button for three seconds. The 65 MOA ring represents a shotgun's pattern spread at 25 yards, and just makes CQB shooting easier.
The Features
This optic has a glass lens with a tough 6061 T6 aluminum housing, and it is IP67 waterproof. The optic can be turned off manually, and it has auto shut-off and shake awake. Also, when you pick up your rifle and the optic kicks back on, it will turn on at the same brightness you left it on.
This optic has manual adjustments only for the dot and a side-loading battery, and two of the 10 brightness settings are night-vision compatible. The optic uses a CR2032 battery and the battery life is less with the ACSS reticle than you are used to with just dots. Our emitter is lighting up more surface area here so, naturally, it will drain your battery more. According to the box, you can expect about 20,000 hours of constant life out of this optic.
Hands-On
Primary Arms includes a quick start manual for zeroing the optic that shows you the calibers and zero distances to get the ACSS reticle drops to work with your gun.
We zeroed this optic for 5.56 and we used a 100-yard zero distance. According to the manual, this set us up for the possibility of hitting some 600-yard shots, and we were able to do it. Grant LaVelle, our training instructor, was able to shoot targets at 100, 300, 400, 500 and 600 yards with zero magnification.
Once we had the optic zeroed at 100 yards, we wasted no time and headed straight out to 300 yards. At this distance, you still use the bottom of the chevron legs as the aiming point to hit targets at 300 yards. Next, we moved to 400 yards. At this distance, you will need to shoot with the top dot. Then we shot at 500 which will use the second dot, and finally, we shot at 600 yards using the bottom dot.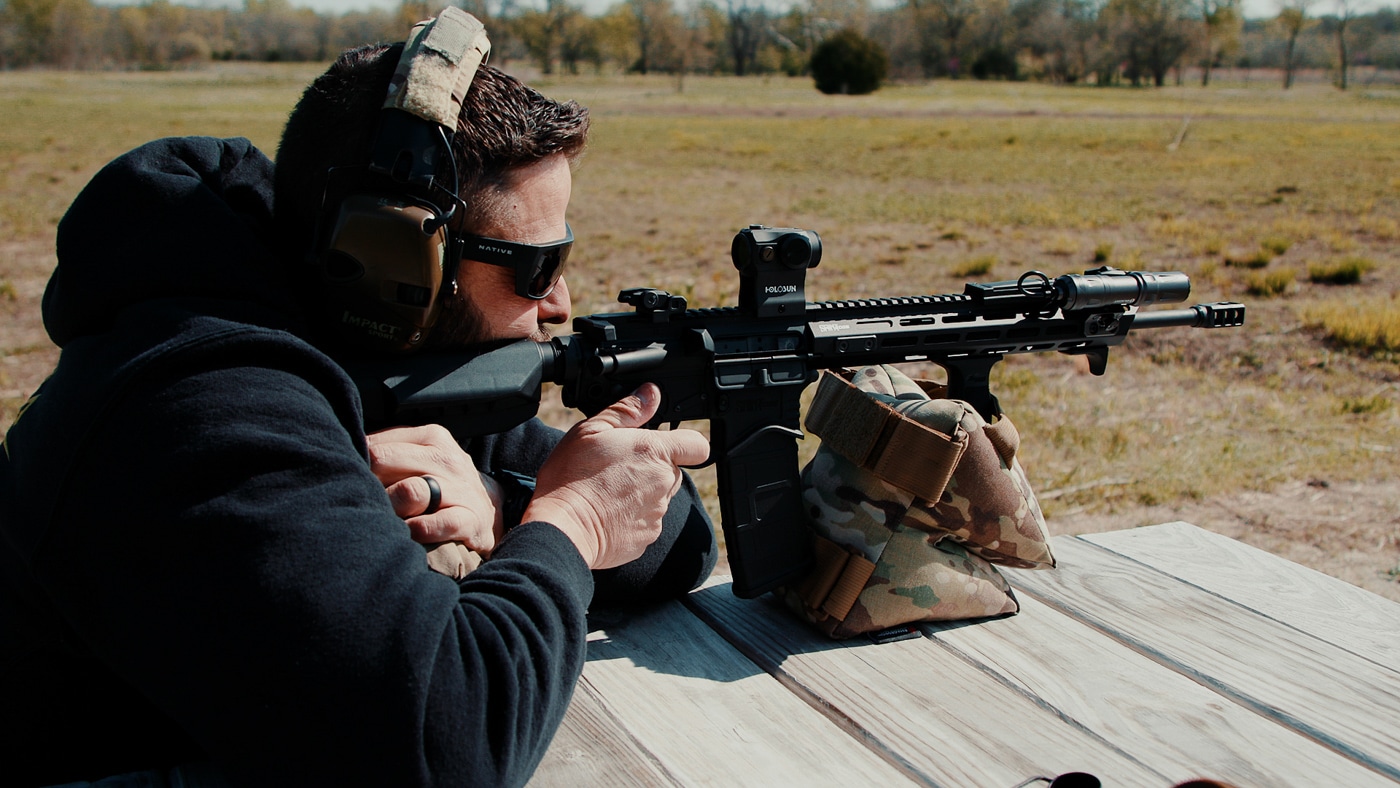 The reticle works just like they advertised it would. We hit with no problem at the distances of 300 to 600 yards. It does help to obviously shoot from prone, and if you can have good contrasting targets, that's even better.
Conclusion
In our opinion, the Holosun HS503G ACSS CQB is the do-it-all red dot. It gives you a point of aim to shoot with some confidence all the way out to 600 yards if you need to, as well as CQB capabilities. It can also work with a wide range of firearms and chamberings.
Make sure you go check it out at Primary Arms, and remember it's an exclusive so it's only sold there.
Editor's Note: Please be sure to check out The Armory Life Forum, where you can comment about our daily articles, as well as just talk guns and gear. Click the "Go To Forum Thread" link below to jump in and discuss this article and much more!
Join the Discussion
Featured in this video
Continue Reading
Did you enjoy this video?
59