Many of you love the low-power variable optic (LPVO) game as much as I do. The ability to go from 1X to anywhere from 6X or even 10X with an LPVO makes life on a longer range a real treat.
But what do you do if you want that super quick acquisition at close range, but not want to work the throw lever? Or maybe you are doing some competitions for the first time and want to leave the optic at a higher magnification and use an offset red dot for the up-close work in a local 2-Gun or 3-Gun match.
There are plenty of mounts out there to add an offset red dot, but most are standalone and add weight and bulk. Valhalla Tactical has made a new Hanger mount that is compatible with some of the more popular scope mounts out there, and I managed to get one for review.
If you are running an LPVO on something like my Saint Victor rifle, you may have come across scope mounts from American Defense Manufacturing (ADM) or Aero Precision. Well Valhalla Tactical had the idea to allow you to keep your scope mount and add an offset red dot without the weight or bulk of others.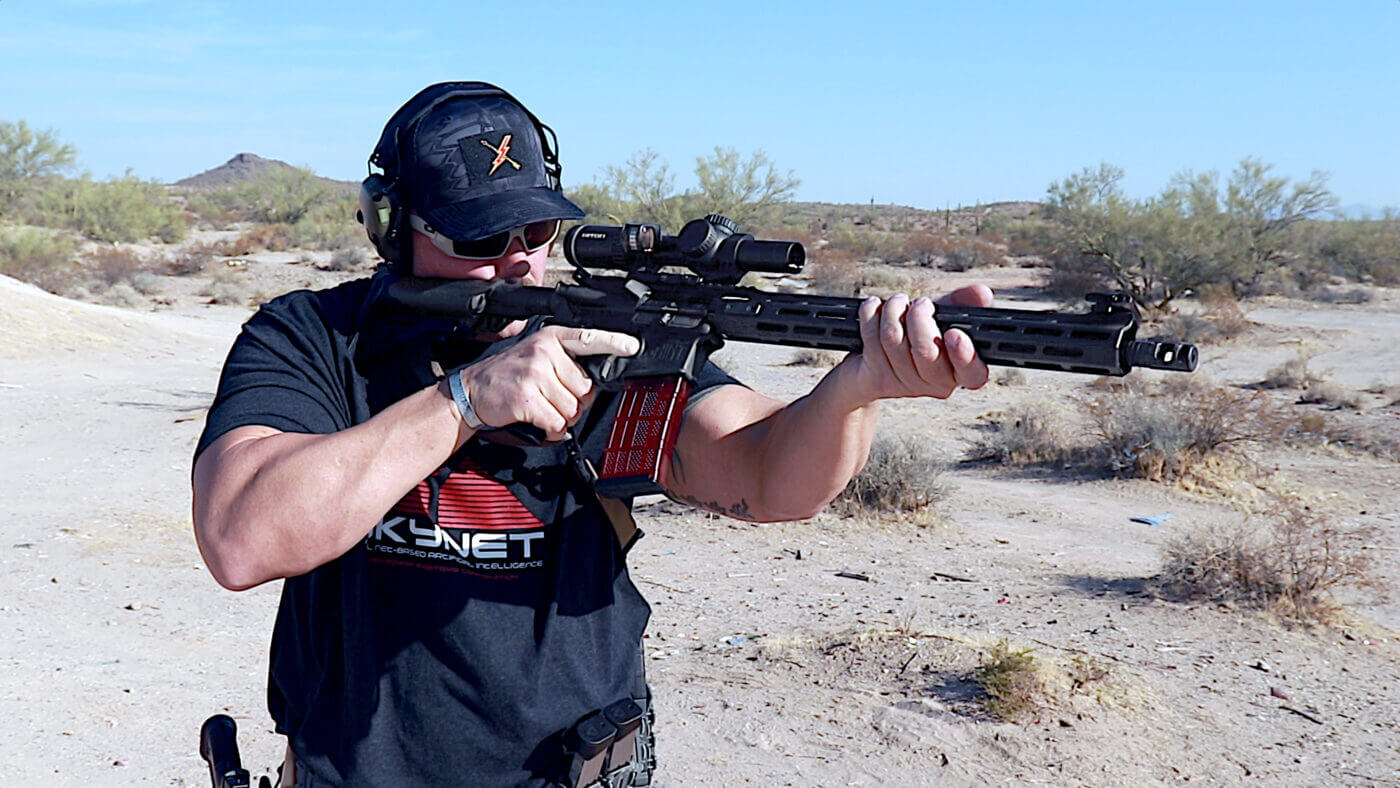 Red Dots Mount Up
The Valhalla mount is a replacement ring that screws to the existing scope mount of both the aforementioned brands. This new ring has an optimally placed offset mounting surface for a red dot of your choice — more about choice in a second.
The big benefits here are the fact you get to keep your chosen scope mount, add minimal bulk, and keep your current zero and offset (although you should confirm after re-torquing the new ring on). The angle of this new mounting surface for your chosen red dot is optimally designed to allow almost no movement from your cheek weld and only a slight cant of the rifle. This minimal movement keeps you in an optimal firing position for both the up-close targets and a quick transition back out to the longer ones without sacrificing that eye relief.
I Like Options — Do You?
Everyone has their favorite red dot (read about the new red dot optics from HEX by Springfield Armory, click here). For this reason, Valhalla Tactical has a variety of mounting plates so you can use many of the major names out there.
Coming in at only 13 grams, the mount adds very minimal weight to the rifle. That is a half ounce for the whole mounting system, minus your optic of choice. I know some may say a few ounces is not that much to add, but remember ounces make pounds and pounds make things heavy. So why not save weight?
The total cost to add this mounting system and plate is about $80. The optic mount alone is around $40. When compared to other mounts ranging from the same price upwards to $300, there are some great benefits in the Valhalla.
Editor's Note: Please be sure to check out The Armory Life Forum, where you can comment about our daily articles, as well as just talk guns and gear. Click the "Go To Forum Thread" link below to jump in!
Join the Discussion
Featured in this video
Continue Reading
Did you enjoy this video?
25