Have you looked for a convenient, comfortable and low-visibility CCW bag to carry around pretty much everywhere and not stand out? We have probably all been there, wanting a quality bag to carry around our daily equipment and out pistol without having an extreme "tactical look", but still giving us options like a tactical carry bag would.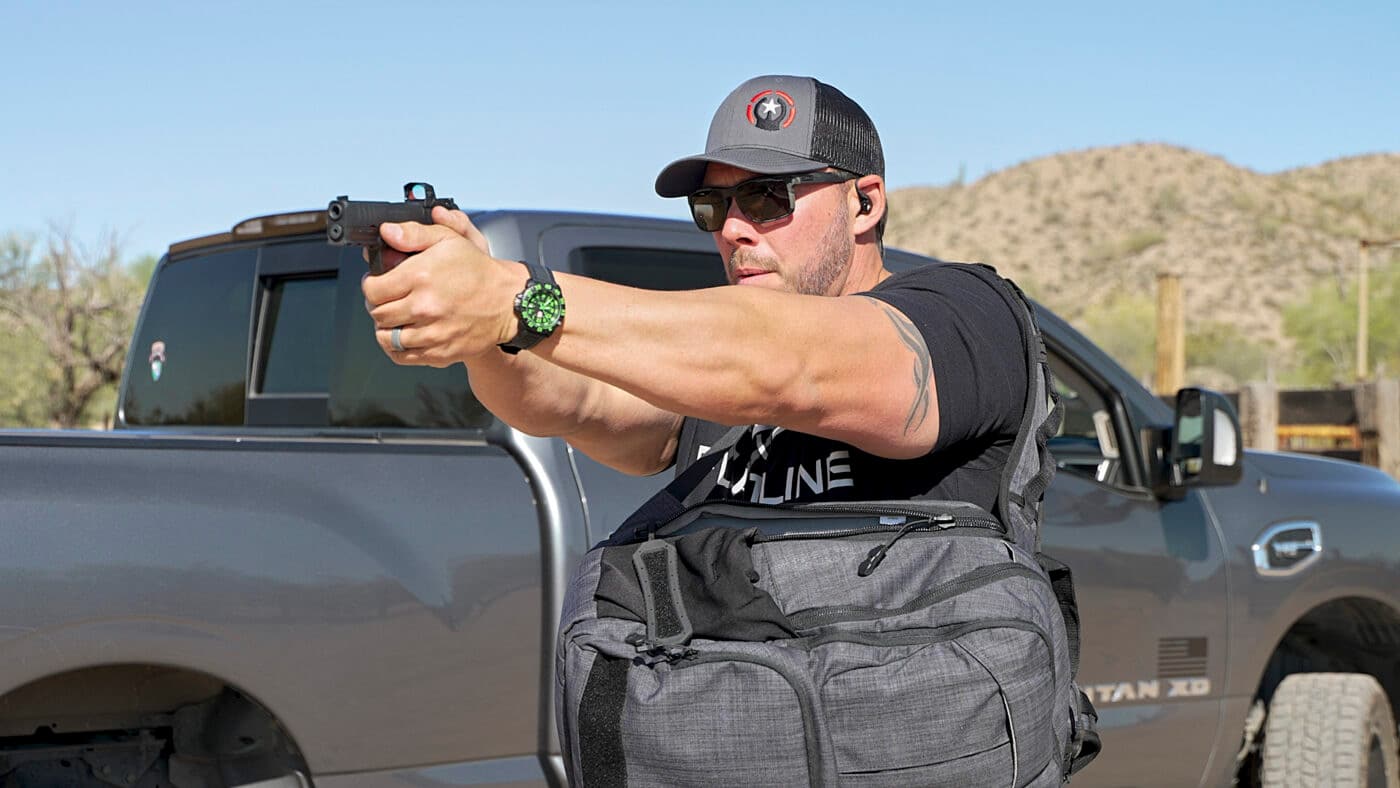 If so, then the Vertx Ready Pack 2.0 may be something to look into. This bag offers a lot of options, with a "blend-in", low-key look and room for expansion if you would like to add more compartments — that latter point being done with an option they call "Tactigami". Follow me as we go through the Vertx ready pack 2.0 and explain the construction, look, storage options and the use of this bag with its dedicated pistol storage compartment.
Vertx Materials and Construction Matter
I selected the "heather black" version, which has an attractive but extremely low-key look that blends in easily. Nothing bright, no gun logos, and nothing "tactical". It's made of a bonded nylon with all critical areas bar-tacked for added durability. All zippers are YKK self-repairing zippers, which are crucial to smooth operation and quiet opening. They are the pinnacle of durability when it comes to zippers. Each zipper has a positive-grip pull tab covered in an anti-noise material, so no metal clunking sounds here.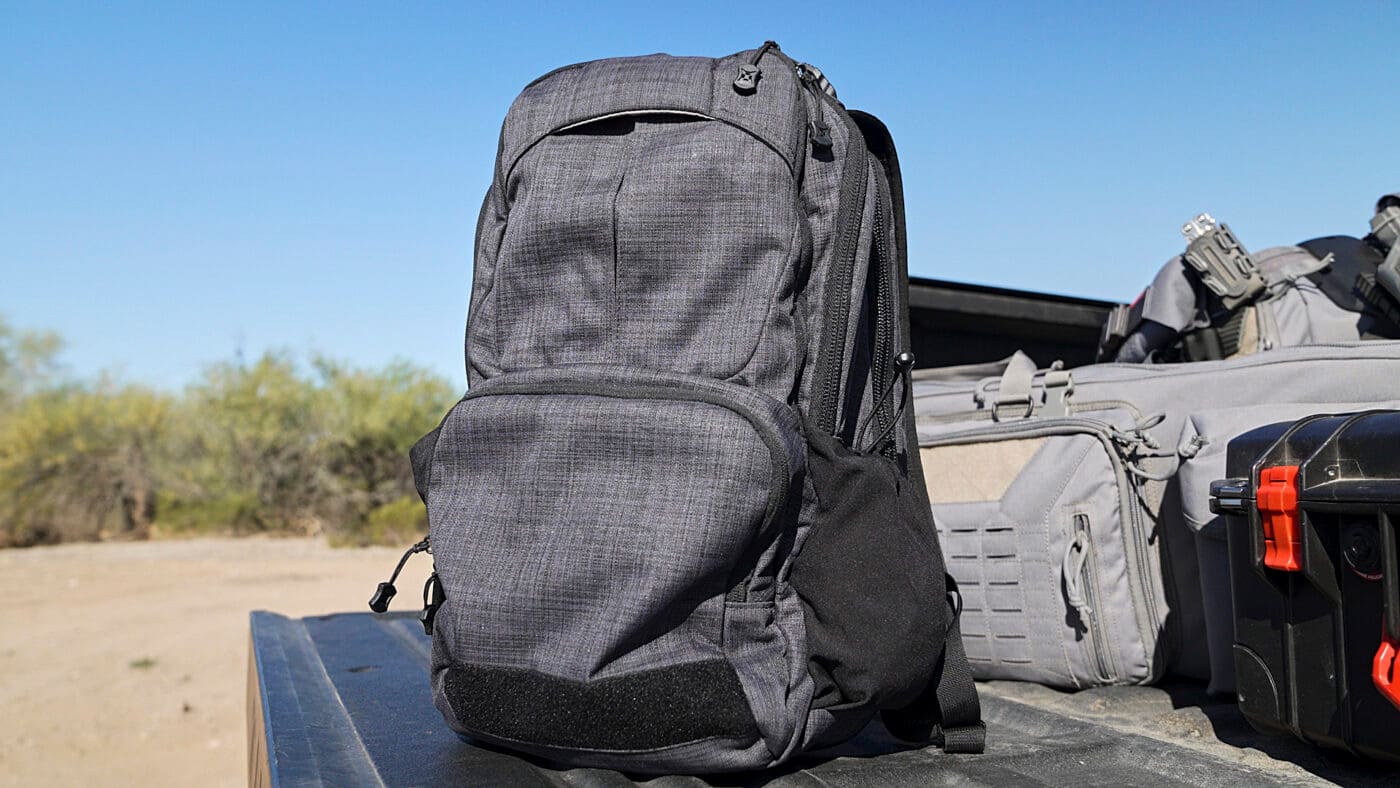 The back panel is 3D molded foam for comfort and ventilation on those hot long days at the park with the family. In the interior, it features Velcro-brand hook and loop areas for your choice of Tactigami add-on pouches or your favorite patch if that is your thing. There is ample MOLLE inside the secondary pouch for additional storage expansion or to clip your knife, flashlight or anything else you want. You will also get abrasion-resistant, semi-see-through mesh pockets inside for those quick grab items like gummy bears or a "boo boo" kit. The interior is a lighter color for visibility and the zipper areas are red for immediate identification.
The bag is easy to wear and adjust, with ample shoulder straps even for the biggest of you out there. An additional sternum strap will add more stability and security. All straps are also equipped with Duraflex buckles for quick donning and doffing. For non-military people, that is the cool way to say putting on and taking off. There is also a tuckable waist strap should you need a bit of lumbar support. The padded straps are comfortable and have webbing up and down for quick clip items to be hung from.
More Options Than You Think
The bag looks very slick, but it also has hidden secrets inside. The outermost pocket has an ID pouch and small organizer spots for pens and other office items or the knives and lights of your choice. The middle storage area can house Velcro and MOLLE for expansion and has a deep pocket area for larger items of your choice. The main pocket can house all of your large items, from laptops to hydration bladders.
There is plenty of room for expansion here in the main compartment, with all the loop backing your heart could desire. You will get a large see-through zipper pouch for those items you need to see and get to quickly. At the base of the main compartment, you get a nylon flex-lined pocket for holding your laptop or hydration bladder securely. The lid will have more loop material and more small pockets for pens, trauma shears or maybe an extra cigar for relaxing. And the quick-reaction pull tab can be attached to the exterior of the bag to give a pull away opening option.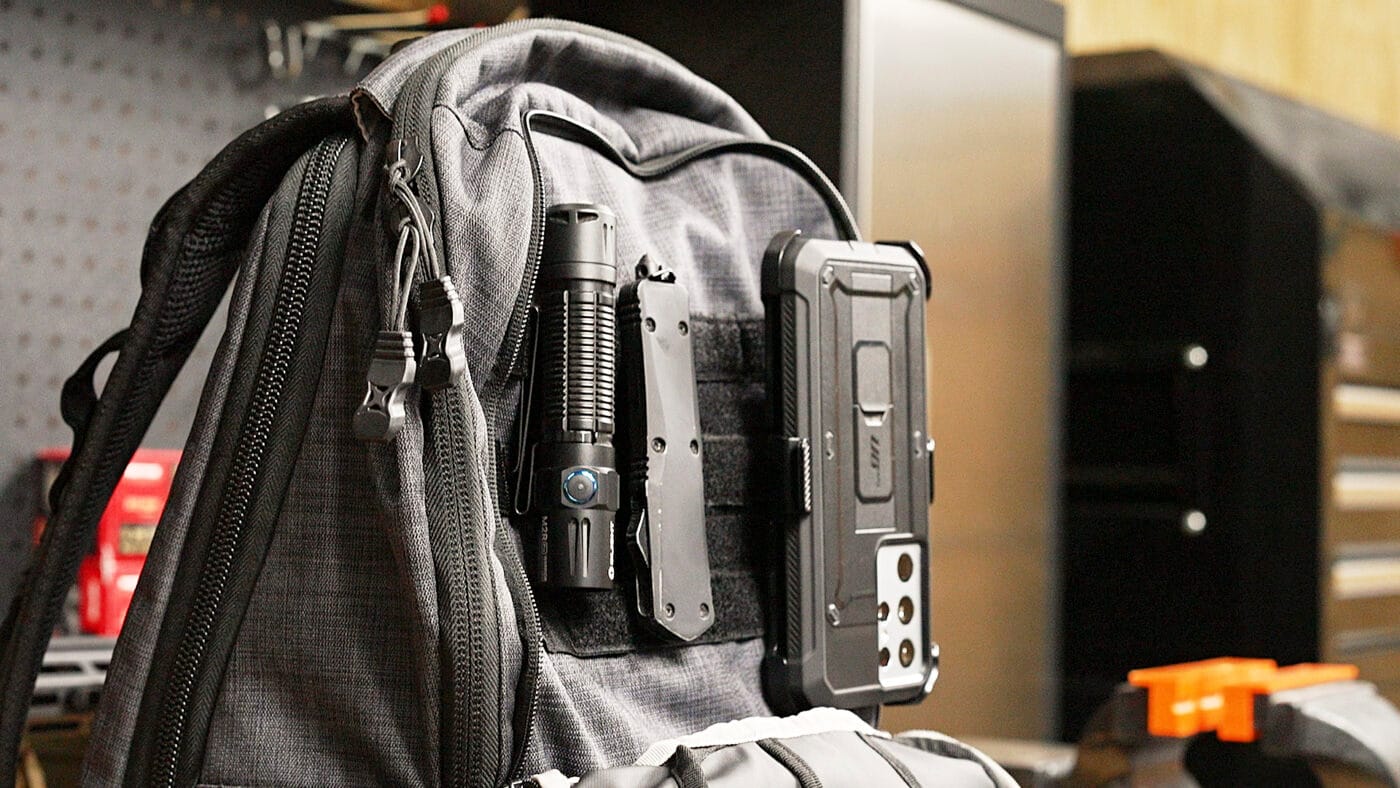 On the exterior of the main pack, you will have draw-tight side pockets for standard-size water bottles or your old gym socks if you use it for a gym bag. Across the bottom, you have a slim section of loop for your nameplate or patch of choice. Across the top and front, you will have a drag handle and a discreet deep pick-up handle built into the bag.
One of the best parts of the bag is the dedicated concealed carry compartment that is covered in velcro loop and accessible on the side of the bag. It's large enough for a full-size pistol and a suppressor at the right angle. This compartment is accessed by a large pull tab, again made of a silent material that is easy to grasp for quick pistol access.
Putting the Ready Pack 2.0 to Use
Drawing a pistol from the bag will take some practice, much like when you get a new holster. One thing to keep in mind about this bag is the fact you don't get a velcro holster with it — that comes as an additional cost Tacticgami item. You can use pretty much any velcro hook holster you have lying around or see online.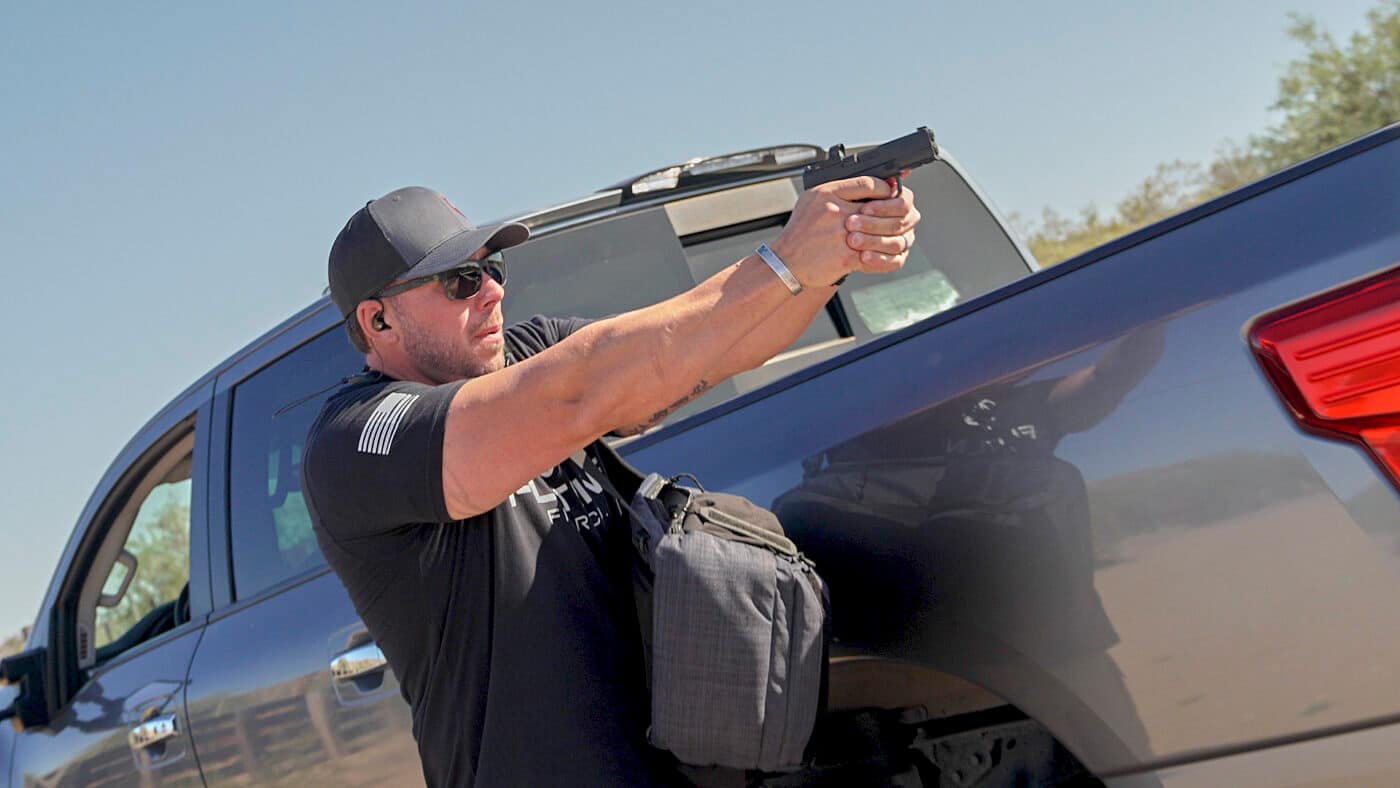 There are a few things to keep in mind when setting up your pistol in the bag. You will need to set it up for primary-hand draw since you will be swinging the bag off one shoulder to accomplish a clean draw. Once you figure out the best angle to have your pistol at, you can practice a few times and it will start to feel pretty natural. Depending on how big your pistol is, you're going to want to position it just far enough from the zipper that it cannot slip out of the holster when you are moving around aggressively. Basically, if you position it an inch or two from the zipper, you can be confident your pistol will not have enough room to shift.
Size and Specs
Outside Dimensions: 18"H x 14"W x 6"D
CCW Compartment Dimensions: 18"H x 10.5"W x 1.5"D (18.5"L diagonal)
Main Compartment: 18"H x 14"W x 4.5"D (20"L diagonal)
25 L
Pack It Up
The size of this bag is just right. You are not going to have so much space you end up overloading and being left with the feeling you're on a mountain hike when you are just going to the gym. The padding and ventilation on the back keeps you cool and comfortable, even on hot Arizona summer days.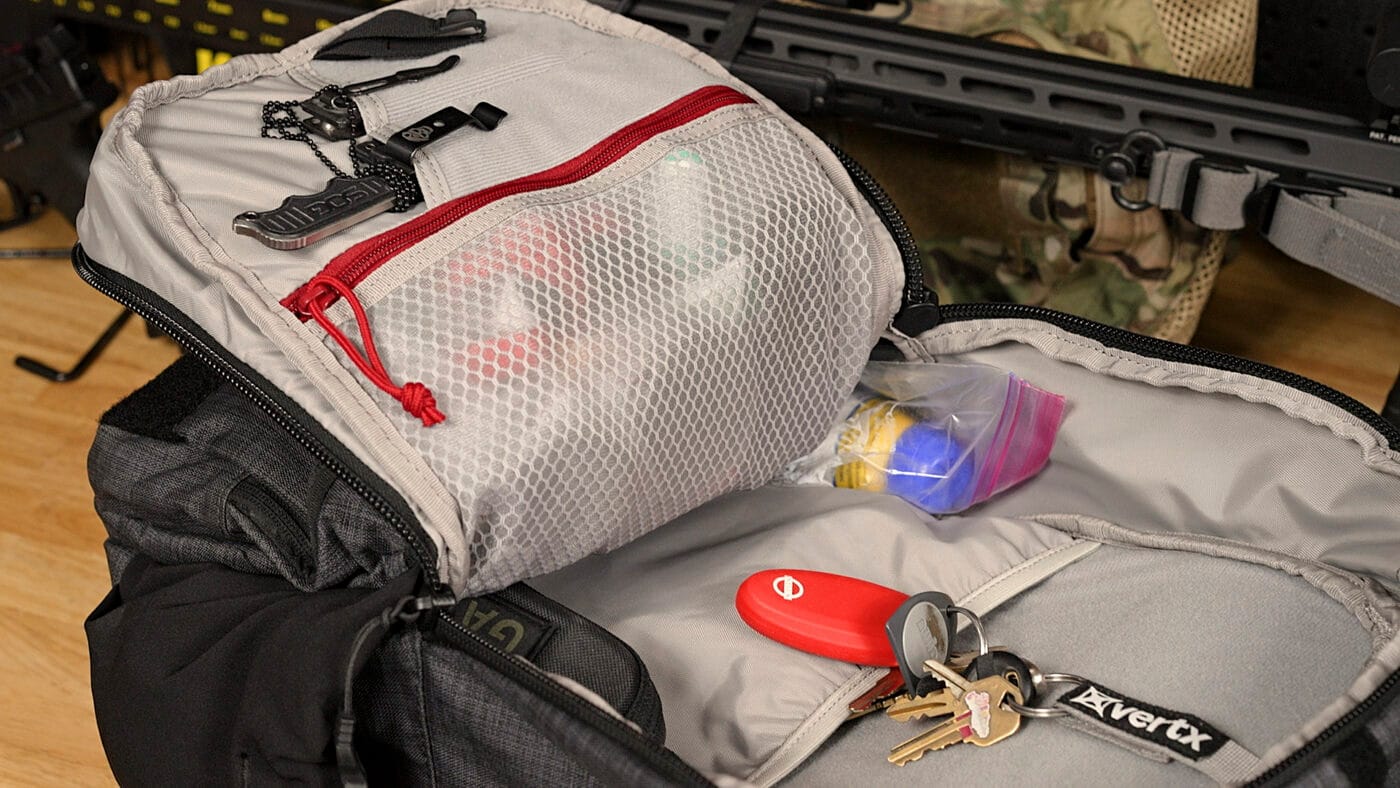 If I had to ask for one additional option with this bag, it would be that the holster was included. If you are looking for some ballistic protection, the bag was designed to work with most armor made for standard-sized school bags on the market.
If a discrete high-quality bag has been missing from your daily routine, the Vertx ReadyPack 2.0 may just fit your back and the bill.
Editor's Note: Please be sure to check out The Armory Life Forum, where you can comment about our daily articles, as well as just talk guns and gear. Click the "Go To Forum Thread" link below to jump in and discuss this article and much more!
Join the Discussion
Featured in this video
Continue Reading
Did you enjoy this video?
44